First of all a warm welcome to Renzo, the new volunteer in our team! 🙂 Check out his introduction in the video below (in Spanish, so click on subtitles to read along in English):
Vyara:
Hello, hello! Welcome to week 11!
I started the week ''earlier'', on Sunday, when I went to help one of John and Sara`s neighbors build a compost pile. The plan was simple: to create a plain structure big enough to fit plant cuttings, branches and kitchen scraps. It is not very common in Bulgaria to have a compost heap in your garden, more often people put garden cuttings in the general waste bin.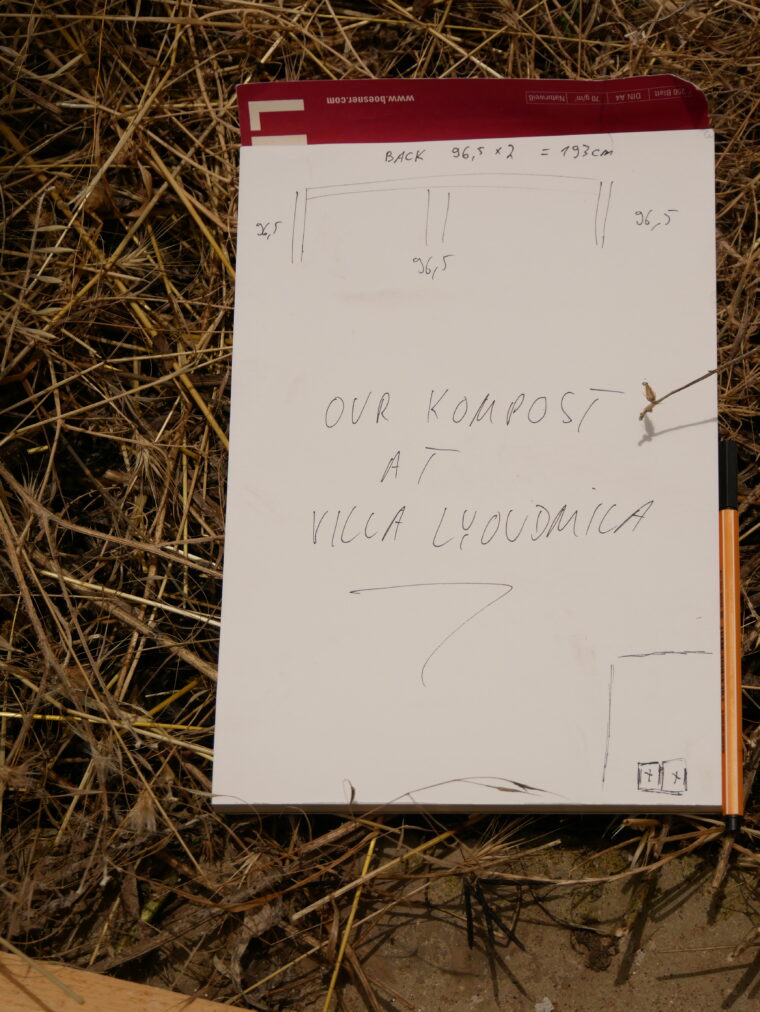 The grand plan
First, we got together to discuss the type of composting pile needed for the space and the materials we were going to use. What we were aiming for was a simple, easy to build and inexpensive structure, with this in mind we built a two-tier composting pile from old wood, that was no longer needed.
I am a big fan of the two-bin composting systems and I always recommend it to friends, who have small gardens and homesteads. The idea is that you fill one side and when it is full, you start filling the other side. When the second pile is full, you can start taking the ready compost from the first pile and applying it to your garden.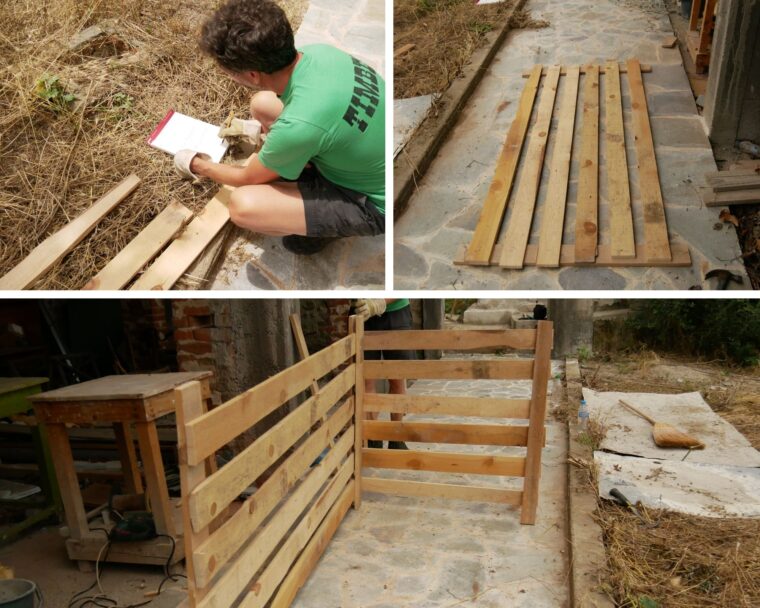 Stages 
We built the end wall first, then we divided it in two (for the two piles), after that we built the walls around it.  It was important to leave approximately 20cm between the planks for aeration. The last finishing touches are, and this is something we didn`t have time for, putting a fourth wall and a canvas on top, to protect the compost from the rain. Et voilà! The compost is ready to be used!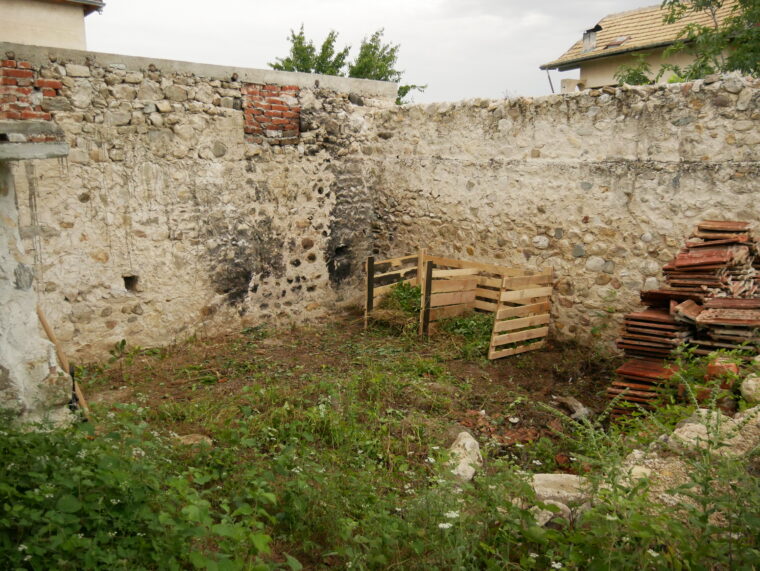 Ta da! 
I would like to recommend a video to you by the pioneer of the no-dig gardening method- Charles Dowding. Creating good compost is one of the key elements of no-dig gardening and Charles Dowding is a true composting expert: https://www.youtube.com/watch?v=Kf6CGj7xpFE&t=18s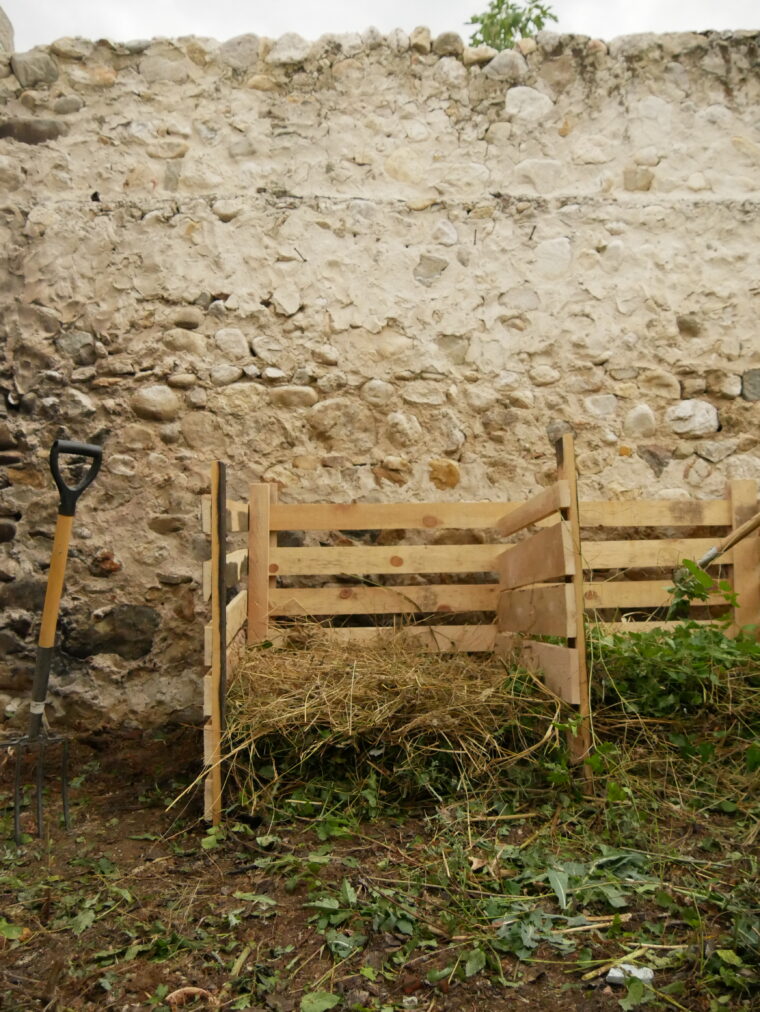 Do you remember the Acacia trees from last week? Right before the summer storms started, me and another organic farmer planted Ash trees. We did this in order to create a border right next to the Acacia trees, that we mulched last week. The trees were tiny, most of them were smaller than my pinky. For trees this size, the best way to plant them is to simply slide the spade into the soil and put the tree in the crevice. Around the tree, we also planted various beans (see picture), just for the experiment.
Reminder: beans are great nitrogen fixers and very good for soil fertility. Planting beans is beneficial for the surrounding plants, in our case- the trees.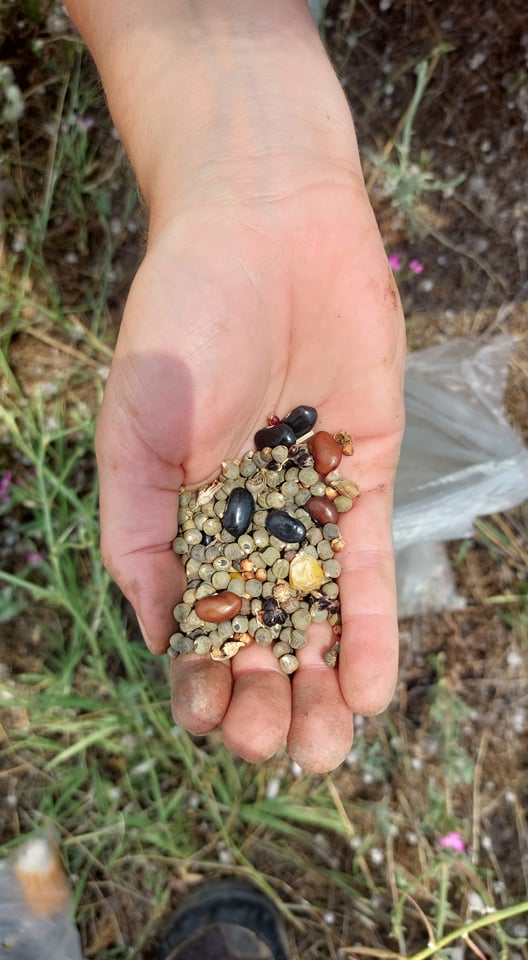 Five different types of seeds: black beans, brown beans, corn, green lentils, and sugar cane. Experimenting and variety is the key!
Me and Filipa spent a lovely afternoon chatting with Iliya and Maria, the elderly couple we made friends with in week 1. We learnt some valuable advice and practices, which I would like to share with you 😊
What made a huge impression on me was that they were referring to artificial fertilizers and herbicides as poisons, they mentioned a few times that they don`t want to spray with any ''poisons''.  When I asked Iliya, how does he know about gardening and clean vegetable production, he told me that they listen to the radio a lot and there is a radio show, where grandmothers share gardening tips and educate people. He also mentioned Roundup and how bad for the environment it is.
Last time we were here, about 3 weeks ago, the corn was as big as my hand. They saw my surprise and told me: ''once upon a time you were small as well and look at you now!'' This made me laugh.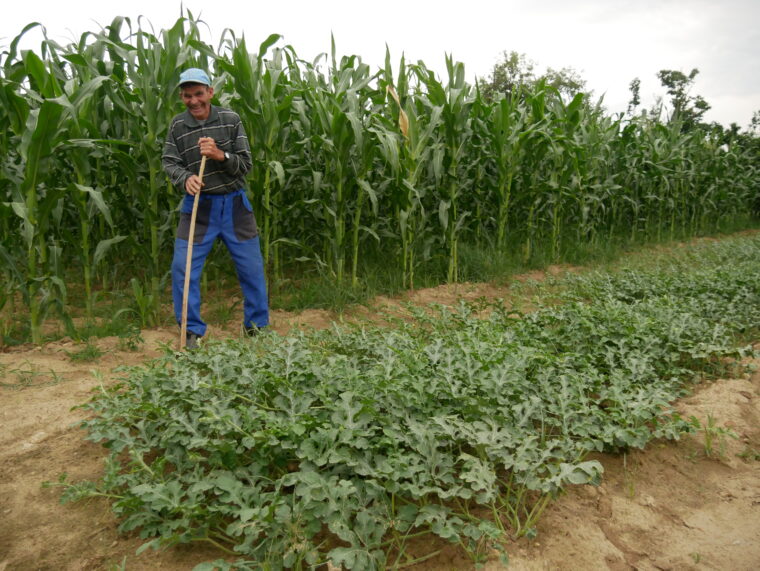 Their watermelons were huge! The same night I spoke to my mother and she mentioned to me that the watermelons in the North of Bulgaria are the size of a fist, a huge difference! Also, the people in this region of Bulgaria call watermelons лубеници, which is a Macedonian dialect for watermelon.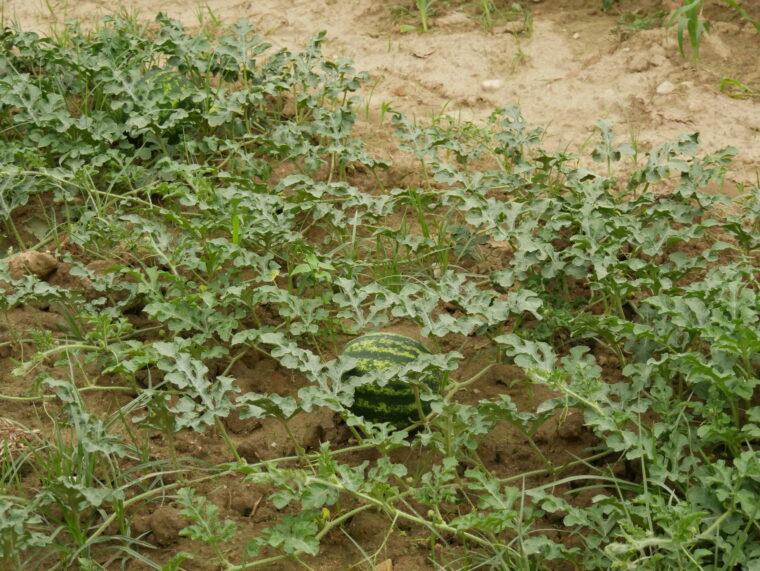 This plant among the pepper plants is tobacco, which they dry and use as an insect and fungi repellent.  The dry tobacco is soaked in water for 12 hours and then they spray the watermelons, he said it helps against powdery mildew.
Basil is used in a similar way: it is grown among the pepper plants, they dry it, soak it in water for 12 hours and then use it to spray the pepper plants so they can grow stronger and healthier.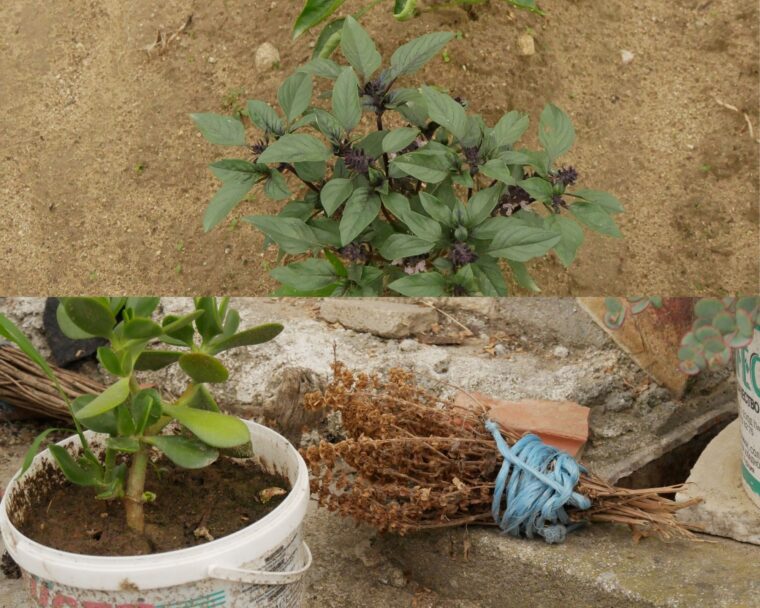 Iliya and Maria are also growing tomatoes, a variety called Rugby and another called Ideal. Iliya said he likes it, but he prefers steak to tomatoes, this again made me laugh. He taught me another concoction for the tomatoes, nettle soaked in water for 12 hours, and then sprayed on the tomatoes. This time, he gave us seeds from flowers, but he promised to give us tomato seeds in late summer.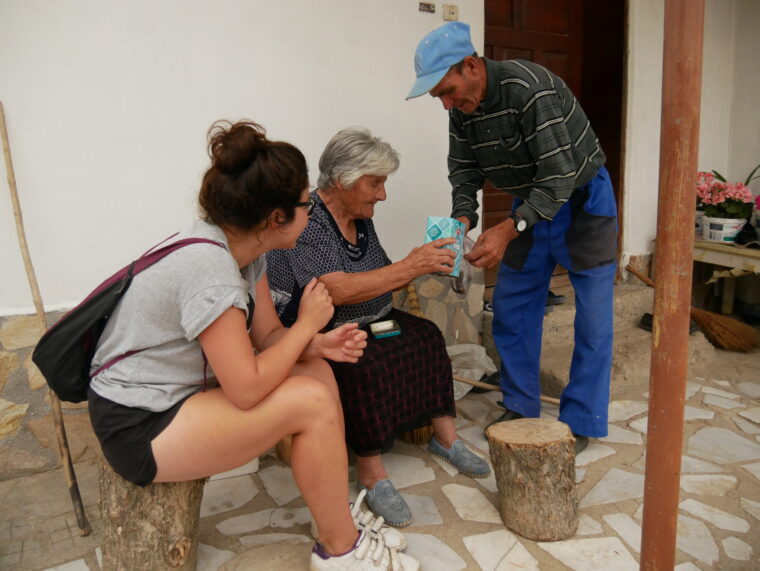 It has been a great week and it is actually my last full week in Kromidovo, as I am leaving next week! See you next time!
Ewan:
Hi everyone, welcome back to the blog! 🙂 
This week I will be updating you all on the projects that I mentioned last week, while also telling you about some of the other things I got up to in between jobs! First up, Monday was concreting day, so some of the builders from the village came round to assist us with the work. The truck came with all the concrete loaded in the back, it was dumped on the foundation, and then me and the builders proceeded to move it all-around to ensure it was all in the right position. After being smoothed off, some steel reinforcements were put in and voila! You can see this process in the images under this paragraph, now we just need to wait for a few weeks before fitting the upright posts.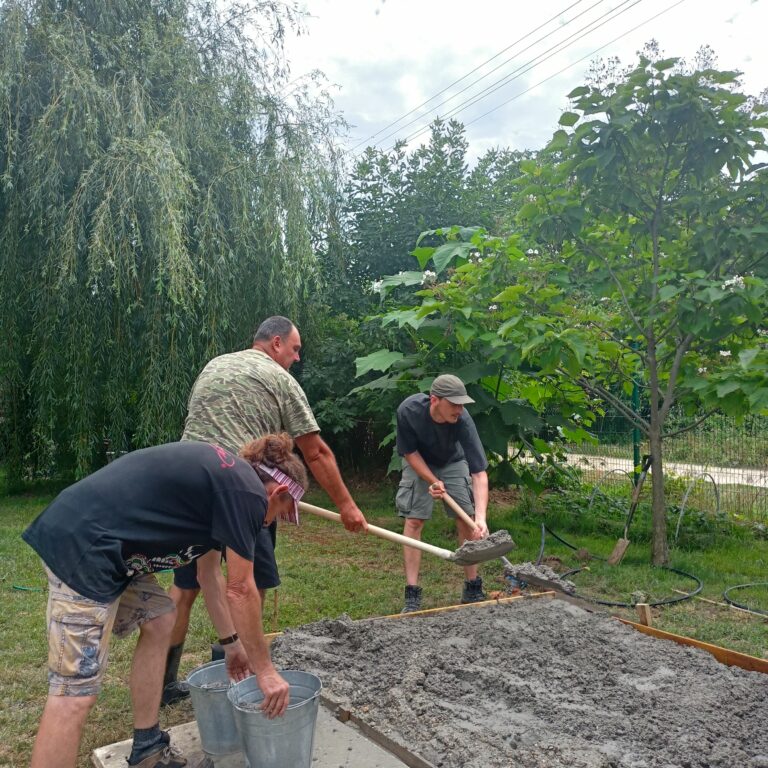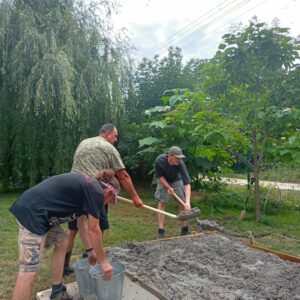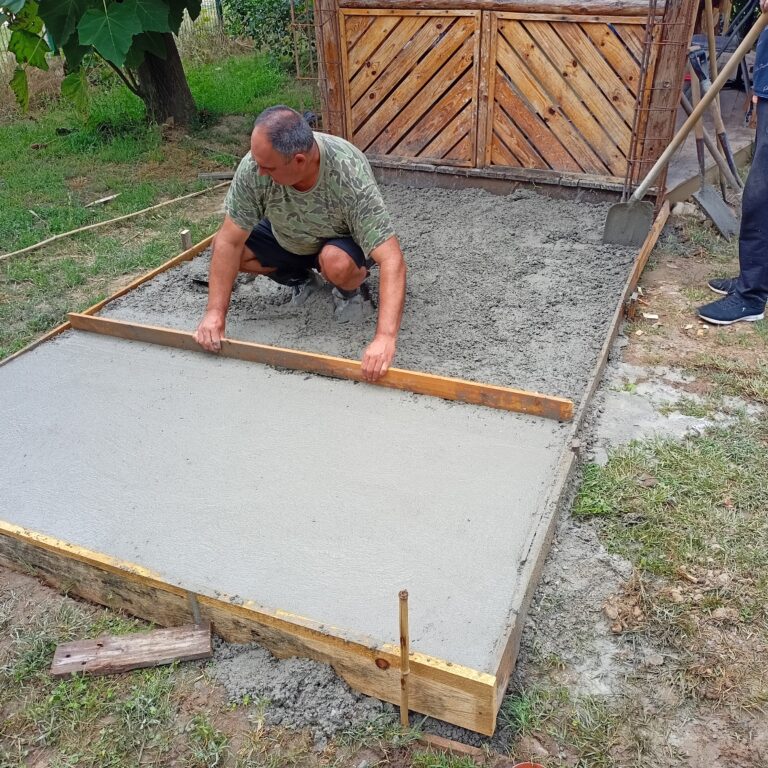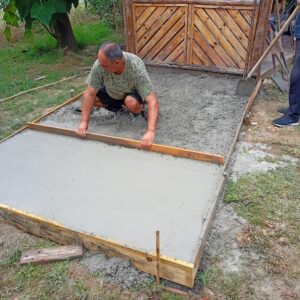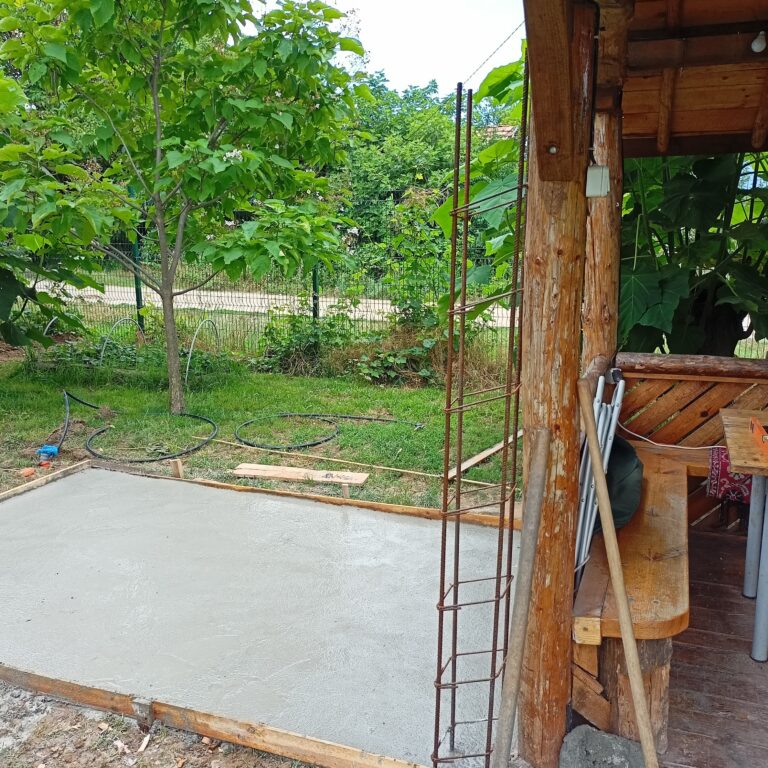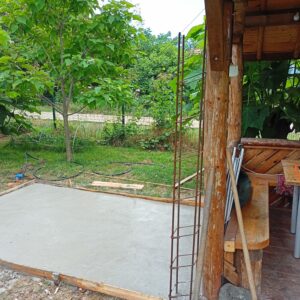 John made sure he took a little bit of the concrete for another project of his, which was building a small foundation around the side of the house to fit a new gate. As you can see from the images, the existing gate isn't in the best condition, it has been there for while and after many years of use looks like it could fall apart at any minute. So, the hosts' decided to fit a new, more sturdy metal gate, that had been thrown out by a neighbour, so sticking to the reuse, recycle, repair principles. You can see the process from the images, I first had to dig (I think I've done more digging in the past few weeks than in the previous 25 years) a hole wide enough for the gate to fit on. After, we built a kind of cast, so the concrete would stay in position and wouldn't split out into areas where it isn't needed. Once it was set, we removed the cast and we think it turned out pretty well. I then set my efforts to cleaning and painting the gate, since it had been sitting there for some time. We chose to paint it black, so it would fit in with the railings next to it. All that is left to do now is make the upright posts for attaching the gate and make a bamboo trellis to block off the rest of the gap and grow plants up! Check back next week when you will be able to see what I'm talking about.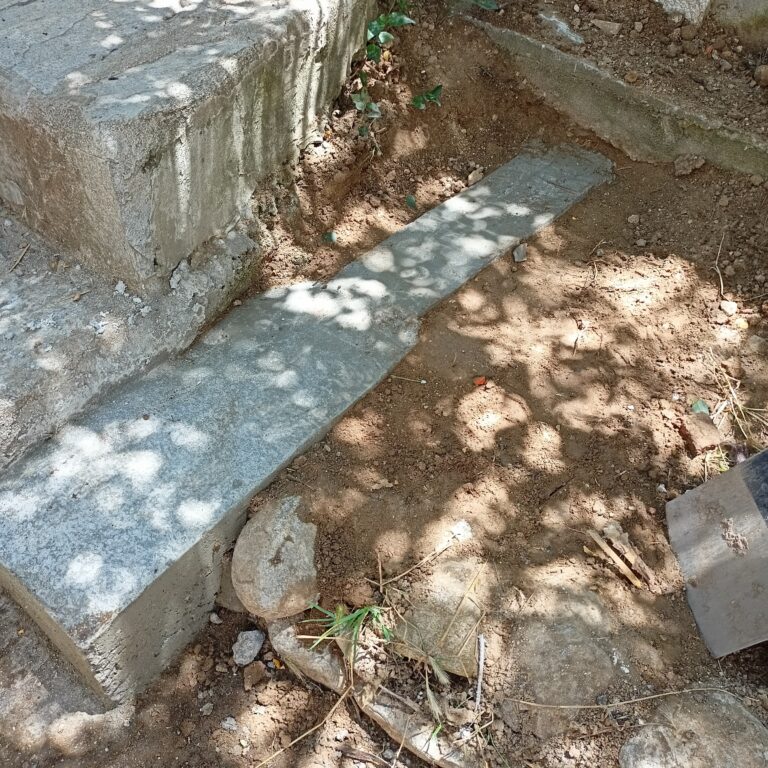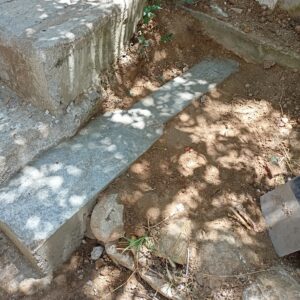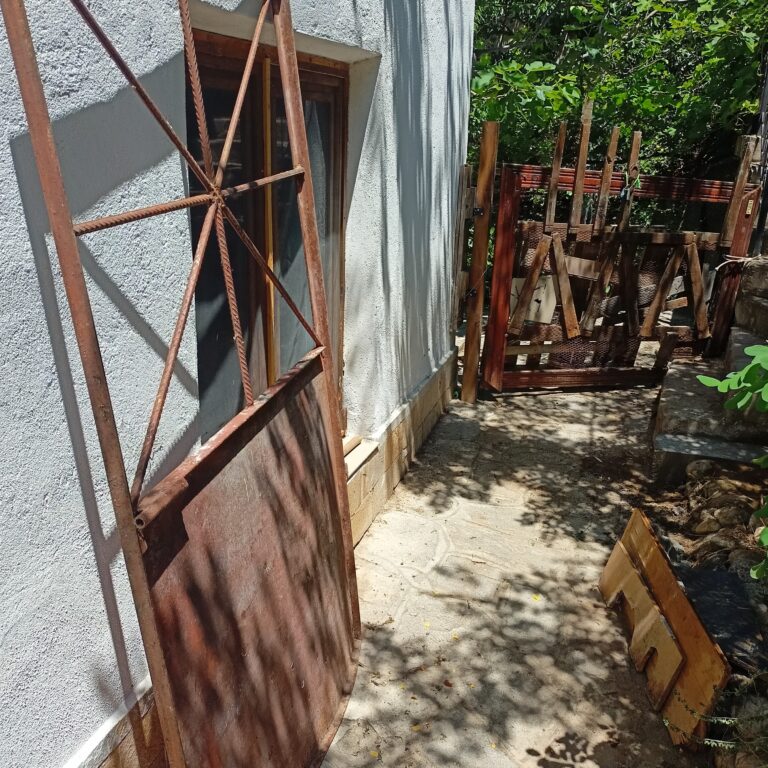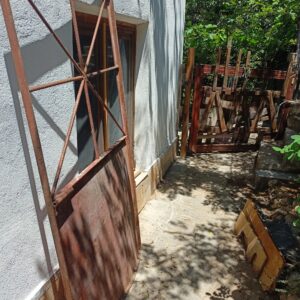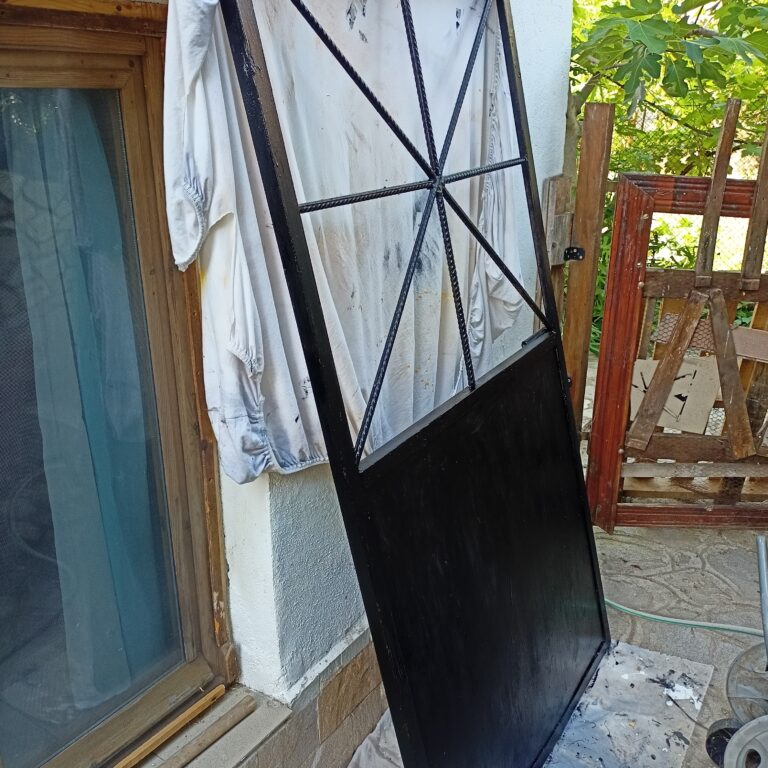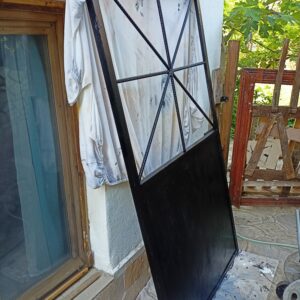 Before I tell you about my main tasks for the week, I'll just show you some of the work I've been doing in the dry garden, which is where Sara is going to be creating a small pond and raised bed using a large barrel. More on that in the coming weeks, but one thing I did do this week in this area was create a path from old pieces of paving stone, so people can have access to the raised bed at the edge without having to walk across the soil. Unfortunately, there were just not enough paving stones for me to finish the job, so we are on the lookout for some more that have been thrown away!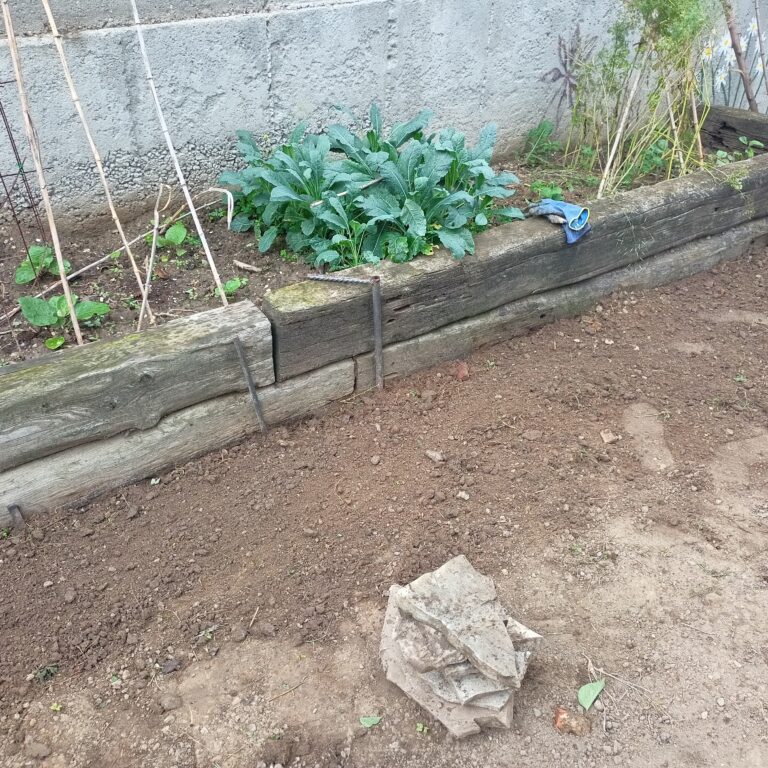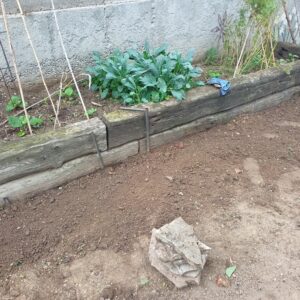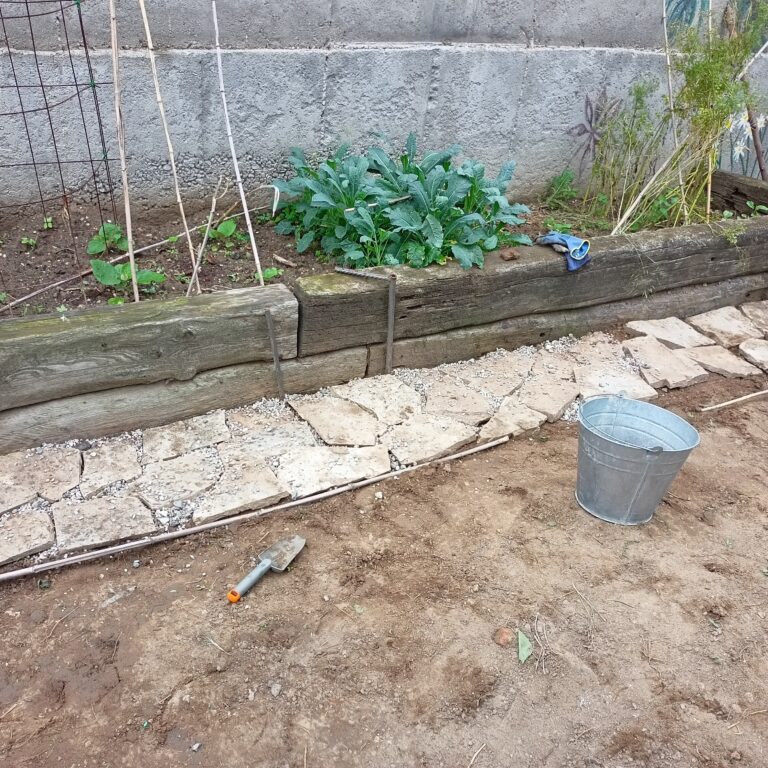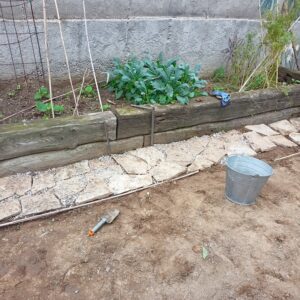 So, on to my main task for this week, which you may remember I started last week, restoring old furniture! First up was the desk. Unfortunately, the legs we prepared last week weren't suitable, as the grooves in the wood meant that cutting out a chunk the right size to fit to the table was proving very difficult. Therefore, we had to improvise, and having scouted around the garden looking for the most suitable pieces of wood, we settled on using some Paulownia. Bamboo was also used, to provide some support to the legs, since as you can see, they aren't the thickest. You can see a before and after picture below, and the desk's new home, where I think it fits in very well!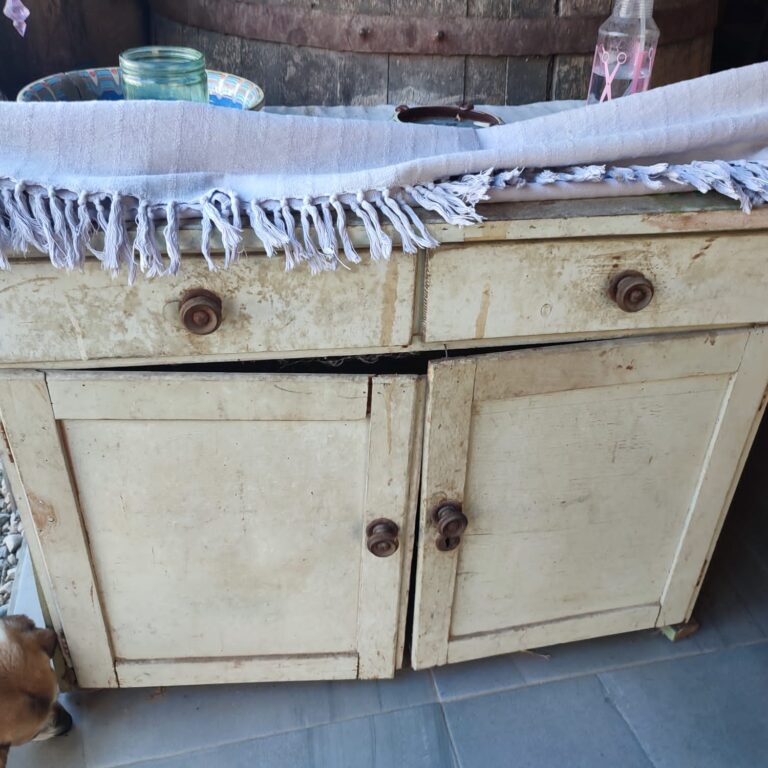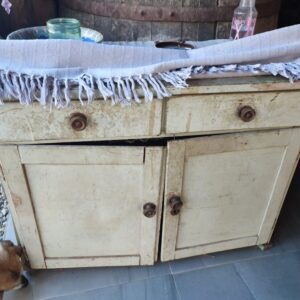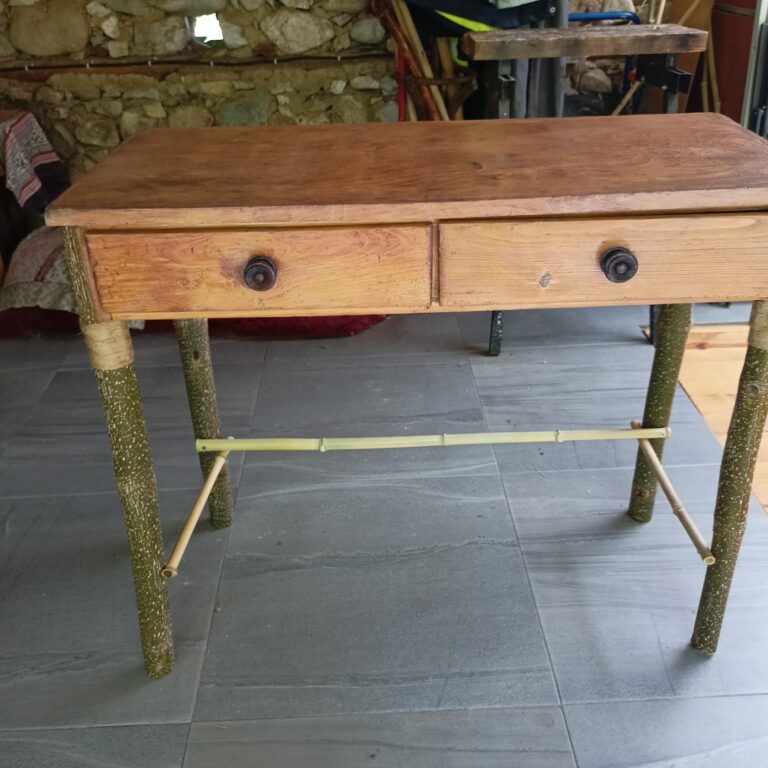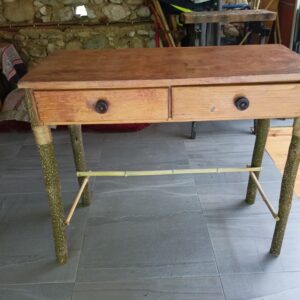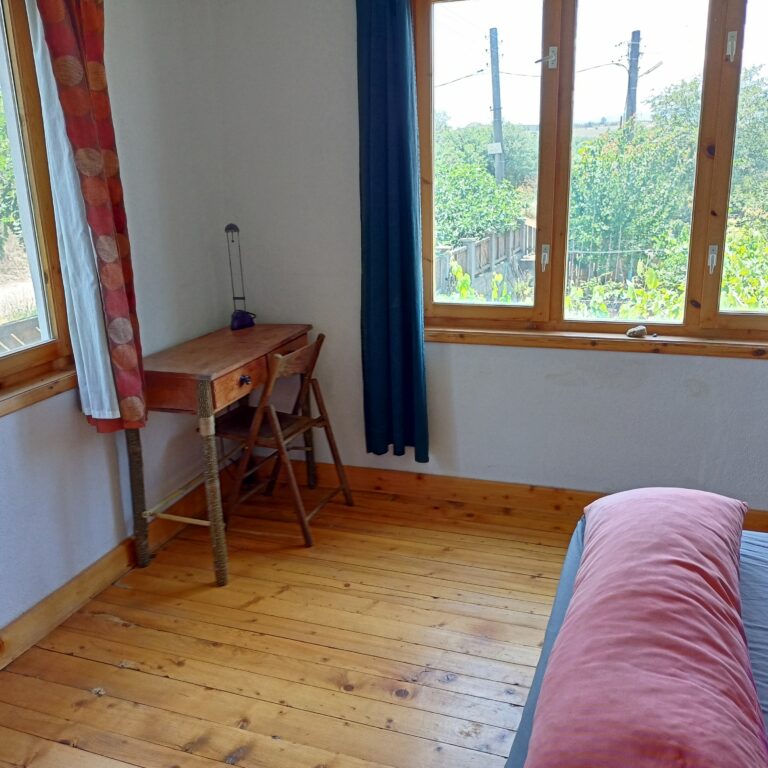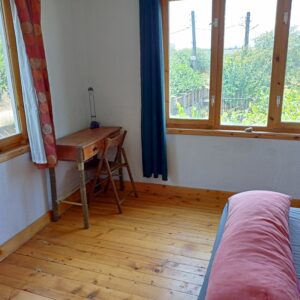 Since we were in the zone now, we set about restoring another old piece of furniture, a barrel that has been lying around collecting dust. I first had to sand the whole barrel, which was quite awkward considering its shape… After sanding, I applied some varnish to the wood and paint to the metal rings. The results can once again, be seen below. I hope to see you all back next week, when I will have more updates on all the fun things going on here in Kromidovo. Bye for now 🙂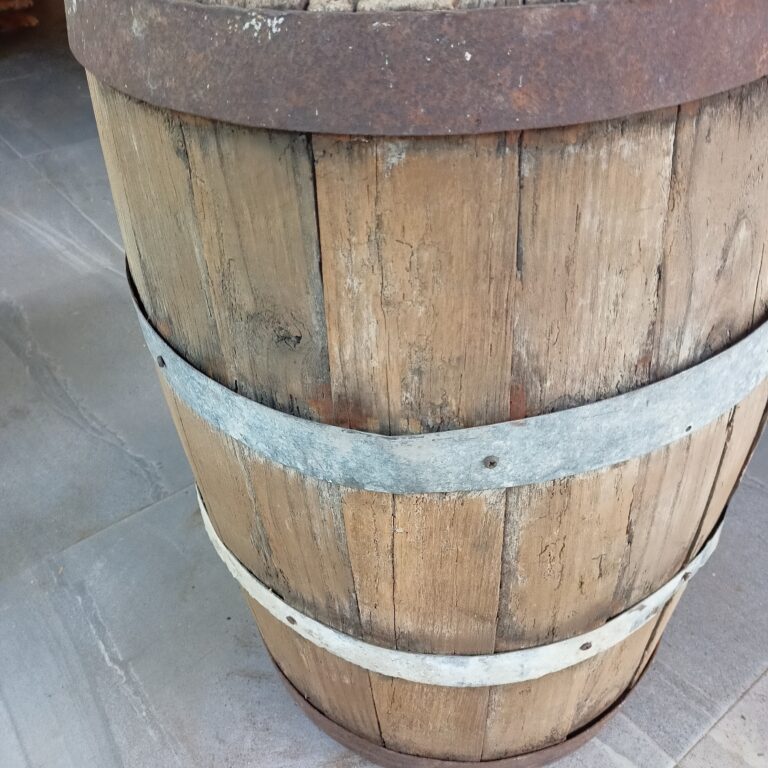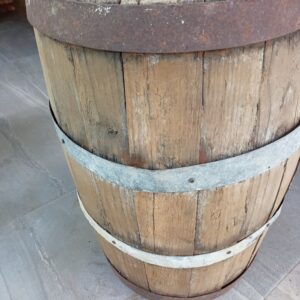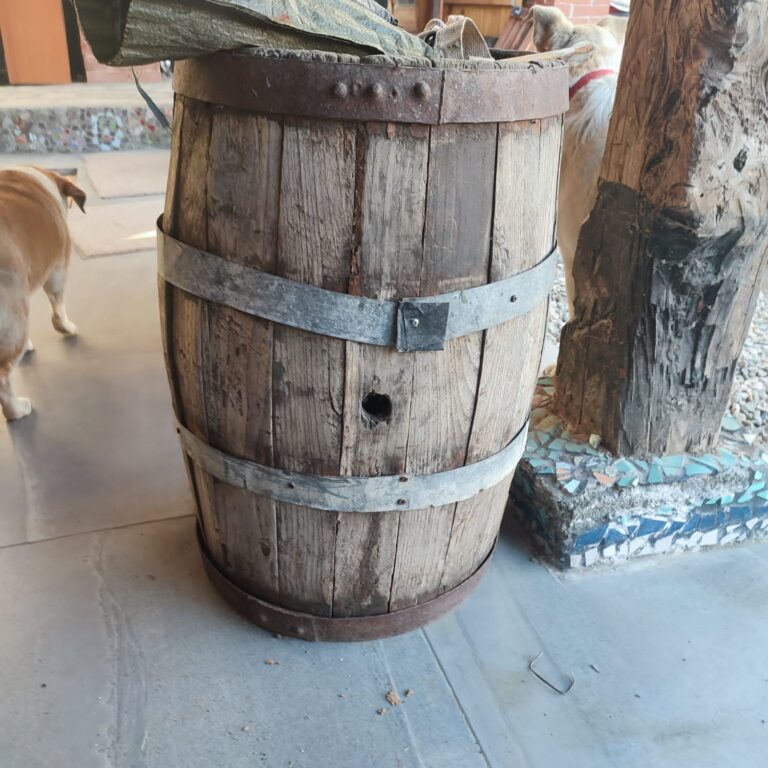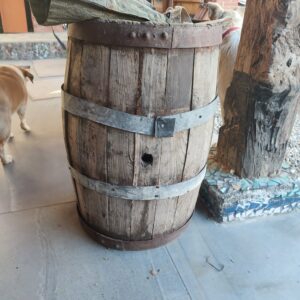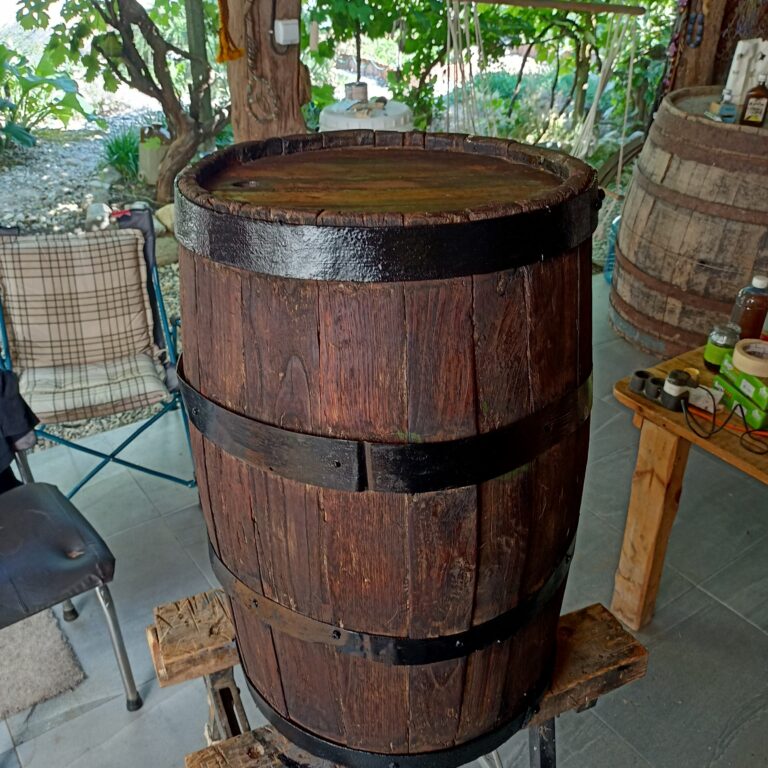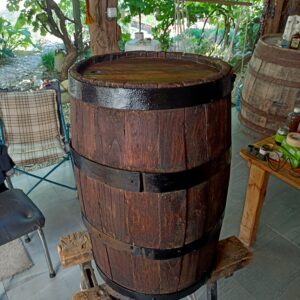 Mali:
Zdraveite!
My week started this time on Wednesday, taking my Monday and Tuesday off, as we would be doing project activities over the weekend in a special place in the mountains, north of Sofia. More on that later 🙂
Wednesday was a day of celebration to the fullest, as my husband Renzo could finally join the project, with his freshly received Bulgarian residency card! As he only speaks basic English, I am often still helping him with translations. However, to not lose too much time translating and for Mihaela to be able to focus on other project work, I was asked to deliver the on-arrival training to Renzo throughout the days that followed. Some good old, efficient peer education. So I helped Renzo get started and acquainted with the GSV website, the blog and his role and activities as a volunteer in this program. He started by reflecting about the impact this project would have on different actors in the project, as well as noting down his hopes and expectations following the Head, Heart and Hands structure. Soon he'll be surrounded by the other volunteers and have a great chance to speak more English.
With the weekend approaching, you might imagine our excitement of leaving the city behind after three weeks of urban vibes draining our energy. Although it's a beautiful city with lots to learn about Bulgaria's history and present culture through its numerous churches, archeological excavations in the middle of the city or just through roaming around and letting the city speak to you, I am sure we are not the only ones who prefer the countryside above urban life. For me it's the impatience, people being in a hurry, crazy car races in the middle of the night on the main road close to our apartment, phones being the number one attention, huge billboards that try to make you consume more more more…
So it was a delight for body and mind, to join Mihaela and Philip on a trip to Petrochan, a study base for rangers close to Ponor mountain, around 1,5 hours driving north of Sofia. This beautiful mountain hut (much bigger than it sounds!) was bought 2 years ago by Philip's cousin, Ivo Kalushev, who is a famous and professional cave diver, and just as talented in many other outdoor sports (a must-watch is his self-directed and award-winning documentary about an exploration of underwater caves in Mexico).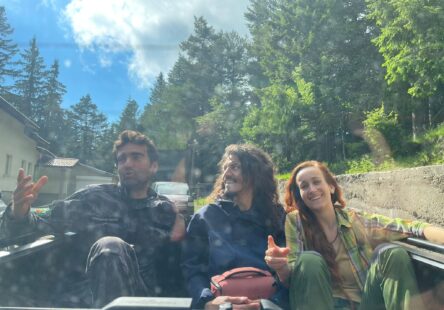 Besides his passion for nature and extreme sports, he is also a Buddhist teacher. I could feel and see this spiritual element in the way he has renovated his mountain hut into a place of quietness, serenity and educational inspiration. Also, the team he has formed seemed to go along with him on this path; each one of them was so extremely kind and welcoming to us, with infinite patience to tell us about their work as rangers and show us around the area. After we arrived on Saturday afternoon, they took us out for a ride in their 4×4. Renzo and I shared the back of the open-air trunk with one of the rangers who told us all about his first year as a ranger, while we were shaken and swung all over the place on the dirt road full of big holes due to the recent heavy rains.
The main function of this site is to train rangers who can patrol the forests and meadows, which form part of a huge Natura 2000 area (a long-term European nature conservation program trying to connect and preserve natural areas with high biodiversity value). This area contains around 150 different bird species and you can encounter various types of rodents, deer, packs of wolves, and the occasional bear. Not to speak of its diversity in plant species.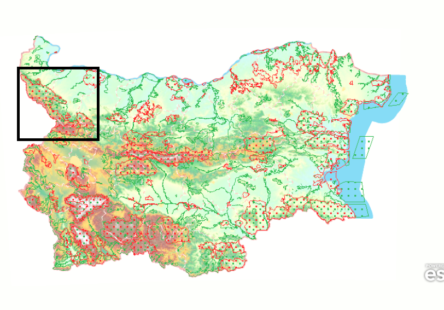 Natura 2000 areas in Bulgaria and the area we visited specified
(Source: http://natura2000.moew.government.bg/Home/Map)
In collaboration with various ministerial parties, like the Forestry department, they have the task to go out on daily patrols to check the area for illegal activities (people hunting or cutting more or other trees than allowed). In the end, it's mostly actually about talking to the locals and trying to make them more conscious of the natural importance of the area and teach them how to treat nature respectfully. Not an easy job, according to them, as the mentality in the area is quite closed and defensive, something like: "What do you think you can tell me?!" And for a big part of the year this place is covered in snow, sometimes even up to 2 meters (!) during its 8 months of winter. Not an easy place to stay and work, but the team surely has fun with their snowmobiles, continuing their valuable patrolling work day in day out.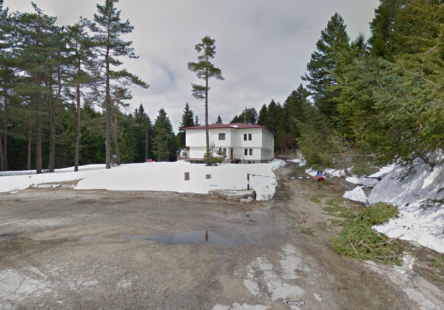 The mountain hut in winter (source: Google Maps screenshot)
They also occasionally receive groups of children, who they give nature education workshops. This is something that personally really interests me and is so crucial! What especially struck me, was when I met and spoke with the youngest team member (18 years old), who had been on Ivo's side since he was 10 years old and joined him on his underwater cave diving adventures around the world. Instead of going to a conventional school, he has been mentored by him ever since. He's probably one of the smartest and most conscious boys I have ever met at this age. Ivo decided to continue his mentoring with another young boy of 12. It was amazing to see what power lies in intensive and one-to-one mentorship. We need more of this!!
We definitely plan to go back another time, to chat more with Ivo and his team about the potential this place has to integrate permaculture elements in the design of the hut and the surrounding land, to make it even more enriching and educational for future visitors; kids, locals and new rangers.
Renzo will take over from here, to share something about our second day in the mountains 🙂
Renzo:
Hello all!
On Sunday morning after a super invigorating rest, without a single noise in the night, we went out to the field for a long walk. On the way down the dirt road we were collecting plastic bags and other things that you always find, even if you are in the farthest and remotest of places.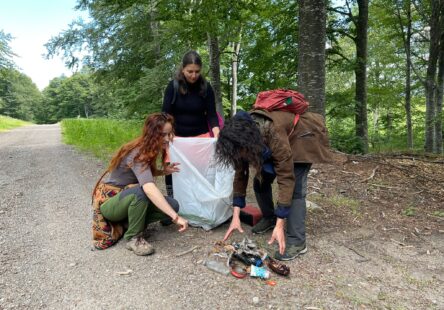 Once entering a smaller path onto the meadows, a beautiful landscape surrounded us, full of fresh air, some trees and shrubs and a wide variety of plants, flowers and (edible) mushrooms. Below you can see some photos of us exploring and fauna and flora: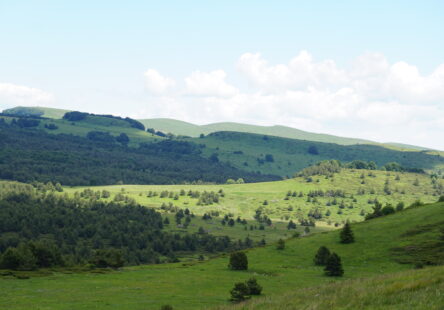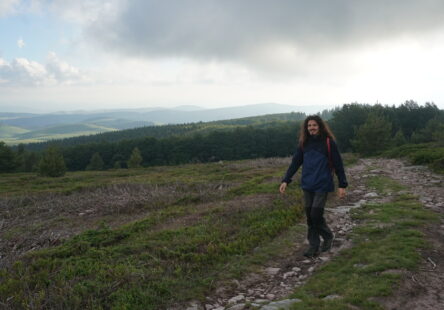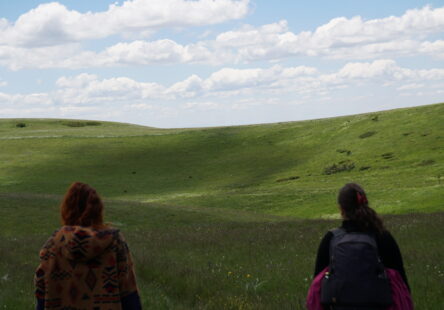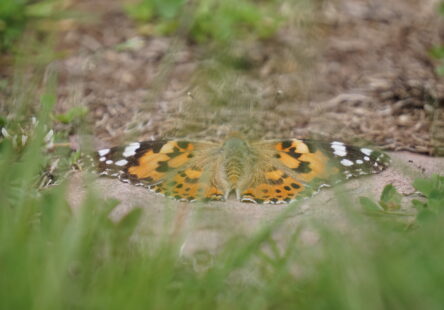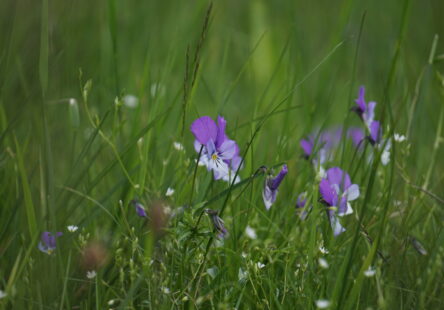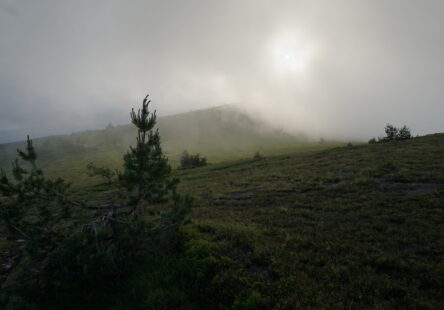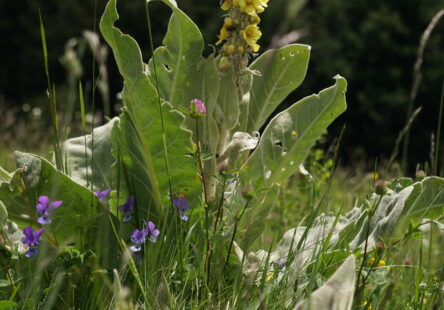 We found various types of mushrooms, of which two were edible and were used by Philip to make a delicious soup we enjoyed the Monday after:
 Calvatia gigantea (commonly known as the giant puffball), a very easy to recognise mushroom that is edible when still immature, with the interior tissue still soft, bread-like, and uniformly white. When maturing, the outside skin will start to crack and the inside becomes mushy brown. After drying up, you'll find a brownish powder, which has various medicinal properties such as: disinfectant, anti-inflammatory and detoxifying.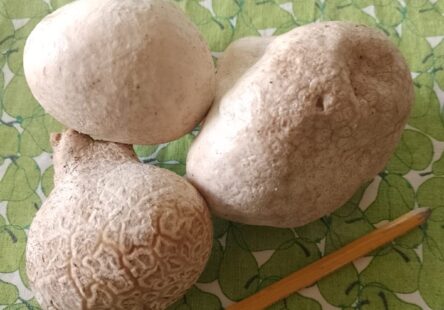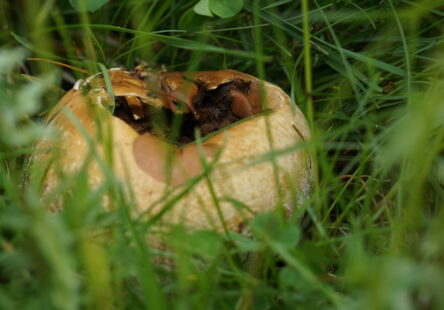 Marasmius oreades (also known as the fairy ring mushroom or fairy ring champignon): it grows in groups in the shape of a circle or of a path. They are light brown in color and when still young they are conical in shape. As they mature, their head becomes flat. It has cream-coloured plates that are lighter than the hat.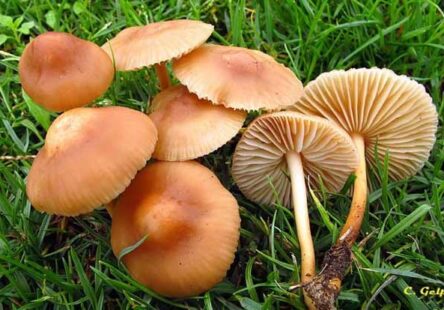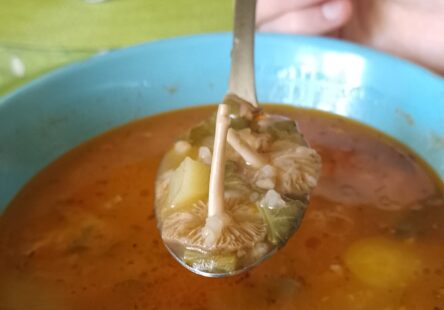 Marasmius oreades (source: Sociedad micologica extremeña, photographer C. Gelpi) and mushroom soup made by Philip

Amongst edible plants, we collected some:
Rumex acetosa (common name: sorrel, spinach dock, narrow-leaved dock), a perennial herbaceous plant found in grassland habitats, which you can eat both fresh and cooked. It has a particularly sour taste.
Thymus serpyllum (common name: wild thyme, creeping thyme, Breckland thyme).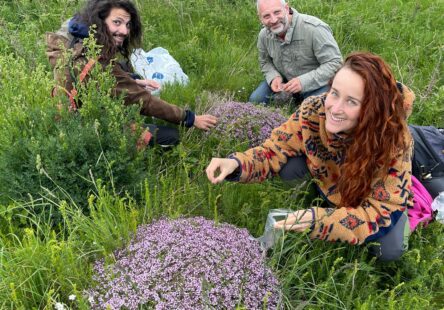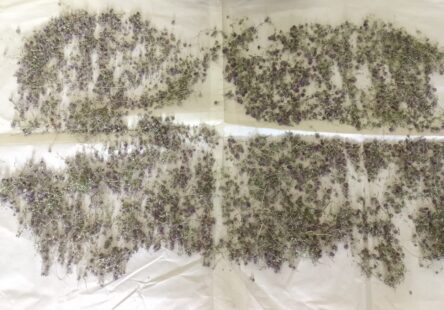 Collecting wild thyme                                                    Drying the wild thyme
Other edible plants we encountered were:
lots of Urtica dioica (stinging nettle) which you can turn into delicious soups and teas, and has great medicinal properties, like tre

ating painful muscles and joints, eczema, arthritis, and anemia.

Trifolium pratense (red clover) and Trifolium repens (white clover), amazing nitrogen-fixing plants and edible from root to flower, either fresh in a salad, as a cooked green, ground to flour, or blended with another tea. The flowers have a gentle sweet taste.
The Vaccinium vitis-idaea L. (Red berry) which you see can see on the photo, which will later on in summer have lots of delicious berries to harvest.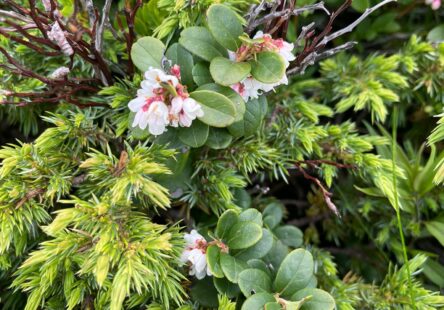 Red berry
I was surprised to find so many things that could be eaten just by walking for a few hours in the mountains. We certainly haven't identified all plants present, so I am sure there were many more edible or medicinal things to be found. I am looking forward to another exploration in nature soon!