Mali:
Dear all,
This is my goodbye message and a little reflection of the final time I spent with Fidanoto in Bryagovo together with Renzo in December 2022. My final days of my ESC project in January, I have spent my leftover holidays, giving me some space to think back and look ahead to plan my future steps.
I am looking back at a very productive and successful final month, where we were able to finalise a few really nice activities. Together with Miriam we went back to the two elder ladies whom we had interviewed for our seed saving library project, to collect some seeds from them. Together with the seeds we had received in Bogatovo from various villagers, and after some creative hours spent in the cultural center making little seed envelopes, we managed to give a little kickstart to this local seed library. Inside a little wooden drawer, at a visible place behind the chill corner in Bryagovo's library some 30-40 seed envelopes are waiting for people to come and find some seeds of their like or to bring envelopes with their own seeds to swap. We finished just in time to present the little seed library during our compost workshop on Dec 19.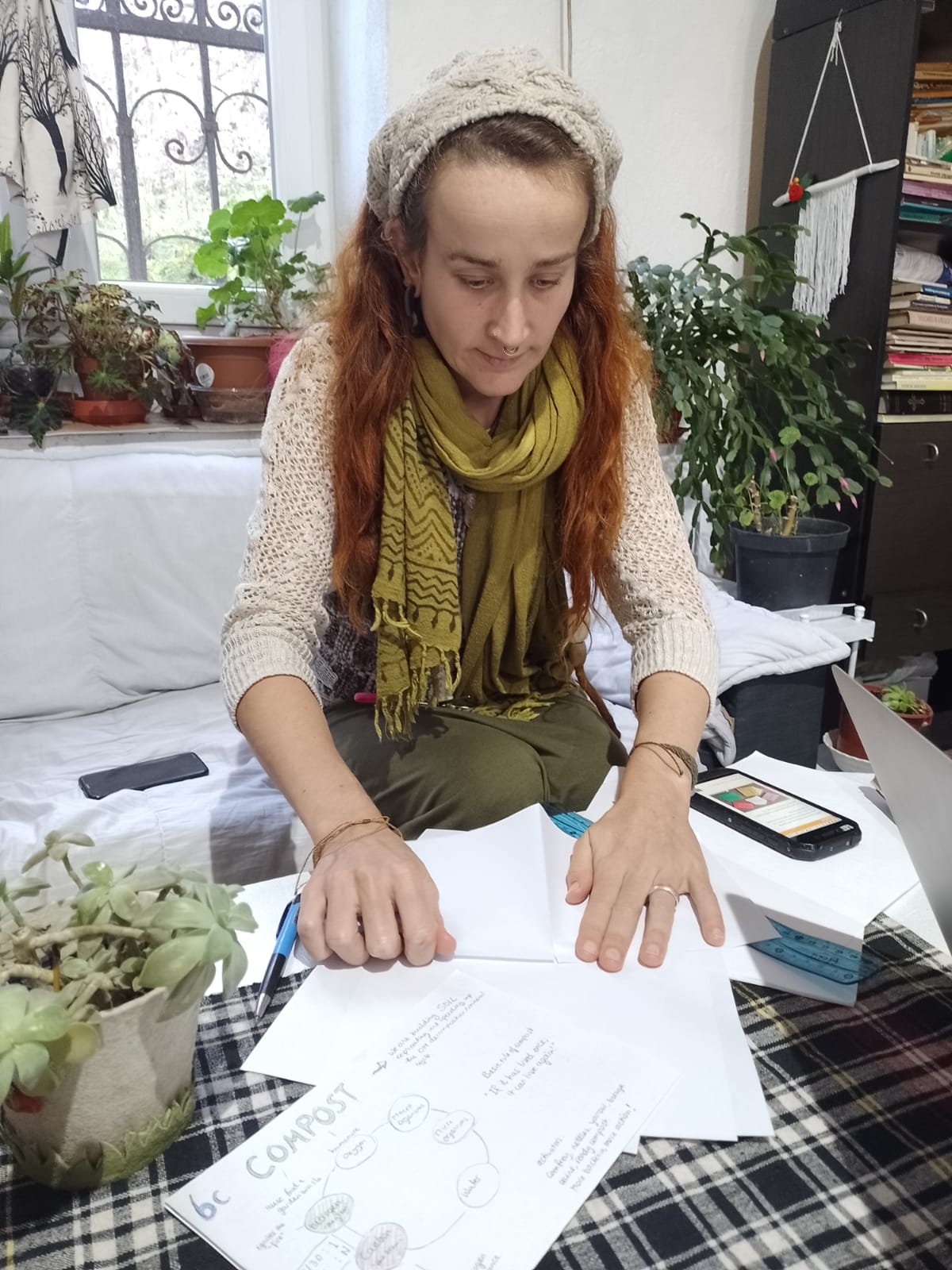 Preparing the seed envelopes (photo: Renzo Avendaño)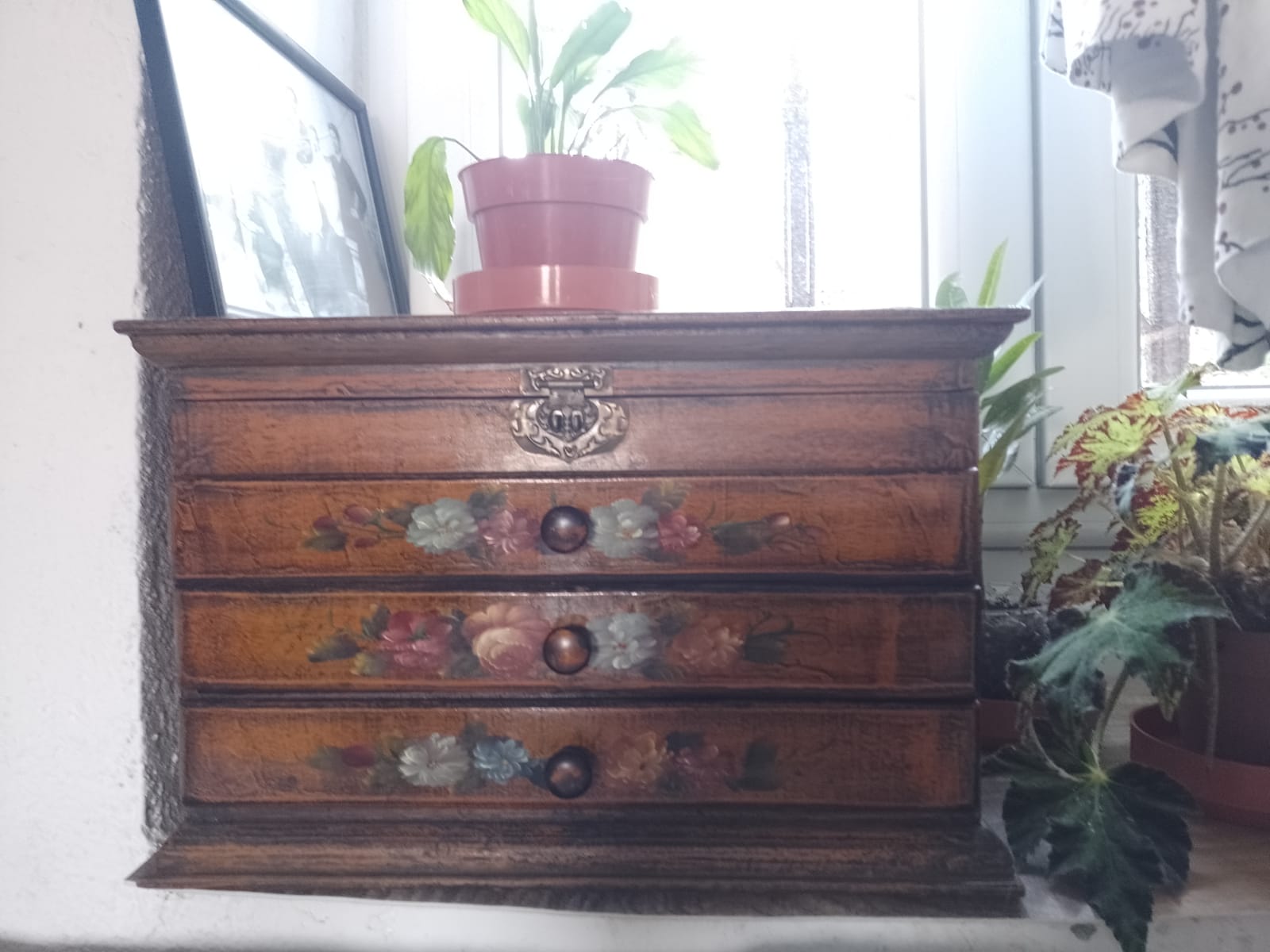 The cute Seed Library, to be found in Bryagovo's library (photo: Mali Boomkens)
Another nice little project that started from the idea to hand out some facts on paper at the end of the compost workshop, which got a little out of hand in terms of time spent on it (though fun to do), was an info flyer on composting. I am really happy with the end result; some of the essential basics on composting in an English version written by Renzo and me, and a Bulgarian version, that was translated last minute by Mihaela. This flyer is kind of timeless, so it can be used in any workshop in the near or far future by the Permaculture Association or Green School Village.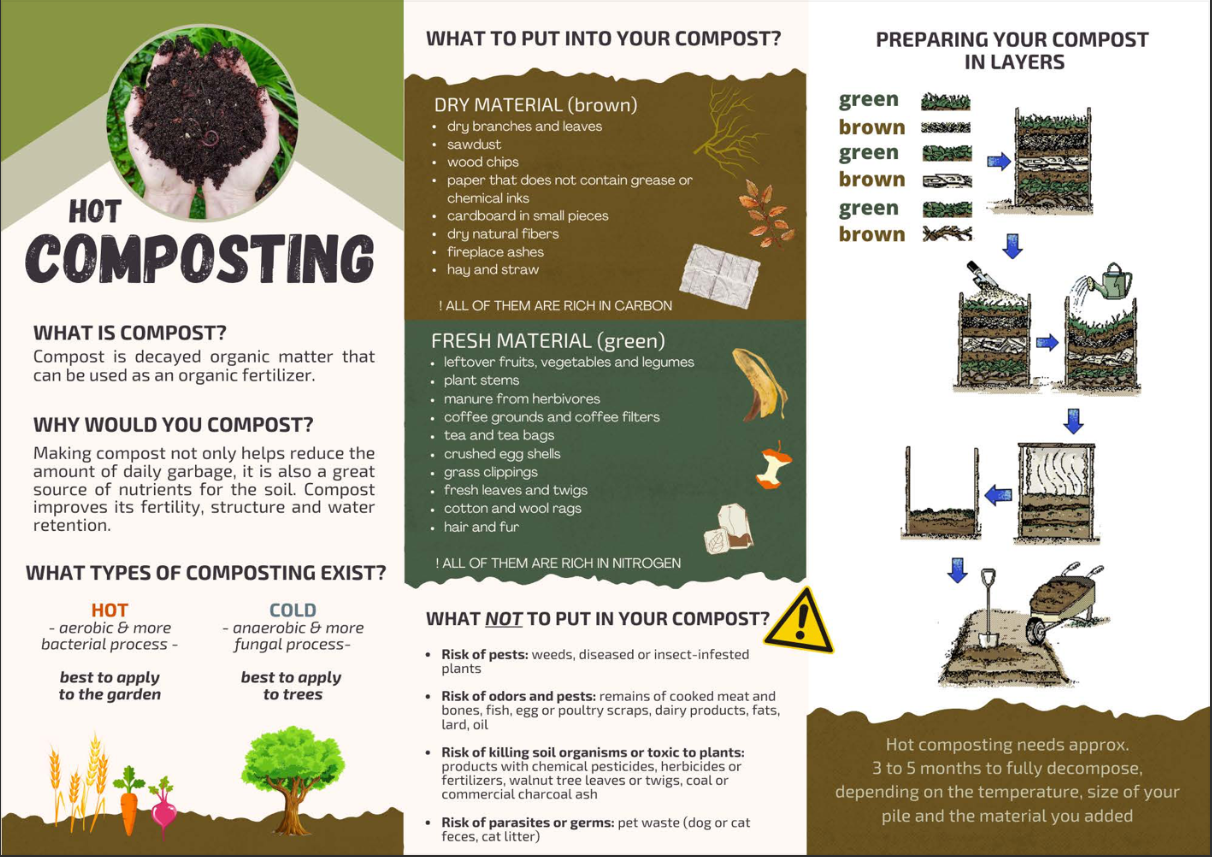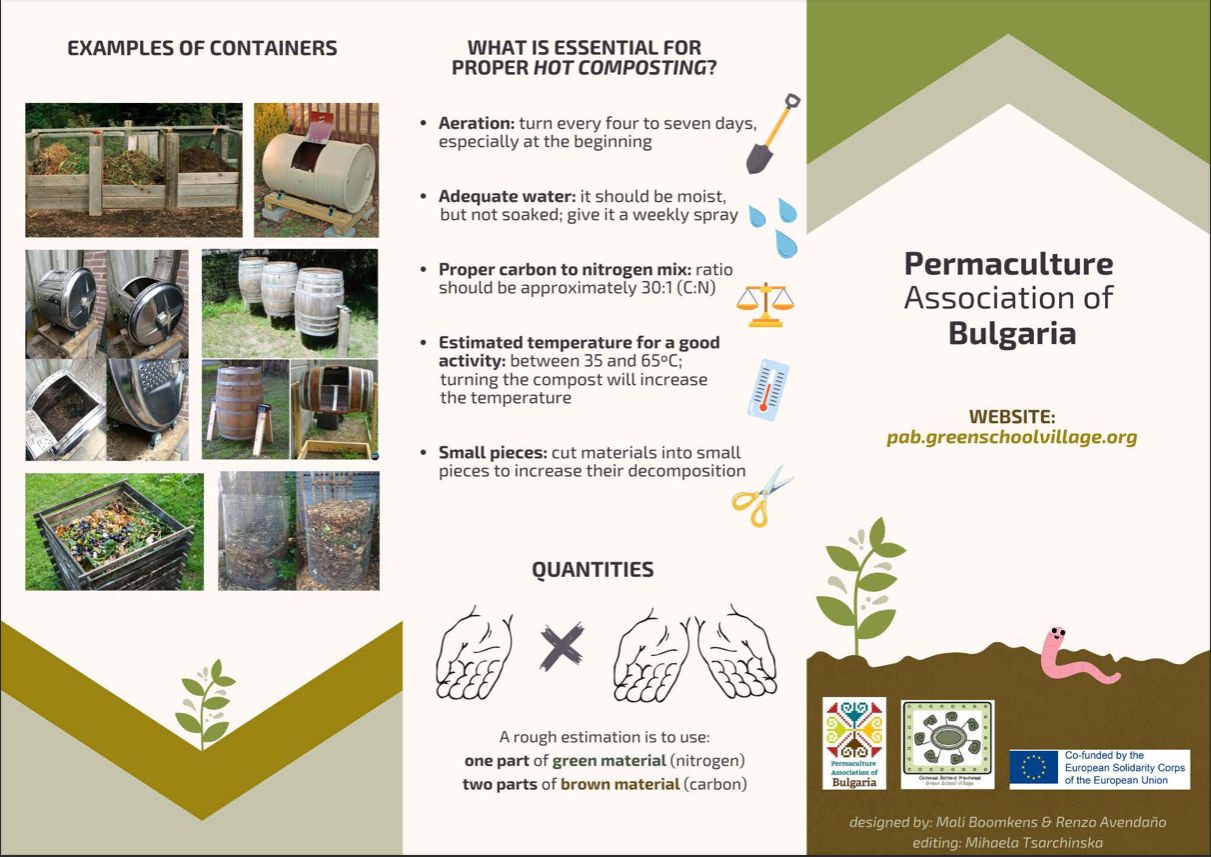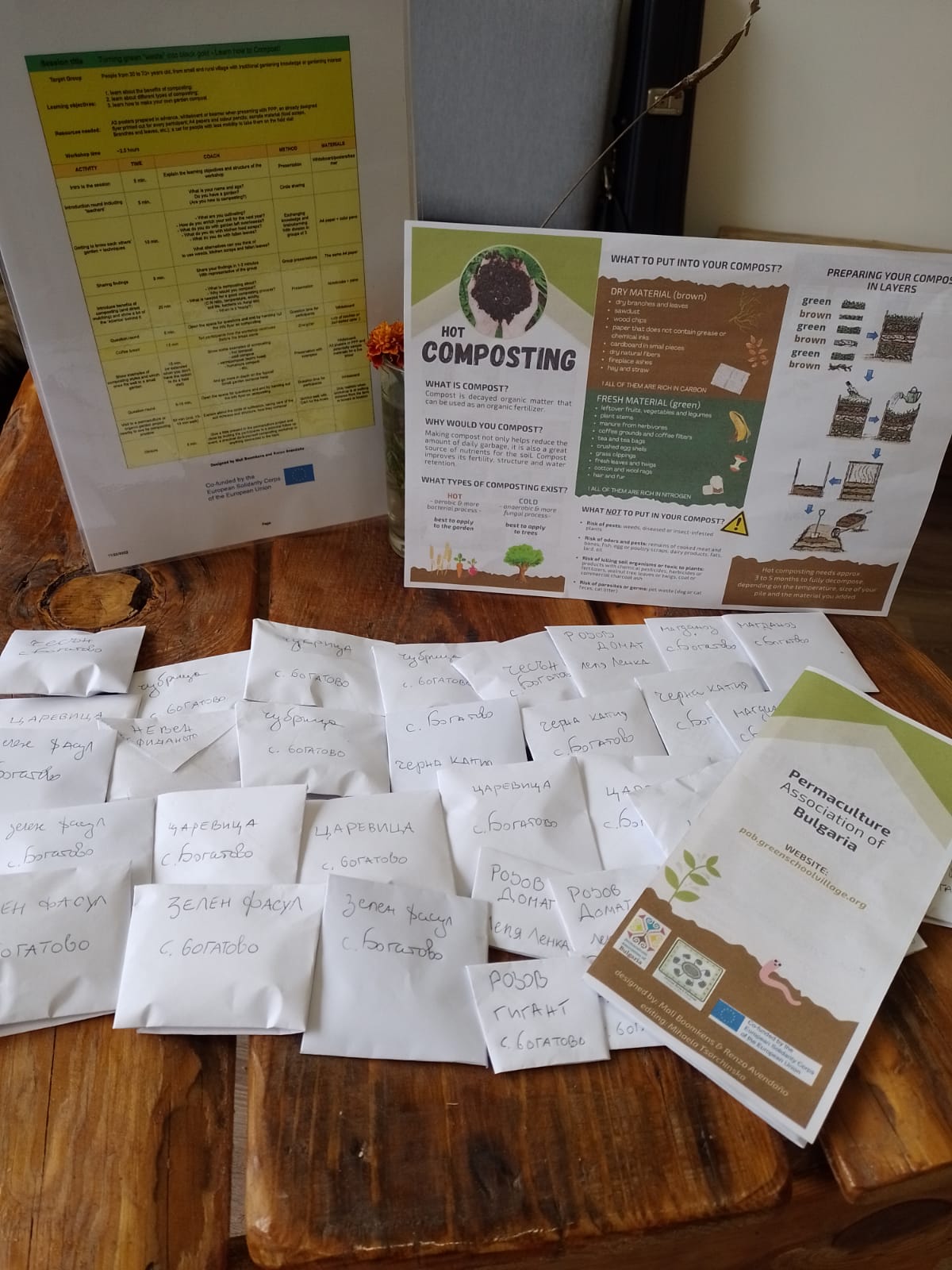 Our compost workshop 'kit' including our workshop structure, the wonderful compost flyer in English and Bulgarian and loads of seed envelopes to fill the seed library with (photo: Mali Boomkens)
The compost workshop itself was a blast! We didn't expect so many people that evening, but lucky as we were, we had a full library with around 20 people! It was a nice mix of international and Bulgarian villagers from Bryagovo and even some neighboring village. I felt quite well prepared and in a good mood, which helped a lot to just let it all flow. This seemed to have a calming effect on the participants, and I remember many smiling faces and curious questions throughout the session. The little demonstration I did how to make a good mixture of carbon and nitrogen-rich material, with materials Renzo had collected from the garden behind our volunteer house, was received with lots of interest. We had arranged some nice snacks and drinks for a nice chat at the end of the session. Some people had brought some homemade wine to make it all even more festive. As the cherry on the cake, one of the participants took out his clarinet, the old crunky acordeon was taken down from the theater hall, and I ran home to pick up my violin. Our lovely jam session was accompanied by a happy villager showing off some dance moves. From the music and dancing I unfortunately don't have photos, but will share some of the workshop just to get a little snapshot from this fun and connective night 🙂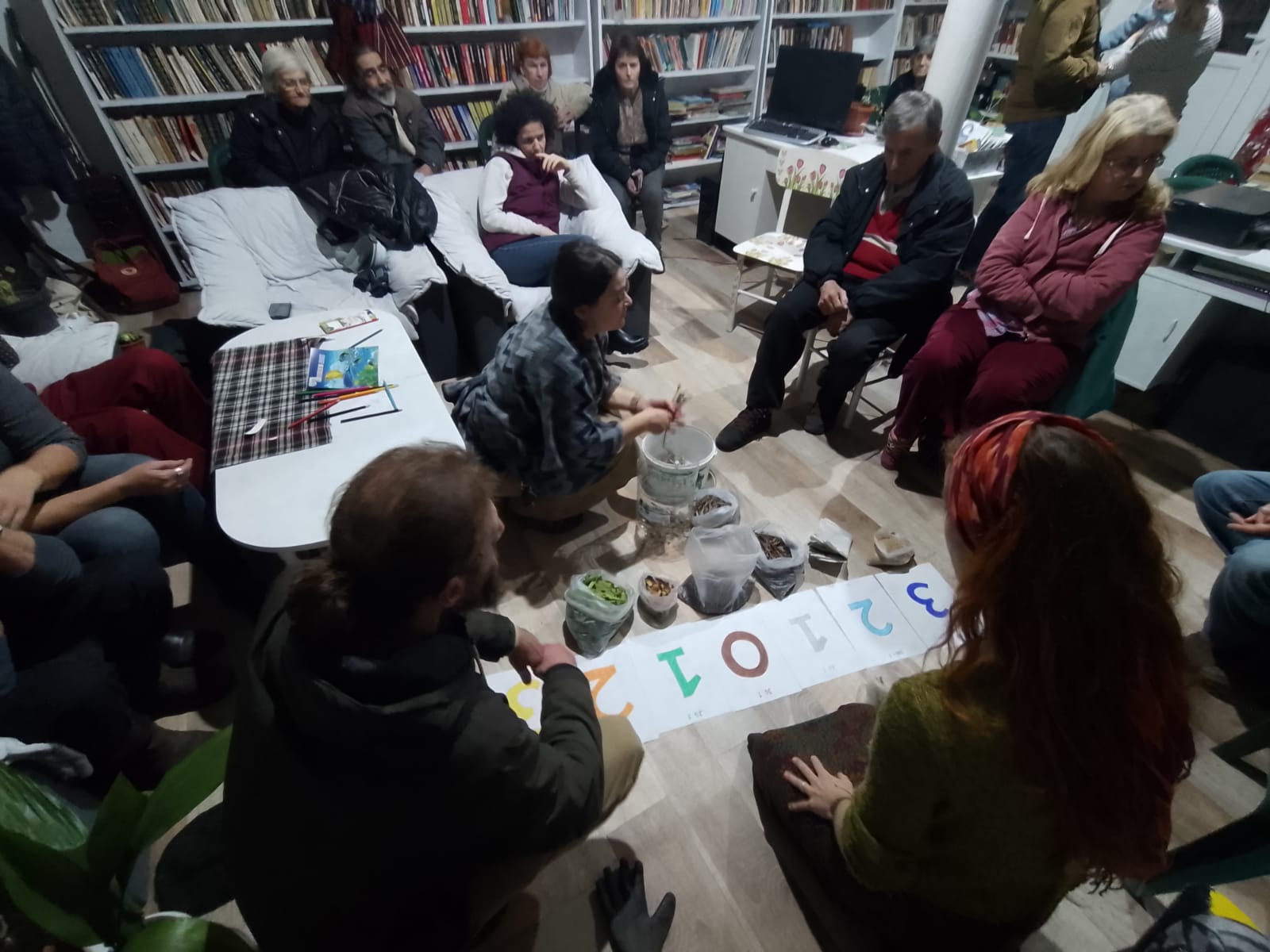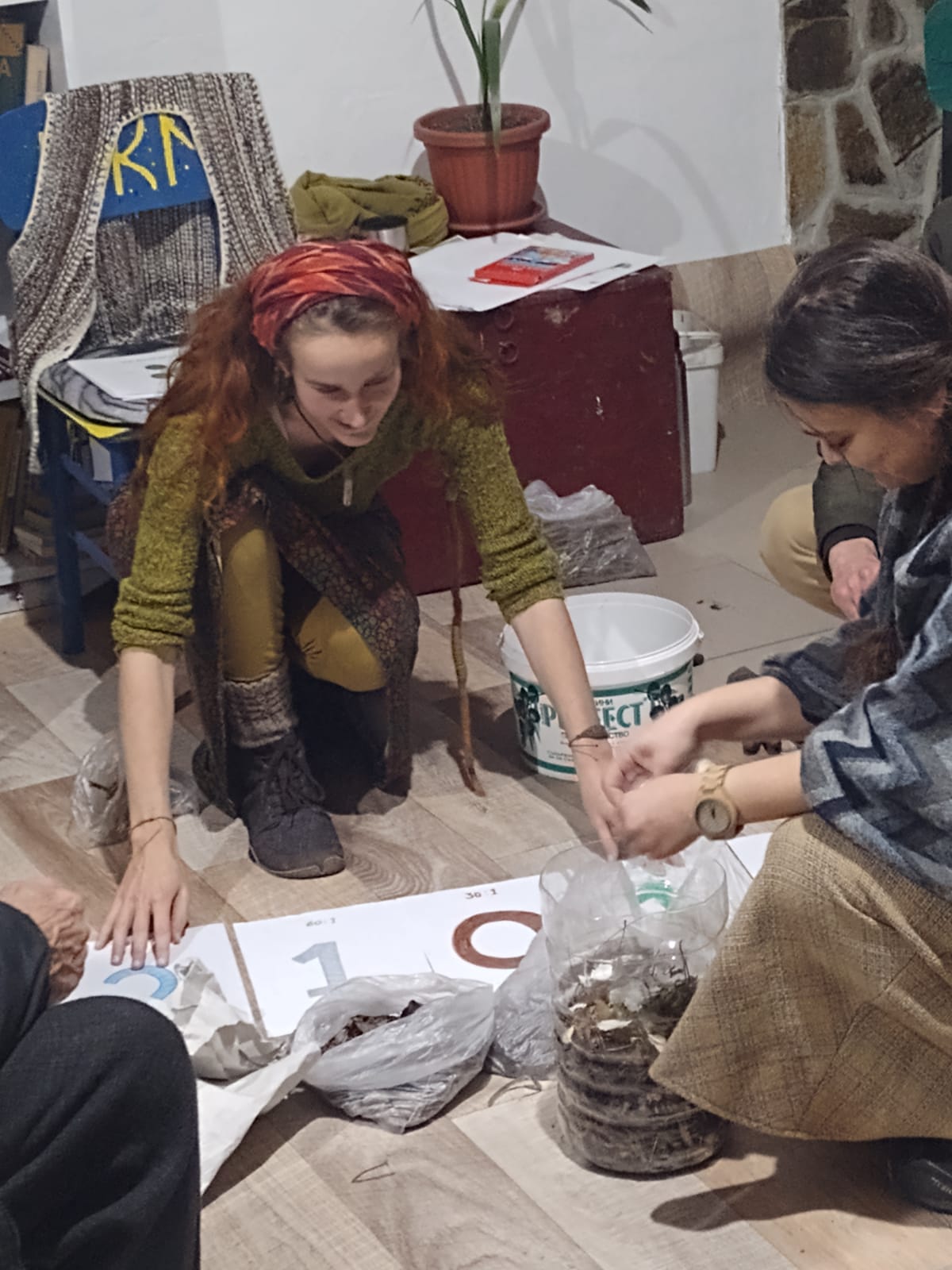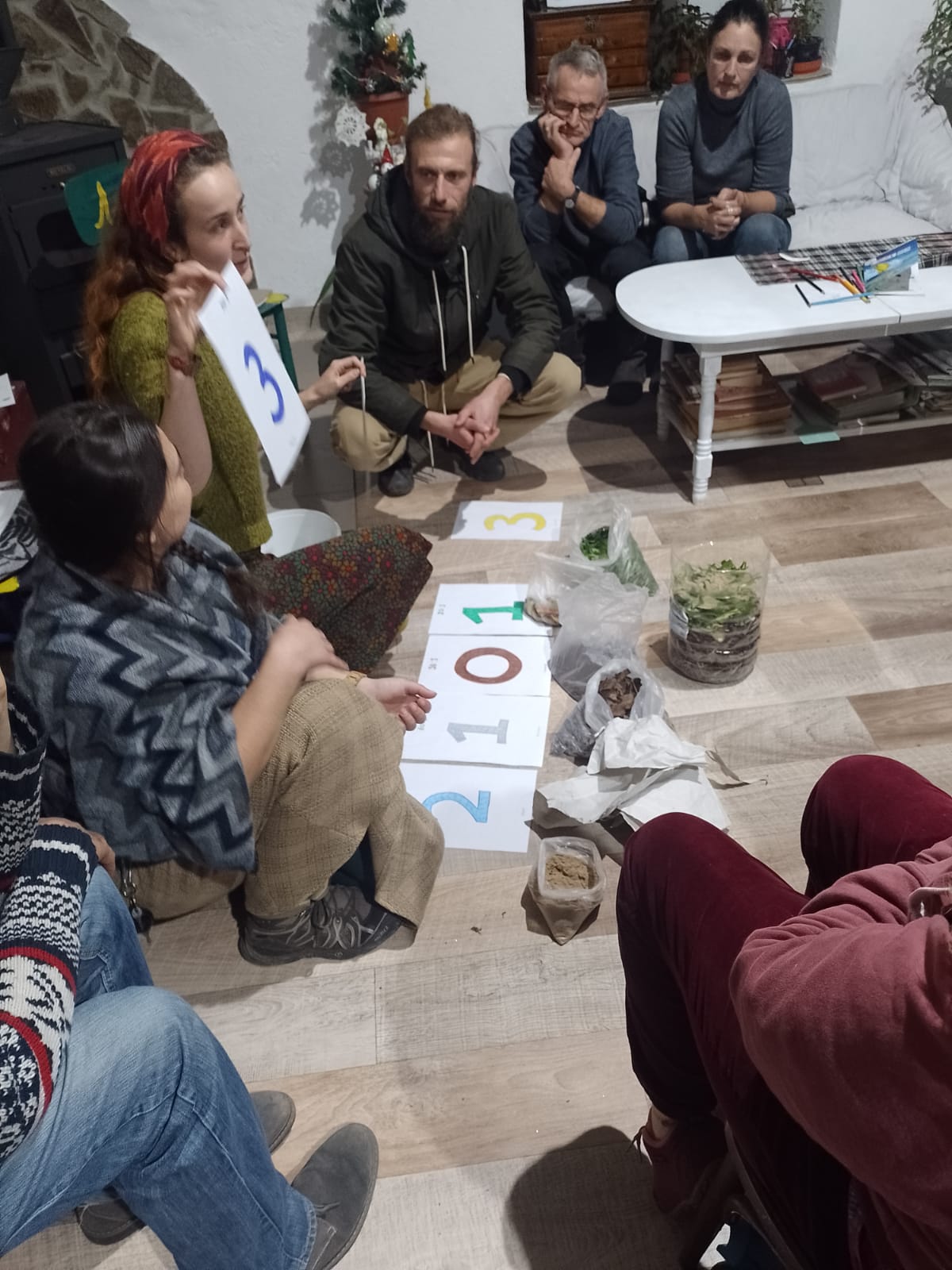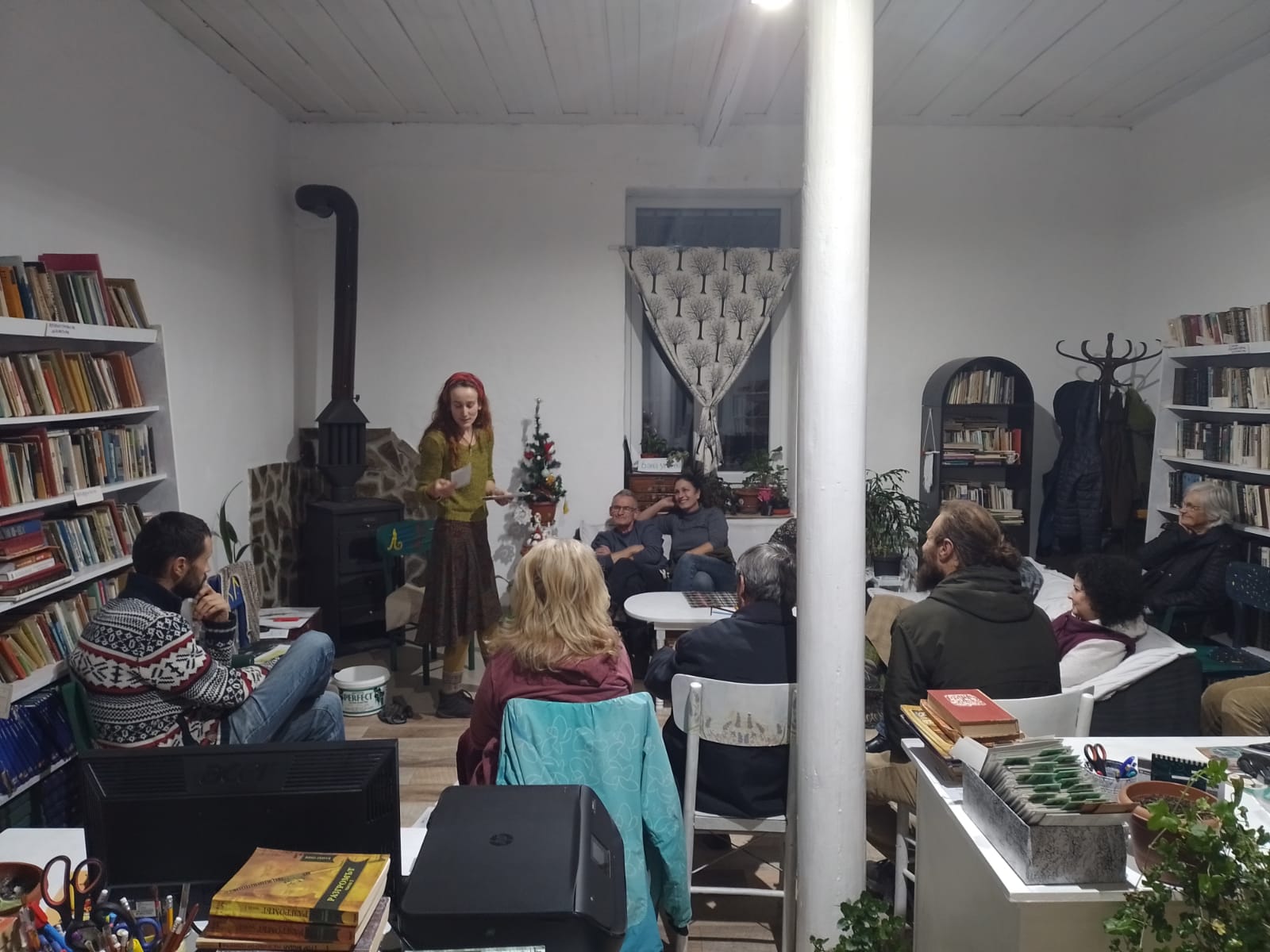 Another activity we did, was having an interview with Miriam and Alex about their project. This interview you can now listen to as a podcast story on the SoundCloud account of the Permaculture Association. Just in case, I will also add the interview here:
Another wonderful resource to watch, is the movie "Umbilical Cord", where Alex and Miriam are one of the protagonists. One of their veggie box customers was actually the director of this film! A must watch 🙂
I am looking back at a diverse 7 months spent in Bulgaria as a volunteer for Green School Village/The Permaculture Association, where I got various interesting opportunities to see permaculture in practice, gain experience in teaching permaculture to others, and make new friends with inspiring pioneers in regenerative agriculture and communal living.
This long-term volunteer experience has helped me to decide that I want to continue my permaculture path, by signing up for the diploma path with the British Permaculture Association. Meaning that I will be making ten designs over the coming 3+ years; answering to my desire to practice more in permaculture designing, to be able to teach about this with more confidence and also allowing myself to directly apply these skills in my personal life.
Thank you to all who have been supporting Renzo and me before, during and after this ESC endeavour and I am wishing all the best of luck to the Bulgarian Permaculture Association to sprout, grow, and flower allover the country with inspiring people and projects doing this important work!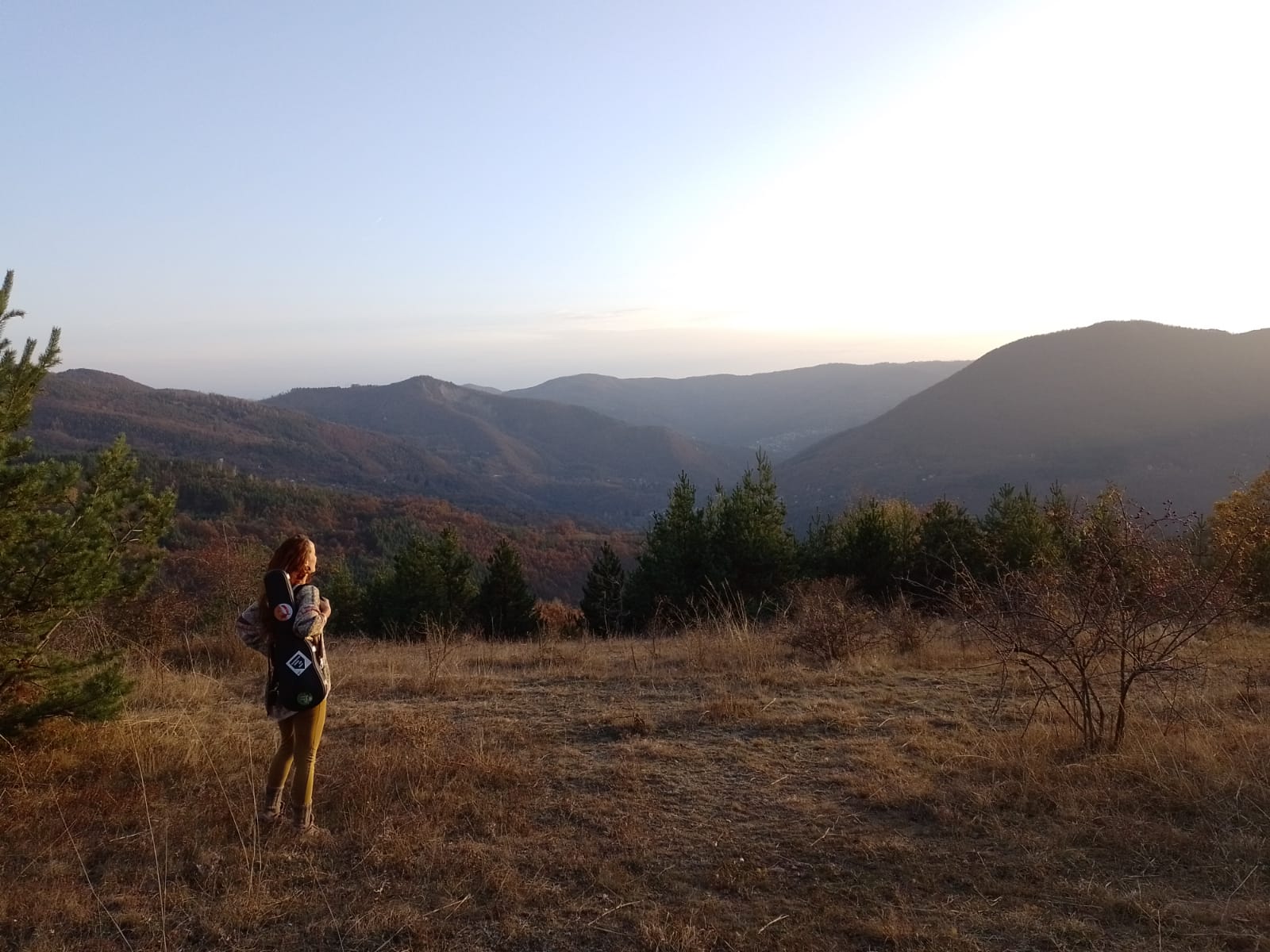 Looking ahead to new exciting endeavors (here in the magical mountains at Vegetarium Project) 🙂 (photo: Renzo Avendaño)