Peter and Anastasja:
Hello friends and family,
Last weekend after our PDC, we took a few days off, and visited Momin Prohod, where Aleko and Marta from Green Association (greenassn.com) invited us to stay in the association's house. It is a house that hosted many volunteers, and you can see little details of their stay all around the place. We were treated to some homemade pickles and wine, and enjoyed the nature and peacefulness of this small town. Here is a link to the Green House in Momin Prohod (Green House – Green Association (greenassn.com)), where you can also read about the Herbarium one of the volunteers there made (a collection of pictures and information about the plants growing around the house).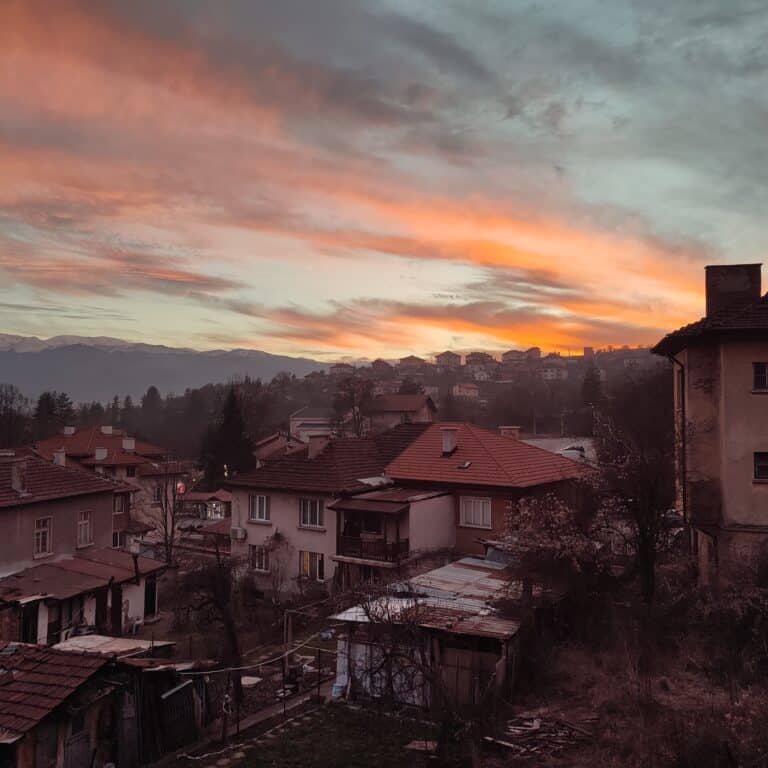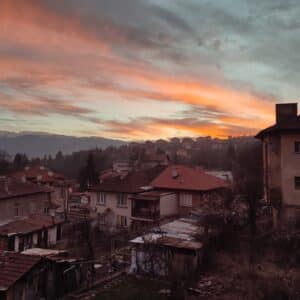 Sunset as seen from the Green House in Momin Prohod (photo credit: Peter Spornberger)
Back in Sofia, we did a really fun exercise for our on-arrival training. We made some cards with all the project-activities, and tried to sort them into different categories/colors. Like this we have a visual reminder of our tasks which is really helpful (and it was a lot of fun to make them).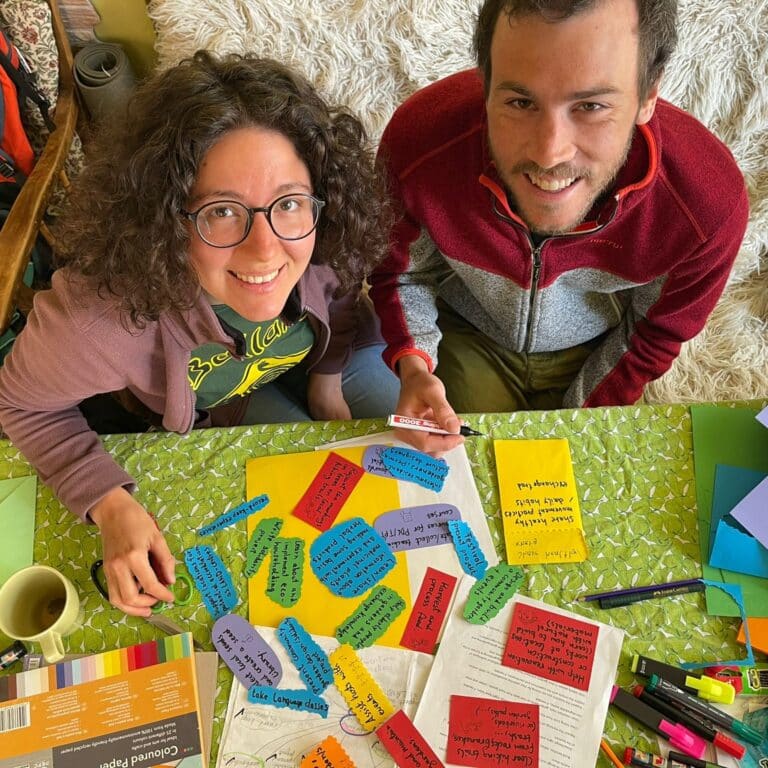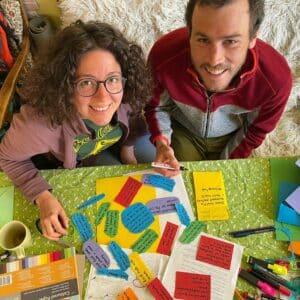 Anastasja and Peter making activity-cards (photo credit: Mihaela Tsarchinska)
On Thursday we left the big city for the small village of Buzovgrad, where we were hosted by our mentor Polina and her lovely family (more about this in the next blog post). After a very warm welcome and a good night's sleep, we went to Shipka on Friday to meet the mayor and hear some stories about the previous Green School Village project there (the first edition of the project we are participating in now). Finally we also met Paula and Francois there!!
Then Misha (Mihaela Tsarchinska, our project-coordinator) and Shipka's mayor told us about the volunteer project in Shipka. In the course of this project, the volunteers spent a lot of effort to build a connection to the community. They helped the elderly and grew very close with them, bringing new energy to the lives of some of them. We were touched by one story of an old widow, who had been depressed and isolated for a long time, but with the volunteers' help found a new light in herself. 
Besides this, the volunteers helped set up a few community gardens and made a lovely flower and herb garden, the "Butterfly Paradise", to attract butterflies and other insects which can pollinate plants and help the local gardens flourish. 
Another project they did was to collect seeds from Shipka's garden's and set up a "seed library". In a small wooden box in the municipality, you can find seeds to grow beans (боб), pepper (пипер), and mixed seeds from "grandma Monka" (баба Монка), among many others. Like this, anyone can take some seeds to grow in their own garden, and collect them again in fall to bring them back to the library.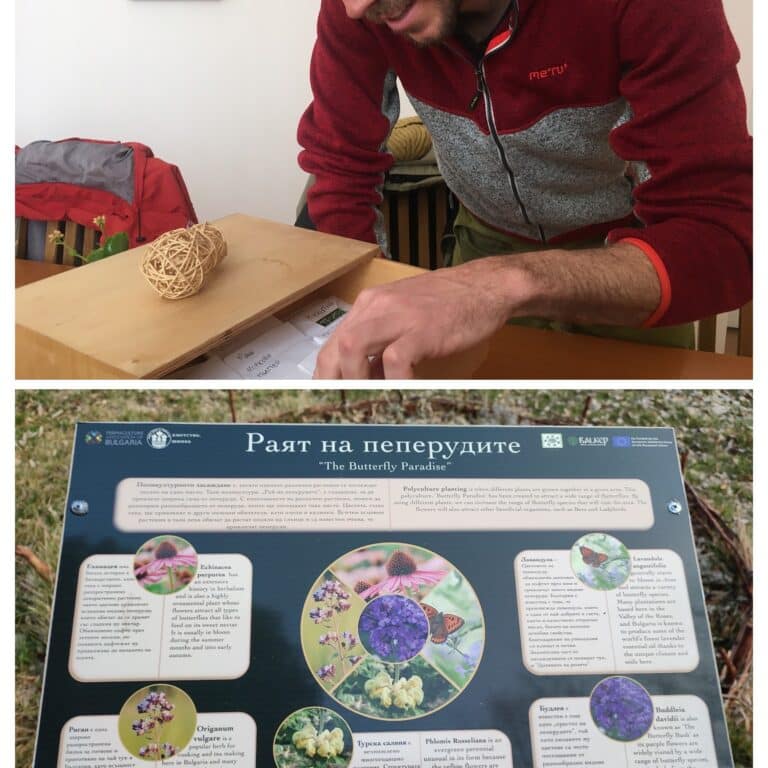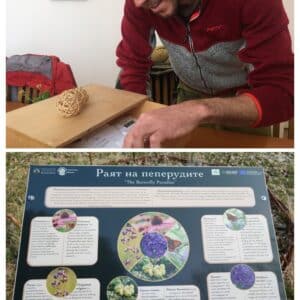 UP: Peter inspecting the seed library (photo credit: Anastasja Giacomuzzi). DOWN: Info board of the "Butterfly Paradise" (photo credit: Peter Spornberger).
The most notable project of the Shipka volunteer team was the solidarity project they wrote for the local sports' center. It was actually our project-coordinator Misha who initiated the creation of this solidarity project, after talking to the local youth about their needs. Then the ESC volunteers and a group of local youth, with Misha's support as an advisor, wrote this solidarity project. While it was the young people realizing and impementing the project, Green School Village supported them for more than one year. In addition, Shipka's mayor actively supported the project, and the neighbors showed their appreciation by planting some flowers in front of the sports club. The success of the solidarity project allowed the local youth to refurbish an abandoned building and purchase equipment, so Shipka's community has a place where they can have sports and dance classes, where the kickboxing team can practice, and anyone can use the equipment to work out. The project was a successful cooperation between the Green School Village Association, European Solidarity Corps,  and Shipka municipality. Here is a link to the municipality's photo-reportage of the project (https://www.facebook.com/permalink.php?story_fbid=pfbid08qCmTukuuC3pQw2kZRuRBrzrP94uCkrebvzBYxyzMt8rhL7aDFkoSbqnzDUMoSCEl&id=100064521916982), where you can see the impressive before and after pictures.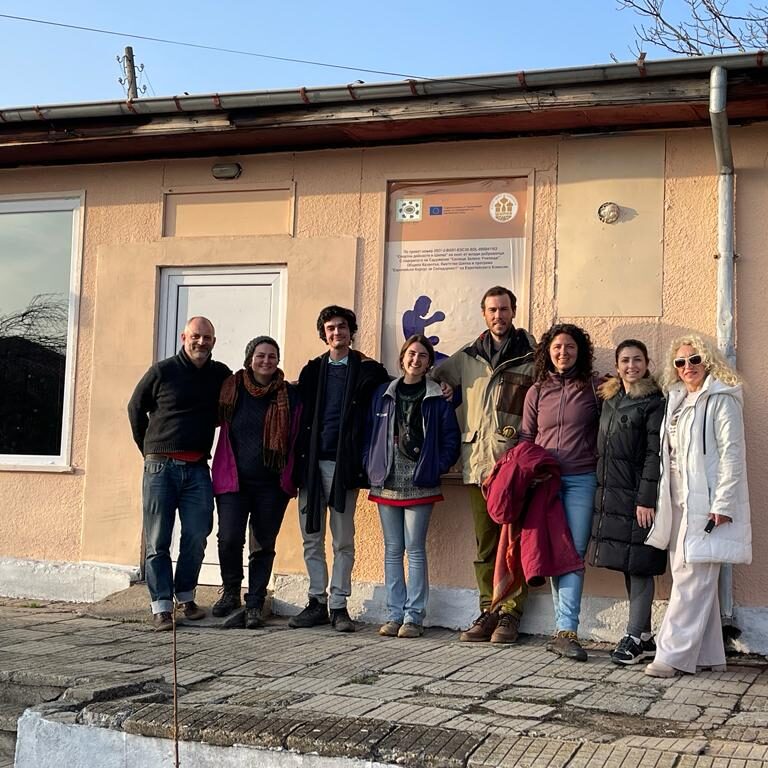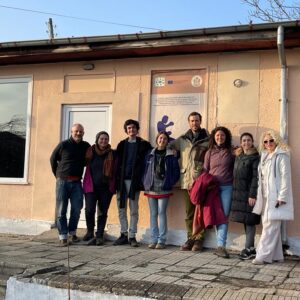 The Green School Village team with Maria (the team leader of the previous Shipka volunteer team), and Shipka's mayor (photo credit: Mihaela Tsarchinska).
After that, we were lucky to get a guided tour in the forestry museum closeby. A real gem! The museum documents the reforestation of the mountain above Shipka. In 1904, because of many landslides and floods the Bulgarian king decided to arrange a French designer for this project (Félix Vogéli). To counteract the erosion they built many permeable barrages to stop the soil from sliding too fast, especially in steeper terrain. Besides that, they planted a large variety of trees  to prevent landslides. The museum contains a lot of history with many working tools, pictures, and documents about this reforestation project. It was impressive to see how they were able to realize this huge project with the tools and knowledge of those times. For more details, you can check out this link which also describes an EcoTrail along the traces of the reforestation project which we will definitely check out when we go back to Shipka (The EcoTrail "In the footsteps of Félix Vogéli" – Visit Shipka).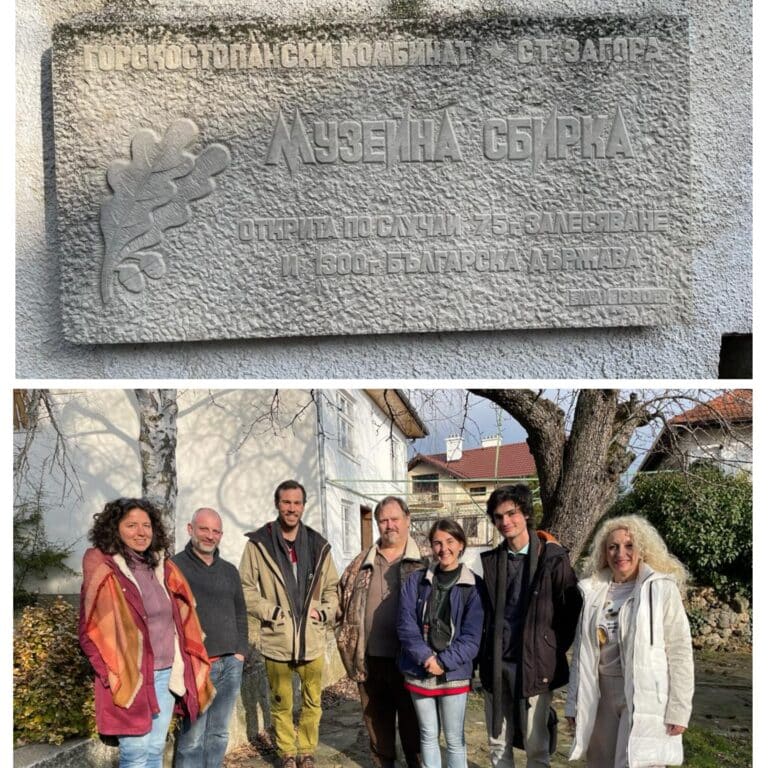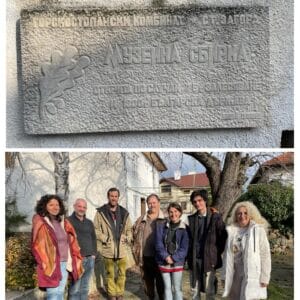 UP: Entrance sign of the forestry museum (photo credit: Peter Spornberger). DOWN: Group picture of us, our tour guide, and Shipka's mayor (photo credit: Mihaela Tsarchinska).
A short but intense week, and we have much more to tell you in the next blog about our weekend in Buzovgrad!
Чао,
Peter and Anastasja
François:
Bonjour!
Being an ESC volunteer for seven months is a unique experience that brings its share of emotions, and that makes one meet a lot of new wonderful people. I am thus very happy to welcome Peter and Anastasja here in Todorovo, after having met them in Shipka, and I am really looking forward to spend amazing time at their side! But, as people come, people leave. People you have lived 5 months with, have shoveled shit with, have sowed thousands of bulbs with, and so much more. After Chloé, it was time for Paula to leave. Time flies. Welcome back to Spain, and may your compost ever be dark! 🙂
So, as a form of therapy, let me introduce you to a very entertaining and enjoyable topic: soil acidity (youhou!).
But what is acidity in the first place? Put on your lab coats, and follow me to the wonderful and yet obscure world of chemistry. A chemical compound is said to be "acid" if it has the ability to donate an H+ ion to its environment, and "basic" (or "alkaline") if it has the ability to capture that same ion. We measure acidity -or basicity- with pH (potential hydrogen), a number that goes, to put it simply, from 0 (the most acid) to 14 (the most basic), with 7 being neutral -typically, pure water.
Now, why is pH a relevant measurement as long as soil is concerned? It turns out that each plant has different needs in terms of soil acidity, some thriving in acid soils, and some others in basic soil. The acidity of a given environment will highly determine every chemical reactions happening in it, just like exchanges between the soil and a plant, as well as the presence of micro-organisms. Most of soils have a pH comprised between 3.5 and 9, and the optimum range for most of the plants is between 5.5 and 7.5.
When you come to a new place for gardening, it's always a good idea to make a soil test in a lab, which will include pH alongside with other relevant information. You can also measure the pH all by yourself, using a home pH-test (cf. the Epic Gardening video).
Finally, what are the methods to modify the acidity of my soil?
Increasing pH of acidic soils. Soil acidification can be caused by acid rains, chemical fertilizers, etc. A variety of substances can be spread to make your soil more acid: lime, manure, wood ash, oyster shells, …
Decreasing pH of alkaline soils. You can spread organic soil sulfur, or acid organic matter, like pine needles, woodchips, or (unused!) coffee grounds.
As a general solution, you can also modify the pH of the water you're using for watering!
Please note however that modifying the pH of your soil might not always be the best -or even the easiest- option for you. In this case, you should consider simply growing crops that are suited for your soil 🙂
Sources:
No transition, our seedlings are doing just very fine! They are now cozily installed on a second layer that we built this week in the greenhouse, out of a ladder, frames for drying and old irrigation pipes 🙂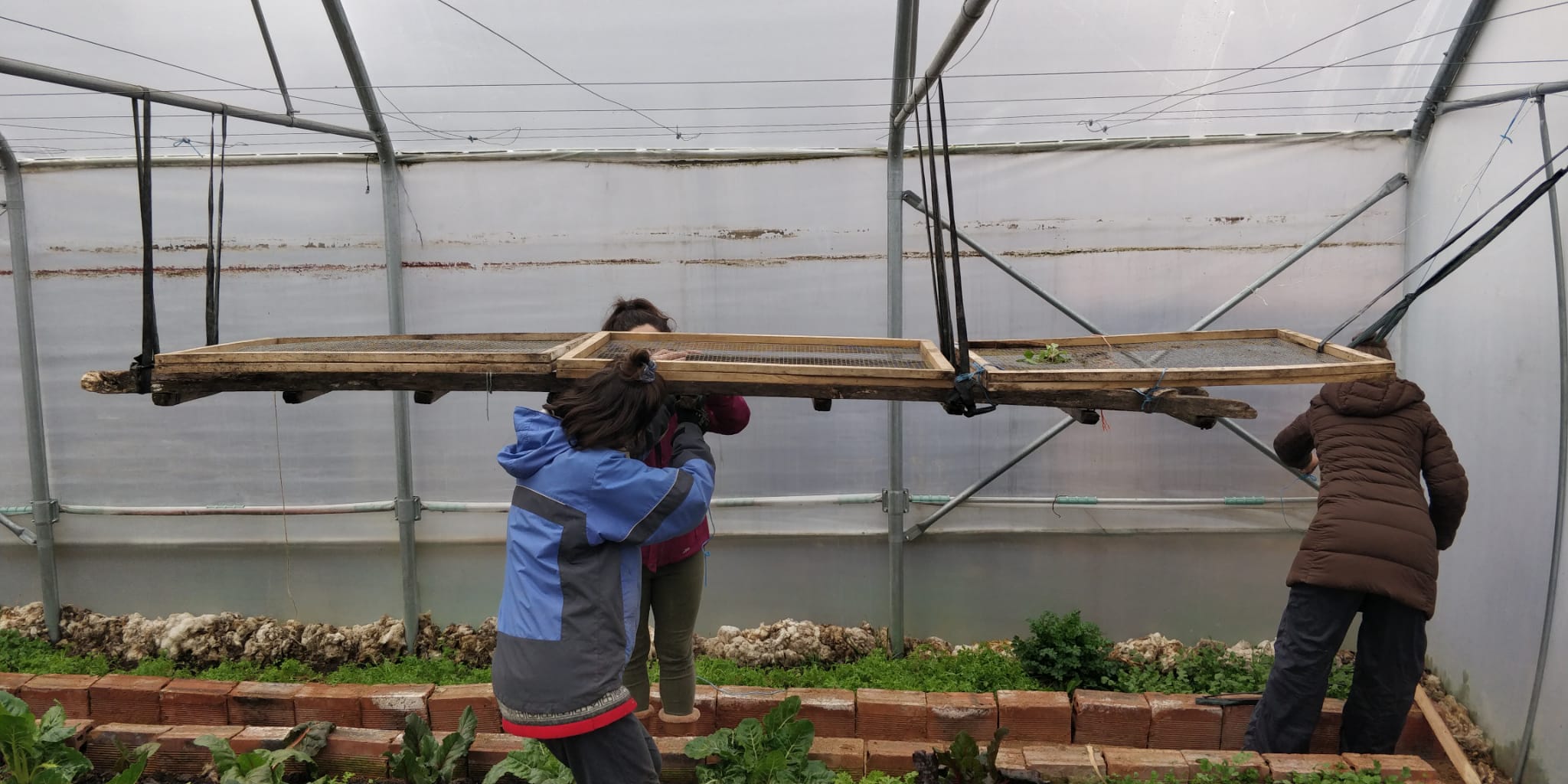 The 5* seedling hotel being built in the greenhouse (photo credit: François Dupé)