François:
Dear beautiful gardeners,
This week, on March 8, took place the International Women's Day (IWD). I would like to take this opportunity to remind ourselves that women's, as well as gender and sexual minorities' rights are the result of fights that are still going on today, and that are always to be defended. I'd also like to emphasize that permaculturists, when it comes to live in communities, should always seek for creating inclusive and safe spaces for everyone -value diversity!
Here in Bulgaria, this day is referred as "ден на жената" (den na jenata, day of the women). Its celebration originates during communism, and it was supposed to emphasize women's social role, as well as their economic and political achievements. Nowadays, it is a moment for men to show their respect and gratitude towards women, and is still commonly associated with Mother's day. Traditionally, women are given flowers from their colleagues, husbands, friends, or children. They also gather in women-only parties, and get surprises by their beloved ones.
As long as Todorovo is concerned, a village party was organized in the читалище, the community center, from noon to the middle of the night. There, the community gathered and cheerfully celebrated! For us, it was a perfect occasion to both discover local culture and spend time with the people here. We got the mission to prepare flower baskets for the room's decoration, which remembered us that spring was about to come… 🙂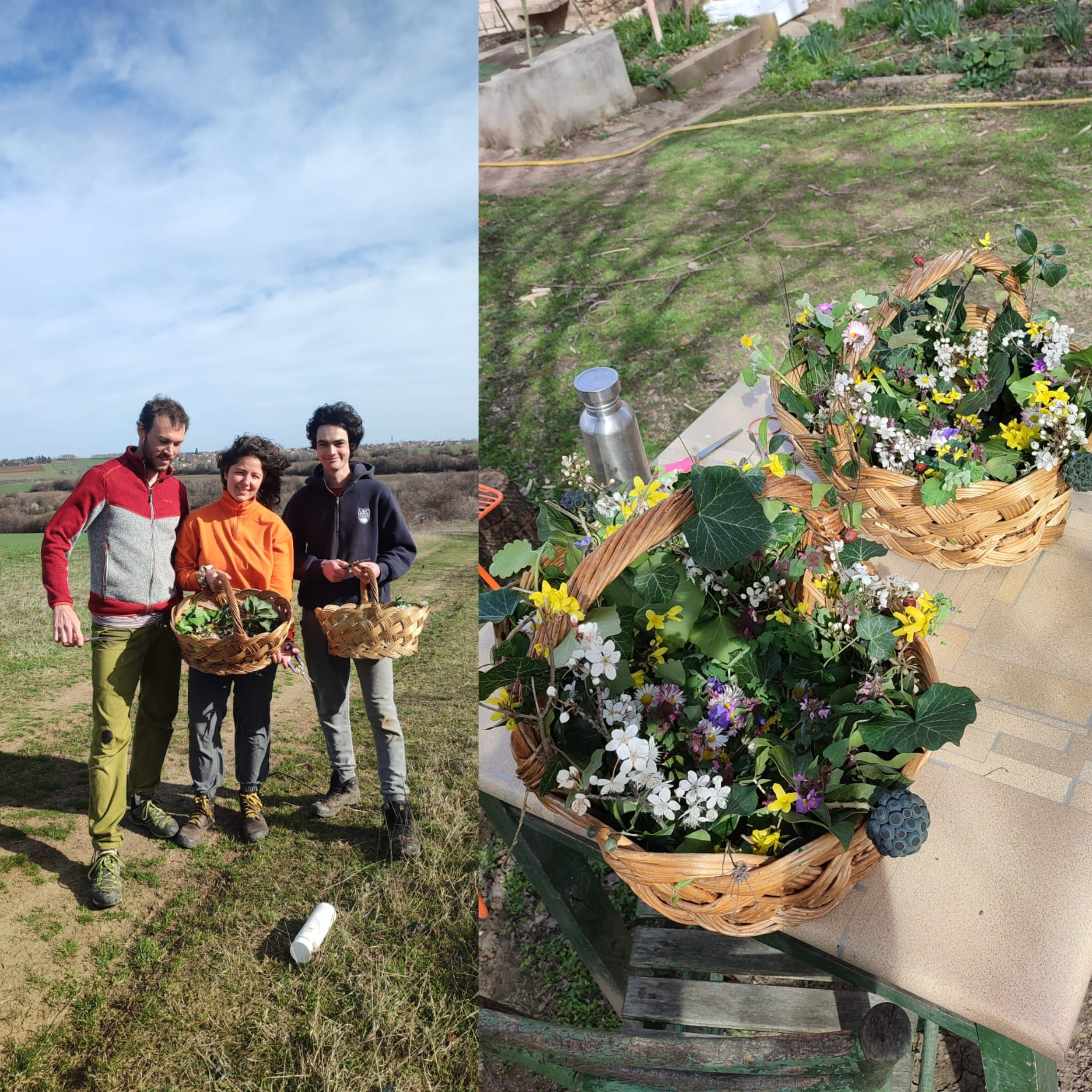 LEFT: Peter, Anastasja and François during their picking (photo credit: Vyara Marinova)
RIGHT: The flower baskets (photo credit: Peter Spornberger)
PS: If you want to practice your Bulgarian, here is a nice and short video about IWD in Bulgaria 😉
Introduction week for Danny
In our first week I drove from Germany to Bulgaria with my father until I arrived at our small apartment in the city center. Here I would sleep and eat for the next few months. After a first night of light sleep I met Misha and Filip again in her office facilities to discuss all the details of our project. In that first meeting they explained to me the different roles of all people involved in the project. Philip introduced me into the website and the blog, which I found to be extremely interesting and useful. Misha explained all the different places we were going to visit and we discussed the many tasks that I could engage in. They were very different and some of them I found to be very interesting. For that I did some exercises like a tree of intentions and contribution, where I had to outline both things accordingly. They also told me that they dedicate a lot of time and energy to explore a project called LAND and to create a network of engaged people in sustainable and agriculturally valuable projects in Bulgaria. Philip introduced me to google drive and after that I was released for some free time to explore the city. Also I had a meeting with our mentor Pol, who will guide me through our experience. I was given the maps included in this post, which was very helpful to safely explore all surrounding areas and find cute cafes and restaurants to have lunch in. For the next couple of days we met almost on a daily basis and started off by conducting our first activities (writing blog posts, preparing our cameras and making plans for our visits on the project sites and around the country. For the next couple of weeks I will be sent to different places across the country to take pictures and interview people from interesting projects. I took part in a free walking tour and a pub crawl at night, which was great to meet new people and exchange stories. I did my first welcoming-video and uploaded it on the blog. It was a great first week and I want to sincerely thank Misha and Philip and all organizations who made this possible.