Hello dear ones,
It's Marija. My "working week" started on Saturday. In a nearby village, there was a workshop for a natural method for dying clothes with wild plants. It was held by an amazing woman called Nikoleta Ivanova, that made an atelier in her barn, very close to her family's home. Their family's estate is also created on the principles of permaculture. They (Nikoleta and her family) have a permaculture garden; they home school their children; they live and create in harmony with nature. The material for this workshop will be posted in the following weeks, because besides the fact that I was recording most of the workshop and participating in it, I would like to make a personal interview with Nikoleta, because I feel like her knowledge and passion should be shared in their fullness.
https://www.facebook.com/reel/1022717375564932
(video from the workshop)
The main focus of this week was working on fulfilling the criteria, for "Blagodat" to become a LAND center. I remember watching an interview with Tony Robbins (an author and personal couch) where he said that three key points to success are:
Focus on what you have
Focus on what you can control
Focus on the present moment
So this is what we did. After going through the criteria, a decision was made to make the sign posts for the different areas in the estate. First, we had to define all the areas (or zones) that we have now and the ones we plan for the future. Then I gathered wooden material from all over the estate that can be used for this cause. The material was old and about to be recycled, it had to be treated properly, so it can have a long life. It was my first time working with machines of this kind. I did not feel super comfortable, but I wanted to do it and I did it, and now I have a new skill. I am far from professional, but if this is needed in the future, I will manage. After cutting the boards, we cleaned them, made them smooth and we burned the first layer. It is a Japanese technique for preserving the wood. Then the fun part started, writing and drawing on the sign posts. Once more, I had a little helper by my side that made this task even more amusing.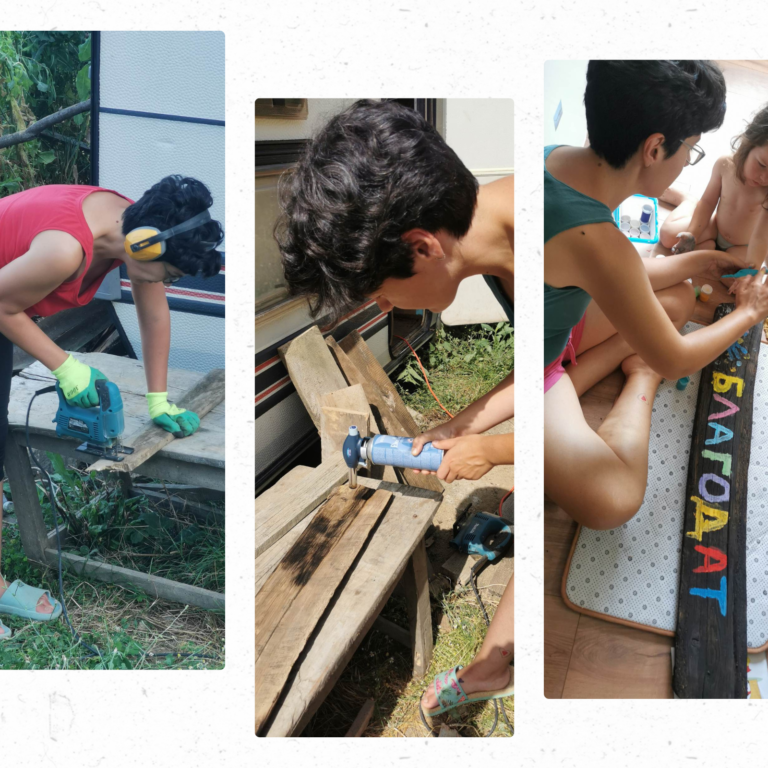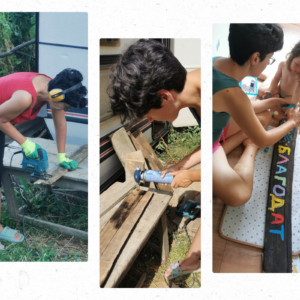 Left: Marija cutting the wooden boards
Middle: Marija burning the top layer of the board
Right: Marija and Kalina decorating the main entrance sign post
We can really feel the summer this week. It is very hot and all the work that is done, is done either in the early morning hours or after sunset. It's good that there is daylight until after 9pm, so we can work and create in a cooler conditions. Talking about summer, it is one of my favorite fruit's season – wild plums. As I was driving down to go to the city, I saw a few full ripened trees next to the road, so on my way back I couldn't stop myself from not stopping to gather some. This is one of many things I love about Bulgaria, there are fruit trees that are growing on "no man's land" and you can just freely gather and enjoy them.
I met a family from Israel, that had a fruit forest and a permaculture garden in the north of Israel. It is very good to exchange knowledge and contemplate around how different climate shapes our whole lifestyles, diet and culture.
Together with them we visited the children's vacation village, called "Live with love", that is located in the village of Smolichano, in Kyustendil area. It is a beautiful place. The woman that owns it, bought a few old houses that were falling apart and created a paradise, for both children and grown-ups. The spirit and style of the old houses were preserved, and it was all reconstructed with natural materials. They have a beautiful garden. Very often, the center is used for workshops for methods and practices that are in synchronicity with natural lifestyle. For example, on Friday, when we were visiting, they had a workshop for making earth pigments for children.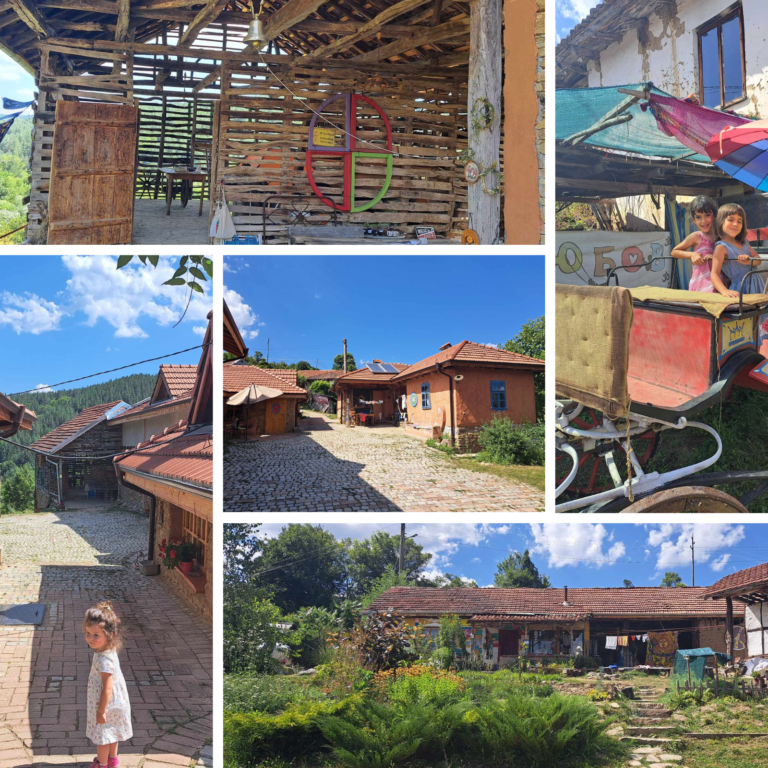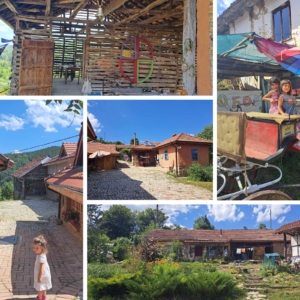 Up left: The barn that is made into a place for clay workshops (and occasionally bunnies live there)
Down left: Kalina entering the center
Center: The square
Up right: Vyara and Yorin posing on the chariot
Down right: part of the garden and the kitchen
It was a week full of learning new skills, trying new things, meeting amazing people. All in all, the beauty and fullness of life for which I am truly grateful. Bellow it's a text from Andrii that I translated on English.
Andrii:
I got my inspiration for making this project, few weeks ago when we visited the natural estate. People there were exchanging seed, we were taught how to make our own envelopes for the seeds and I also got some seeds that were very valuable in my opinion. The seeds were local and old types, meaning there was no GMO or some kind of hybrid. I imagined what if everybody got access to this kind of seeds, not store bought in a package, but seeds that our grandmothers used to plant on this very land. I shared my idea with my coordinator and the hosts, and they told me about the Seed exchange festival that is happening in Elin Pelin, for the last eleven years. Its official name is "The independent festival for seeds and saplings". Volunteers and visitors from all over Bulgaria come with their seeds that are shared for free.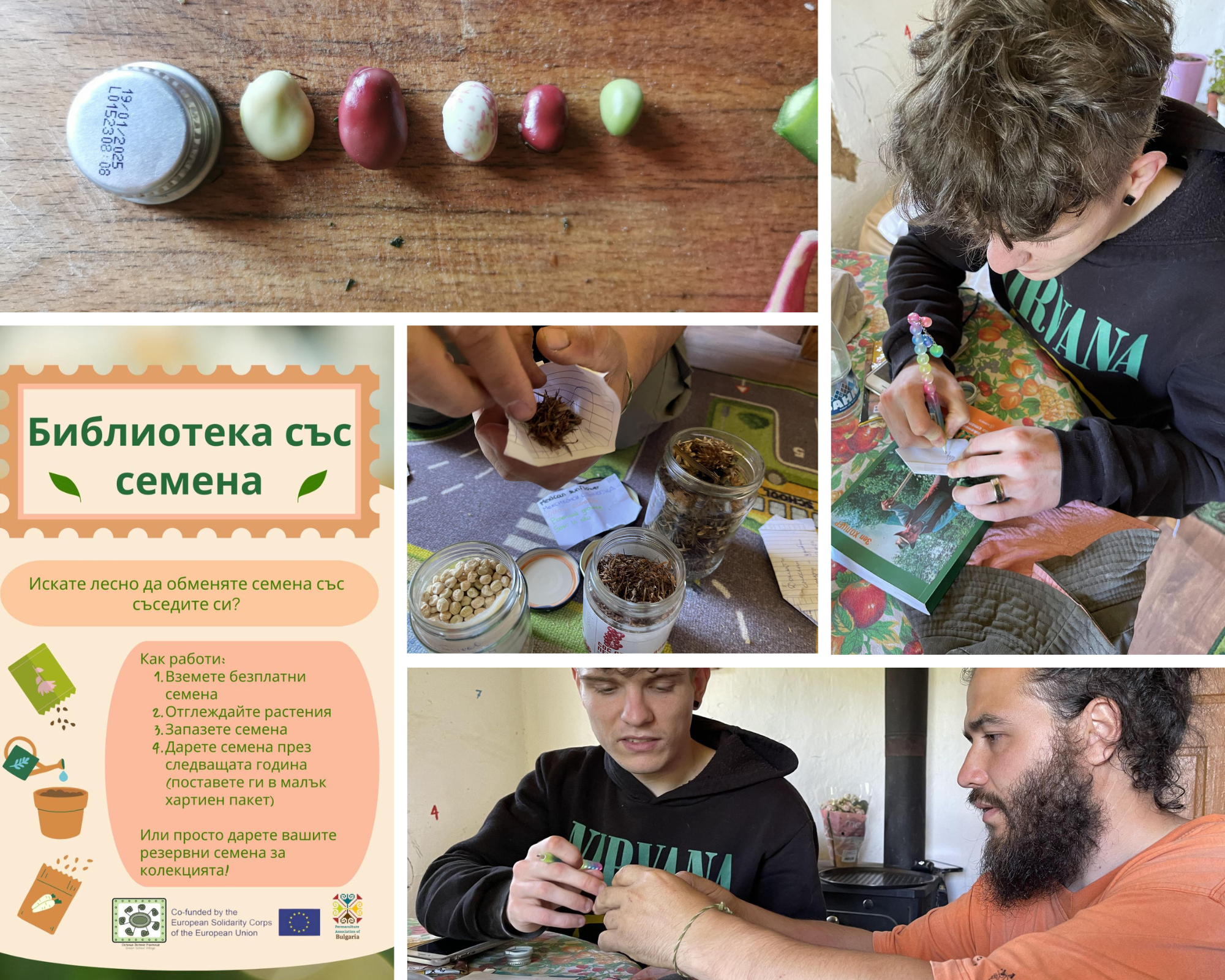 Up left: different types of beans
Down left: seed exchange poster from our volunteers
Middle: putting seeds in envelope
Up right: writing the name of the seed
Down right: learning the correct way to close the envelope
Imagine if we had this kind of place all year around, and we do. They are called seed libraries. The first one was established in Berkeley in 1999 and since then the movement has been spreading around the world. Some of the seed libraries are an actual part of the book libraries, museums, botanical gardens, ecological centers, etc. They are usually run by two methods: swapping the seeds between members or lending a seed, growing the plant and then returning seeds to the library. In order to start this kind of project, the first step we need to make is to start collecting seeds. So this is what I did, and my mission is to collect more from the places I visit all around Bulgaria.
Vlad:
Оскільки на наших українських землях, посеред слов'ян, панувало язичництво — то багато назв для місяців року були запозичені від різних явищ природи а також, пов'язані з господарською діяльністю, що була поширена у ті давні часи.
Січень — перший місяць розу (другий місяць зими), назва якого походить від промислу «січа» — коли наші предки розчищали свою землю, щоб потім навесні її засіяти та отримати добрий врожай
Лютий — другий місяць року (третій місяць зими), назва якого пішла з минулого століття, та походить від природних явищ, лютих морозів та сніговіїв які переважають у цей час.
Березень — третій місяць року (перший місяць весни), його назва пішла від промислу заготовки березового попелу (березол), який використовували для виготовлення скла.
Квітень — четвертий місяць року (другий місяць весни), його назва пішла з глибокої давнини та відома ще з XVI століття. В цей час починають цвісти рослини та квіти завдяки цьому явищу місяць і отримав свою назву.
Травень — п'ятий місяць року (третій місяць весни, останній) — назва якого пішла від давньоримської богині Майї яка була покровителькою плодовитої землею та природи.
Червень — шостий місяць року (перший місяць літа), його назва походить від комахи «червець», яка була дуже цінна на той час і використовувалася для виготовлення барвника для тканин червоного кольору.
Липень — сьомий місяць року (другий місяць літа), назва цього місяця знову ж таки походить від промислу, саме у цей час починає цвісти липа, та починають збори дуже корисного і цілющого липового меду (липець — саме так його називали у давнину).
Серпень — восьмий місяць року (третій місяць літа, останній) — його назва походить від знаряддя праці у цей період — серпа, завдяки якому раніше жали всі зернові культури
Вересень — дев'ятий місяць року (перший місяць осені), назва якого пішла із Полісся, та пов'язана з рослиною верес яка цвітне саме в цей період, цього місяця також збирали виноград та вересовий мед.
Жовтень — десятий місяць року (другий місяць осені), назва місяця пішла від природного явища, у цей час листя на деревах жовтіє.
Листопад — одинадцятий місяць року (третій місяць осені, останній), також пов'язаний з природним явищем коли з дерев починають опадати листя.
Грудень — дванадцятий місяць року (перший місяць зими), назва його походить від давнього слова груддя, оскільки після останніх осінніх дощів грунт на дорозі стає горбистим
Тепер ви знаєте не тільки назви, а й походження місяців українською мовою, що тісно пов'язані з традиціями та побутом українського народу.
Тъй като езичеството преобладаваше в нашите украински земи, сред славяните много имена на месеците в годината бяха заимствани от различни природни явления, а също и свързани с икономически дейности, които бяха широко разпространени в онези древни времена.
Януари е първият месец на роз (вторият месец на зимата), името на който идва от занаята "сич" – когато нашите предци са разчиствали земята си, за да я засеят през пролетта и да получат добра реколта
Февруари (на укр. език Лютий) е вторият месец от годината (третият месец на зимата), чието име идва от миналия век и идва от природни явления, силни студове и снежни бури, които преобладават по това време. (Лютий)- означава силен студ.
Март (на укр. език Березень) е третият месец от годината (първият месец на пролетта), името му идва от реколтата от брезова пепел (березол), която се използва за производство на стъкло.
Април ( на укр.език Квітень) е четвъртият месец в годината (вторият месец на пролетта), името му датира от дълбока древност и е известно от 16 век. По това време растенията и цветята започват да цъфтят, благодарение на това явление месецът получи името си. Квітень директен превод – цъвтеж
Май ( на укр.език Травень) е петият месец от годината (третият месец на пролетта, последният) – името му идва от древната римска богиня Мая, която е била покровителка на плодородната земя и природа.
Юни (на укр език Червень) е шестият месец от годината (първият месец на лятото), а името му идва от насекомото "червець", което е било много ценно по това време и се е използвало за направата на червена боя за тъкани. Червень превод червена боя.
Юли ( на укр. език Липень) е седмият месец от годината (вторият месец на лятото), името на този месец отново идва от времето , по коетг време започва да цъфти липата и започва събирането на много полезния и лечебен липов мед (Липень така са го наричали в древността).
Август ( на укр.език Серпень)- осмият месец от годината (третият месец на лятото, последният) – името му идва от оръдието на труда през този период – сърп, благодарение на който са се прибирали всички зърнени култури.
Септември (на укр език Вересень) е деветият месец от годината (първият месец на есента), чието име идва от Полисия и се свързва с растението верес( пирин), което цъфти през този период, медът от пирен (верес) също се събират през този месец.
Октомври ( на укр език Жовтень) е десетият месец от годината (вторият месец на есента), името на месеца идва от природен феномен, по това време листата на дърветата пожълтяват. Жовтень -превод жълт.
Ноември ( на укр. език Листопад) е единадесетият месец от годината (третият месец на есента, последният), свързан и с природния феномен, когато листата започват да падат от дърветата. Листопад- падат листа.
Декември (на укр.език Грудень) е дванадесетият месец от годината (първият зимен месец), името му идва от древната дума ракла, защото след последните есенни дъждове земята по пътя става хълмиста. Грудень – гърбов
Сега знаете не само имената, но и произхода на месеците в украинския език, които са тясно свързани с традициите и ежедневието на украинския народ.