François:
Hi everyone!
My name is François and I am a new French volunteer, here in Bulgaria for six months! Here is my presentation video:
Thanks a lot to Paula, the best camerawoman and director!
Chloé, Paula and François : 
18-30th of September, PDC in Greece

Those past two weeks, the three of us had the great opportunity to go to COB farm in Nessonas (Larissa, Greece), to attend the "Designing for resilience" PDC with 30 other nice, interesting and diverse young (and less young :p) people from all around Europe! The whole thing being entirely funded by the Erasmus+ program.
The so-called PDC (Permaculture Design Course, or Certificate), is a two-week intensive program during which are taught the very basics of permaculture in a broad range of domains, including:
– Permaculture design concepts and methods;
– Social tools for change and social permaculture (cf. week 34);

– Natural building and bioclimatic architecture;
– Agro-forestry;
– Fungi;
– Renewable sources of energy;
– Climatic factors;
– Soil and water management.
And so on! This course, imagined by Bill Mollison himself, is structured around his book "Permaculture: A Designer's Manual", and is divided into theoretical lessons and practical workshops. Of course, it is not possible to learn everything about permaculture in only two weeks. But the idea is to get a glimpse of its philosophy and main techniques. Its objective is to introduce to permaculture design by an informal education approach. Thus, its highlight consists in the creation of an original design at the end of the two weeks.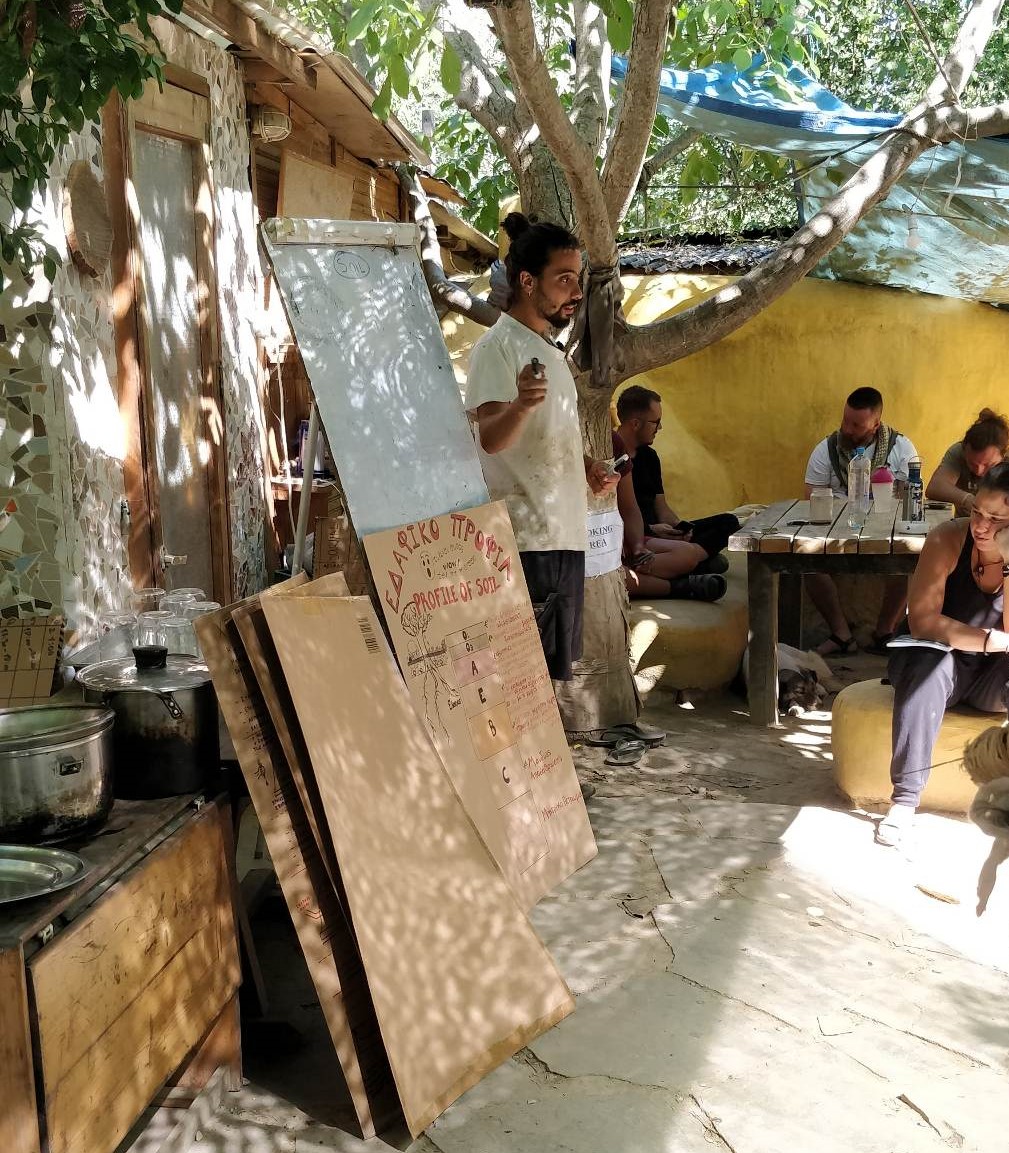 A course given by Christos, our main teacher (photo credit: François Dupé)
Now, more about COB farm! This wonderful eco-village was built 20 years ago, and has a lot to bring to everybody. Fun fact, the name COB comes from an ancient natural building material – cob -, consisting in a mix of clay, soil, sand, straw and water. All the buildings there are eco-constructed and the place is thought as a sharing space, with both communal spaces but also some quiet space to chill out (special mention to the pond that is simply a haven of peace). There is also a fruit forest surrounding the place, as well as almond tree fields and a green house. You can also take a walk around the fields and have a wonderful view of the mountains.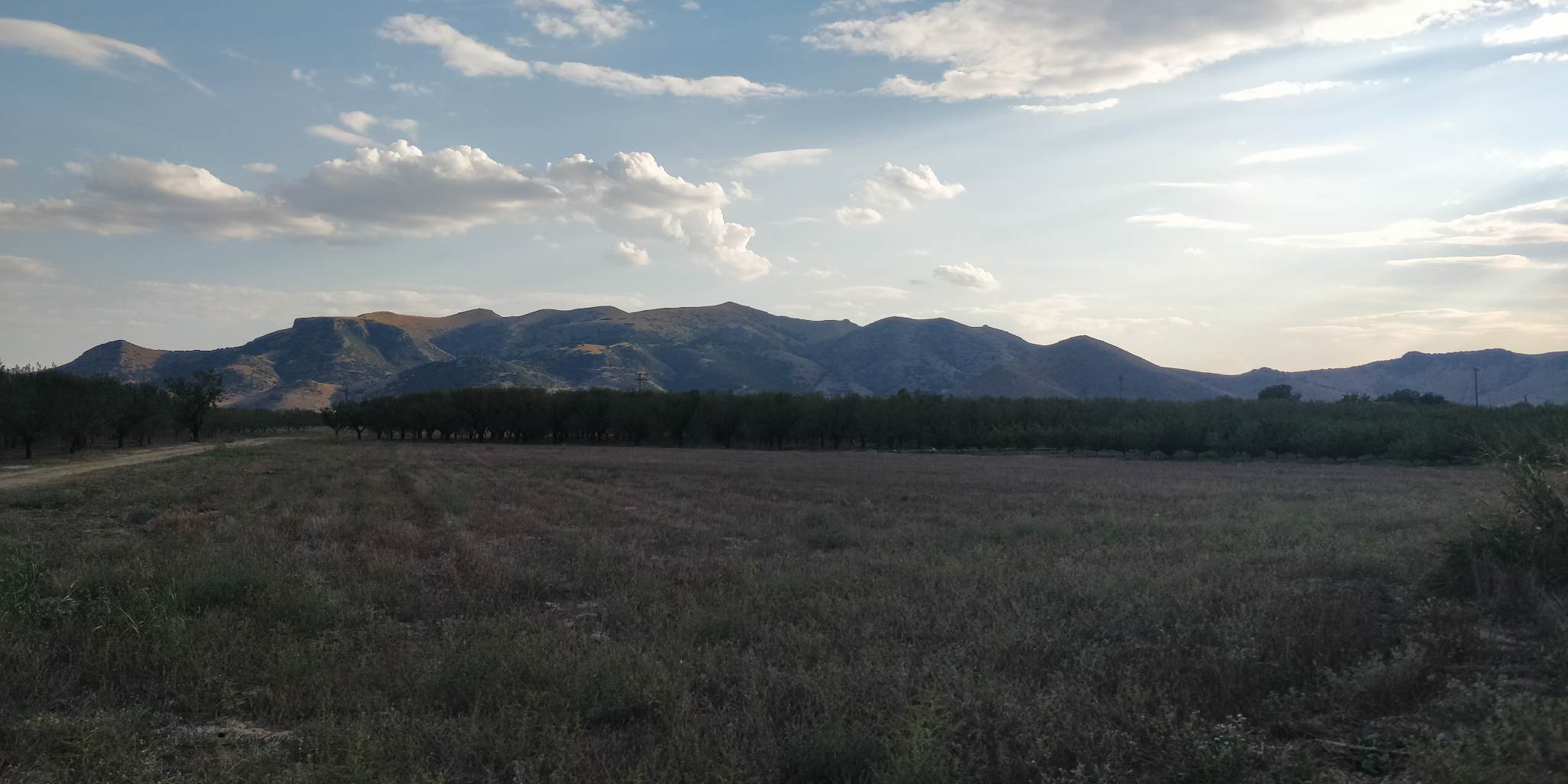 The wonderful view of the mountains (photo credit: François Dupé)
If you want to learn more about this oasis, you can check out their website (https://www.cob.gr/en) and their Facebook page (https://www.facebook.com/buildingwithearth/) 😉
We would start every day by a morning feeling circle, before usually starting the practical workshop of the day. The workshops themselves were very diverse: building hot compost, sowing, trimming in the food forest, building an oven our of clay, etc. We then would share delicious vegan meals and have the theoretical sessions in the afternoon. After which we would have some free time and we would gather again for dinner.

There was also some room for workshops organized by the participants: dance in relation with the environment, yoga, breathing exercises, self-massages, impro-theather, dragon-dreaming, etc. We also had fun dancing together, watching movies, listening to traditional Greek music or again sharing personal stories under a starry sky. Which was, overall, an intense but so enriching schedule 🙂
HOT COMPOST RECIPE
The compost pile needs to be 1.2 meters tall, 1.2 meters wide and as long as you want. Remember that you will have to turn it everyday so the longer, the harder! The turning process is essential to aerate and mix properly all the components. If needed, water will also be added. To make sure your pile is as moist as it should, you will need to perform the "squeeze test". Get some of the compost in your hand and squeeze, if only a few drops of water come out your moisture level is perfect.
Ingredients: Straw, Sheep manure and Almond hulls. Each material will be place in layers until the desired height is reached. During this process it is necessary to water every layer.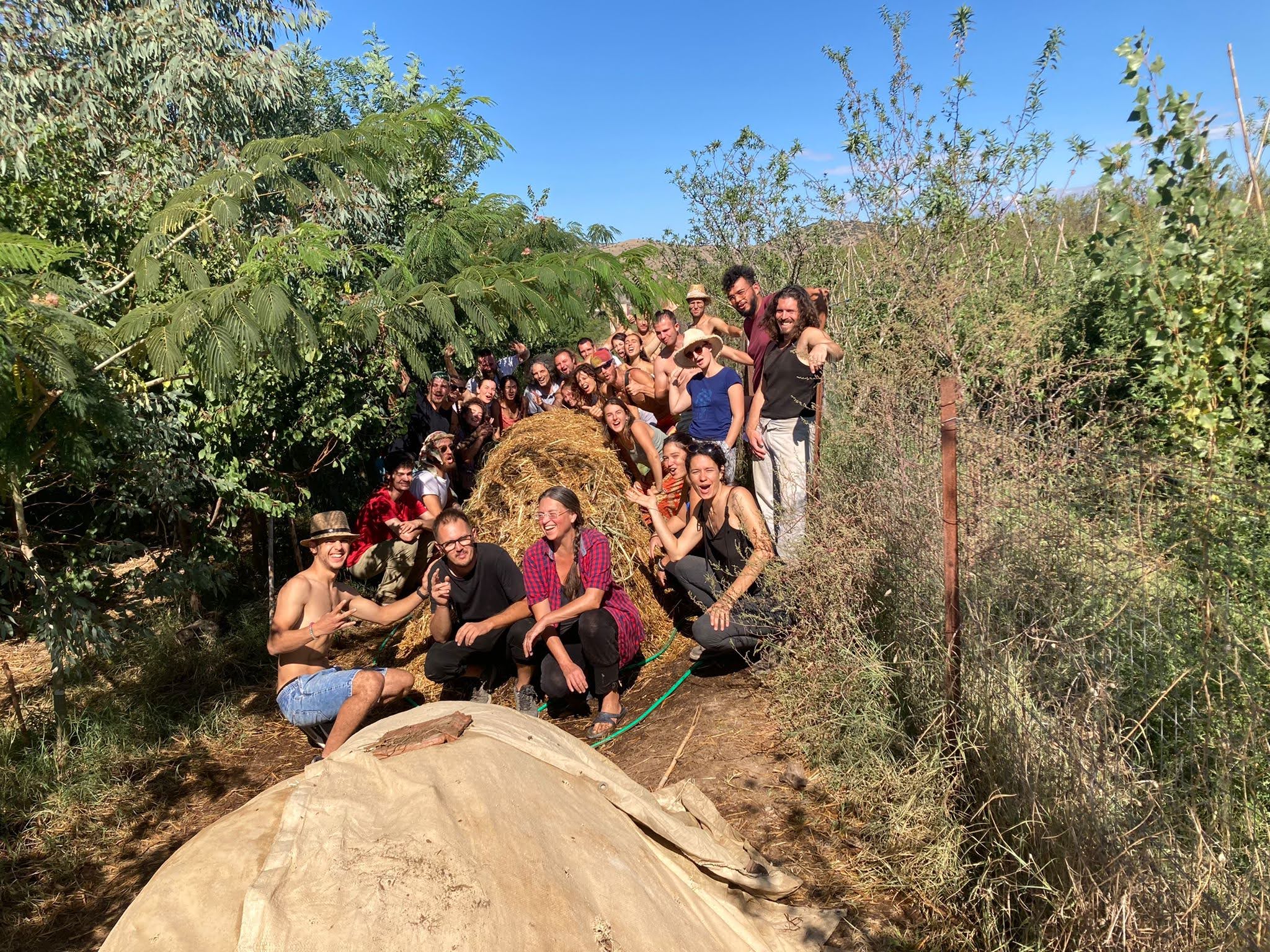 All the participants with the brand-new hot compost. (photo credit: Christos Kontomanos)
Now, we would now like to share our favorite moments there 😀
We had a free day doing an excursion to this beautiful hiking trail on the some mountain near the sea, where we walked up to Calypso waterfalls. There was a small creek that was beautiful. We all got to swim and then had classes under the sun. Later on, we had dinner on the seaside, enjoying traditional Greek cuisine!
We learnt how to build a pizza oven with tiles, clay, straw, water and sand. It was so satisfying to see the final result and to realize that we are capable of building everything we needed from scratch.
The last two days, we had to create an entire design for a client, divided into small groups. Some of the participants already had a project going on or planned for the future, and we got the opportunity to work on them. It was so interesting to get to have their vision on the project and have the space to be creative about permaculture designs. We could finally apply everything we learned, and help project makers get closer to their dreams! We were also able to work on very different projects, since Paula worked on a garden, Chloé, on a farm welcoming dancers and musician, and François on a city park.
As a conclusion, we would like to thank all the people that we got to meet and share laugh and tears with, it was a life changing experience. I could not express how inspiring and enriching it was to be there, and feel this creative and positive energy. Each day was new knowledge and power to create the change we want in our lives, and also great quality time with lovely people.
Thank you Kristos, thank you Ana, thank you Kostas for sharing your knowledge with us. Thank you to the entire COB family for hosting us, spreading love and making this wonderful experience a reality!
Thank you to all the participants for those lovely moments and for making this experience unforgettable. I hope you all follow the path you want to create for yourself, and we may see again for some permaculture projects!