Vyara:
The return of the Vyara!
Hello, hello! I have been away for almost five weeks! I cannot wait to tell you about all the interesting things I did (and learnt) during this time away 😊
At the beginning of September, me, along with Mali, Renzo, and two other young people participated in a 72-hour Permaculture Design Course in Sicily. Mali, Renzo and I had to stop our projects, in order to avoid double funding and also to be able to complete our projects without shortening them. For me the whole experience was unforgettable! I met a lot of lovely young people from all around Europe, learnt new things about sustainability and sustainable lifestyle and got inspired to continue my permaculture journey- all of this in the beautiful Sicilian countryside.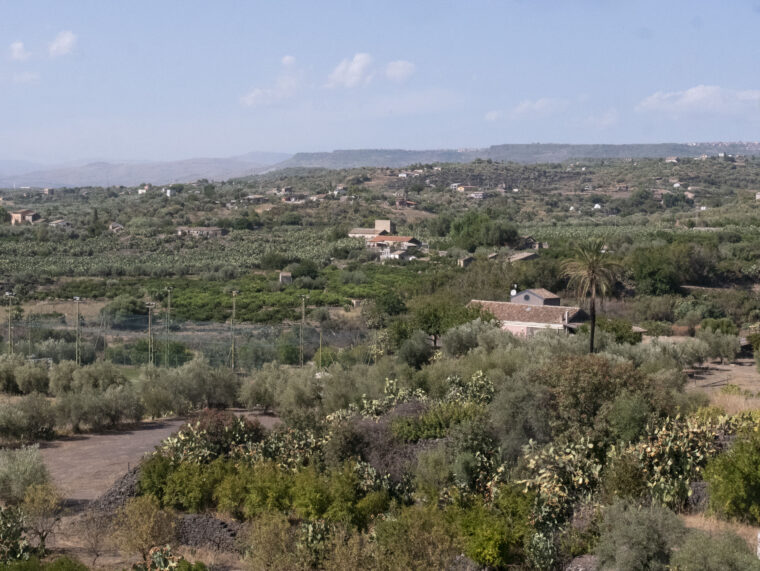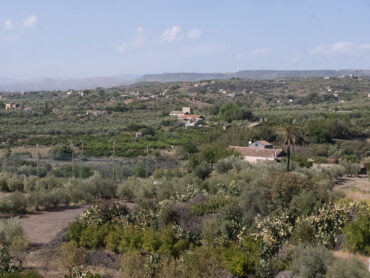 Ah, Sicily!
It will be hard to describe those two weeks in few paragraphs, so I will highlight the most interesting things and the events that made an impression on me.
First off, for this PDC our team had to make a presentation and to create teaching materials regarding the principles of permaculture. Mali (as the most experienced permaculturist among us) presented the principles and I created little visual cards to support the lecture (see picture below). The cards were made during my last week in Venets. As I still do not feel comfortable enough to present in front of an audience the cards were my contribution to the presentation.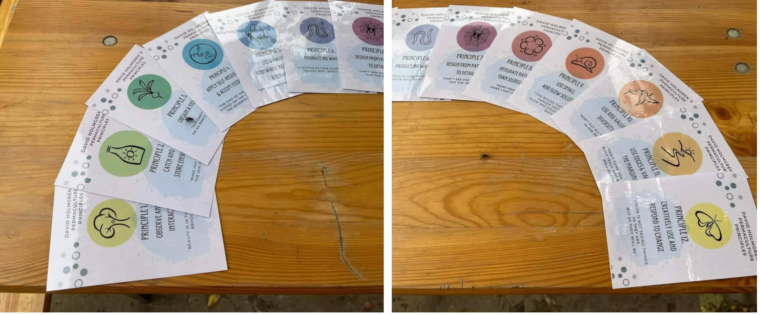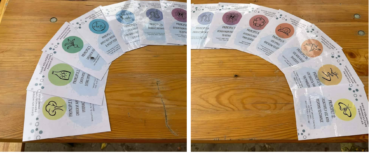 Picture of the Permaculture Principle cards, photo credit to Michaela Tsarchinska. They are teaching materials and belong to the Bulgarian Permaculture Association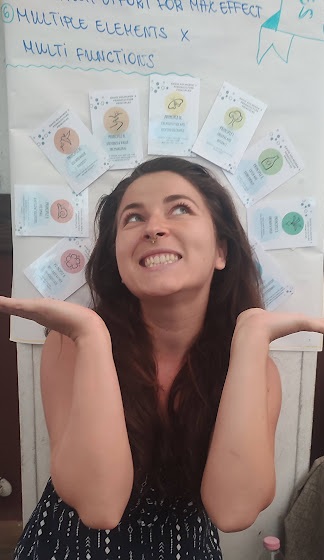 At the end of each lecture, we were completing a group or an individual exercise. I particularly like this method of teaching because I feel like I am strengthening the material I am learning and I am also putting it into practice. One example is the exercise regarding mapping of a terrain, this was a topic I knew almost nothing about, now I am confident that I know something 😀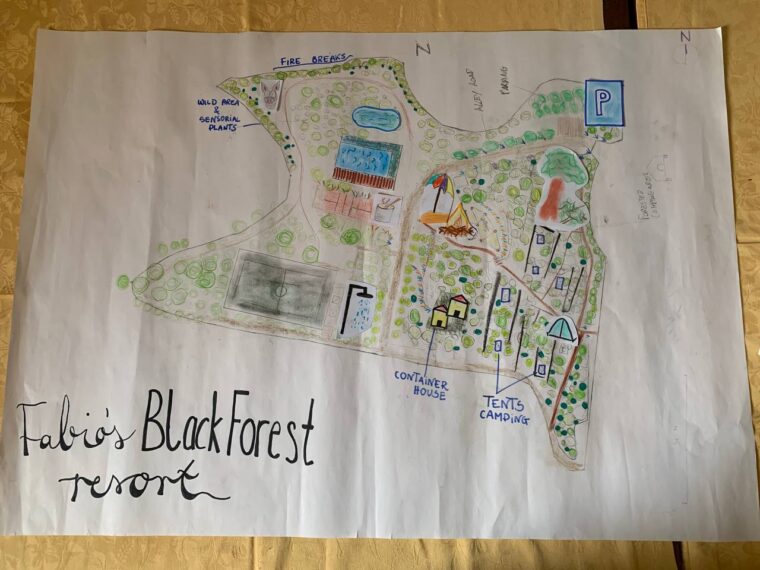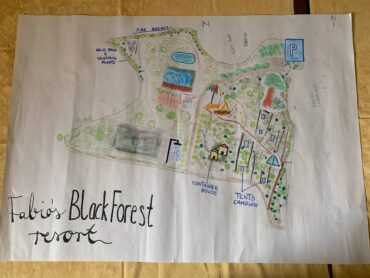 Map of the permaculture design we made for our host Fabio, we named our design Fabio`s black forest because he wanted his homestead to look like a the Black Forest- lush and green
I really enjoyed the session regarding ecosystems and the excise, which followed it. It was an association game, where we were throwing a piece of string at each other (exclaimer: no volunteers were hurt in the making of this exercise :D). Example: somebody says mushroom'' and the name of the next person, who will say the next word, the first person then throws the string at the second, the second person then makes an association with the word ''mushroom'' (the association needs to be related to the natural world, of course). At the end of the game we created a web, representing ecosystem, the idea at the end was that if one of the unite fails to exists another ones will be affected.
As a true gardener, I liked the sessions related to creating vegetable beds, making your own compost and soil science the most. I would like to share the practical exercise we completed in other to identify the type of a soil for a given space.  You can also do it at home, for your own garden. The instructions I am about to describe are very easy to follow, and the results can surprise you.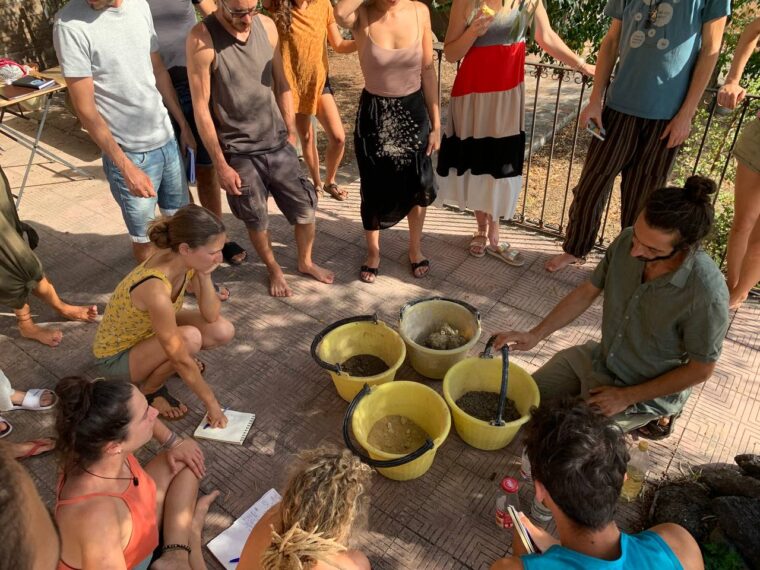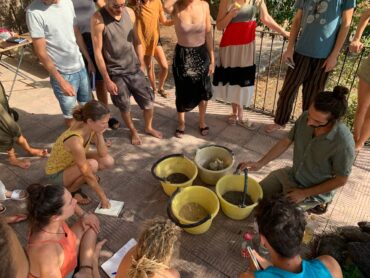 You will need:
-1 large glass jar (at least 5 inches/125 mm tall (the taller, the better);
-tight fitting lid;
– ruler;
-marker pen;
-water;
-liquid dish soap;
-handful off soil from your desired place;
-shovel or trowel;
Instructions:
1.Dig a hole at least 6-8 inches deep;
Observe (remember principle 1?) the layered soil profile and take a sample of the topsoil. Note: do not take the darkest top inch, as this is just the so called ''O'' Horizon. We need to know what lied beneath where our roots are feeding.
Clear out any stones, leaf, roots or other non-soil items. Note: if it is quite dry you could even sift it with a sieve or colander.
Add your sample to the jar, approximately 1/3 of the jar. Measure the height of the soil in the jar and mark the top point on the jar.
Measure the same height above the soil and add clean water to the new mark, so the jar is now 2/3rds full.
Add 1 tbs liquid dish soap. The dish soap acts as a surfactant which keeps the soil particles separate.
Tighten the lid and shake the jar for several minute.
Set the jar aside aside, where it won`t be disturbed for at least 3-4 hours or so overnight.
Once settled into distinct layers, measure them.
Any sand will fall to the bottom, silt will be in the middle and clay will stay on top, any light materials will float on above. The darker the layer, the richer the organic matter.
Here is a picture from our soil jar tests: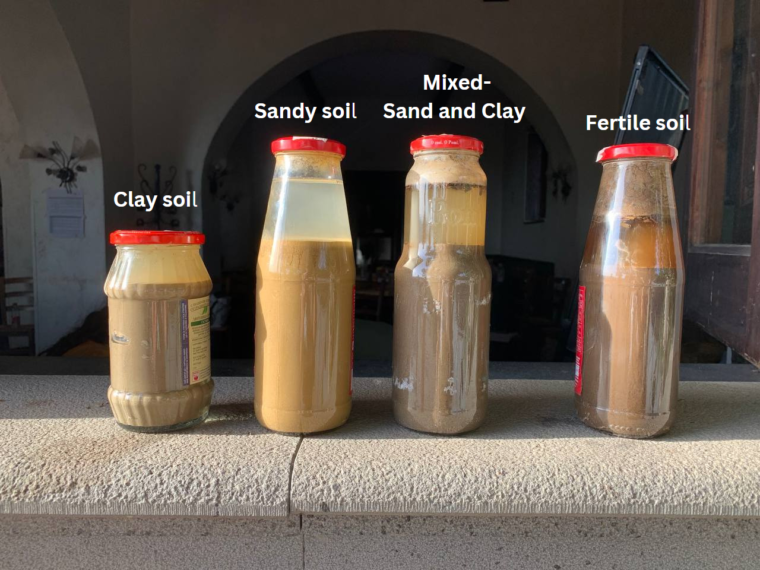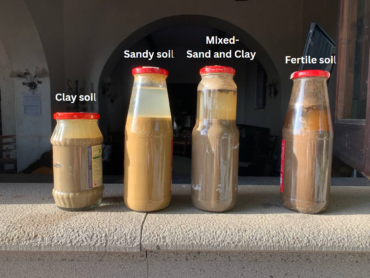 As you can see the fourth jar has the most organic matter floating on top. Another way to test your soil is to try to make shapes with it, for example we made a sausage with our soil samples. The sandy soil was too crumbly, the clay stayed intact and slightly slimy, the mixed soil also held its shape.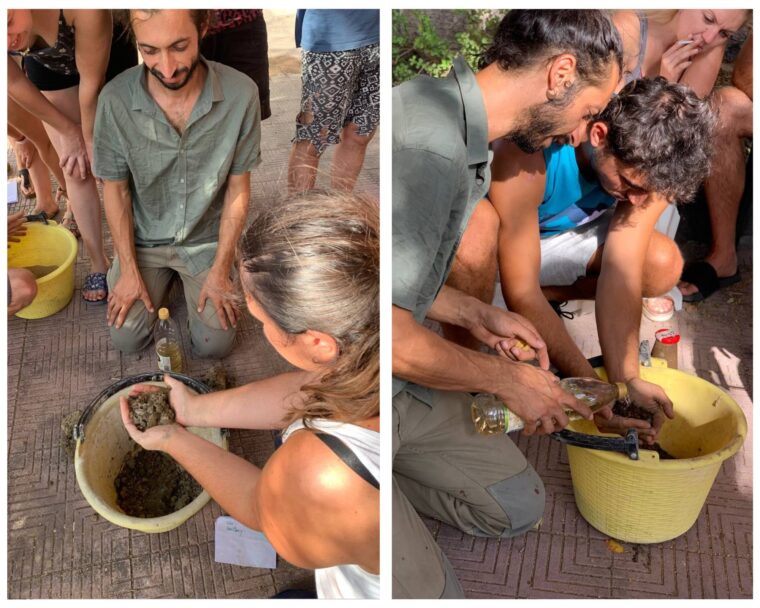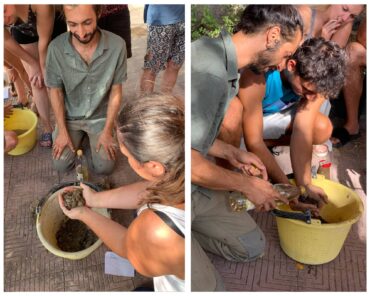 Hope you enjoyed this week`s blog, now we are off to new adventures! See you next time!
Mali:
Hi all!
After 9 days of non-stop socializing with new places and new people, it is time again for a little blog story 🙂 Renzo already shared something about our introduction to Fidanoto farm and the village of Bryagovo where we will be staying all of November and December. I decided to tell you a bit about our experiences over the weekend, before we went to Bryagovo, when we joined Mihaela and Philip to pay a visit to the farm house of a family in the sleepy village of Bogatovo.
During this long drive we picked up Lily and her elderly mom, whose husband had only recently died. He was the one who was born and raised in this house in Bogatovo. Later on when living in Plovdiv he visited very regularly to maintain the place. His daughter Lily is living in Germany and not able to move into this house, nor is her mother, but selling isn't also what they want. The connection with Green School Village and inviting Mihaela and Philip was made when Lily's son Dani was joining a course on permaculture in solidarity work in Shipka (a beautiful town an hour away from Bogatovo where last year's ESC project took place with Balkep Ecology project). He got so excited about permaculture that he shared all about it with his mom. Her idea of having Green School Village representatives visiting this farm house was to brainstorm together on how to use this place in a permaculture way. Maybe even to open the space to start a rural center for the permaculture association with a small office, and best of all, with some motivated young people who could reside there to experiment with designing and to host courses.
I was amazed to see the old house, the wooden barns and the beautiful big backyard where they used to cultivate maize but for many years had been abandoned and now looked more like a food forest with fruit trees here and there, on its way to become a natural forest. The potential for this place felt really strong. Although the village itself is quite sleepy, and the mayor supposedly quite corrupt. Not the best circumstances…
Lily and her mom invited us over to the neighbor's place. The neighbor received us warmly. He had just finished making rakia all day long, and invited us to try and have some. We stayed for a few hours, listening to lots of stories about the village, his knowledge of gardening and of making rakia. The next day it was confirmed to pay him another visit a bit earlier in the day, so he could show us around some more in his garden.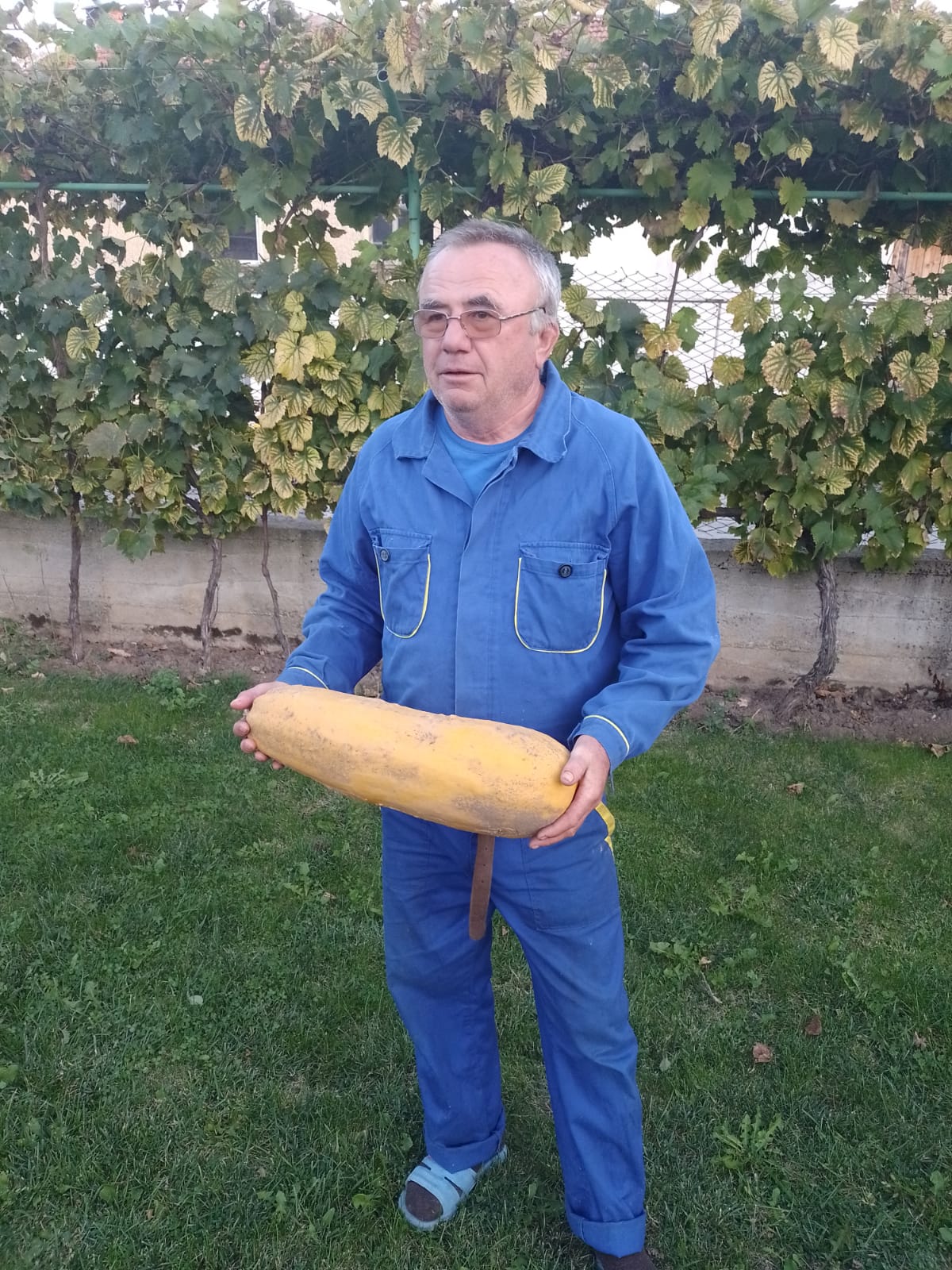 The amazingly kind neighbor welcoming us twice in his home
The next morning, we first had another appointment, with a good friend of Lily and her mom, an elder lady who used to be a biology teacher and would have lots of knowledge about gardening. We had a pleasant talk with her, where she told us decisively not to use any chemicals, nor to buy hybrid seeds. She then showed her little seed library and gifted us some seeds from various tasty tomato varieties. We also decided to collect the seeds from the grapes she gave us as a snack, which were the most delicious grapes we'd ever tasted!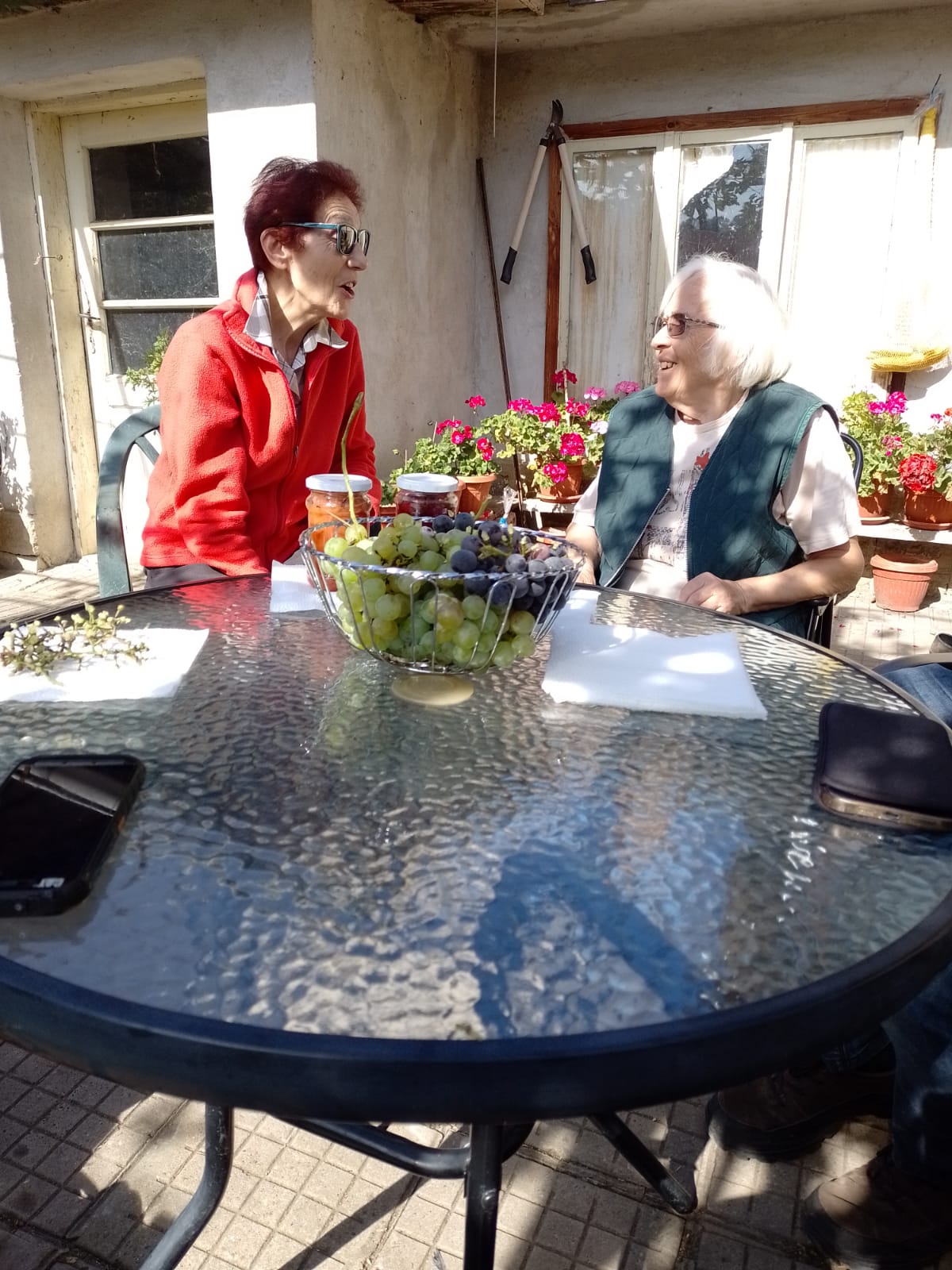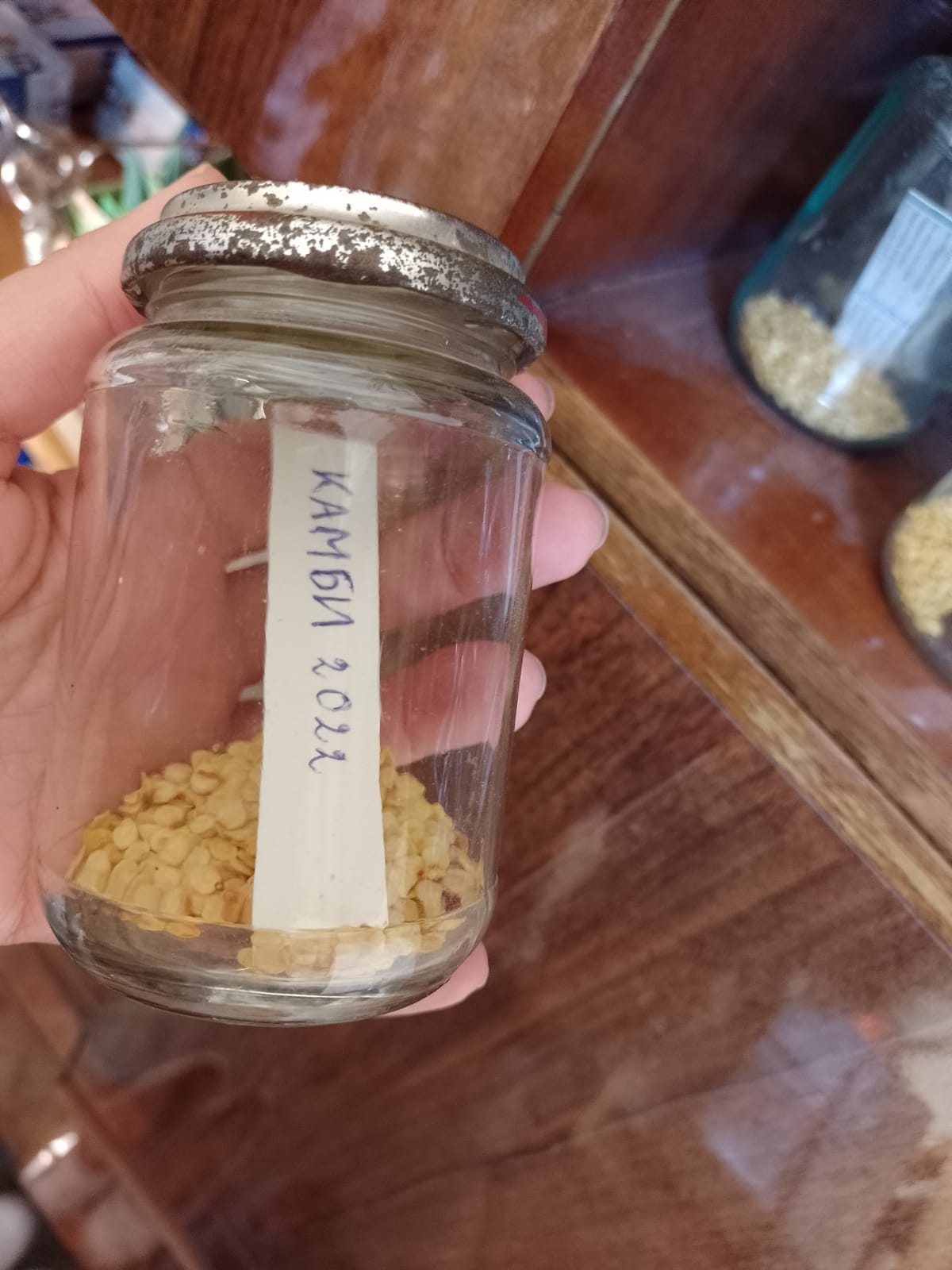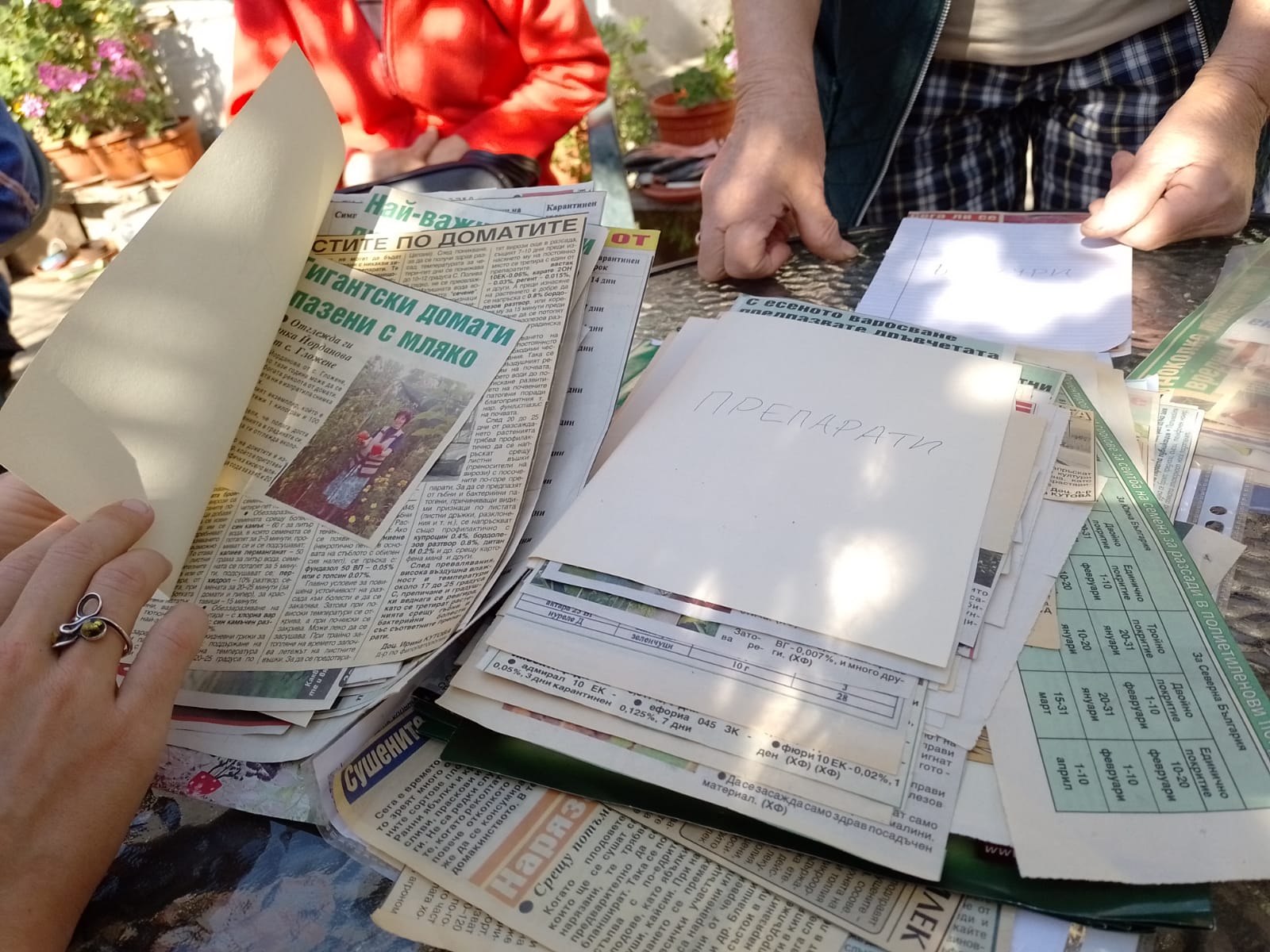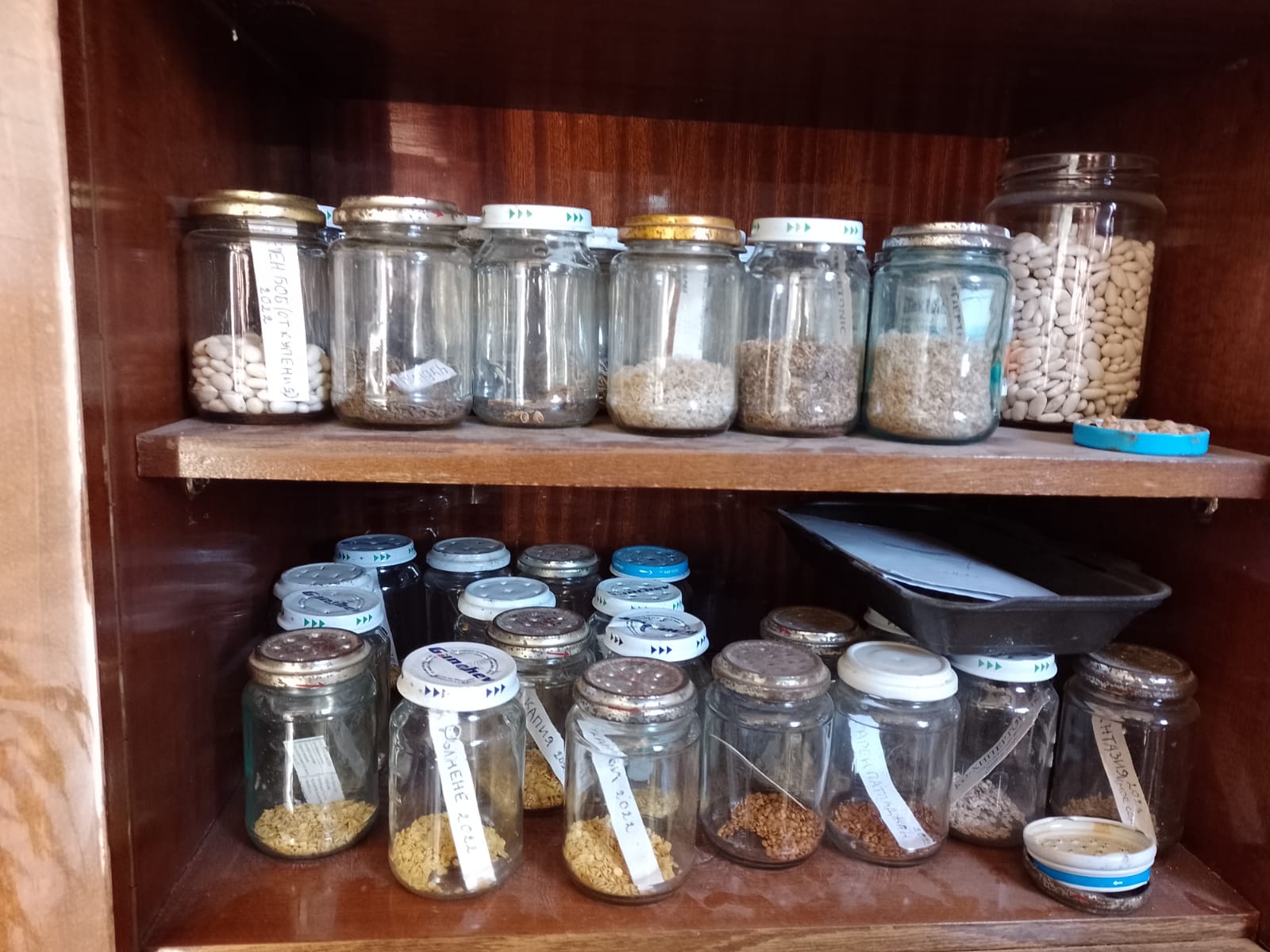 Lily's mom and her old friend – and former biology teacher (upper photo); the traditional farming magazines that gave her a lot of inspiration (down left); and her wonderful seed library!
From the afternoon, the lovely cultural exchange continued; we spent the longest lunch and knowledge exchange ever in the front yard of the neighbor, together with two other neighbors always hanging out with him. In between the tasting of his – honestly – delicious rakia and accompanying salad, he showed us his garden, we harvested green peppers, and collected various types of seeds which he then gifted to us. A great start for a seed library in Bryagovo, where we will be in November-December! Later in the evening, after learning how to make a typical Bulgarian dish with roasted peppers on the grill, one of the neighbors got excited to dance and to teach us some Bulgarian dance moves.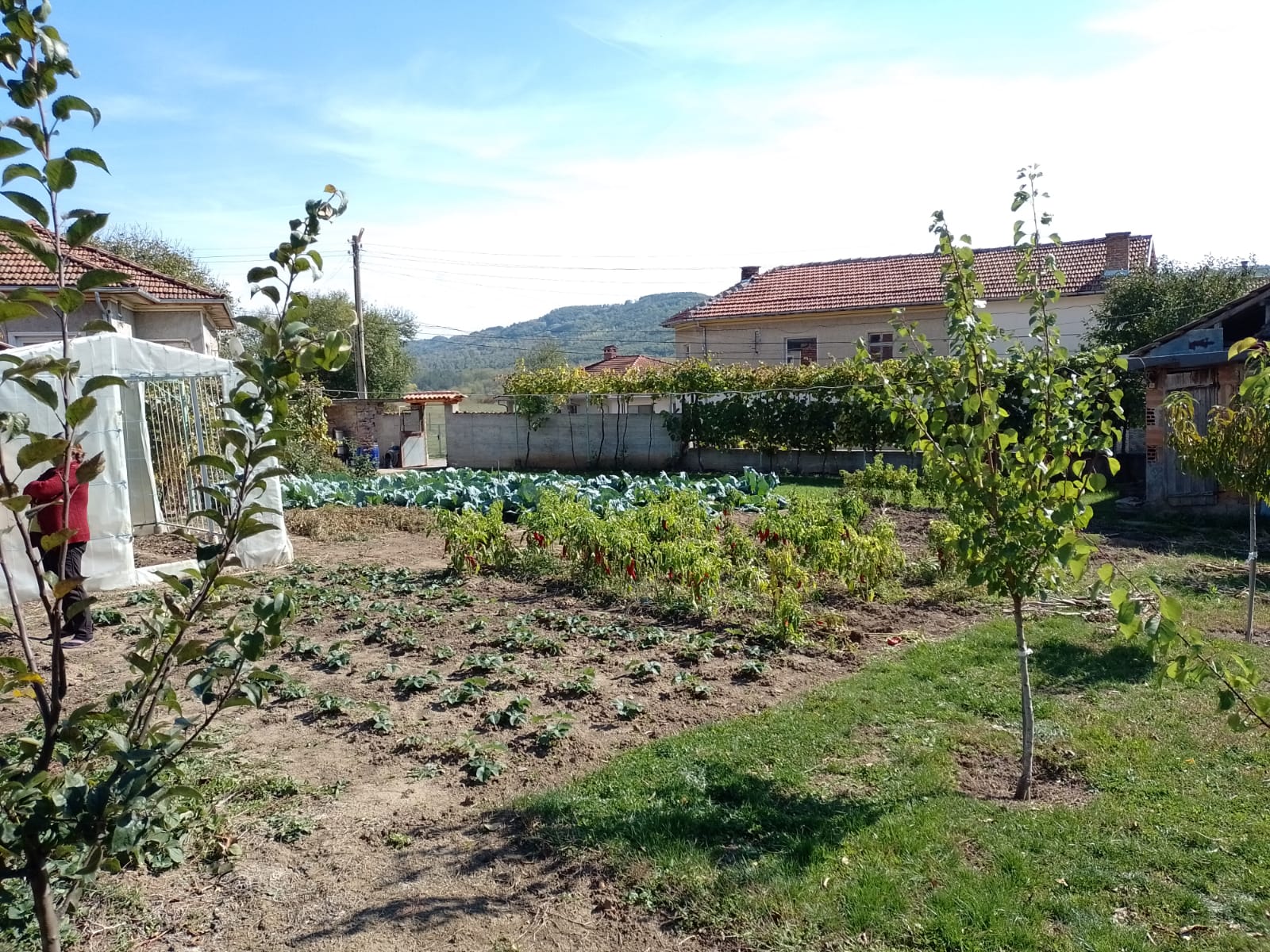 Tour through the neighbor's – typical traditional Bulgarian – garden, but no use of chemicals or hybrids!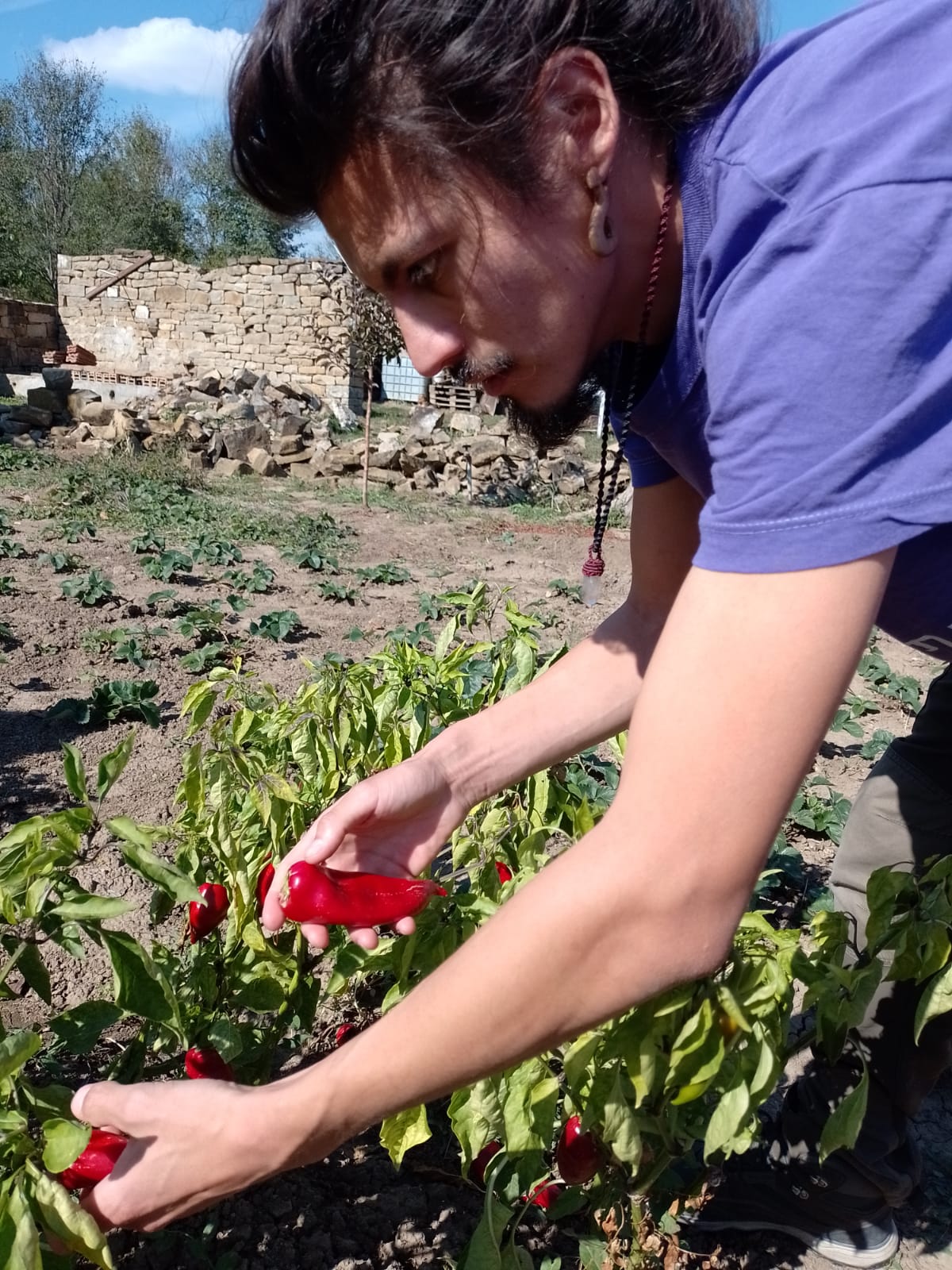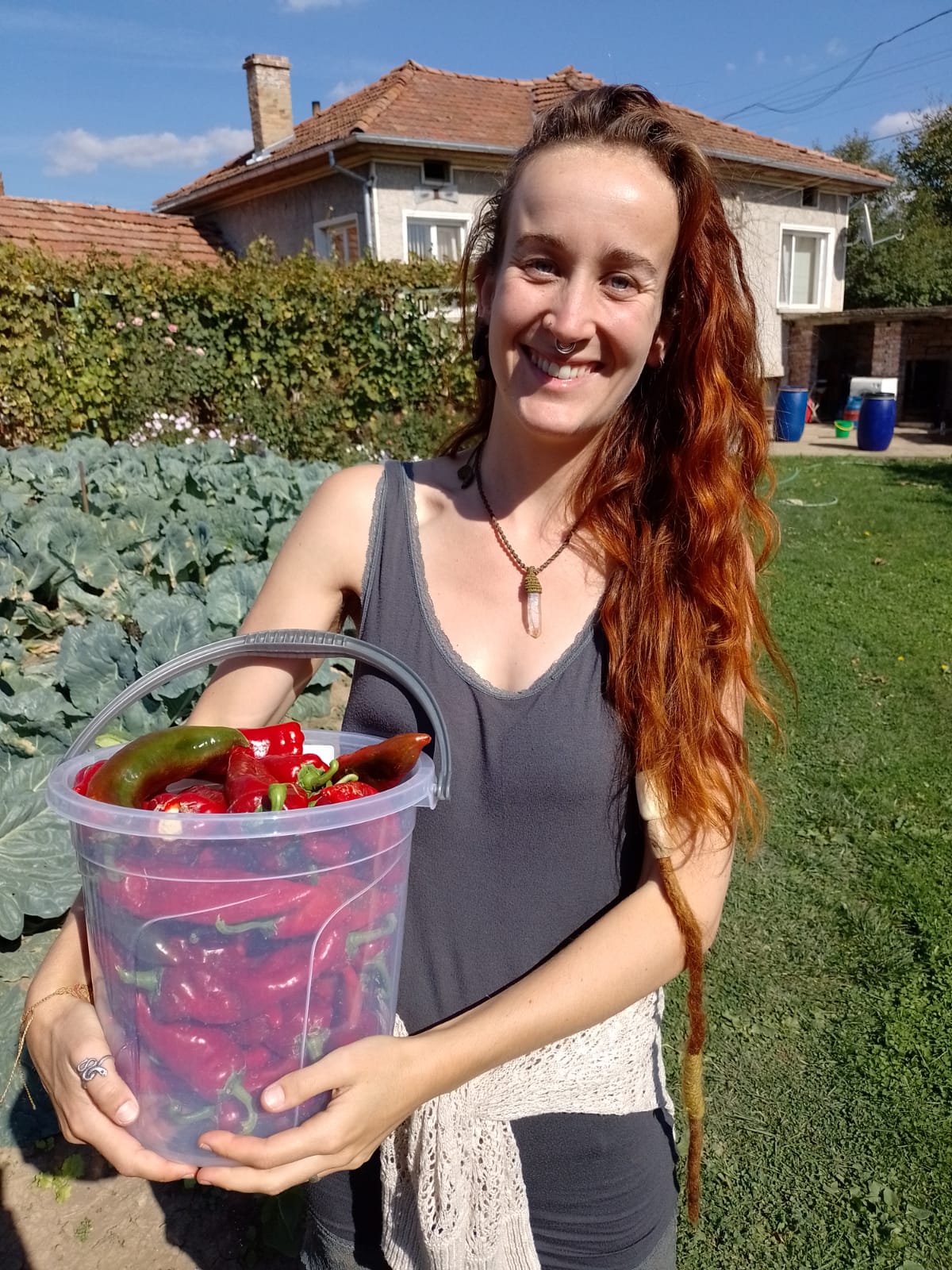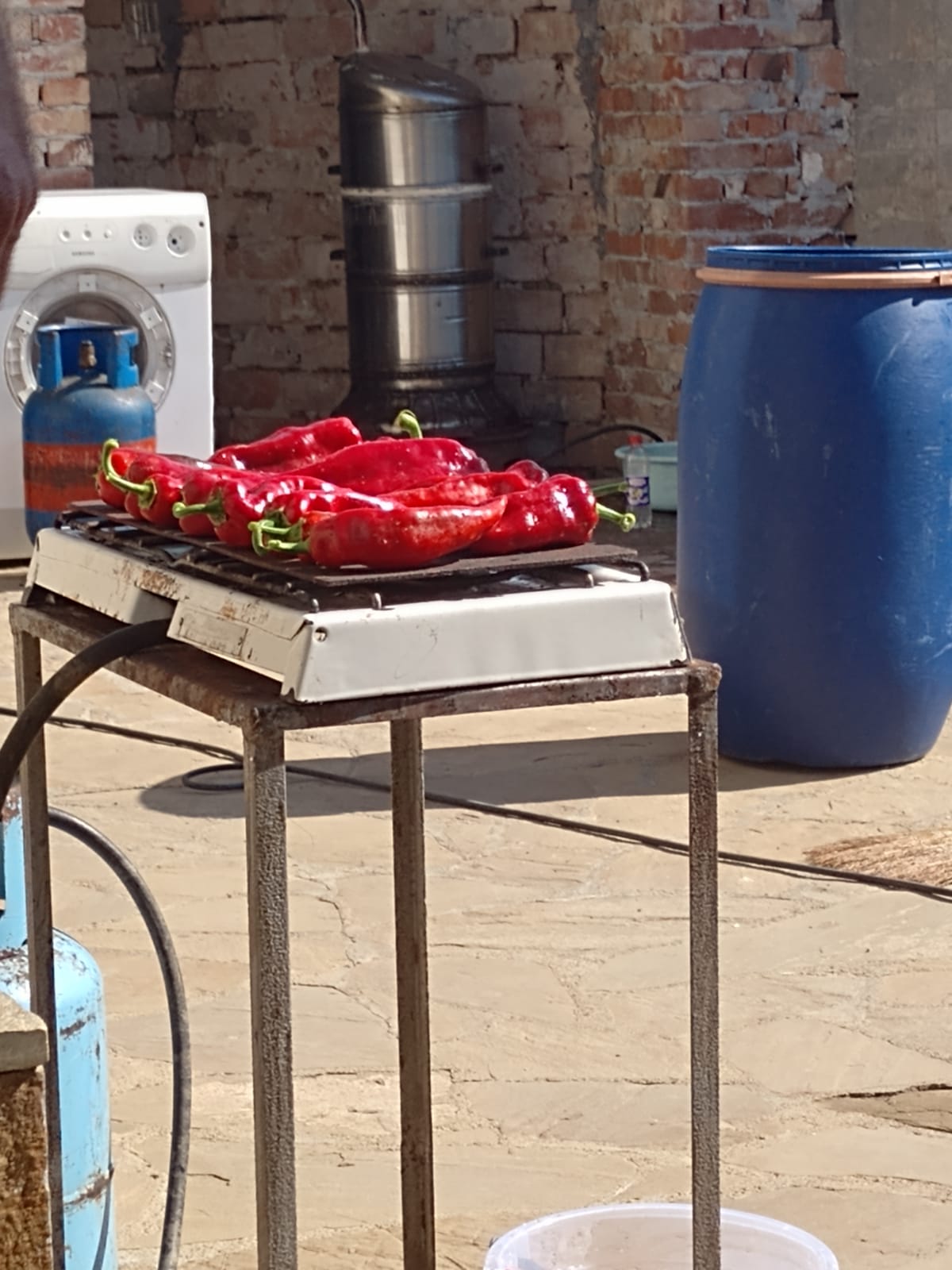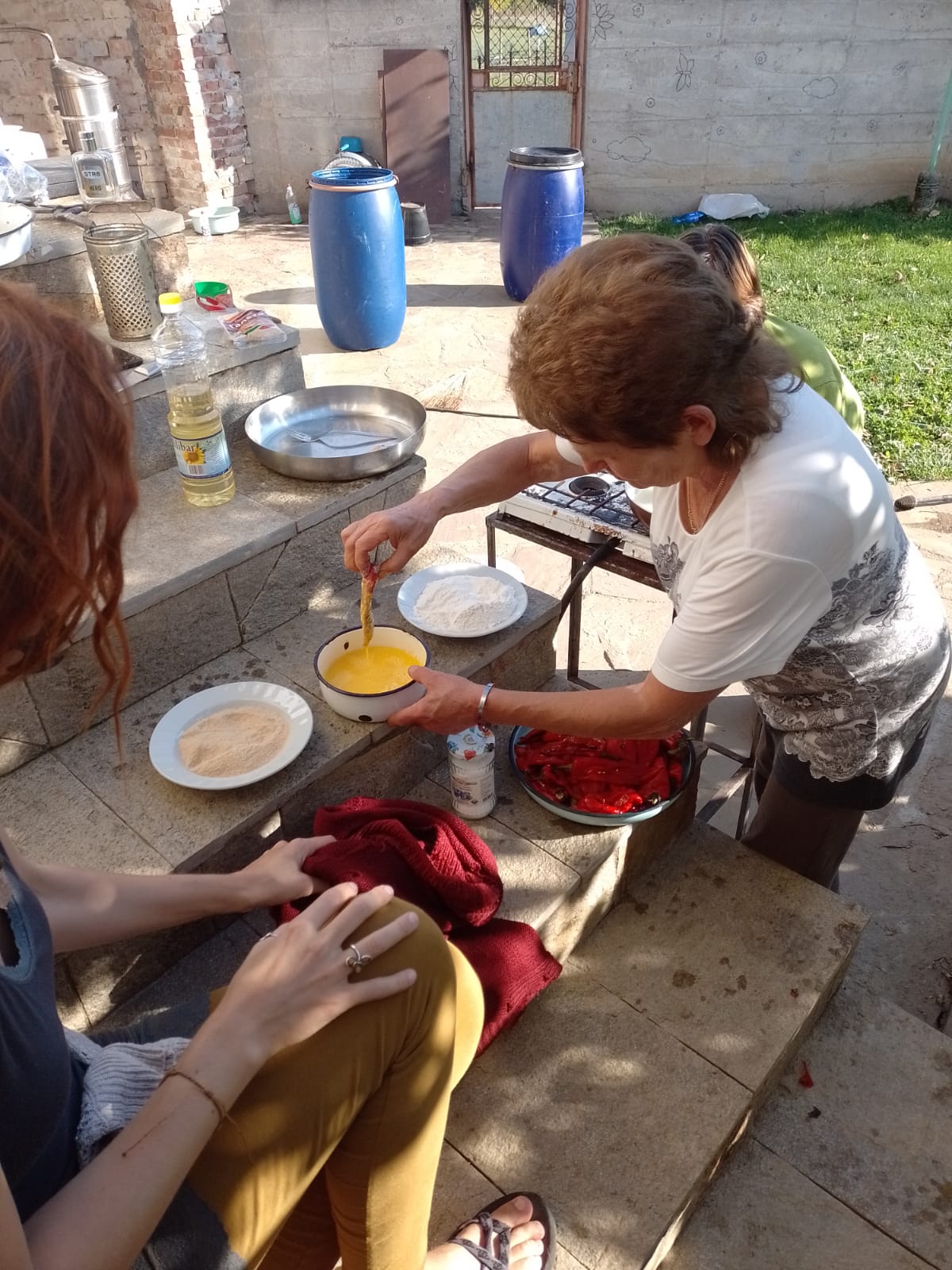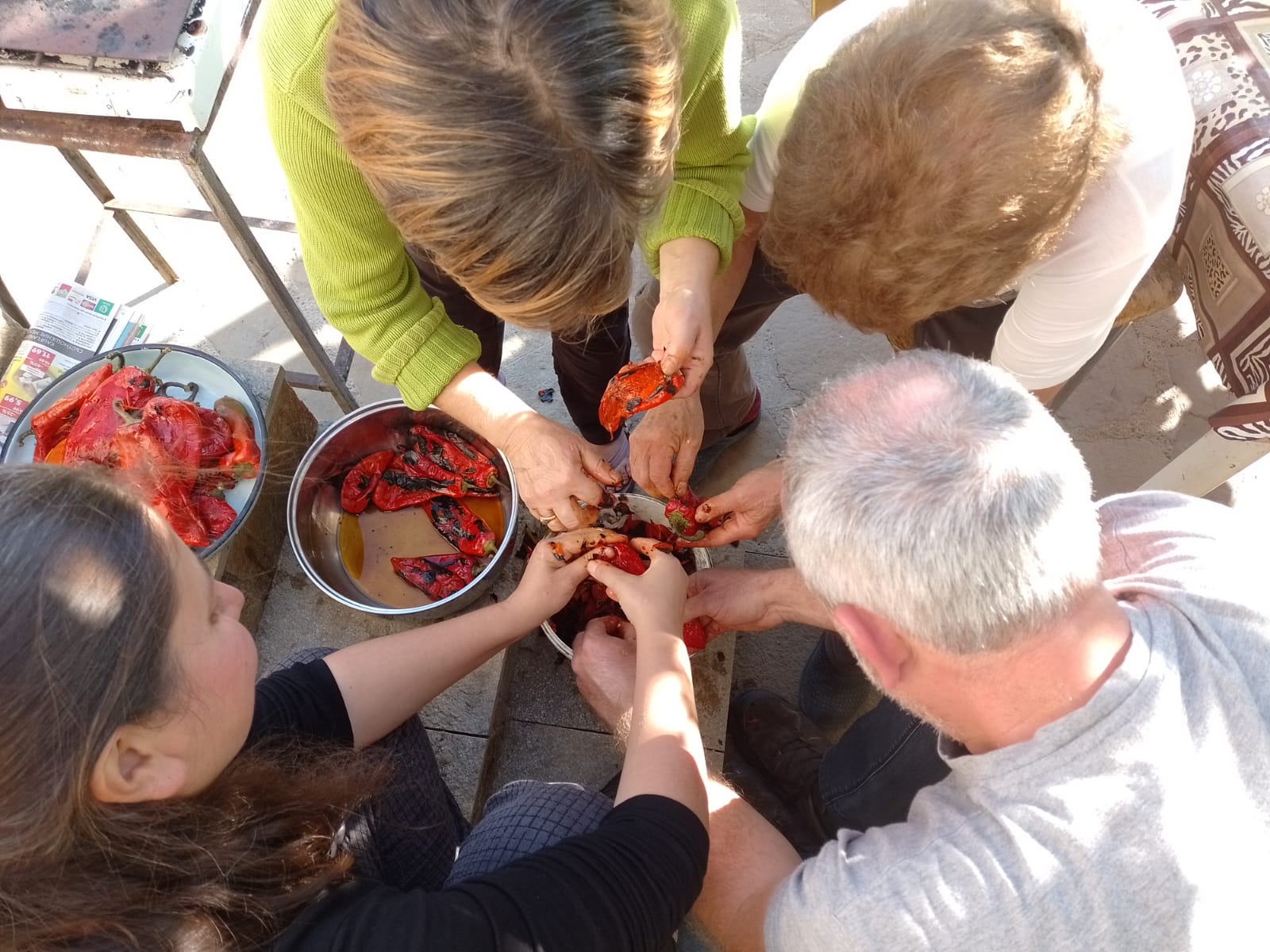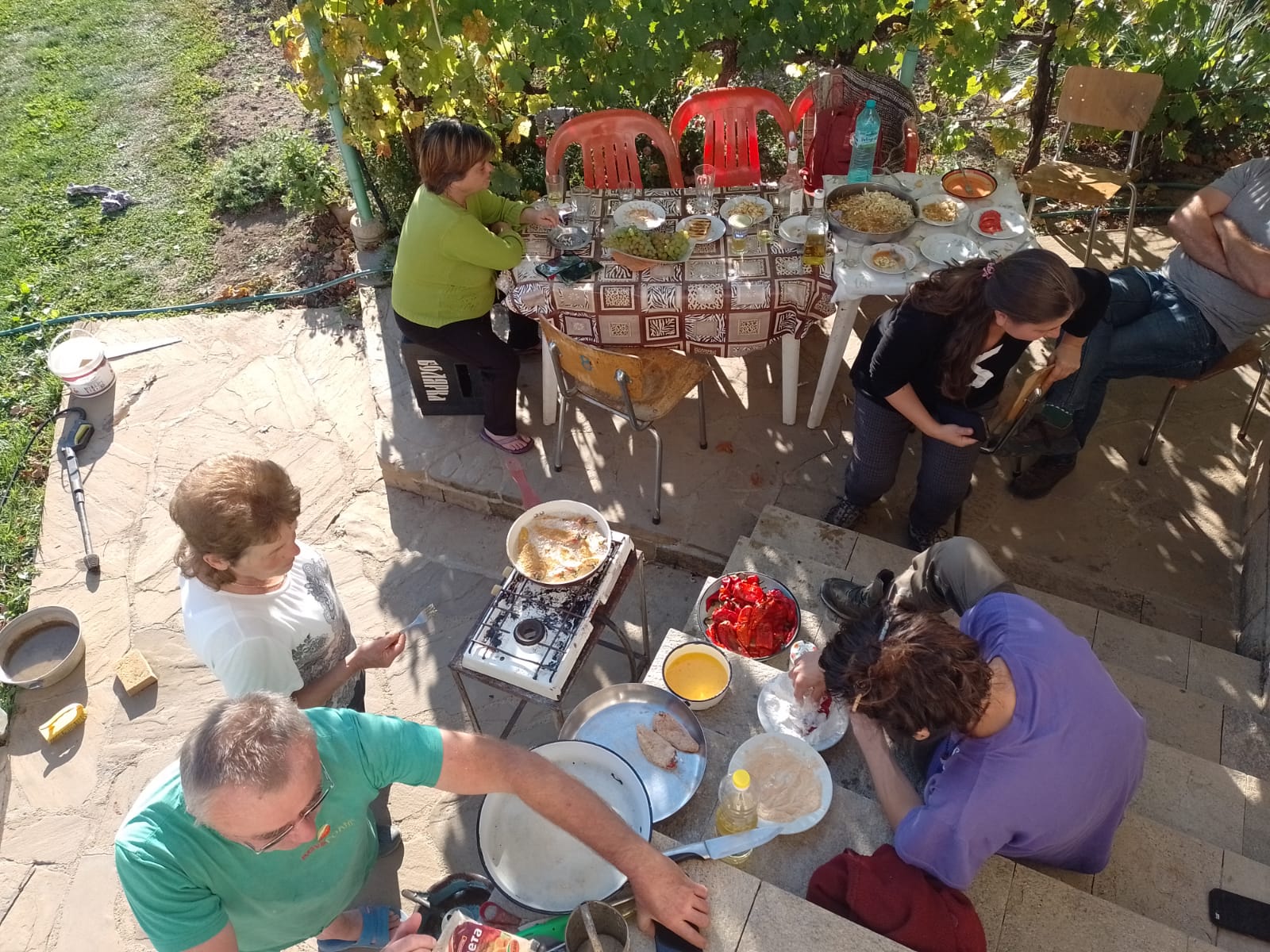 The journey of the red bell pepper from plant to mouth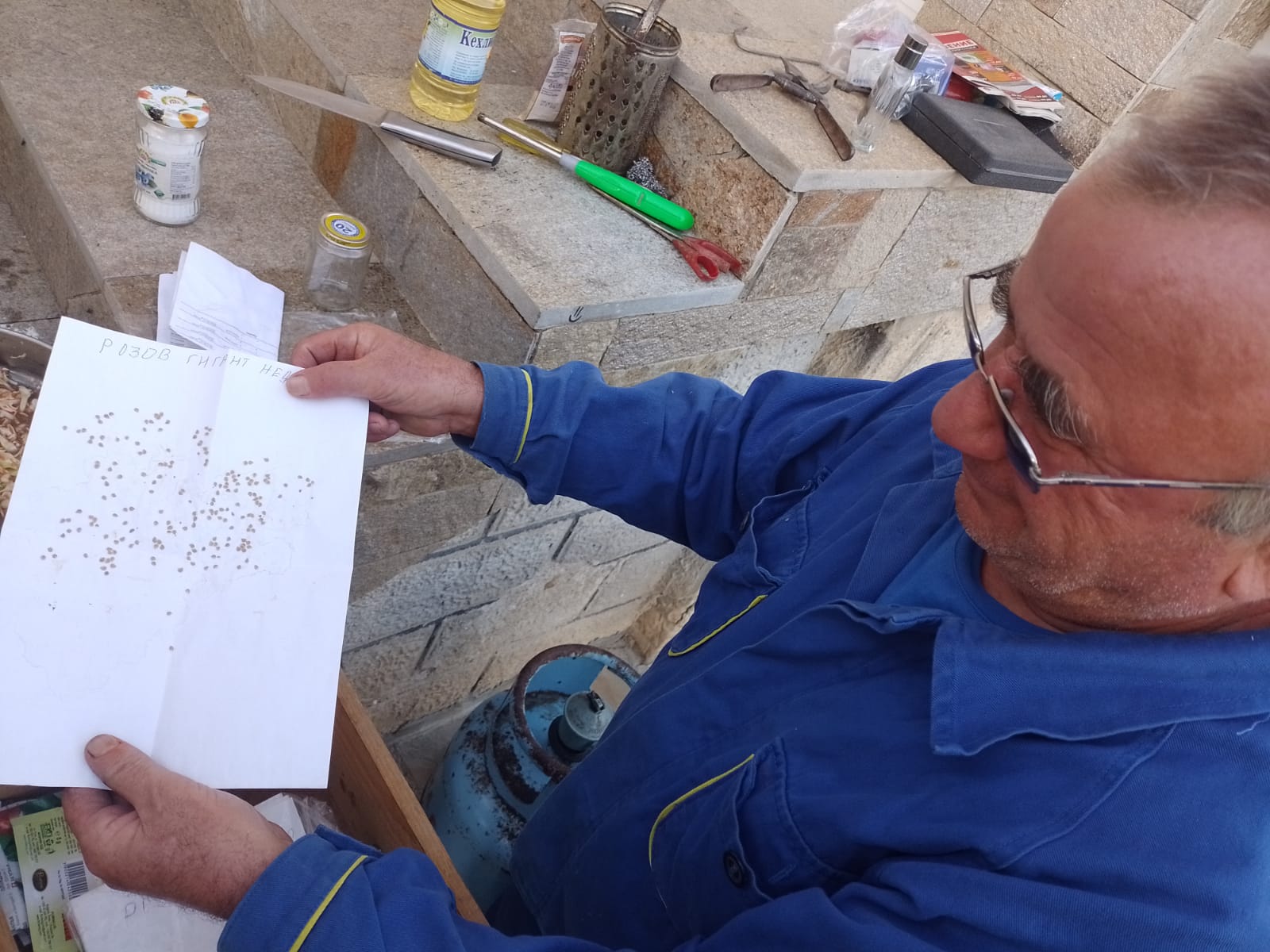 This is one of the ways the neighbor of Lily and her mom saves his seeds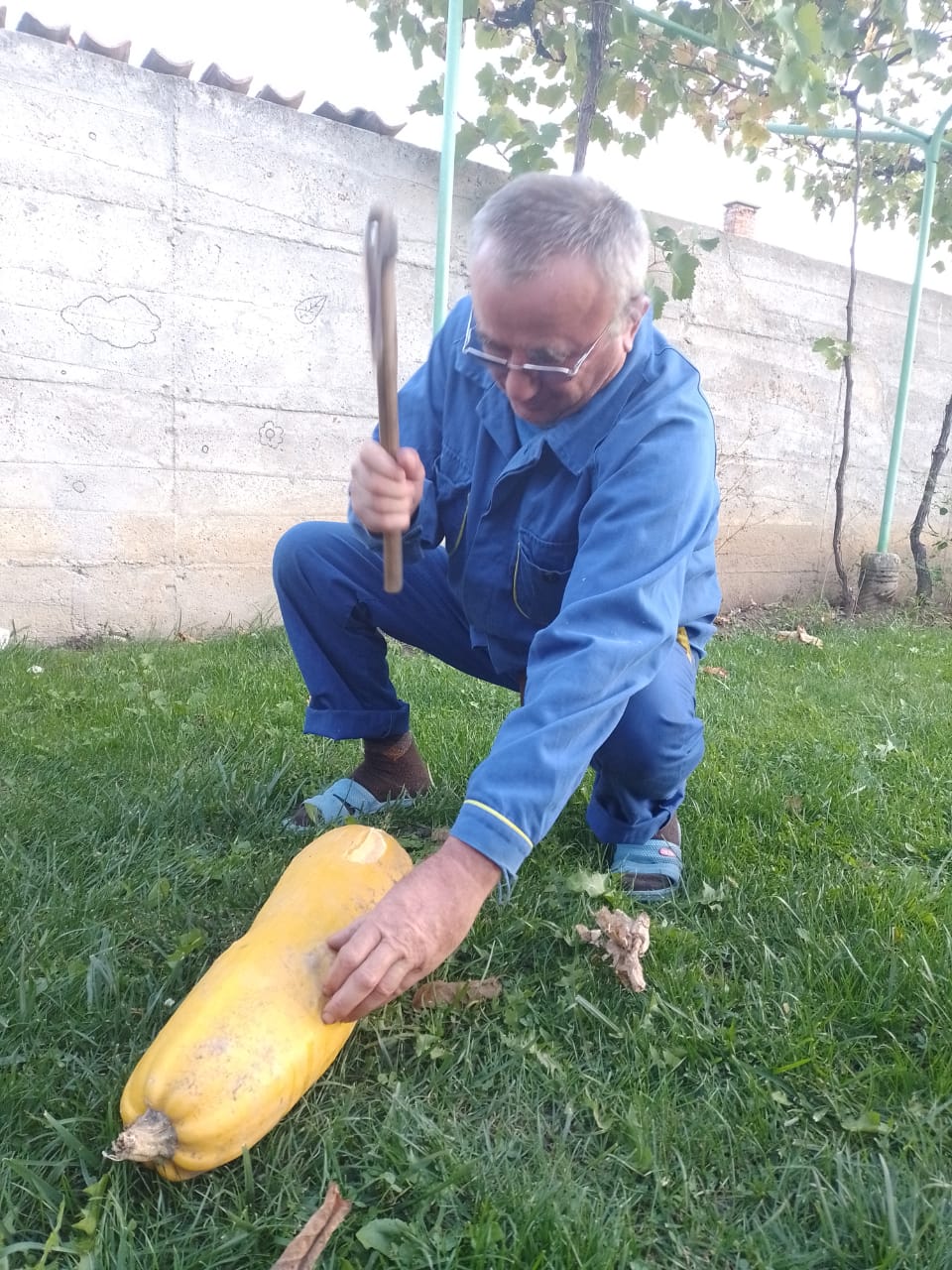 Cutting this huge pumpkin for us to collect its seeds as a present
On our final morning, we passed by the neighbor's house to say goodbye. But our curiosity was too big to skip seeing the garden of the dancing lady. She had a beautiful garden, very well maintained, with lots of roses and all the typical traditional Bulgarian garden crops. When we walked up some stairs of her house to look at it from above, we encountered some really interesting traditional farming tools, as well as traditional dancing shoes (see photo).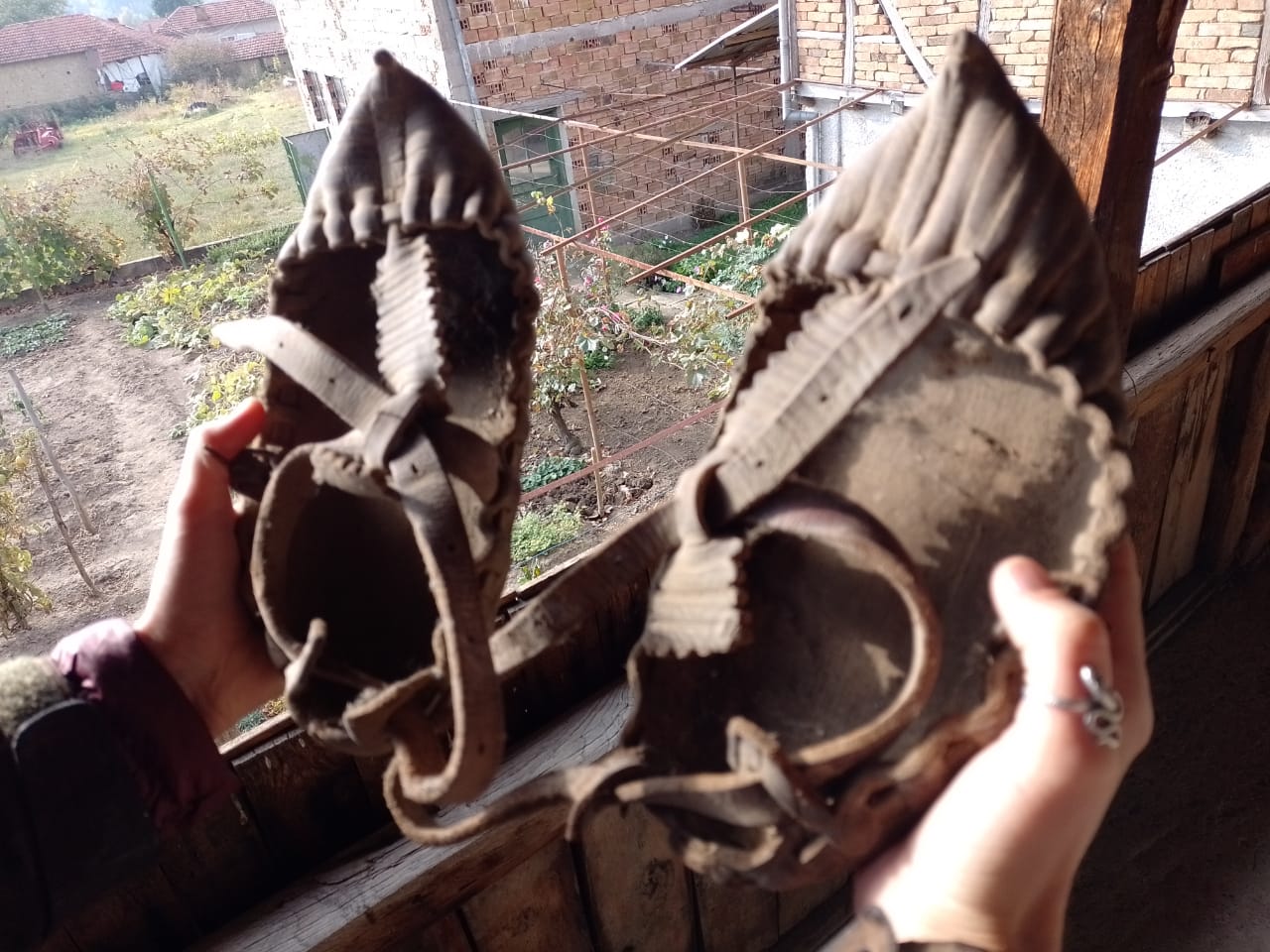 Traditional dancing shoes, made out of pig's leather (you'll have to soak them in water to soften them!)
When we hugged her goodbye, I could see a mixture of excitement and sadness in the woman's eyes. This unexpected visit of two total strangers from far away and unimaginable places for her who awkwardly danced on her Bulgarian traditionals… this would be a story to be told and retold for a long while!
Luffa aegyptiaca – the internal part of the fruit of this plant is used as a natural sponge!
It had been a long while ago that we had so much fun in combination with good food and learning loads of new things about the old ways, without actually being able to speak the same language (though saved a lot by Misha and Philip with some helpful translation from time to time). I'd be up for many more of such encounters, so Bryagovo – here we come!
Renzo:
Hello!
Renzo here 🙂 Together with Mali we arrived this week in Bryagovo, a small town not too far from Plovdiv, where my first impression is of a place with life, people looking at us without hiding curiosity and in turn greeting with a smile (see photo show below).
We were received by the mayor, Mariya, a young and friendly person who is eager to help her town progress. She told us how the people live here. Later she she showed us some of the things that she has been working on in recent years, like the restoration of the cultural center and library.
We were very happy to hear that a crochet and fabric recycling workshop is being held there every Tuesday at 17.00, which we love and will surely participate! It is a cozy place where the townspeople, apart from books, have access to the internet with a desktop computer.
The mayor told us that she has several more things planned for the future, such as the restoration of the theater (this room is located above the library), which is a place with great potential for shows and presentations of all kinds. She even already invited us to share a bit of music on accordion and violin at the end of the program of a performance she is planning to organize in November!
We really liked her initiatives with a perspective on ecological practices such as her plastic recycling project. She created four collection points around town for people to bring their plastic bottles. She would then herself take it to Plovdiv. Yearly she counts around one ton of plastic! So still a lot of space for improvement and conscientiousness. In general, she showed a lot of interest in learning more about eco-friendly techniques, how to compost (instead of people burning all the leaves of the trees falling in autumn and wasting their kitchen waste), and how to handle plastic waste responsibly. We decided that we could perhaps organize a presentation on composting techniques and do a practical trial. Another idea was to use a small patch on the central square close to the town hall, to turn it into a community 'garden', where we could for instance show an interesting forest garden guild with a tree and plants/shrubs that are mutually beneficial to each other when grown together. The best would be that the selected species are common to the people and that they could – ideally – come from their own gardens. Then a sign could explain something about permaculture and food forest guilds, just as a little teaser.
In our talk with Mariya, we asked her what the people of the town need, and she answered us that the young people of the town need a place for recreation. Her idea is to make a multi-functional sports field next to the town hall. This made us think of a potential solidarity project that we could develop with the youngsters. The mayor already had some young people in mind whom she could introduce us to.
We also received a little introduction from Lozka (part of the cultural center team), who took us to see the church which was restored by her late husband, the former mayor of Briagobo, The place was in ruins for a long time, but he and several people from the town did a lot of great restoration work to it.
In the evening we were received by Miriam and Alex, our future ESC hosts. We shared dinner and talks, and after a long but rewarding day we went to rest. The next day with Miriam we went to visit her land, she told us a little about how they are working it now and how was the process of starting to work the land there.
We closed the week with a positive feeling about our new location. We left Bryagovo after a week, to first visit two other short-term projects (Ura Gora and Vegetarium). In two weeks we will return again to Bryagovo to start volunteering there in cozy winter time!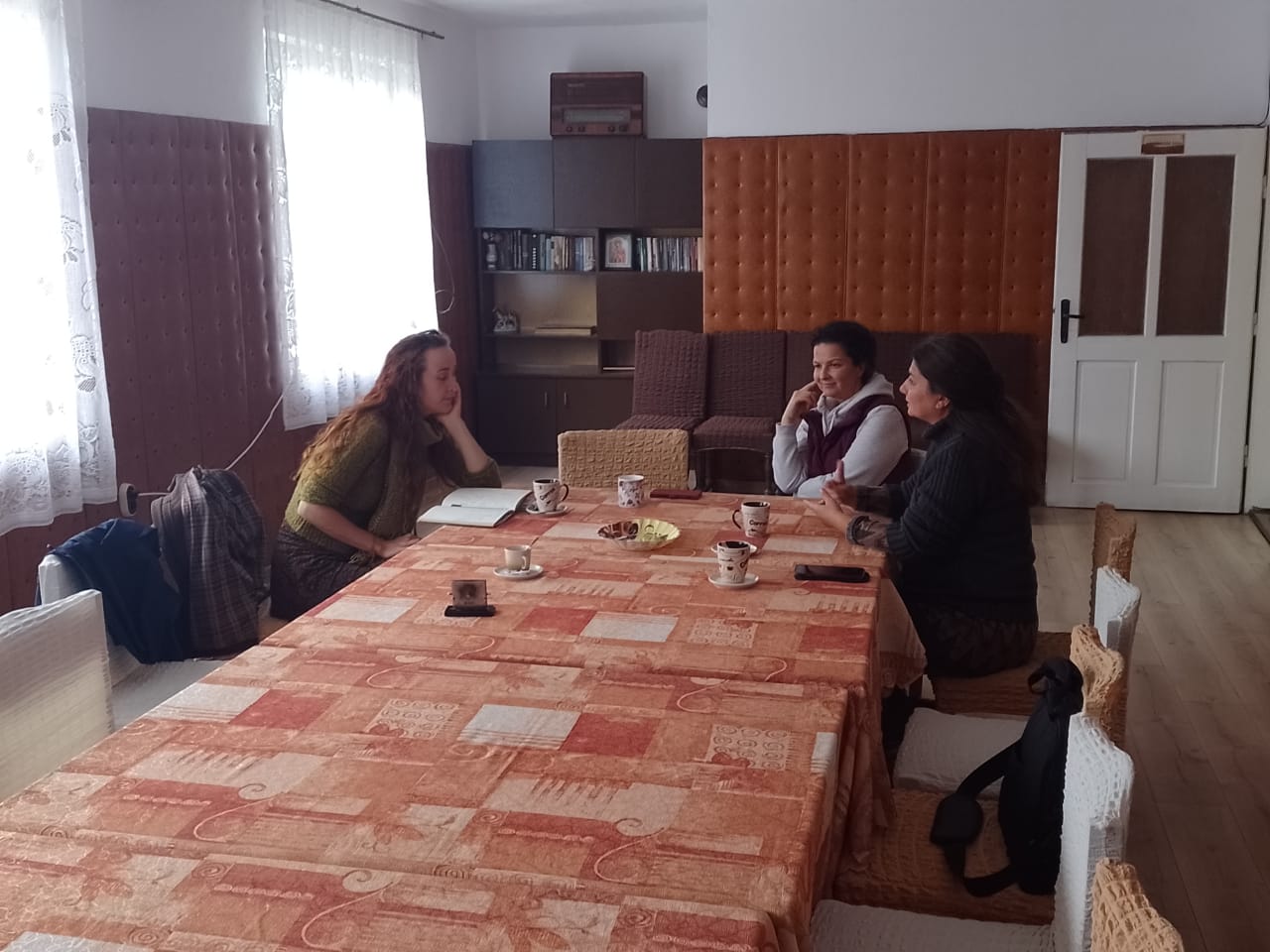 Meeting with the mayor of Bryagovo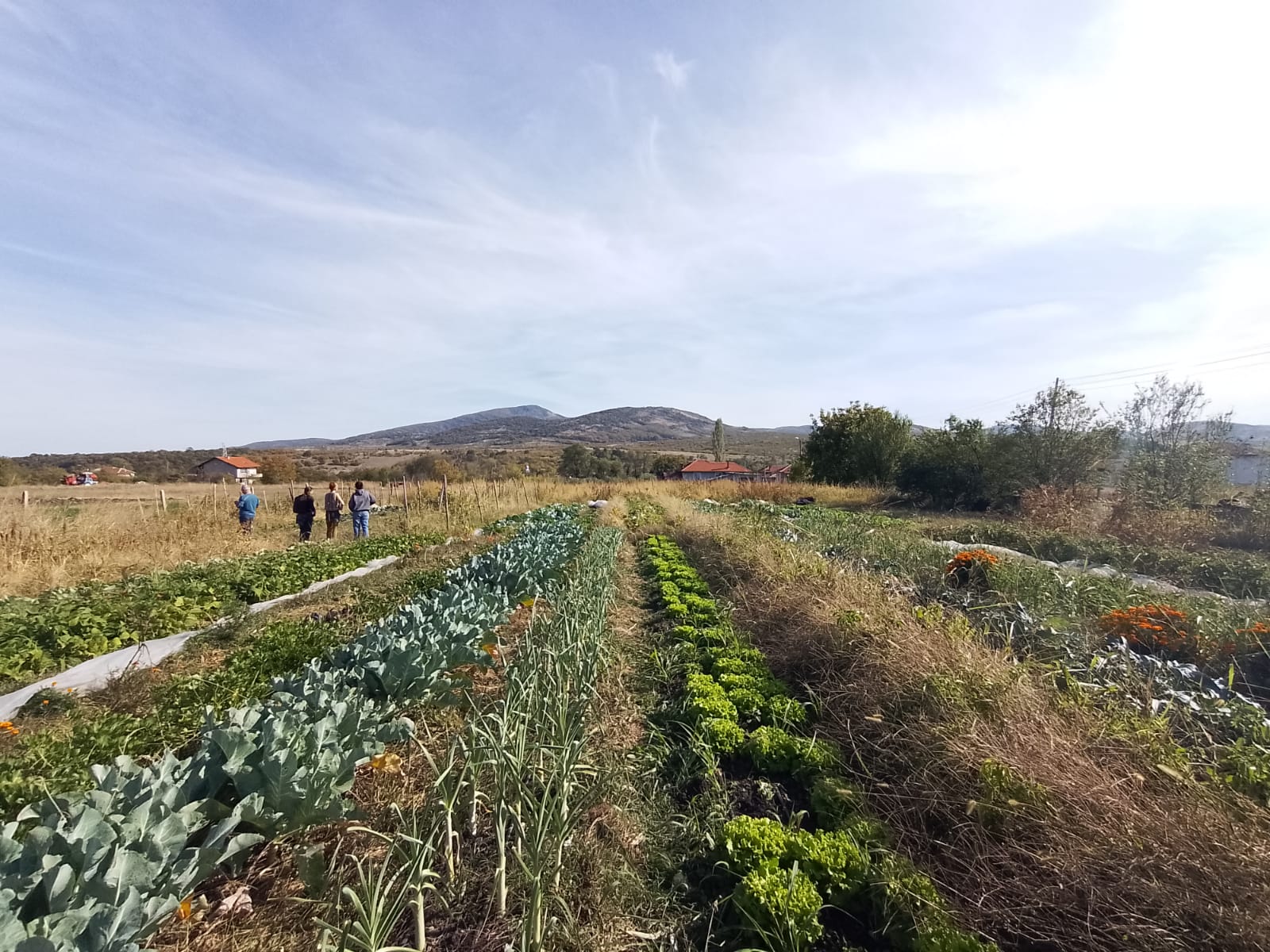 Tour of Fidanoto's garden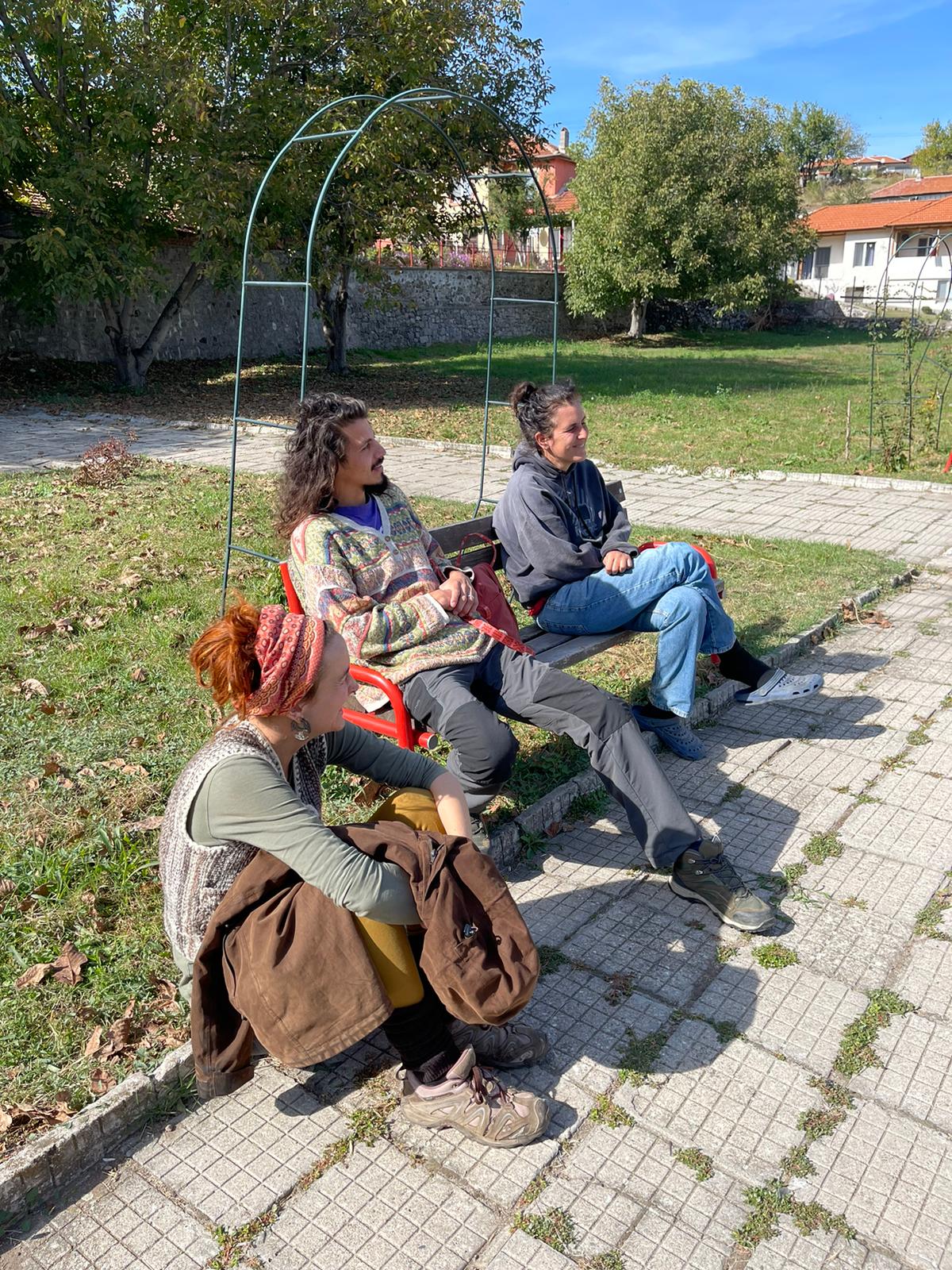 Waiting in the sun for our meeting with the mayor and Miriam from Fidanoto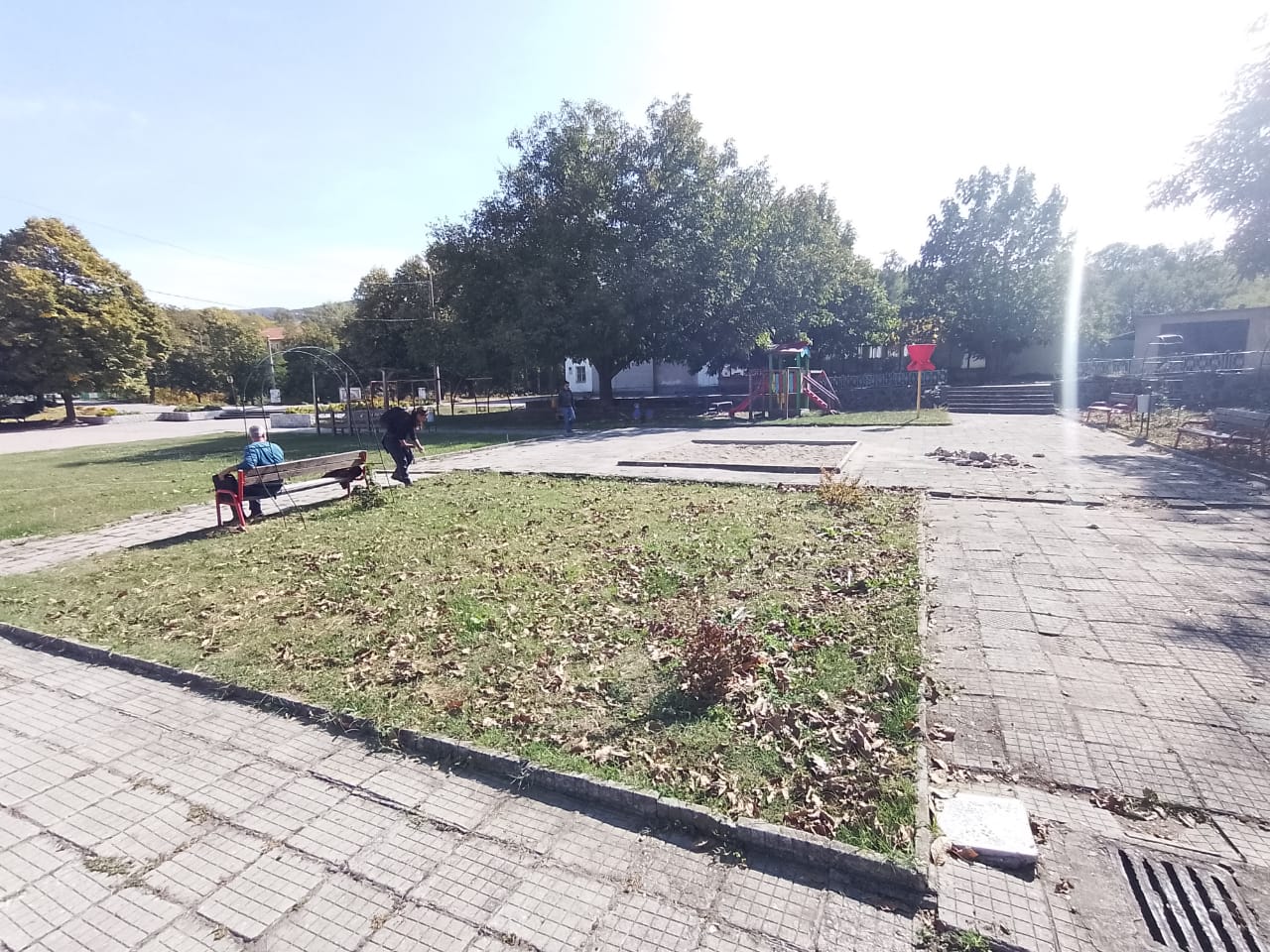 Possible site for a community garden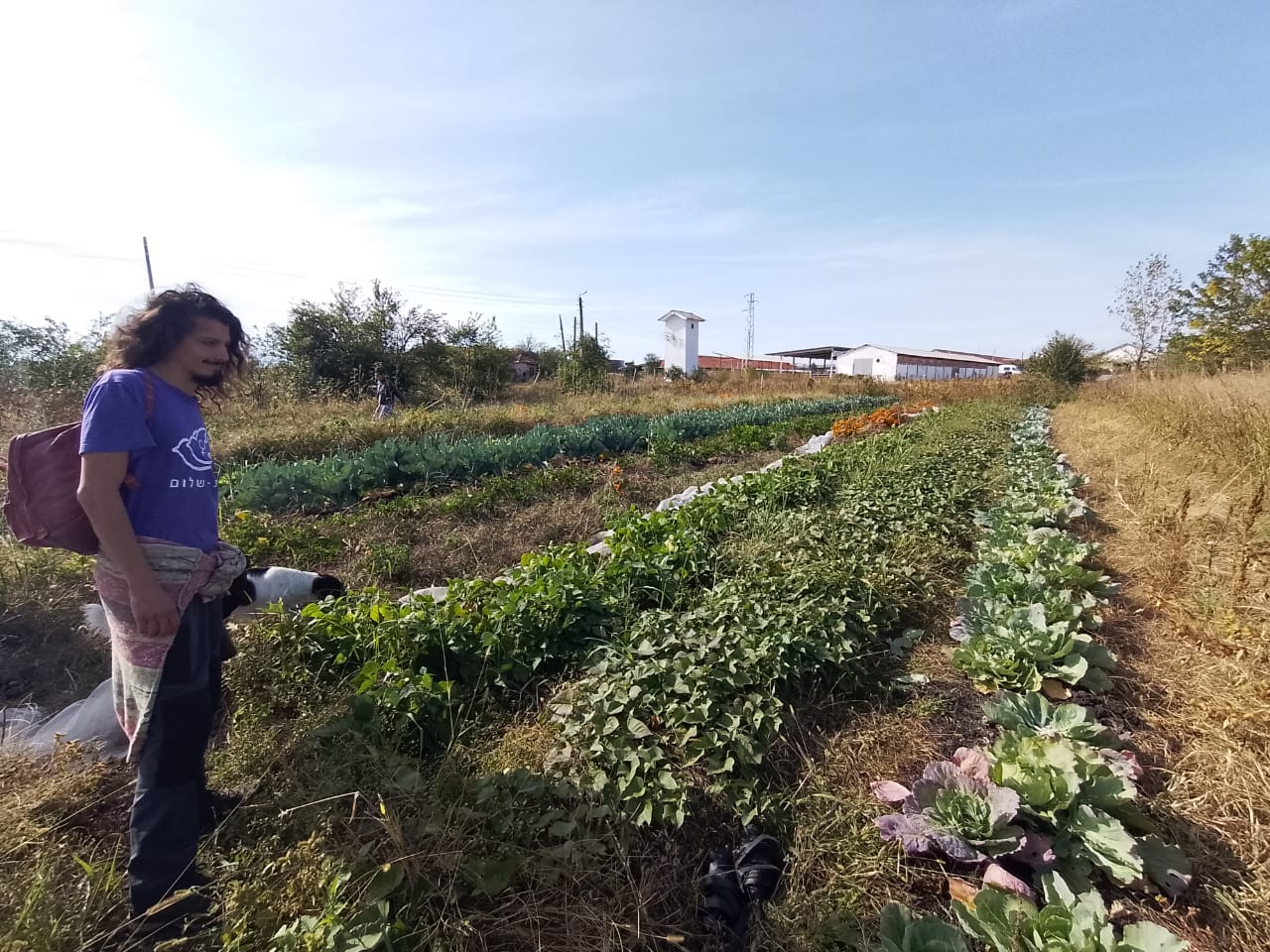 Visit to the land of Fidanoto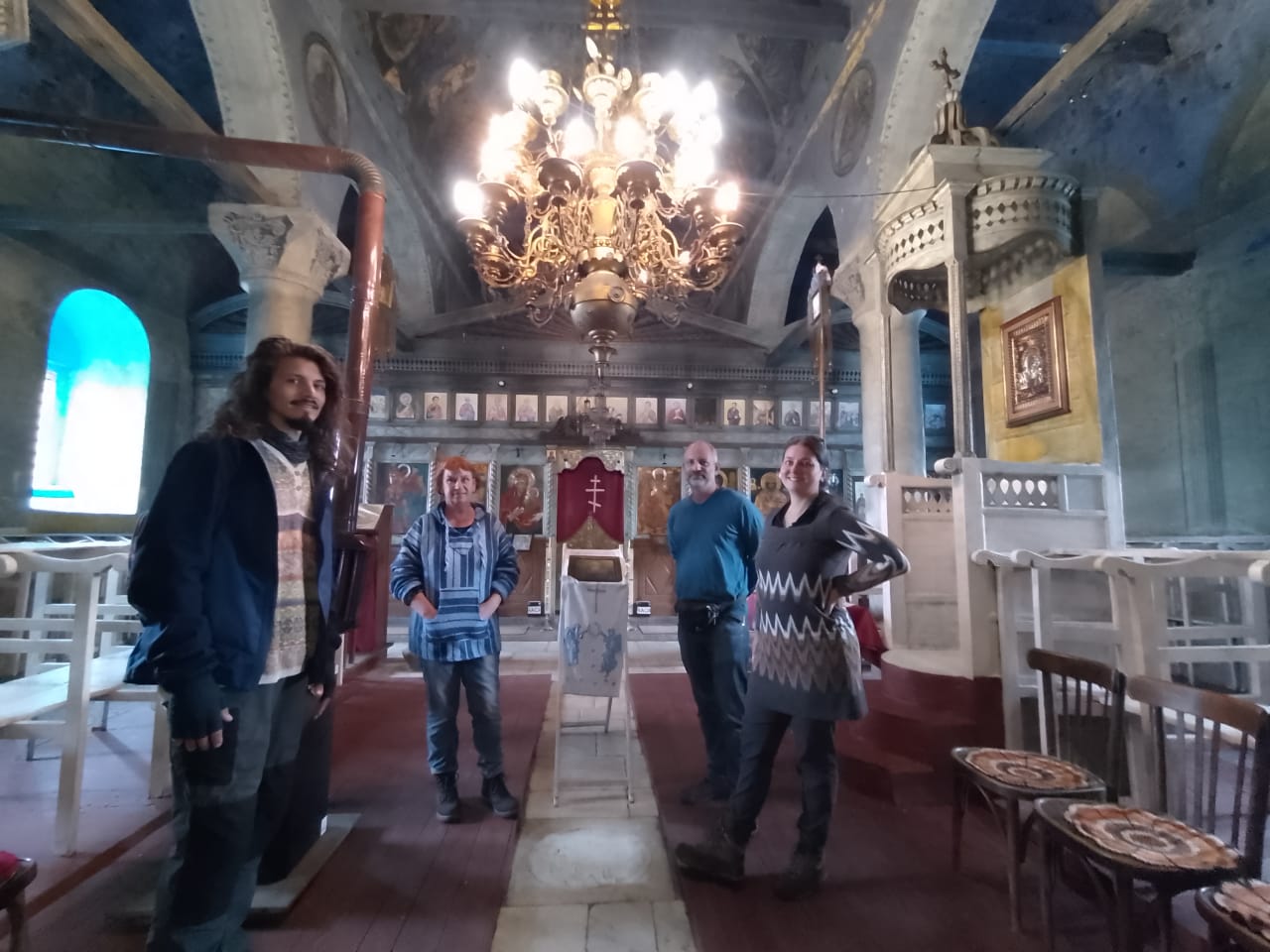 Visit to the church of Bryagovo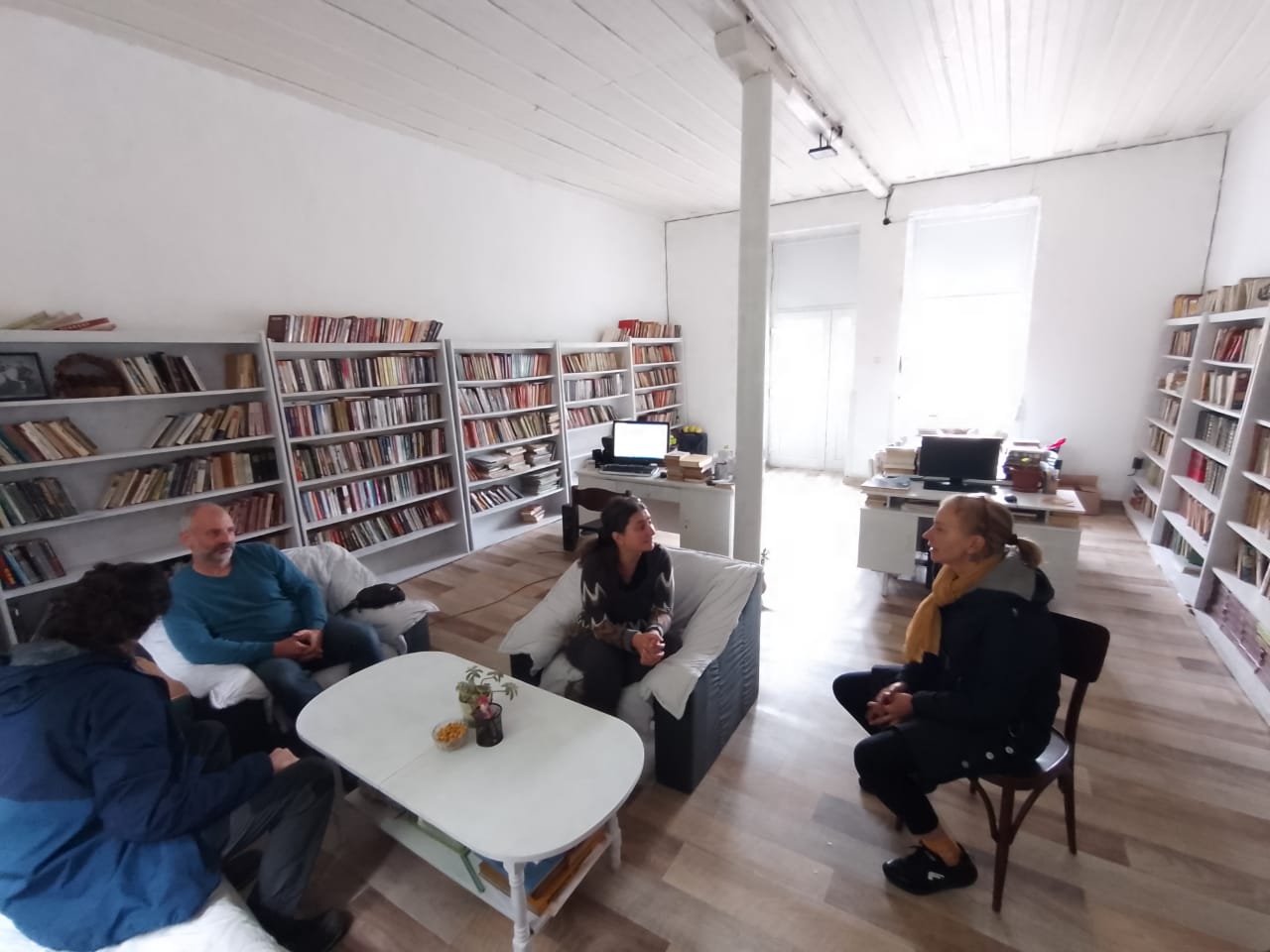 Visit to the library
Chloé, Paula and François
Здравейте everyone!
This week we went to Kyustendil, and met with Casey, Angel and their son Gabe. They created Angelove Estate, where they have their own truffle orchards and produce high quality cherry rakia. They also produce liquid soap, with different plants including the traditional Bulgarian rose scent. In the future they would like to host woofers and volunteers at their place.
We got to visit the truffle orchard and learn about the growing and hunting of truffles. We also visited the distillery where the rakia is produced, and tasted it: it was really good ! We also spent time in the garden preparing it for winter, and cleared the future volunteer's house as the outside wall of the stone house was covered with invasive blackberry.
We spent a lovely week with them and they took really good care of us. We got to learn a lot but also spend quality time with them and their family.
On our last night, we had dinner all together and made some gnocchis with purple potatoes and rosemary and butter sauce. We took time to record an interview of Casey, in order to get to know her story better and to have her vision on the business she created along with her husband.
Here is the podcast we produced, enjoy ☀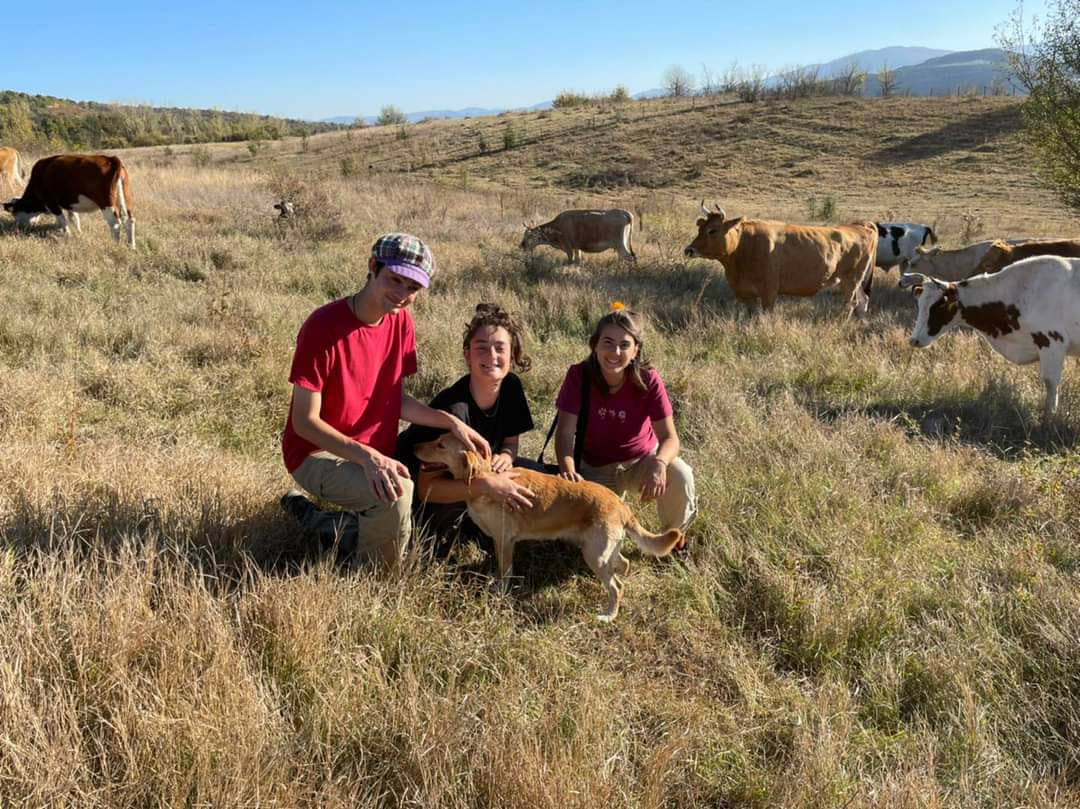 François, Chloé, Paula and Claire, the truffle dog! (photo credit: Casey Angelova)