Mali:

Hello all!
Our one week's visit to the permaculture Kin's Domain and community Ura Gora ("Hurray to the forest!") in the south east of Bulgaria was magical and just really too short. A place to come back to with more time at hand! It was extra special to fi-nal-ly meet Sophie Reeve in real life; two years ago she had 'only' been a passionate and intelligently speaking 2D-woman on my 5 x 6 cm phone screen. Flashback…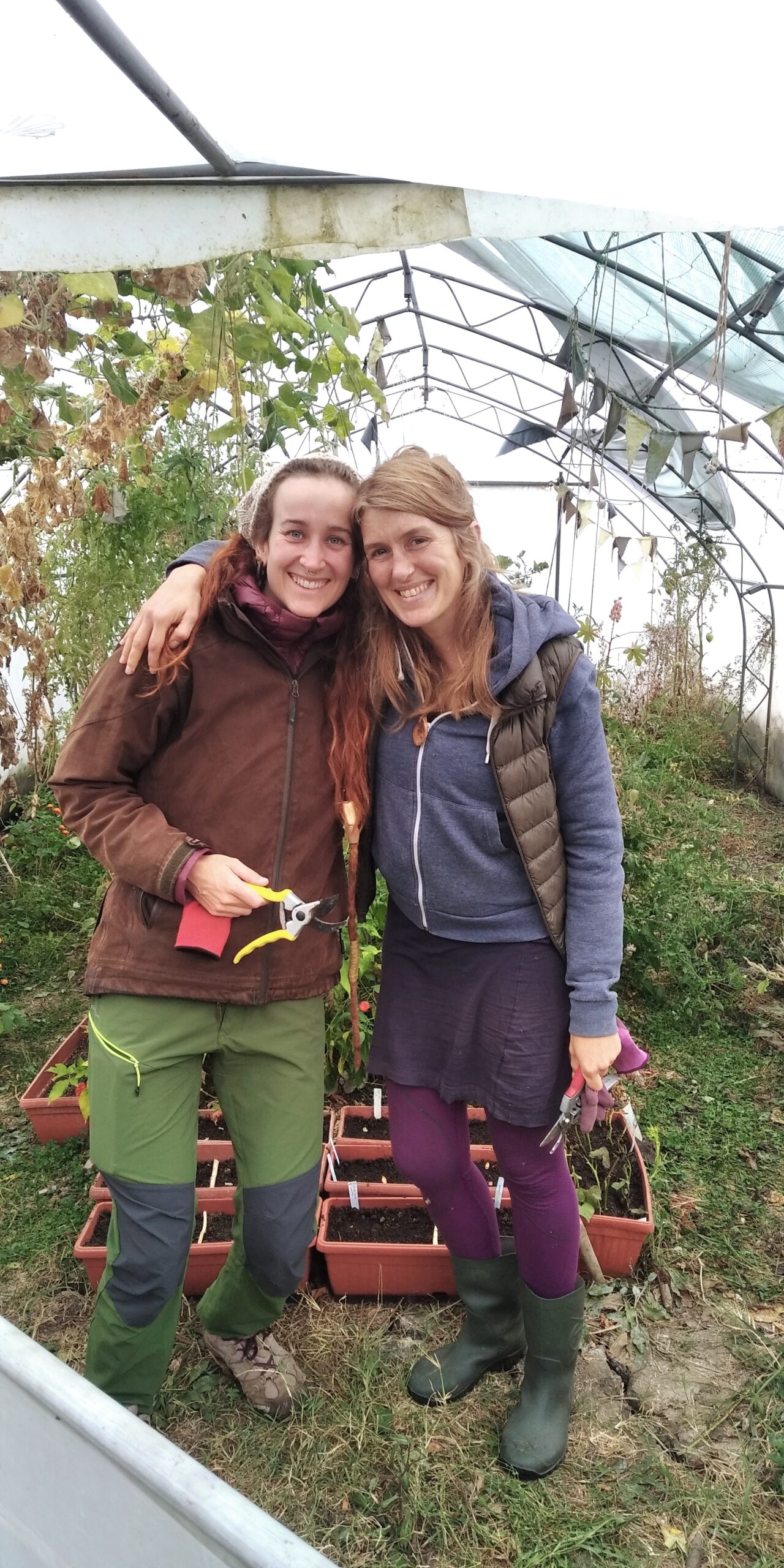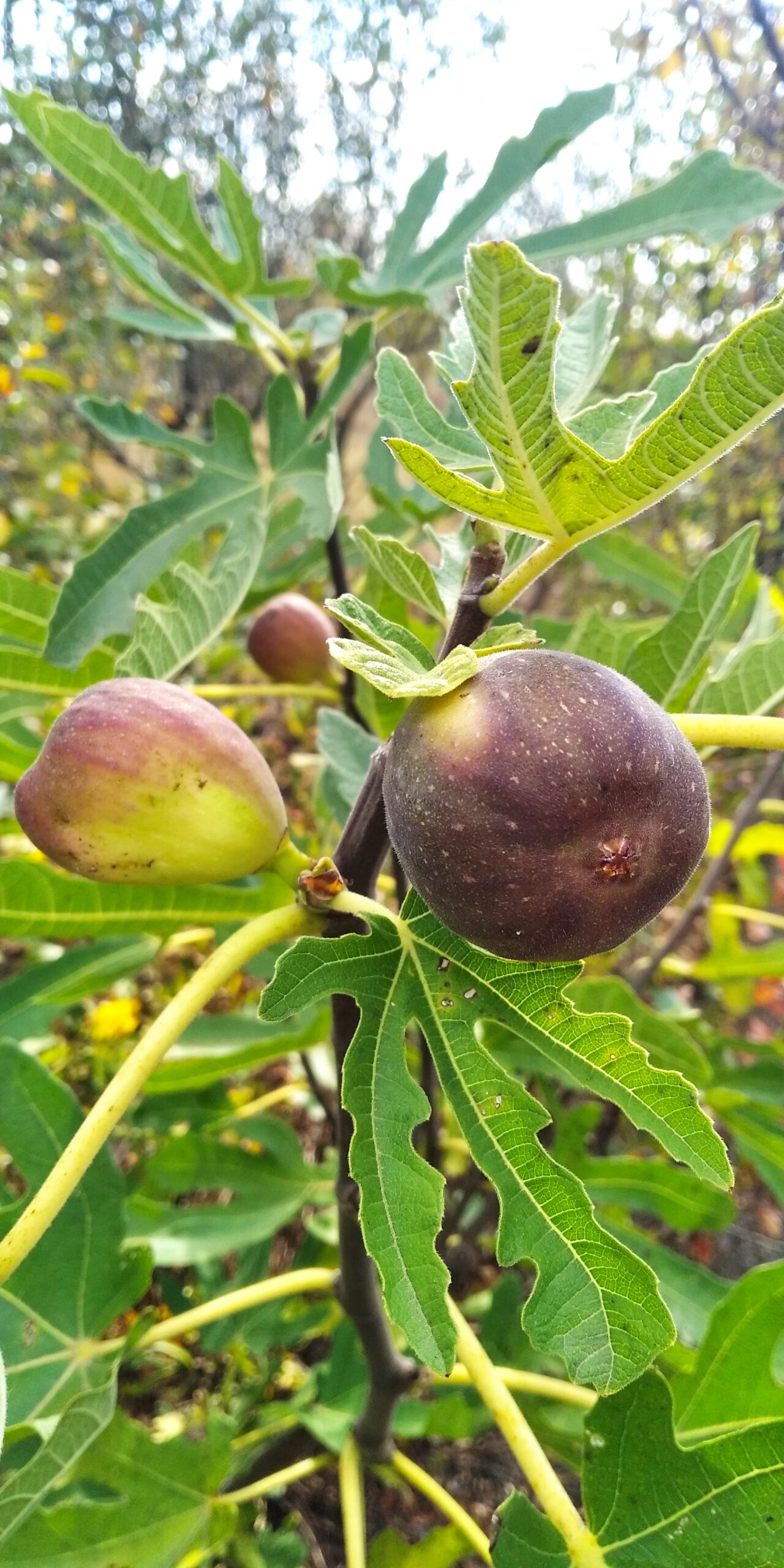 Posing with Sophie (photo: Renzo Avendaño) & Real Ura Goran figs (photo: Sophie Reeve)
December 2020, Covid was still very alive. Renzo and I were stuck in his village in the far south of Argentina for around 8 months. After five successful, and tiring months of running a self-organised solidarity kitchen project with a group of friends, we decided to shift our focus to making crafts and offering music classes so we could pay our rent. With still oceans of time left, and my brains craving for something more to crunch on, I was ready for some extra challenge.

The original idea to travel through South America had been to volunteer in different ecological projects and communities, get more hands-on skills in ecological construction, permaculture and community-building. Limited in my mobility, I searched for opportunities on the World Wide Web, and then somehow stumbled upon an online permaculture design course offered by Roots 'n Permaculture. At first, I couldn't imagine the fun of learning about permaculture in cyberspace, as the real fun happens outdoors, no? But the lovely teaching team of Rakesh Rootsman Rak and Sophie Reeve, made me reconsider this presumption over the period of five months, with many looong (5-6 hours!), but fruitful and inspiring sessions behind the screen.

It brought some life, hope and inspiration back into my daily covid-life, with rough and windy Patagonian days passing by, and my excitement growing more and more to get permaculture into practice. I believe these were also the seeds being sown, that finally got me and Renzo here in Bulgaria.

As this is what was the only thing logically missing in the online course, or put in another way, what the course really made me crave for; to spent a lot of time outside with other like-minded folks, observe every little detail and all the patterns of the land we'd be studying; dream, plan, make and celebrate a design for the place, getting our hands dirty, start digging swales and ponds and play with mud to build our own house and planting trees and and and… ten-fifteen years later live in total abundance, ohh yes!!
Now, back to our sweet, short-term hosts Sophie and husband Krasi at Ura Gora… A living example of what I just described? Yes! Picture this; a richly giving food forest and many more, almost mature trees soon sharing an abundance in all kinds of fruits, nuts and medicine, a well-functioning rain and river water capturing system with ponds and swales, a completely off-grid cute, straw bale round house, a comfy compost toilet and fertile humanure in production, years and years of built-up experience and knowledge to host kids and youngsters to teach them about permaculture, and not to forget, just as passionate and active neighbours who believe in the same vision.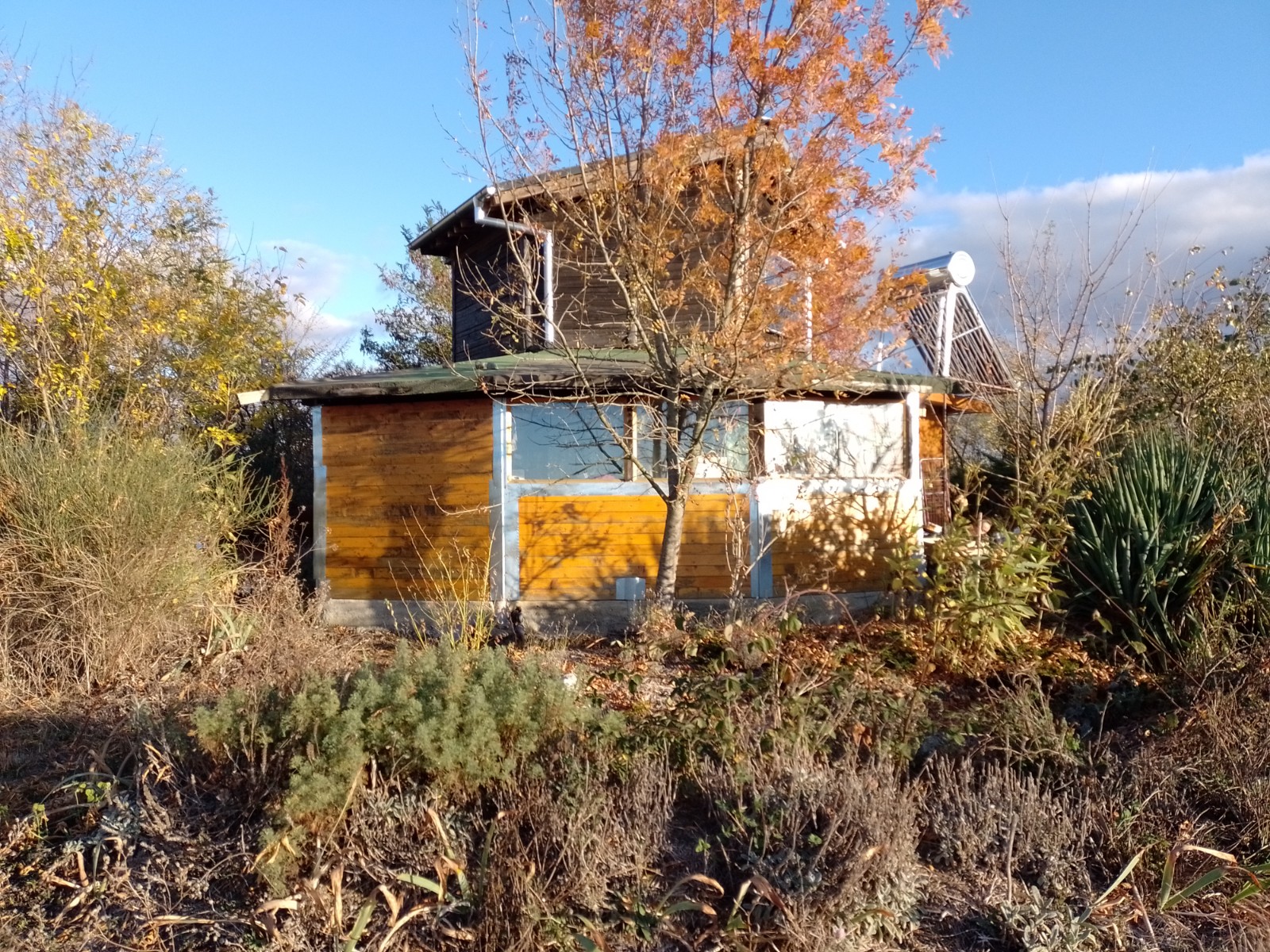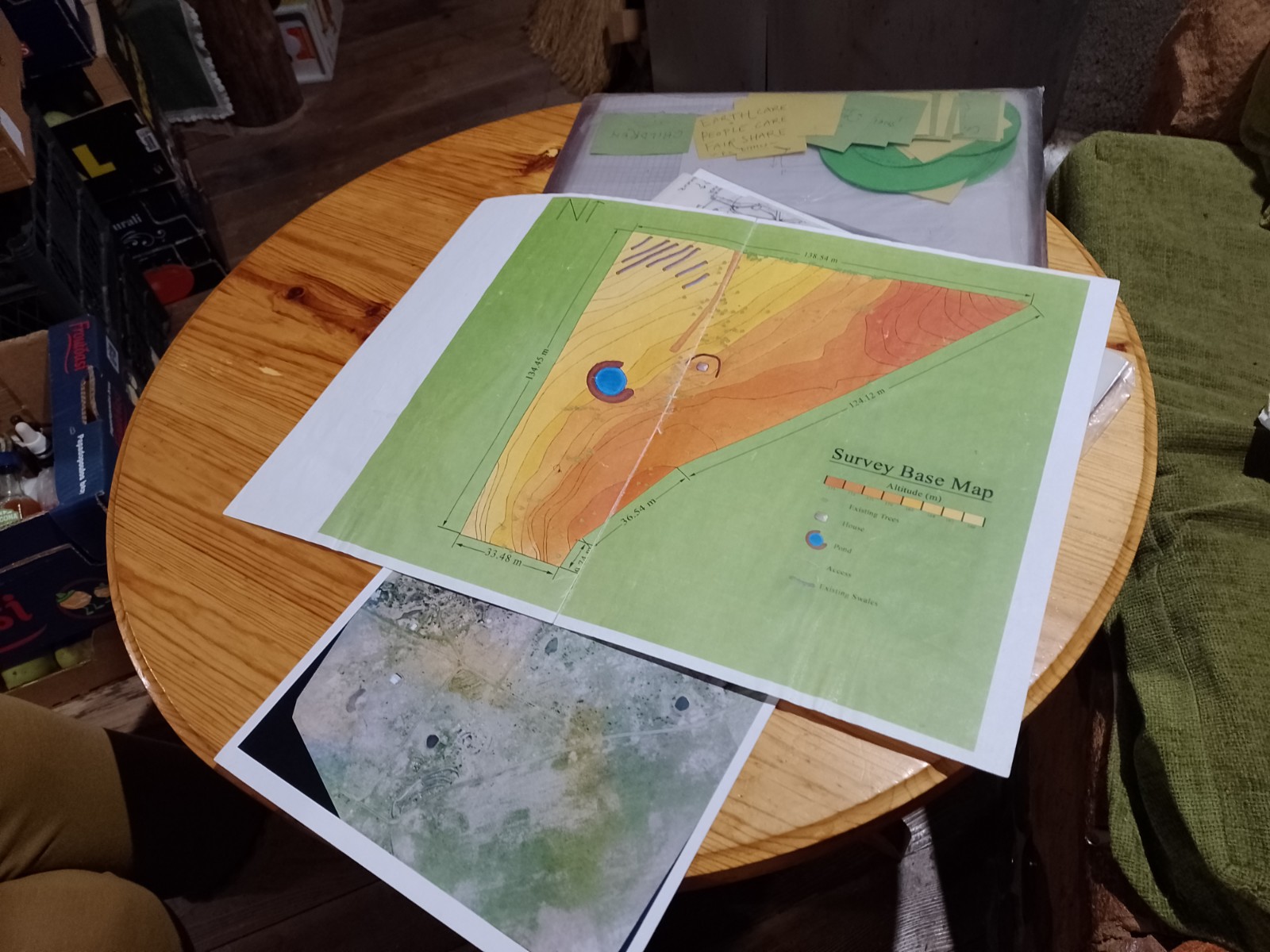 The lovely round house of Sophie and Krasi & the designs they made for their land (photos: Mali Boomkens)
However, I have to remind myself that to get to this point, someone brave decided to set foot onto this dry and barren land some 15 years ago, accompanied by a strong will, motivation and especially deep belief that this is the way to walk, if what we want is to transition to a life-sustaining society. Renzo and I are yet to embark on an adventure that feels very similar to the dream that Ura Gora has come to realise. I know it's not an easy path, as much as my romantic imagination might fool me sometimes and has me wear pink glasses when walking through a place like Ura Gora, but it's a path that feels so necessary. That said, it gave me a lot of hope to see, taste and smell a mature project like Ura Gora from up close – reconfirming that it is possible!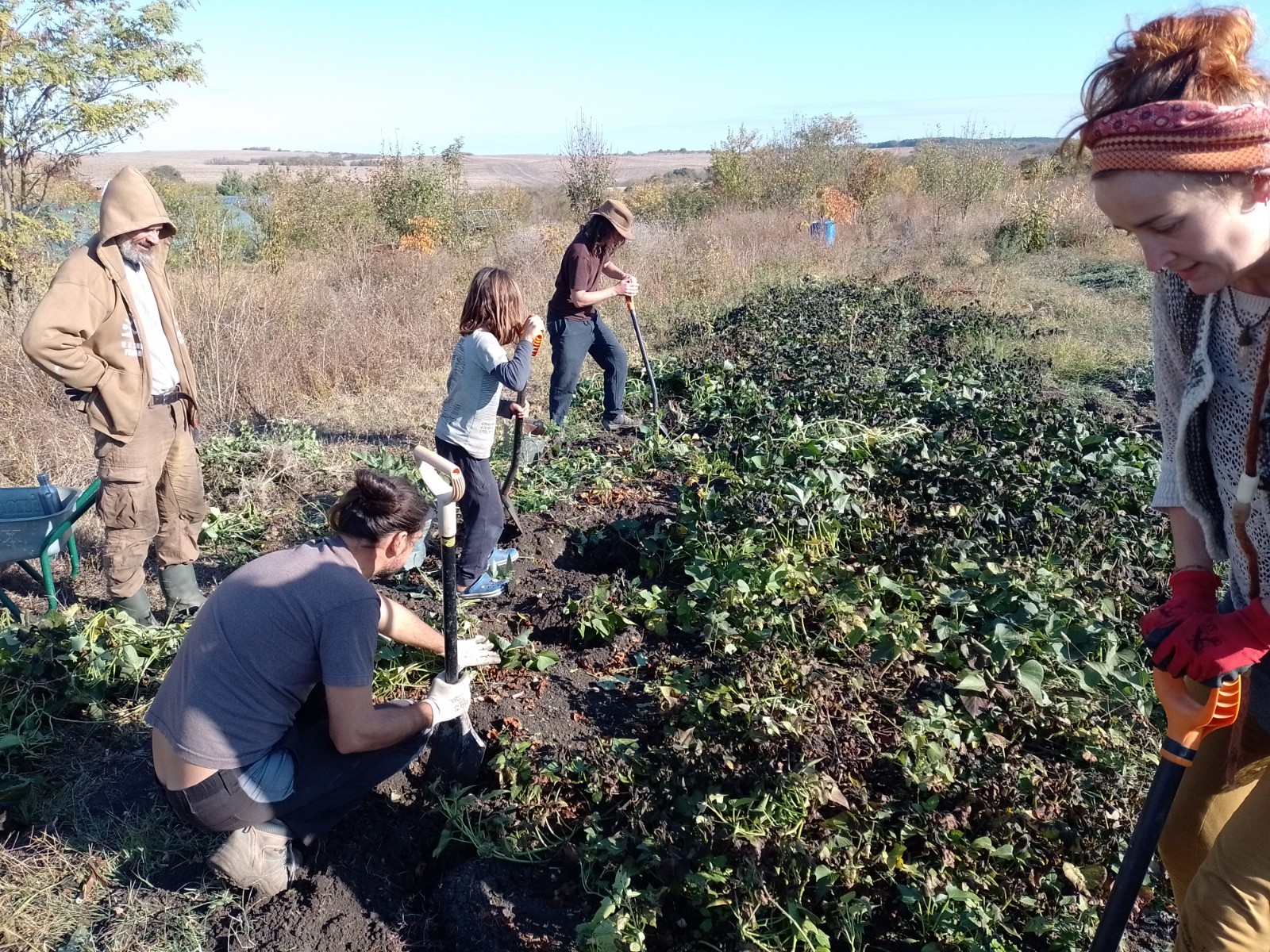 A community-harvesting day, digging and searching for the well hidden sweet potatoes in the communal garden (photo: Sophie Reeve)
Vladimir Merge's concept of a kin's domain, which he proposes as the solution to our worldly problems, is a core inspiration to the community of Ura Gora that is shaping their connections to the land and to each other. As the Anastasia Foundation (https://anastasia.foundation/kins-domains-ringing-cedars/) formulates it; a Kin's Domain is a piece of the Earth that a family takes to create a living Paradise for themselves and their future children, to hand down to them in perpetuity. It is the Domain of their Kin. I feel like Sophie Reeve's words should take over now, so I invite you to find your way to the Assocation's new podcast series on SoundCloud, where her interview is the first in line of many more to follow (see also same podcast embedded below):
To end this post, I just wanted to share how I believe that projects like Ura Gora's should receive so much more acknowledgement, attention and visibility in society, in the daily news, in politics… as so many people are on the lookout for inspiration on ways to live more sustainably and in harmony with nature. Hoping that our podcasts and videos contribute a bit to that 🙂 Below this post, I also share some happy photos from the various activities we did during our week's stay.
Listen and enjoy! 💚
Warm greetings,
Mali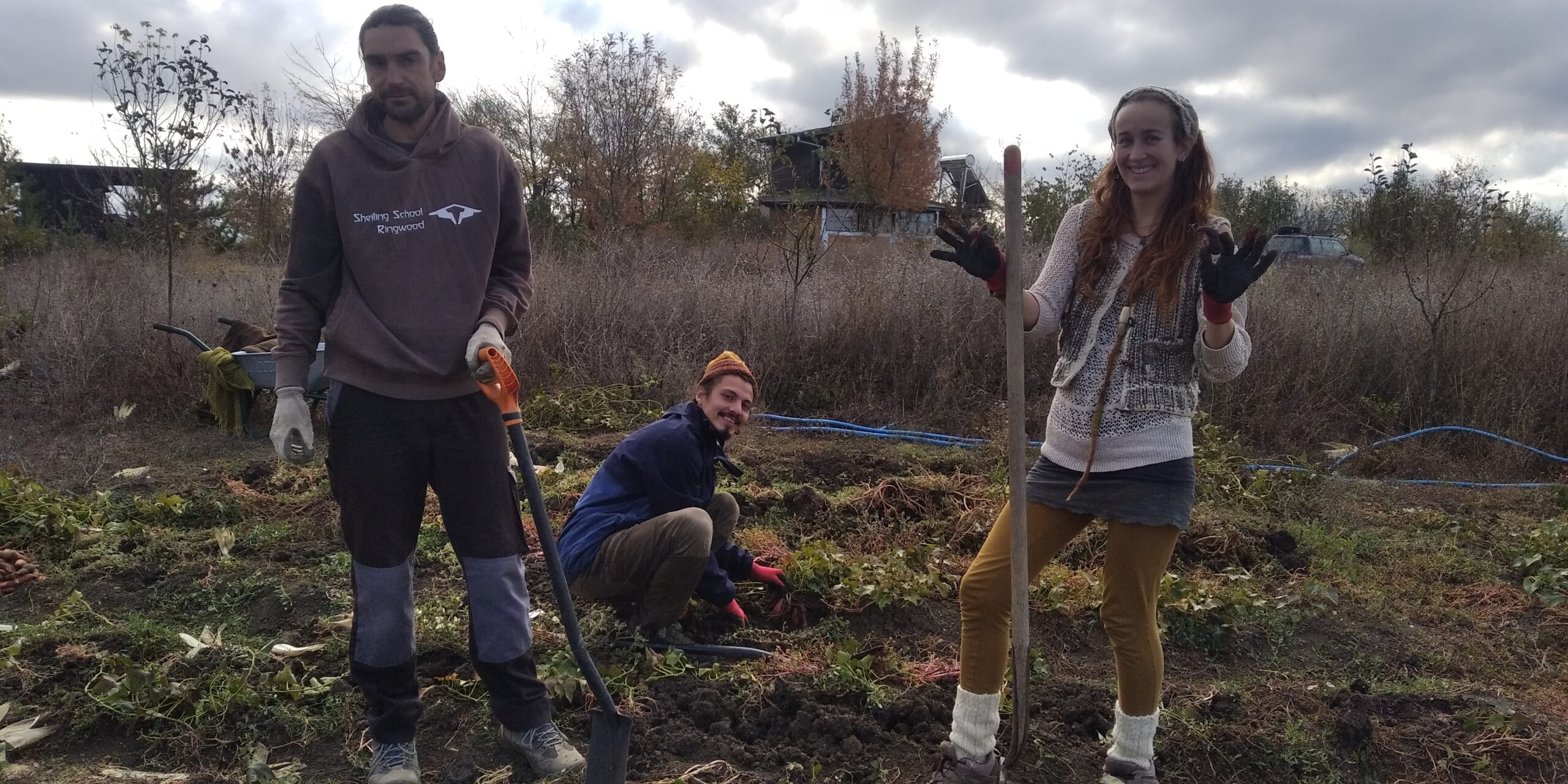 Team Sweet Potato (what a heavy job in heavy clay soil!) (photo: Sophie Reeve)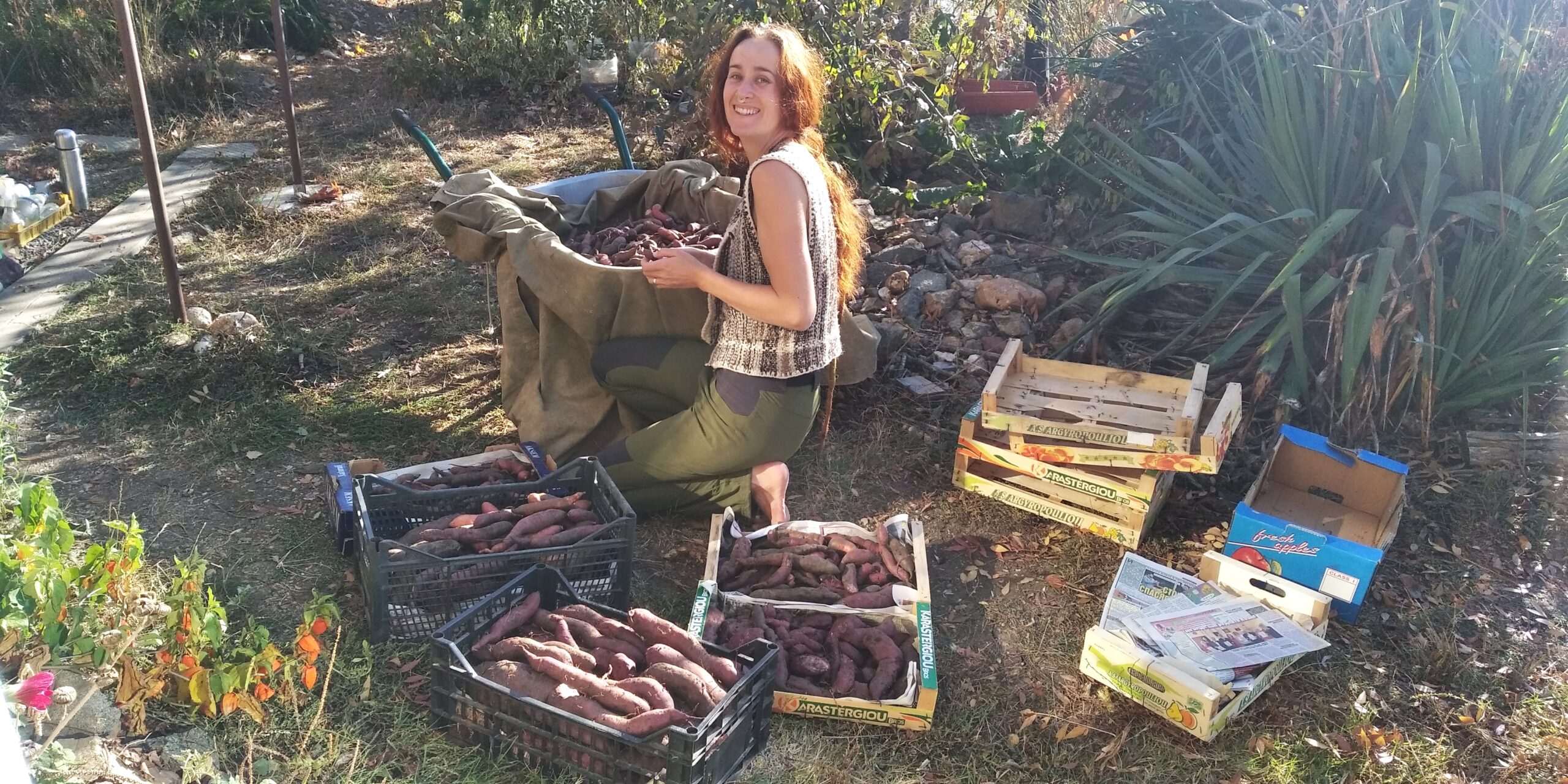 Sorting the 'good' and the 'bad' sweet potatoes (photo: Sophie Reeve)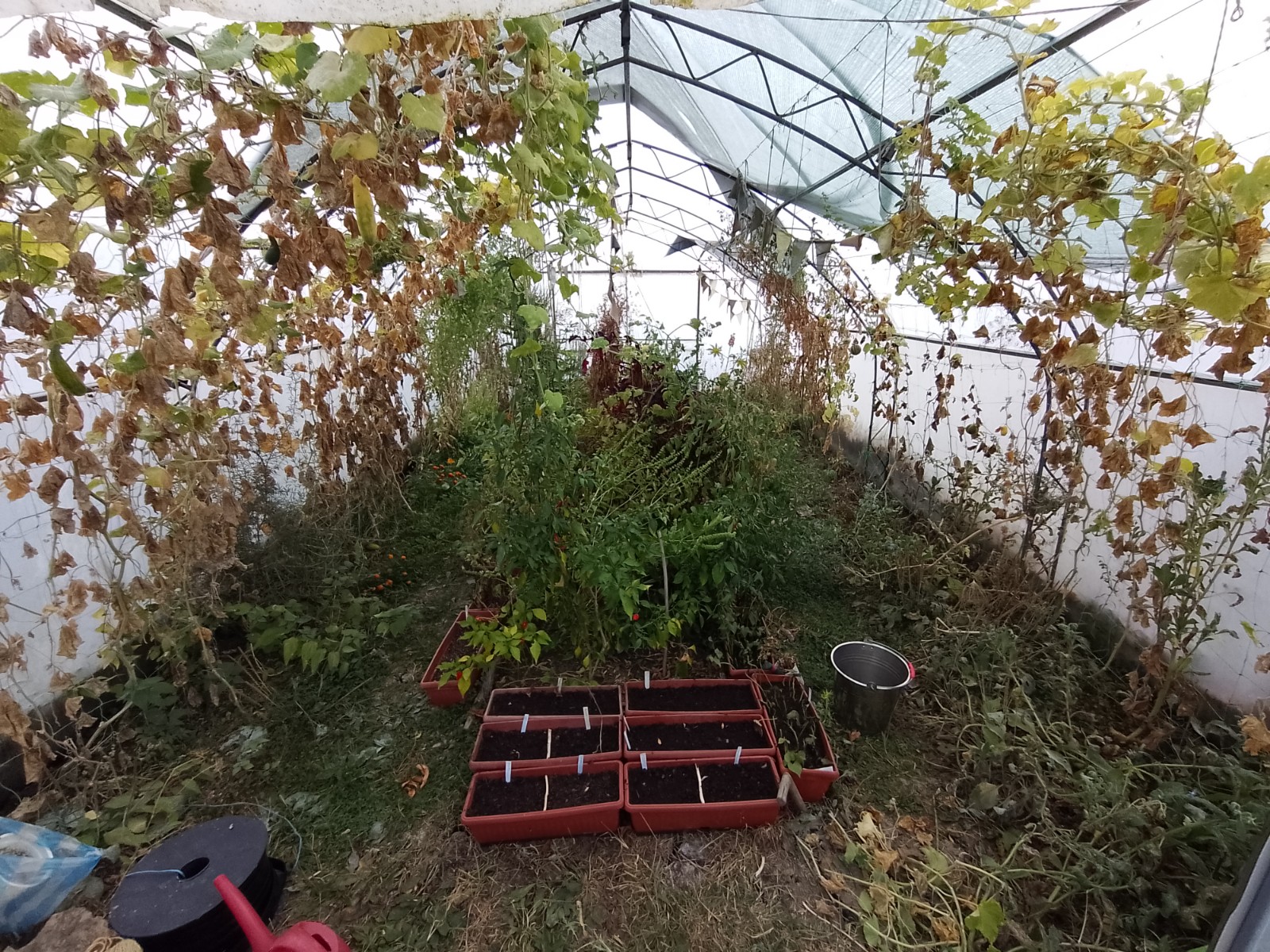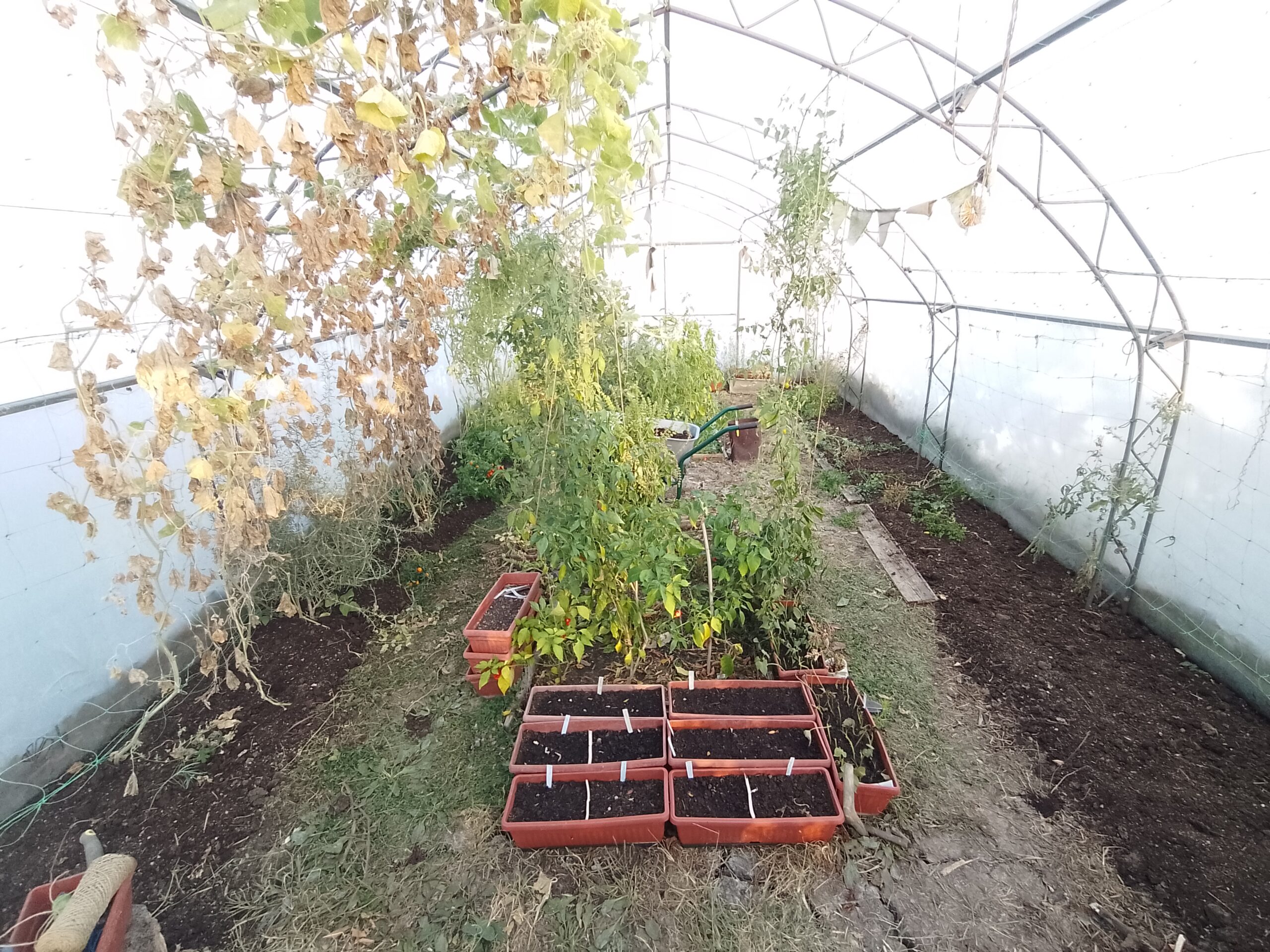 Before and after cleaning and preparing the greenhouse beds for winter crops with Sophie (photo: Mali Boomkens)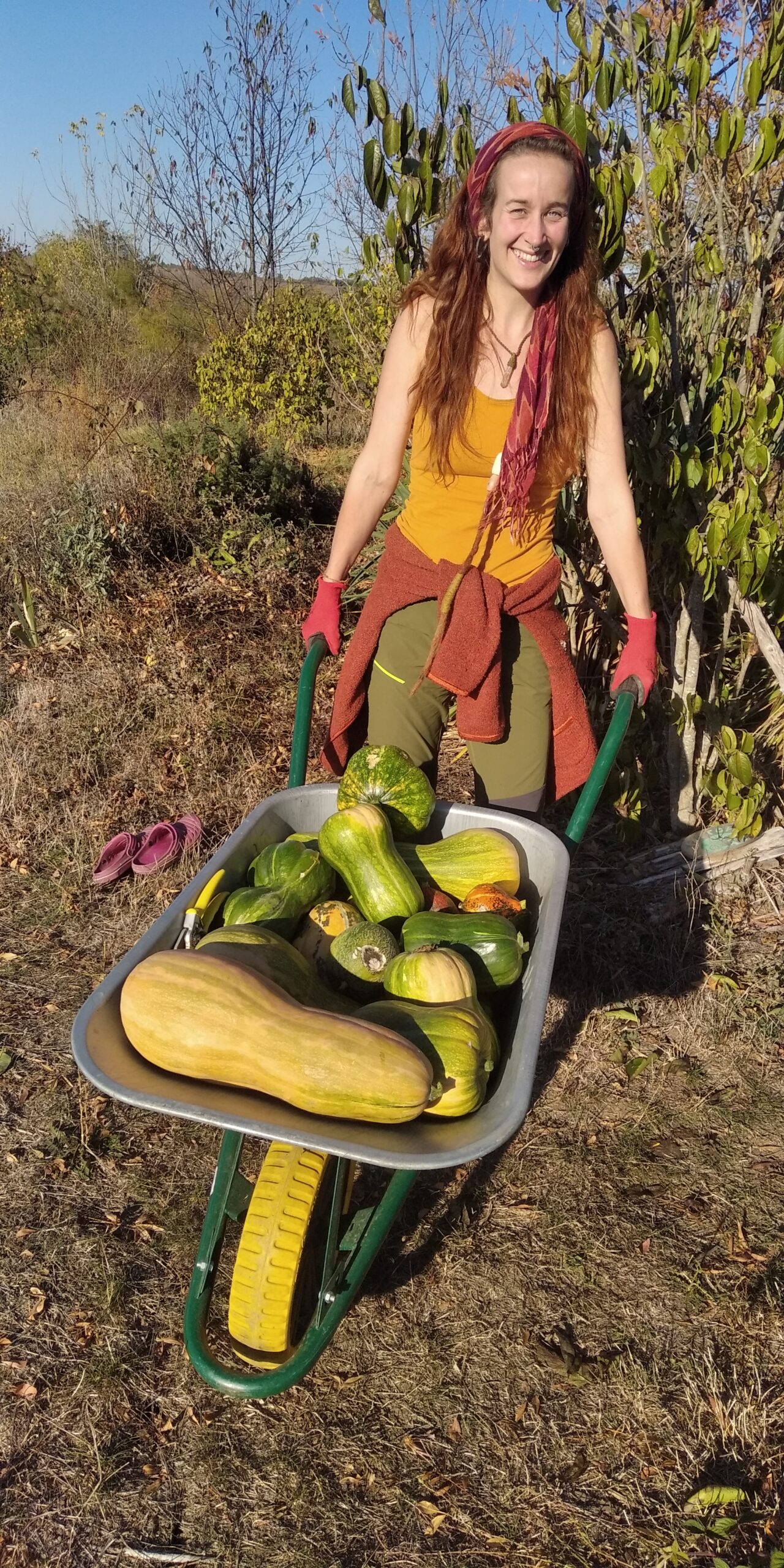 Pumpkins harvested from the big horse manure compost heap, now to mature in the sun (photo: Sophie Reeve)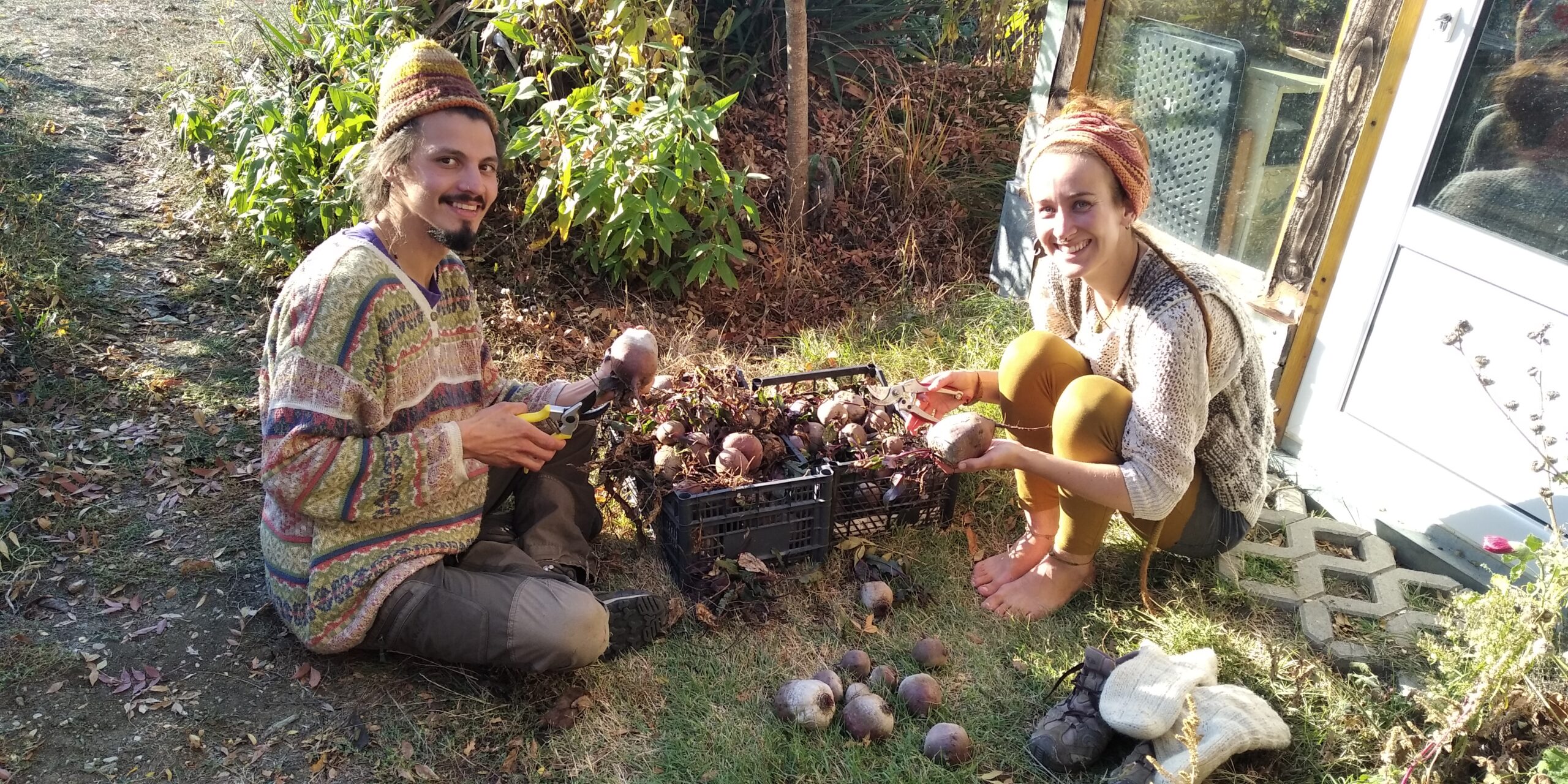 Aftercare of the beetroot harvest (photo: Sophie Reeve)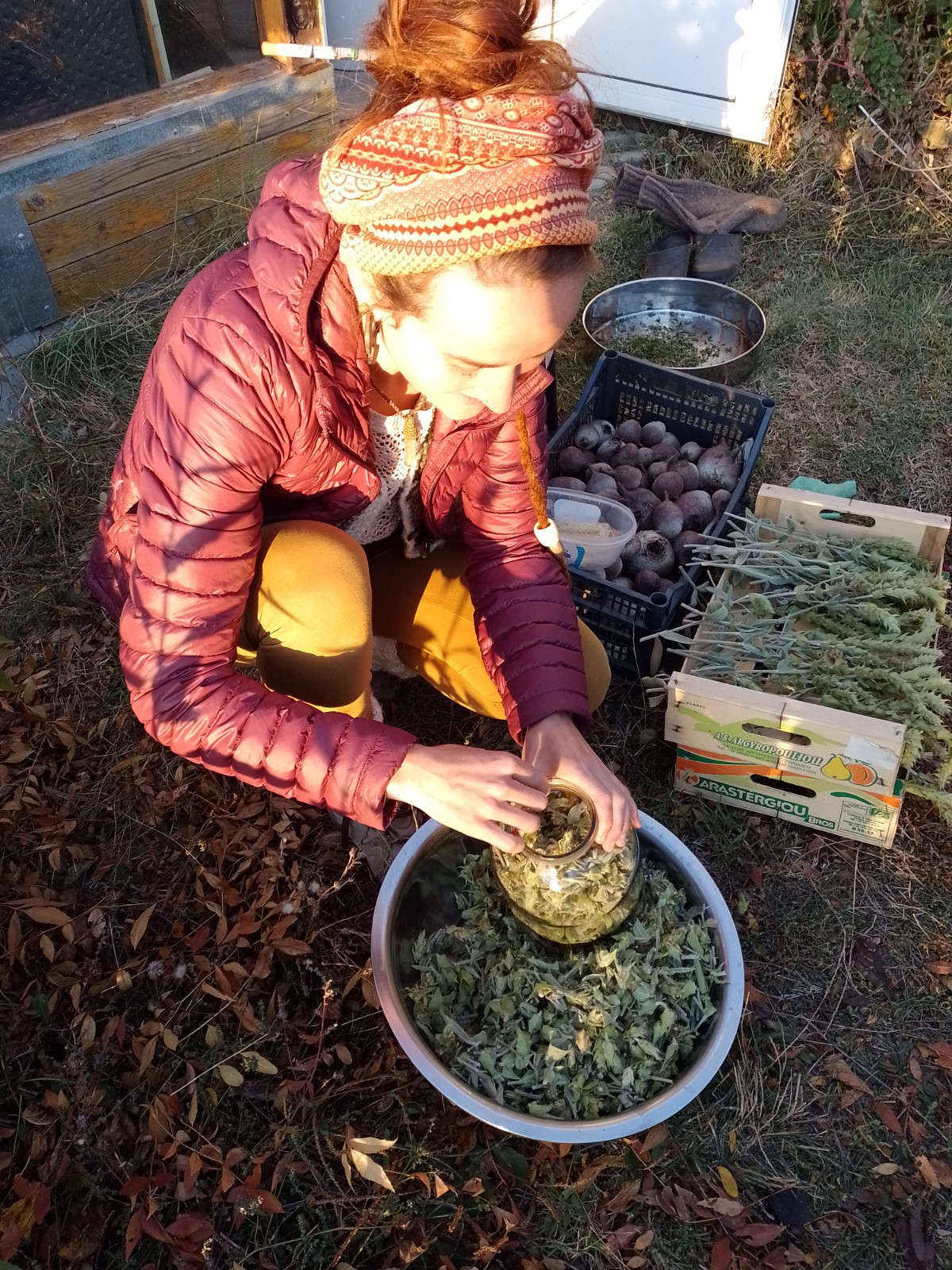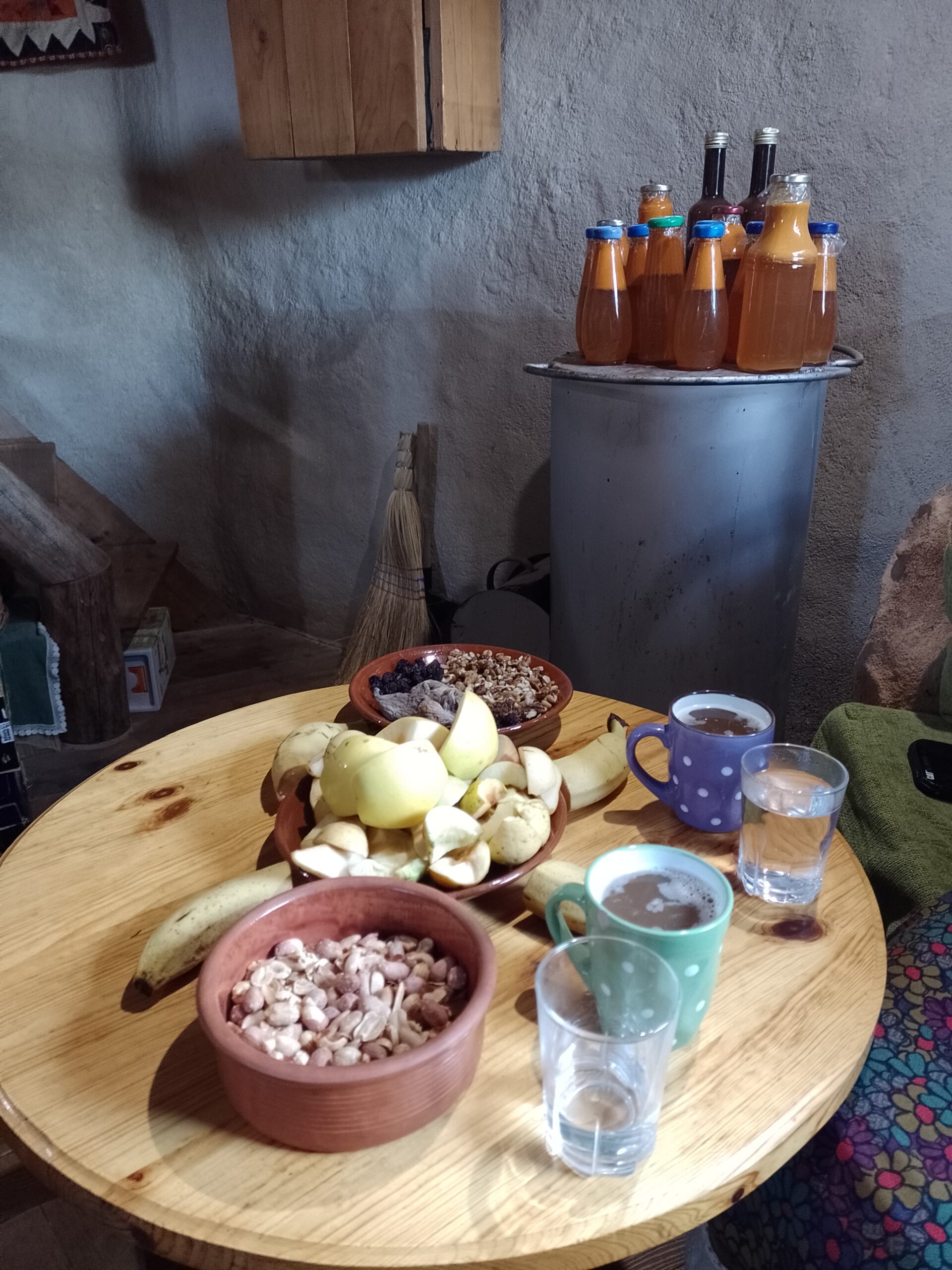 Storing dried herbs for winter teas (Photo: Renzo Avendaño) and our healthy daily breakfast with in the background homemade bottles of Oxymel ('sour honey') made from sea buckthorn, apple cider vinegar and honey to boost the immune system 1 tablespoon a day 🙂 (photo: Mali Boomkens)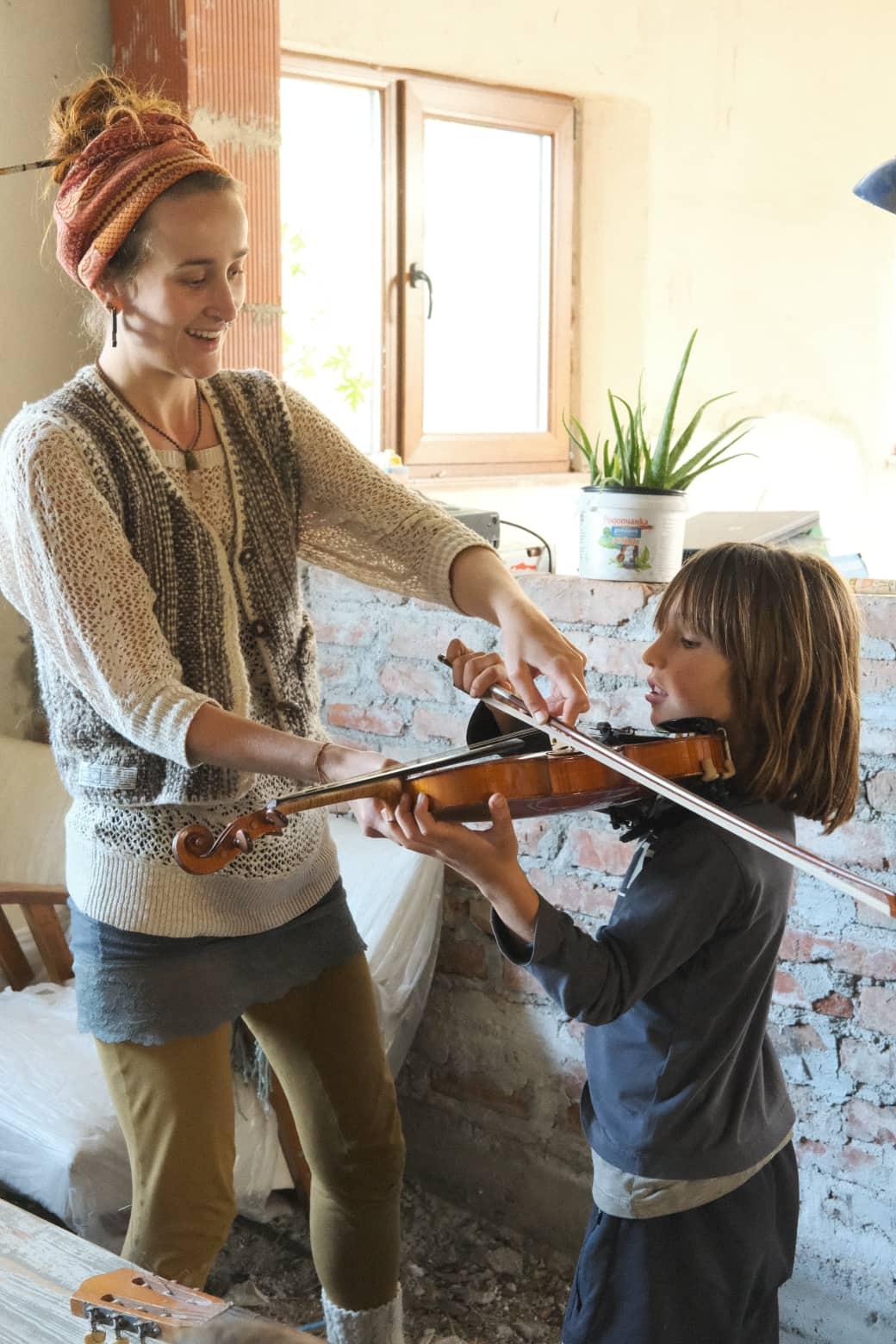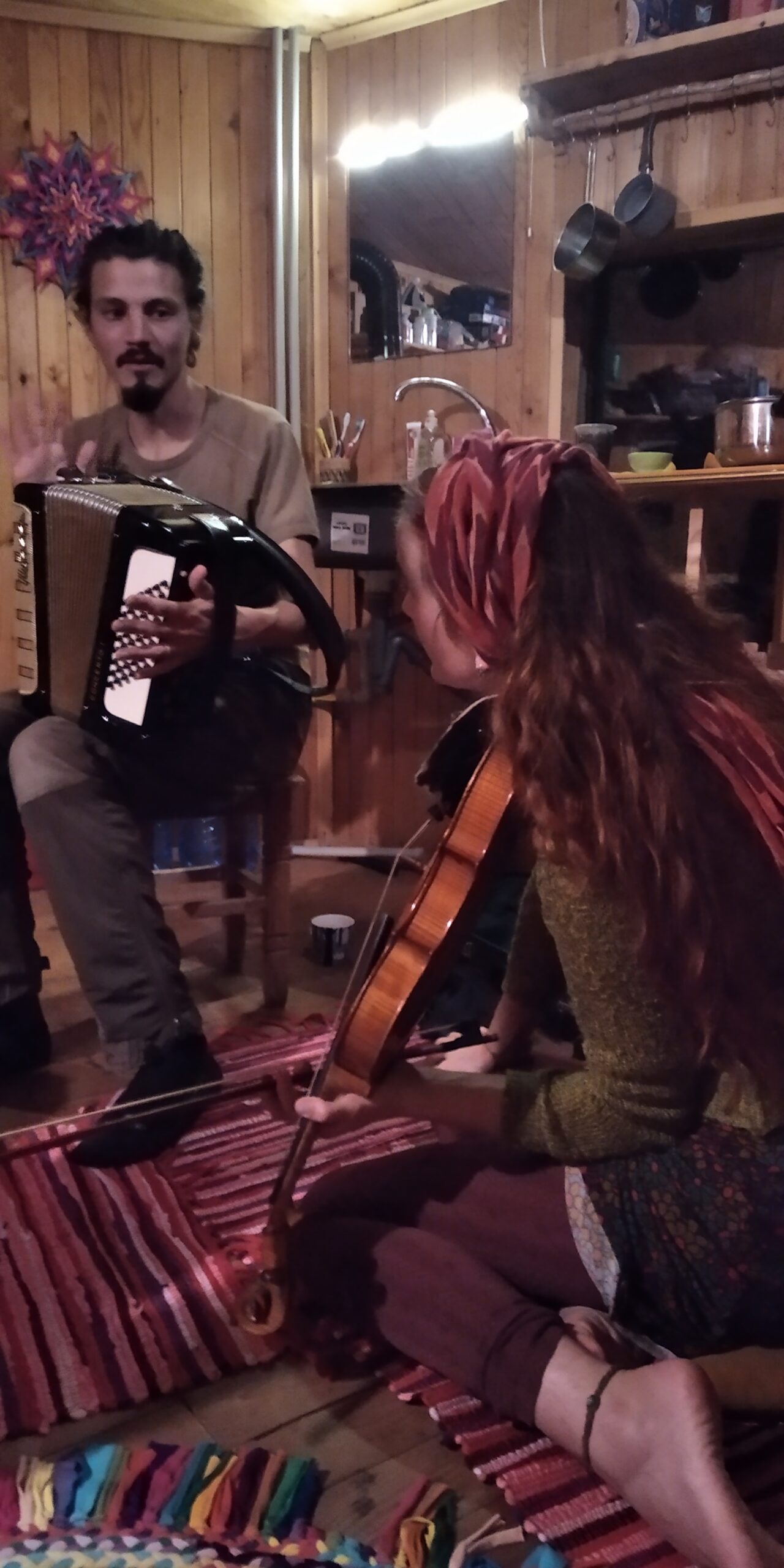 Teaching some violin (photo: volunteer Matt) & sharing a night full of music with some members of the community 🙂 (photo: Sophie Reeve)
Renzo:
Hello 🙂
We spent a week at the Ura Gora community where Sofi and Krasi received us very kindly. In the short time, we were having nice talks and doing activities in which I learned a lot. Ura Gora is a community in which each family lives in their own house with their own piece of land, but they are constantly helping each other and sharing the same vision. They recently started to share and take care of a communal garden plot.
Sofi and Krasi created a permaculture design for their land, which they have adjusted and improved over time. They currently have several big plans for the future, like constructing a new and bigger house. You can hear much more about the history, the permaculture design and Ura Gora's philosophy in the podcast interview we did with Sophie.
Even though we only spent a week with them, we were able to help in several tasks where more hands were needed. We cut dried herbs and harvested sweet potatoes – specifically purple sweet potatoes that Miriam and Alex (from the CSA farm Fidanoto where we will stay in Nov-Dec) had shared with Ura Gora a while ago. The harvest was a strong task because the sweet potato grows deep and chaotically spreads its branches allover the soil's surface so it's hard to see where the center of the plant is.
On the other days we were supporting the construction of a roof for an outdoor space destined for teaching. We placed wooden beams that we first had to paint with recycled motor oil, to protect the wood from rotting. And as final touch, we helped to place and attach corrugated sheets to protect the space from the rain. We also helped with adding new soil to the veggie beds in the Green House, for the winter cultivation. This soil was a mixture of far decomposed horse manure and some sand. The days passed rapidly, but we still had some time to visit two of the neighbouring families, sharing a lovely meal and making some live music. I really liked to listen to the songs of the Ura Gora community and sharing how they live. I really hope to return at some point. Thanks for all Sophie and Krasi!
Warm wishes,
Renzo
Vyara: 
Week 29
Hello, hello! I am slowly getting back into the routine of the project. This week we started the big garden and greenhouse ''clean up'', we removed the summer crops and started preparing the garden for the winter ones. During the last weekend we attended a biodynamic meeting at Sofera-social and educational biodynamic farm in the South of Bulgaria (close to the camping Kromidovo). In this blog post I will tell you more about biodynamic agriculture and what we learnt during the weekend 😊
Beautiful Rhodope Mountains during the Autumn
What is biodynamic agriculture
Biodynamic agriculture is a method of agriculture, which aims to create healthy soil using compost and animal grazing rotations. What is unique about it is that the compost is treated with preparations (plant or animal based) to encourage the microbial life. Biodynamics takes into account astrological influences and lunar cycles too. For more in-depth information about biodynamics, you can check out this website: https://www.biodynamics.com/
During the weekend me and my colleagues along with Catherine (from Venets), travelled to a small village in the South of Bulgaria called Ilindentsi to meet other biodynamic farmers and to learn how to prepare different biodynamic preparations (this is the name they use for natural fertilizers). In this blog post I will pass on the information (that we were given) on how to make cow horn manure preparation (also known as preparation 500). It is one of the most popular preparations and it is believed that it helps improve the soil structure, regulates the pH of the soil and boosts microbial activity, bringing many benefits and vitality to the land.
How to make preparation 500
As already mentioned, the preparation involves cow horns and cow manure. The most important thing is finding cow horns. The ones we used are from Filip Harmandjiev (we filmed a video with him in the early summer, you can watch it here: ), but you can also buy and use cow horns from your local butcher. The second important thing you will need to find is fresh cow manure ideally from a lactating female cow and one which has roamed in or around your land. Just like in Hinduism, in biodynamic farming, the cow is considered a sacred animal, carrying farm fertility in its guts. The horn themselves carry huge functional and spiritual importance- they are a vessel where the manure matures, concentrating the energy from space.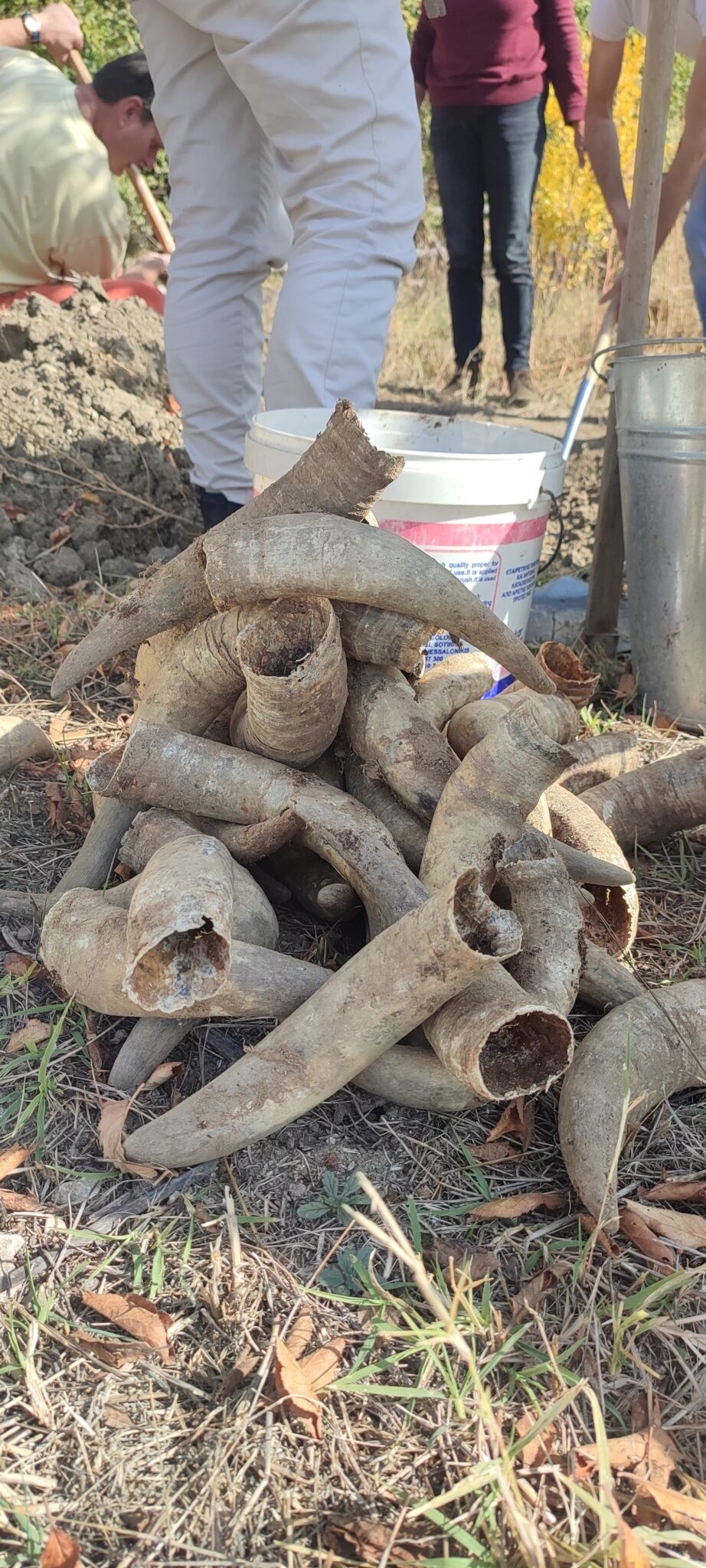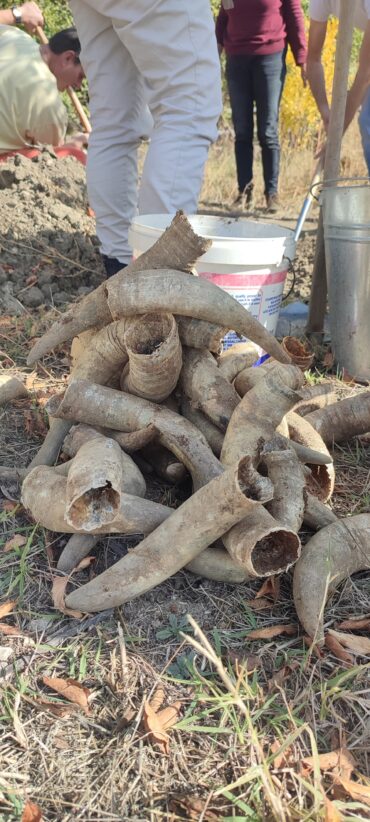 The horns. Don`t worry, we were not part of some Satanic ritual, only part of an alternative agricultural practice 🙂
Once you have collected your manure, you can fill up your cow horns. Rudolf Steiner mentioned during his lecture that a cow horn should only be used for a few seasons, as its effectiveness will lessen with time.
When the horns are filled with manure, you need to seal them with soil or clay. This will stop the water from entering into the horn, which will prevent the transformation from normal compost to ''cosmic'' compost.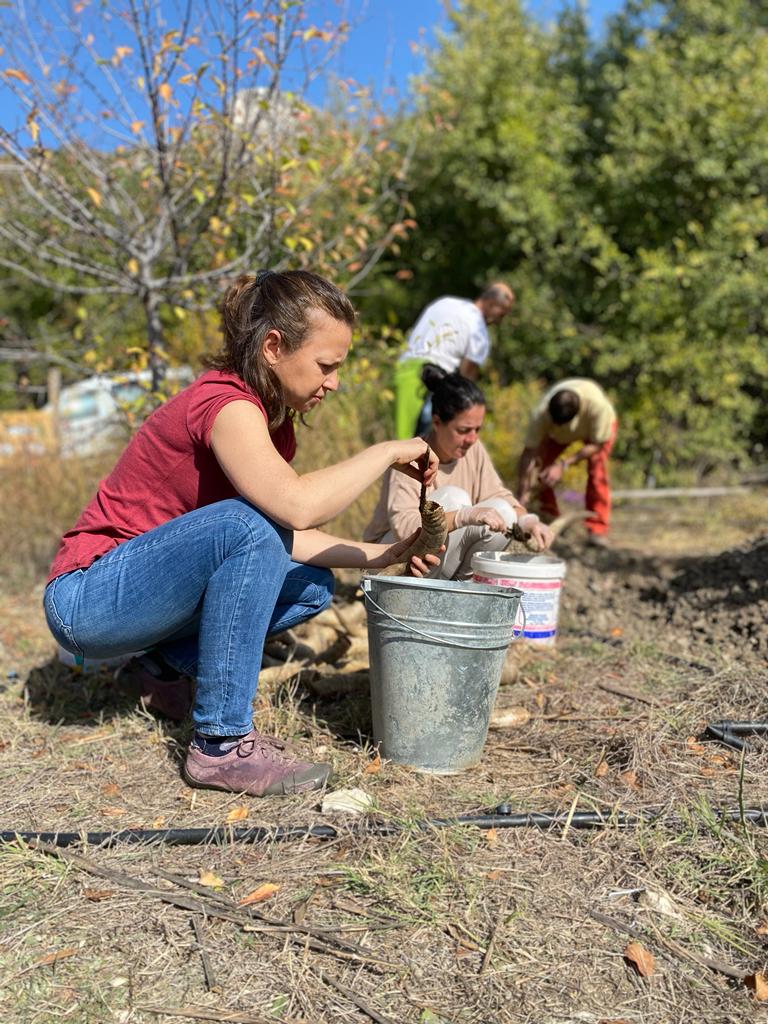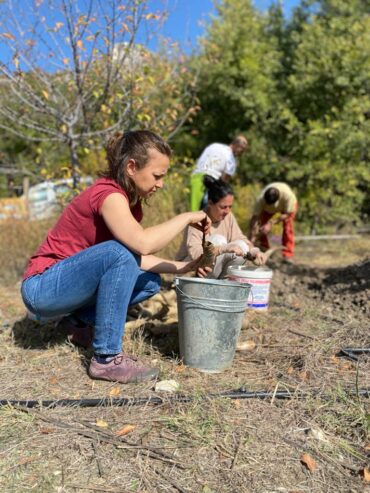 Filling the horns with manure. Photo credit to Catherine Zanev
Final step is burring the horns in the soil, up to 40 cm deep. They should be arranged in a way that water cannot enter into the opening of the horn, slowly add the first layer of soil on top, before adding the rest. It is important to make a note of where the preparations are buried, as you might forget where they are when you need to dig them up six months later.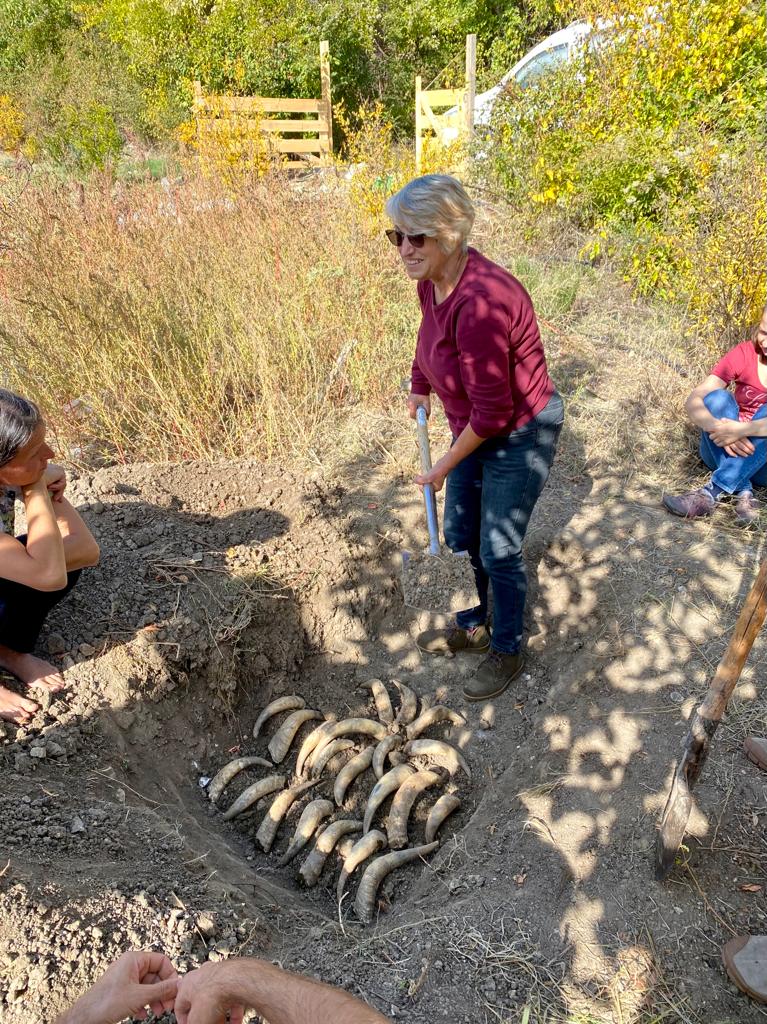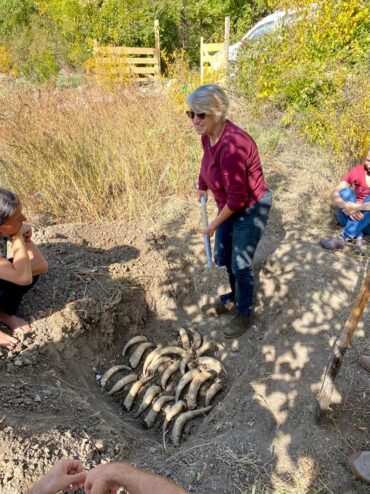 Mimi from the Biodynamic Association of Bulgaria burring the horns.
Photo credit to Catherine Zanev
In six months' time, you can use the horn compost. Stir 100 gr of manure (ratio 100 gr for 1 ha) in a minimum of 30-35 liters of good quality rainwater for one hour before spraying.
I realize that this blog post sounds strange and obscure, but a lot of people swear by the benefits of biodynamic farming, both to their animals and soil health. If biodynamics sounds like your thing, or something you are interested, you can check the rest of Steiner`s lectures here: http://www.rudolfsteineraudio.com/lecturesimagebased.html.
See you next time!