Renzo:
Good morning everyone,
I tell you that we had two very interesting weeks. We were in Vegetarium Community in the mountains near Cerovo, where we met Filip and Barbara who received us very kindly.
In the beautiful space of Vegetarium, we carried out several tasks, especially the placement of the roof and tiles (which are made of recycled plastic) to protect it from the coming autumn rains. We also carried out the task of collecting horse manure to use in worm compost, collecting fallen leaves for mulch, and collecting walnut leaves that cannot be composted due to their content of juglone (a toxic component that inhibits other plants to grow) and tannins. These we separated and collected in a place behind the volunteer house.
We also collaborated in bringing construction materials from the village of Zhelen down in the valley and in shoring up the wooden structure of the new outdoor kitchen. We cleared a stretch of land between two swales from 'weeds', where small raspberry plants and fruit trees had been planted on the edges. Around these plants we placed the same weeds as mulch to protect them for the winter.
With the outdoor kitchen roof finalised, we realised that the walking space was no longer wide enough, so we warmed up our muscles with moving the stone wall of the raised bed, bringing the excessive earth to the rose beds who craved for some extra soil, and creating a new wall with more slim stones to protect the garden bed. Now even a wide wheelbarrow could pass again!
I really liked knowing their rhythm of life, their way of structuring the day and activities, waking up very early, doing an exercise and meditation routine followed by a great breakfast with lots of fruit. I really liked experiencing another way of doing things during the day, where the focus was mostly on physical work in the morning, whereas in the afternoon, each one was responsible for their own tasks and time.
In the weekend, before Filip and Barbara left for their vacations, we conducted two lovely interviews with them which we will post next week 🙂
We hope to visit you again at another time, Filip & Barbara, and continue sharing beautiful moments!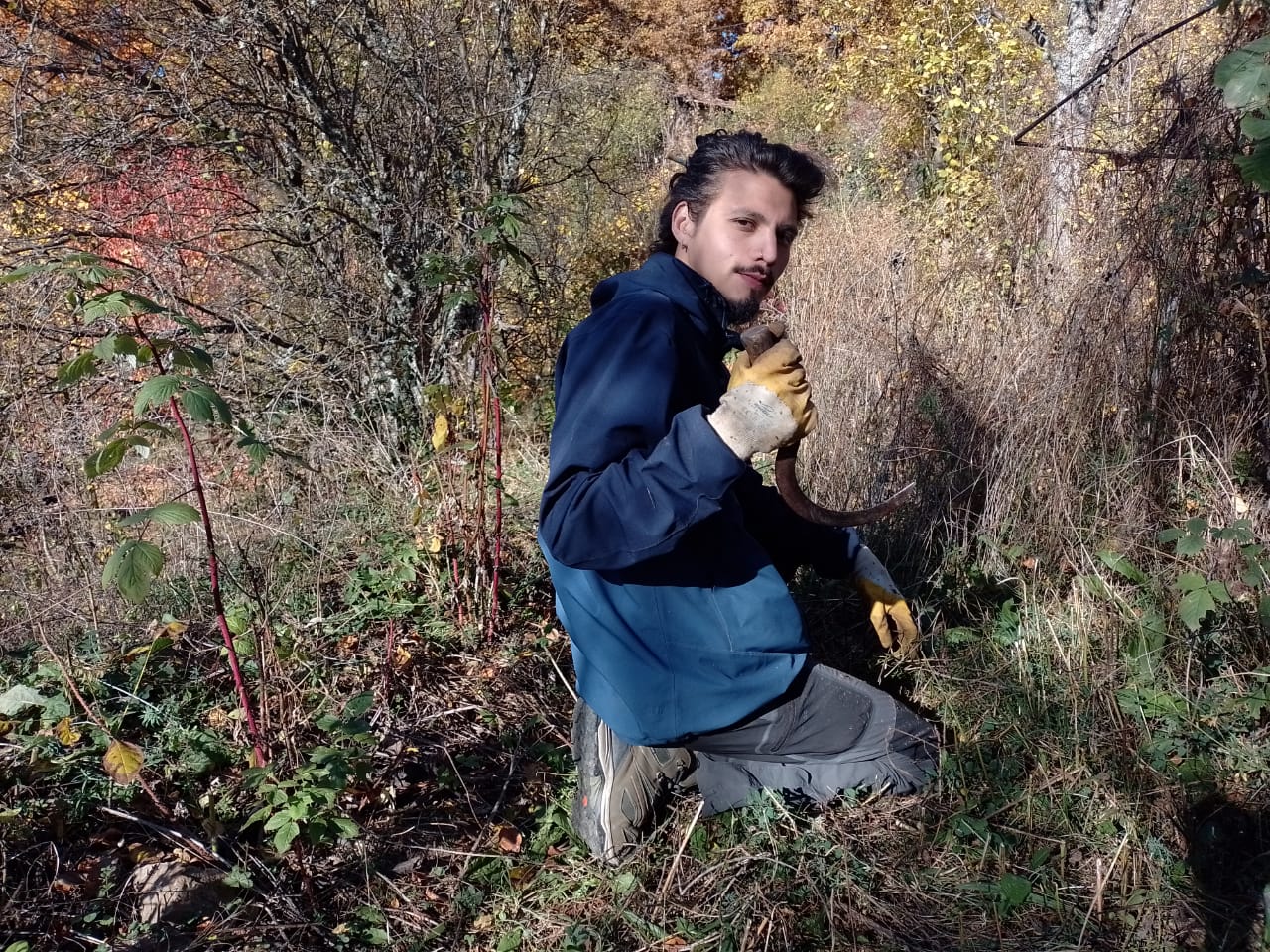 Weeding the inter-swale and mulching the little trees with these plants (photo: Mali Boomkens)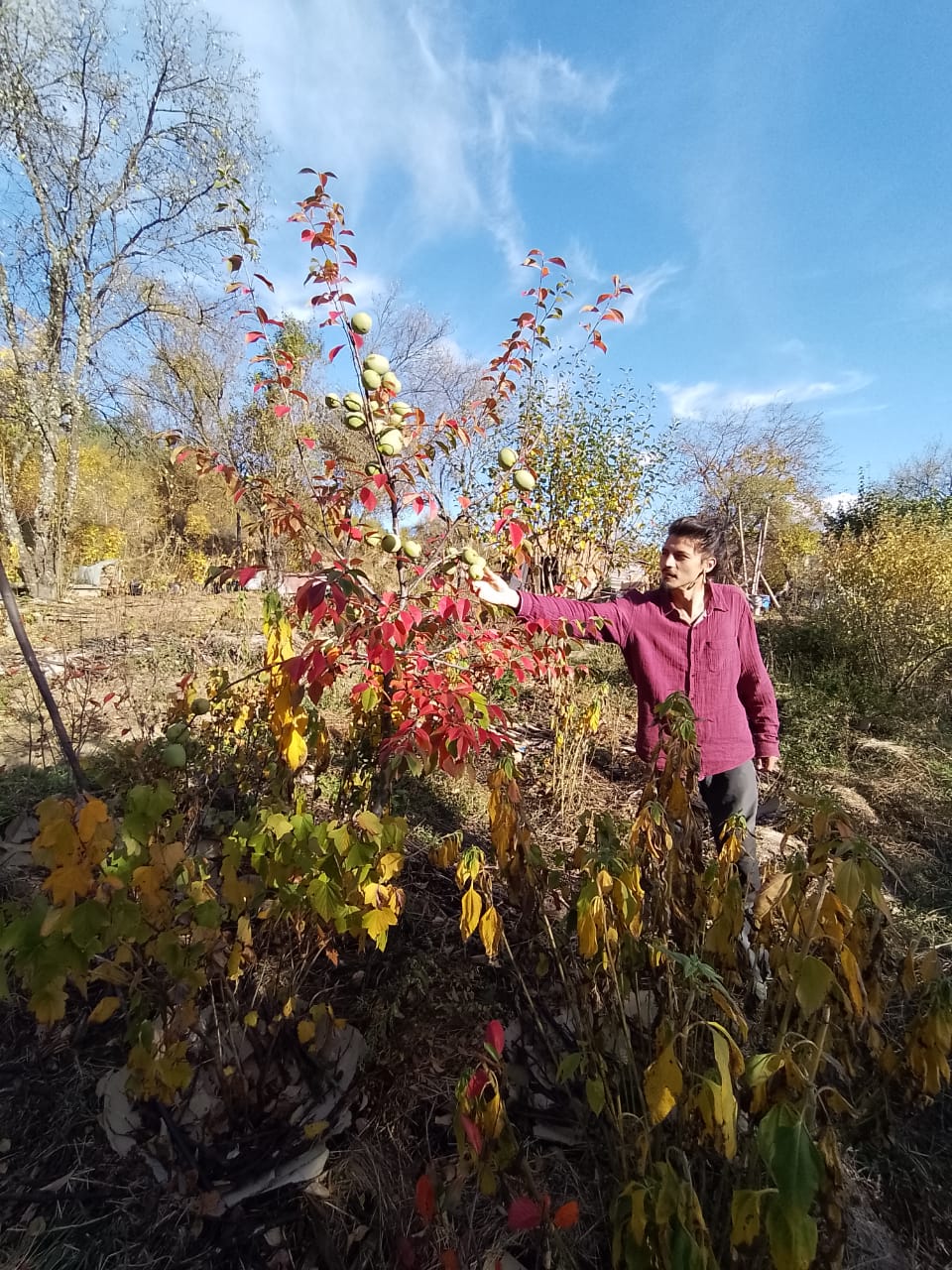 Me in the veggie garden and orchard (photo: Mali Boomkens)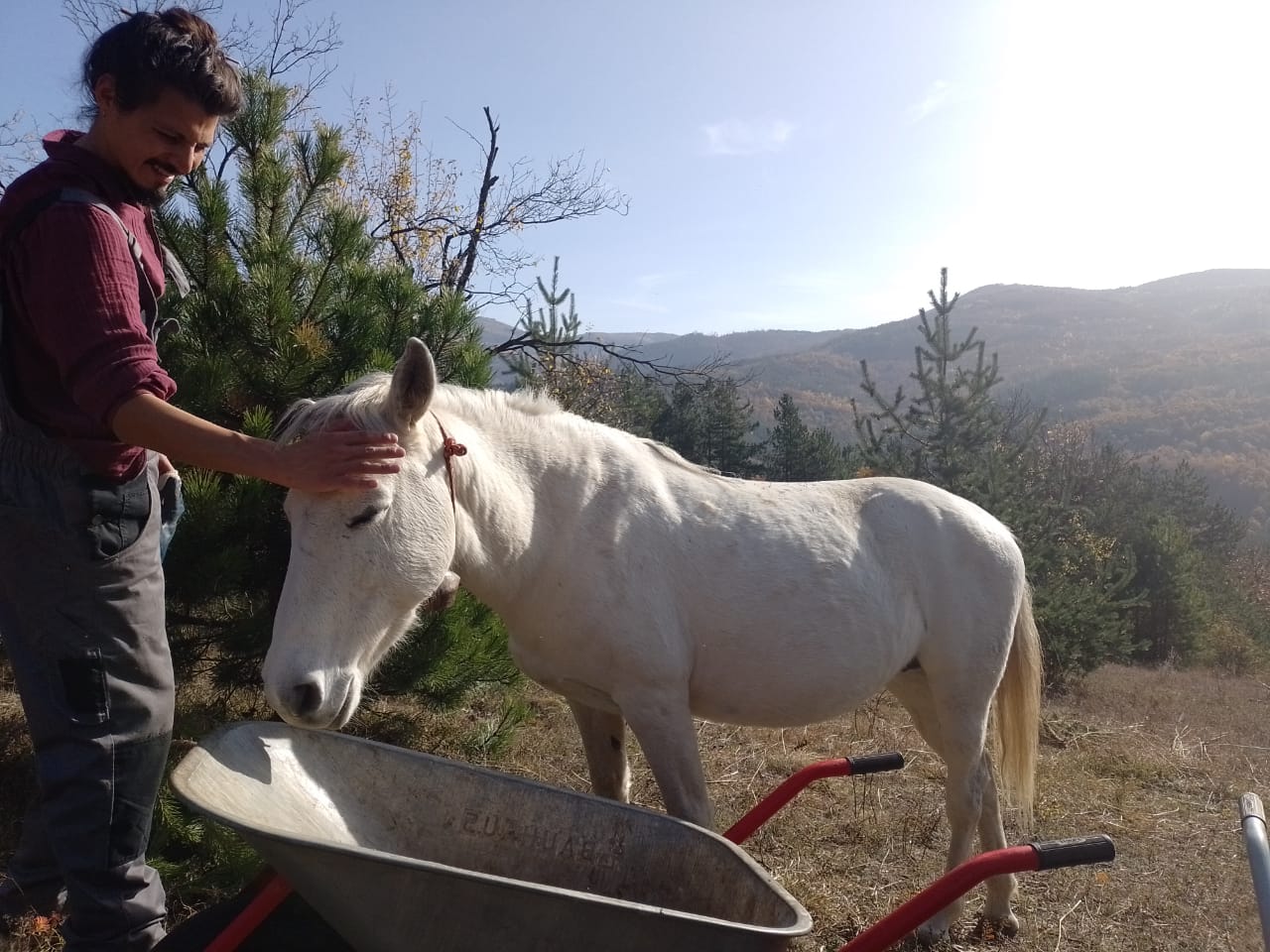 Collecting manure from the Karakachan horses, my good friends 🙂 (photo: Mali Boomkens)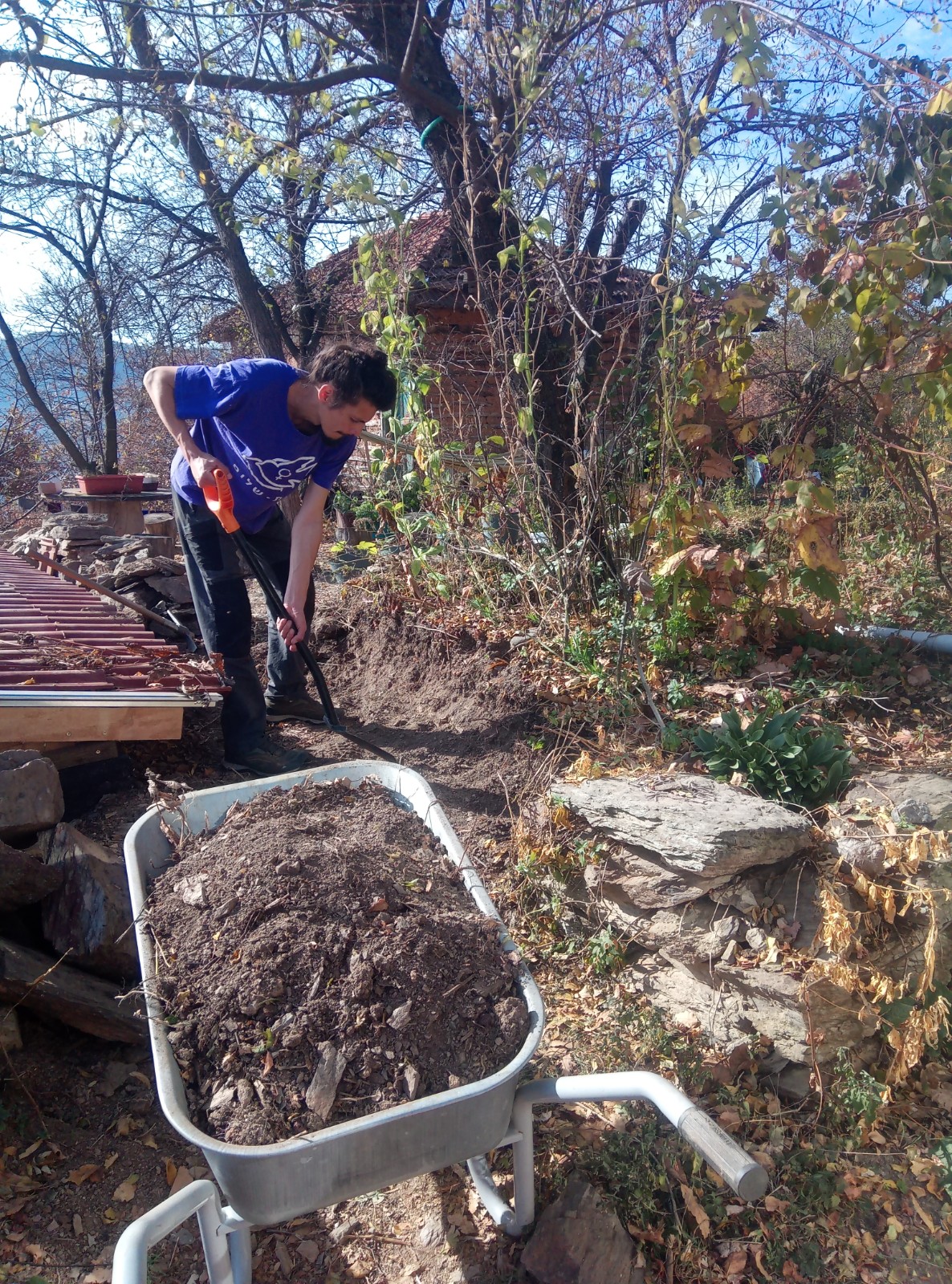 Widening the path and remaking a stone wall of the veggie bed (photo: Mali Boomkens)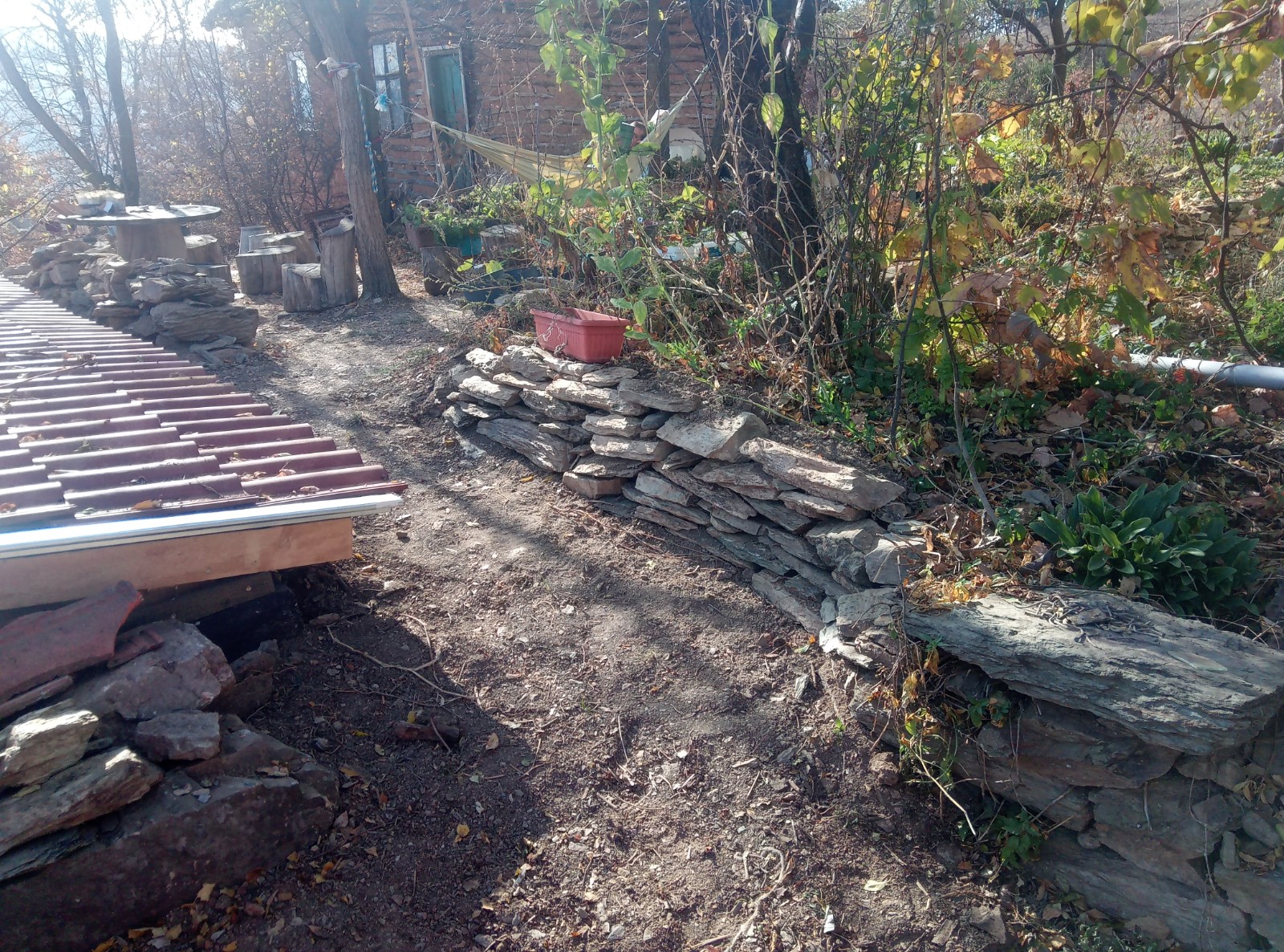 The final result! (photo: Mali Boomkens)
Bye! 💜
Renzo
Mali:
In this blog post I want to look back at our inspiring time in Vegetarium. I prefer to focus more on the experience than on what we practically did, as Renzo already gives a good review on that. The interviews we did with Filip and Barbara give a more personal insight into this project, as who else than their own voices can bring over the excitement about what drives them and the message they are sending out to the world? 🙂 These video interviews I soon hope to share with you! But first my own experiences….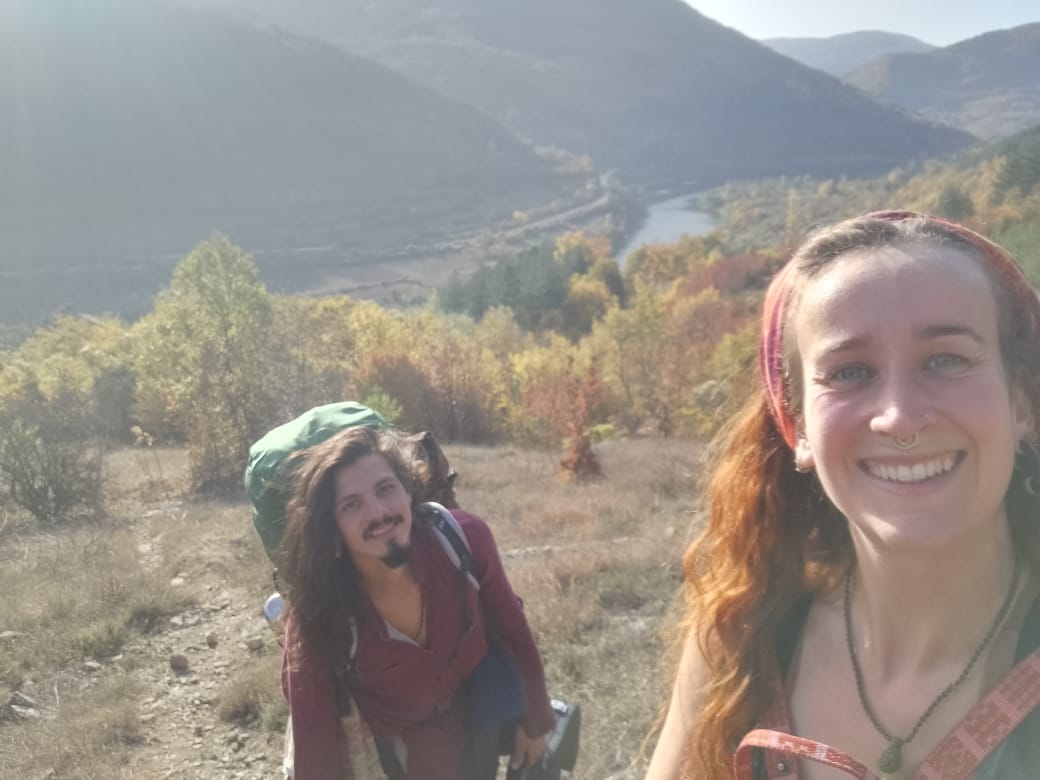 On our way up the mountain towards Vegetarium, heavy loaded but excited for a new little perma-adventure (photo: Mali Boomkens)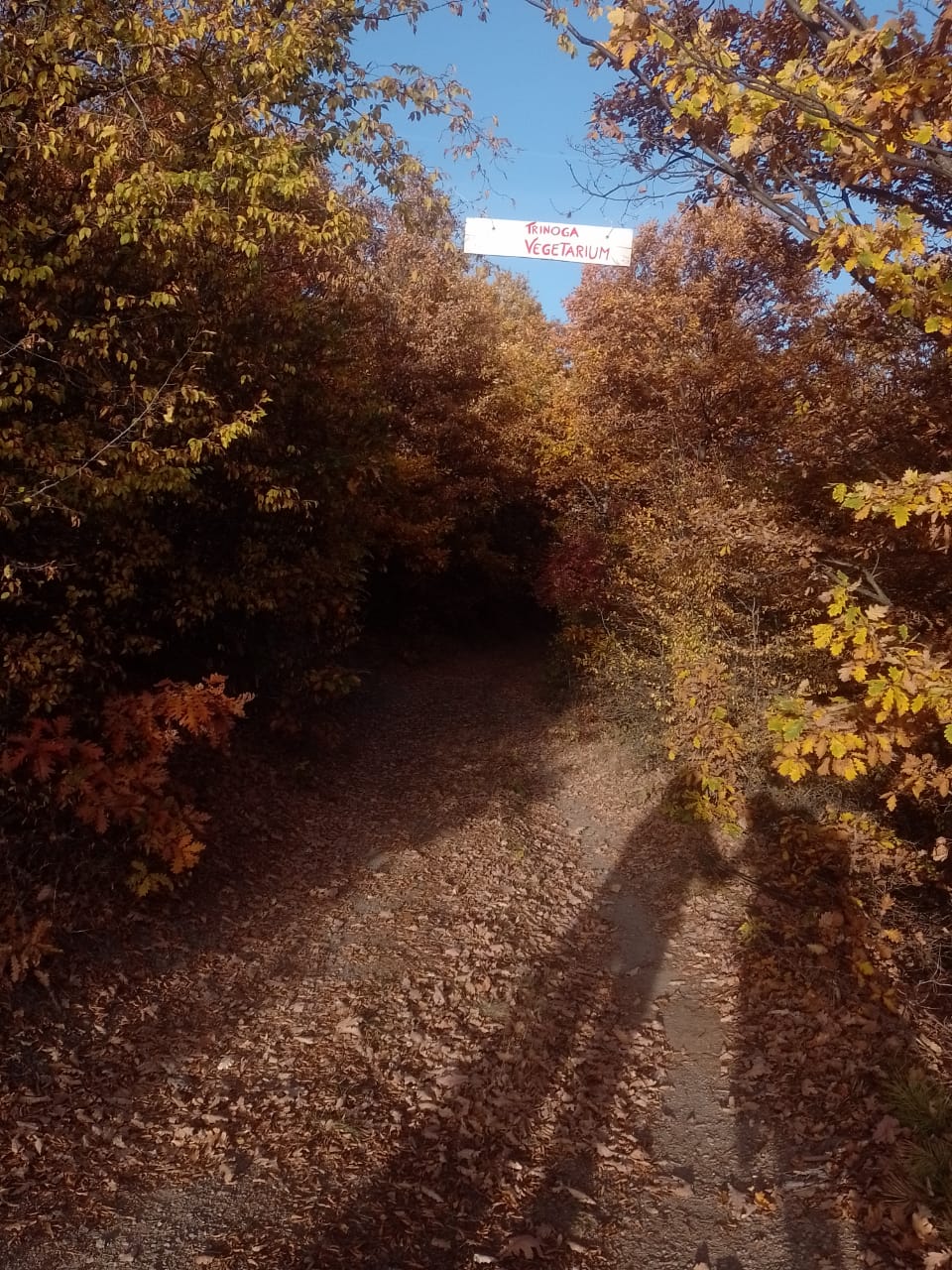 The entrance into the little permaculture paradise Vegetarium (photo credit: Mali Boomkens)
What struck me most, was the tranquility of both the people and environment here, already from day one of our arrival – imagine two heavily breathing and sweaty backpackers with really too much stuff to bring with them on a 1,5 hour steep climb up the mountain to reach this hidden home. My tired back, shoulders and mind all felt a warm blanket of peacefulness and self-care that this place is rich of, slowly wrapping itself around me.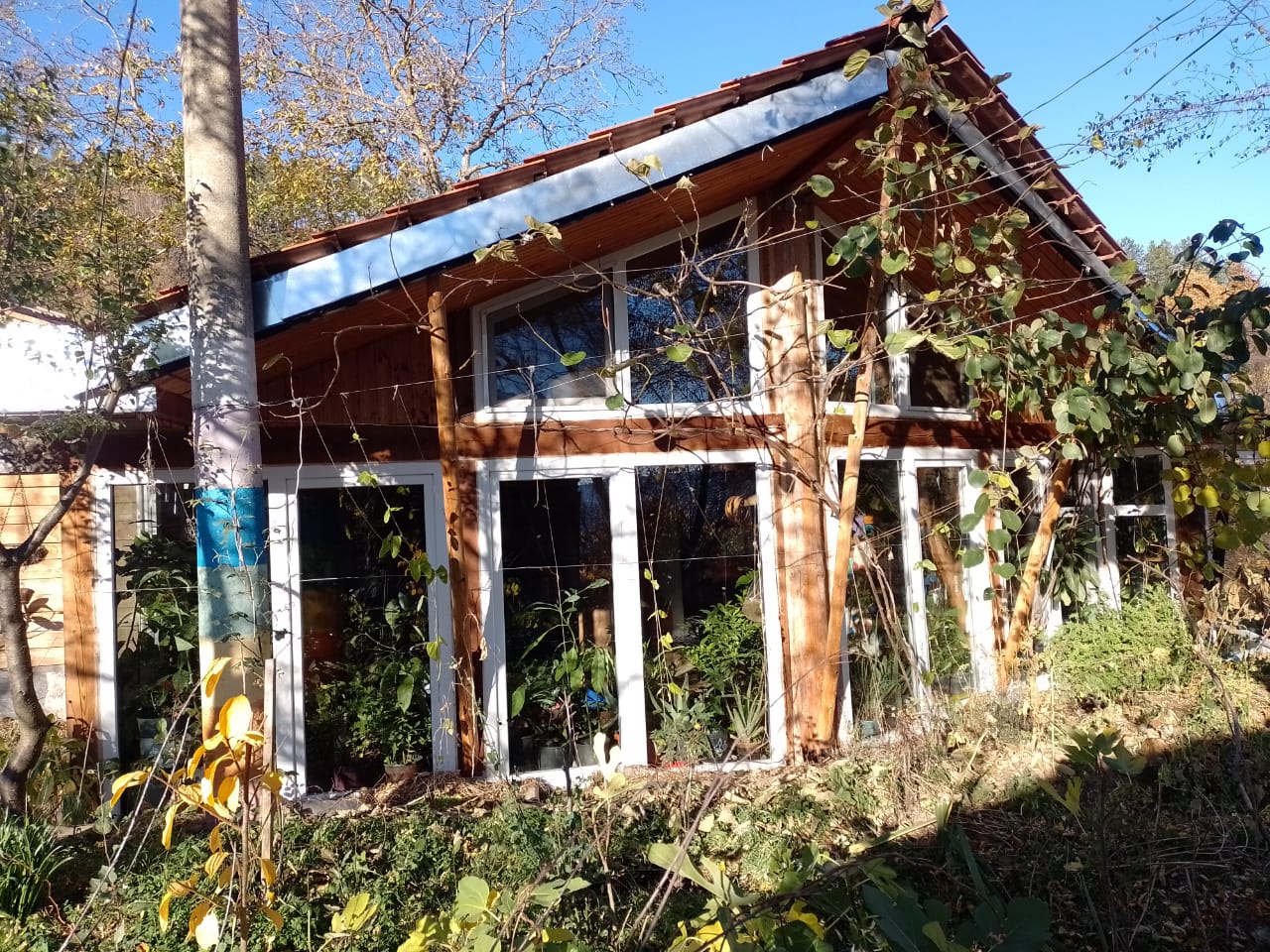 Vegetarium guest house, kitchen and seminary space, passive solar construction in between two retrofitted traditional houses (photo: Mali Boomkens)
Besides being grateful to Filip and Barbara who kindly helped us to slow down and to feel energised to get some fun projects done, it was up here, that I could intricately sense the seasonal shift; the autumn energy starting to show itself in the thick pack of leaves under our feet and our 360 degrees view over mountain ranges painted in a rich palet of autumn colours.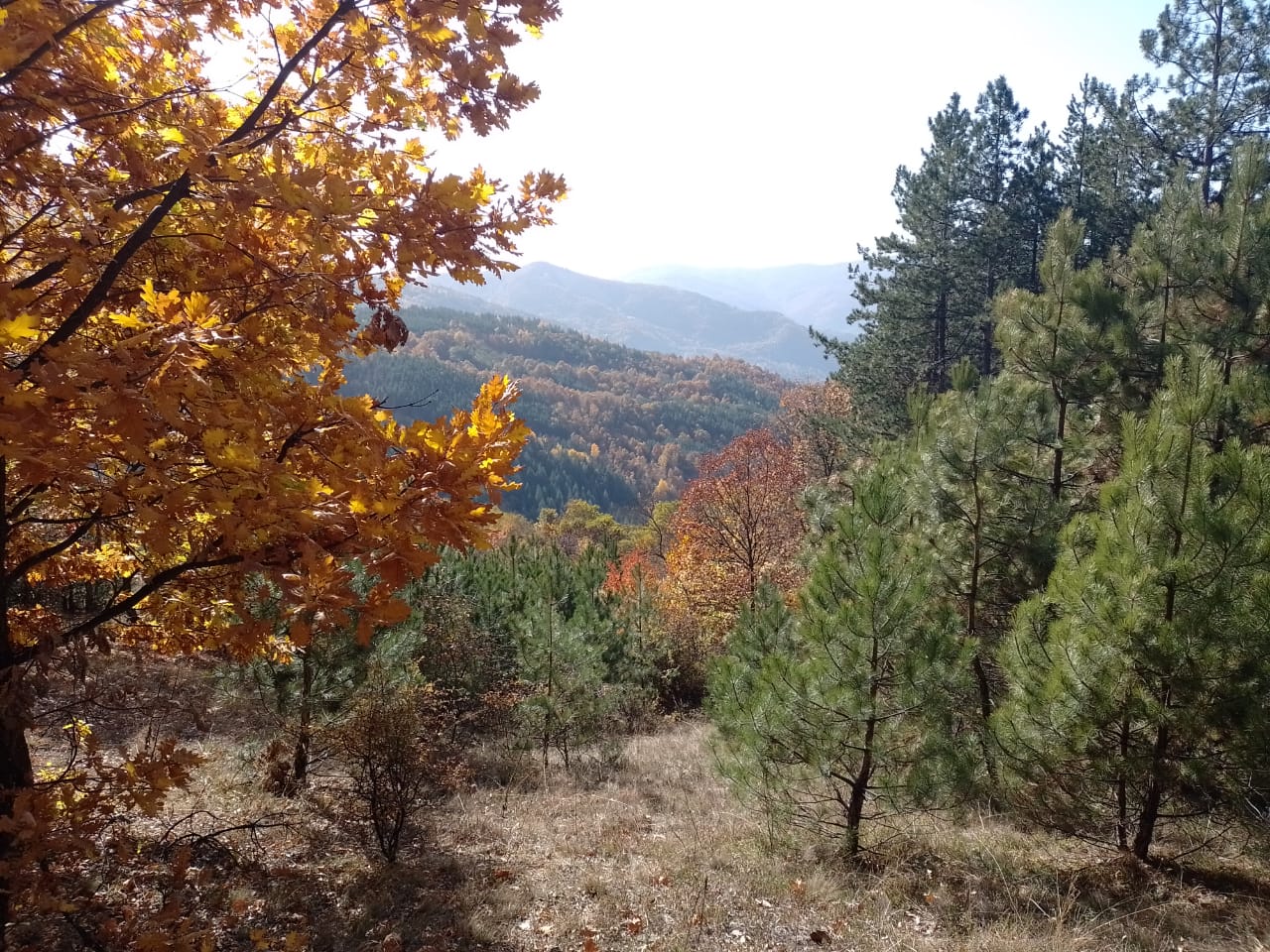 Autumn in its full glory (photo: Mali Boomkens)
It was also the sensation of being so far away from society, away from the intense city buzz of Sofia or the curious looks of locals in the small villages down in the valley. Here I was in a place that invited me to connect with the nature around me, the seasons, the stone hard clayey soil and dark and mossy pine forests. While as only sounds filling the air, I heard the chirping birds, meowing cats and clinging bells of a neighbour's herd of sheep and Vegetarium's two beautiful white Karakachan horses grazing on the steep slopes.
Even so, there were some projects waiting to be finished, like laying tiles on the roof of the future outdoor kitchen before it would start to rain and collecting the fallen leaves for mulching the garden beds.
Some proper preparations to laying and screwing the tiles on the roof with Filip (photo credits: Renzo Avendaño)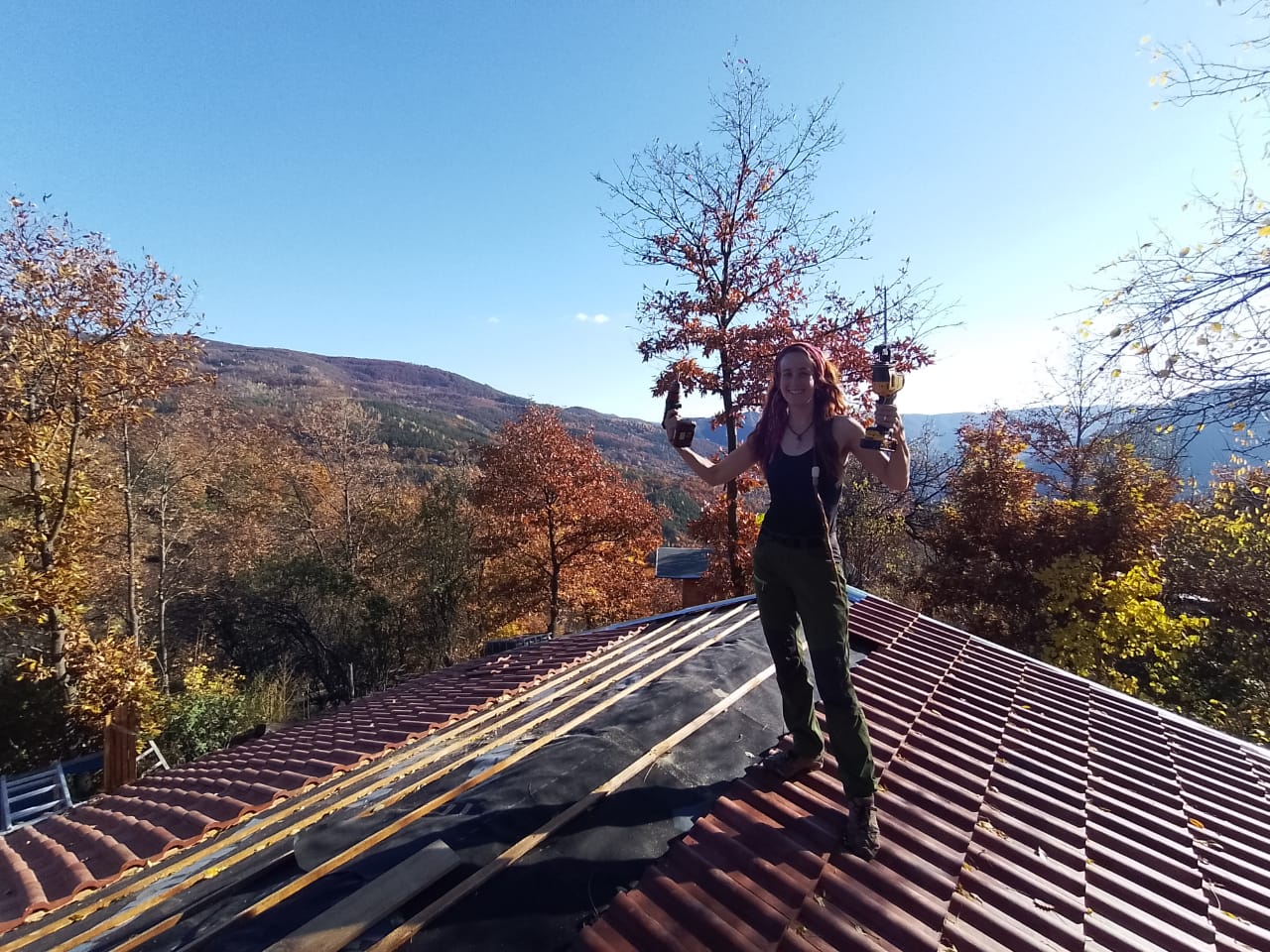 Woman powerrrrr! (photo credits: Renzo Avendaño)
Another ever-ongoing task was collecting fresh manure from the horses to add to the worm compost and taking care of the greenhouse garden beds, that will continue to give food in winter.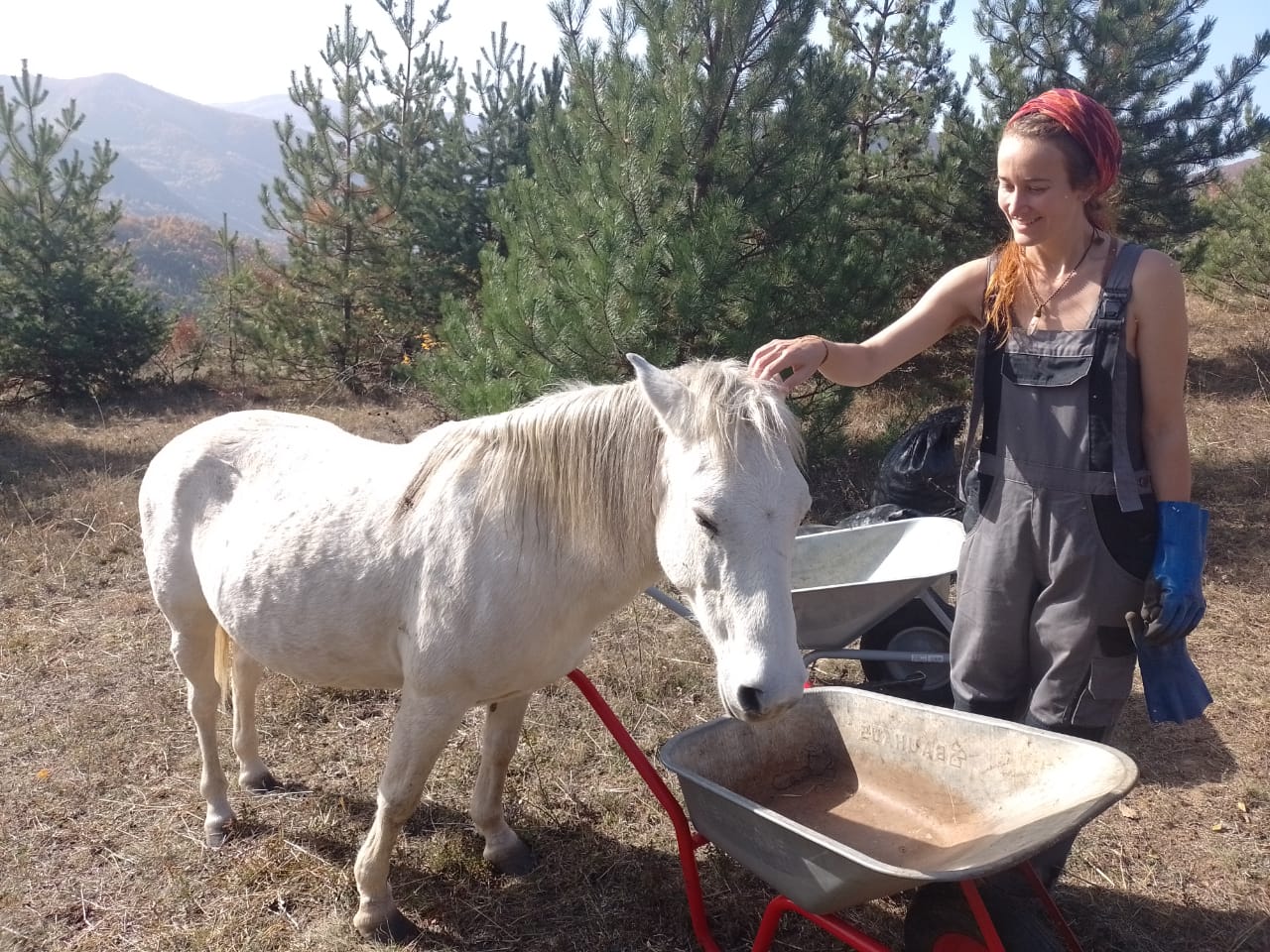 Connecting with one of the two sweet Karakachan horses, whose piles of shit we were collecting for the worm compost (photo: Renzo Avendaño)
I really enjoyed the various activities, not only for the task in itself, but especially in connection with the way how tasks and roles had been distributed, how the structure of the day was set and how we connected as a team.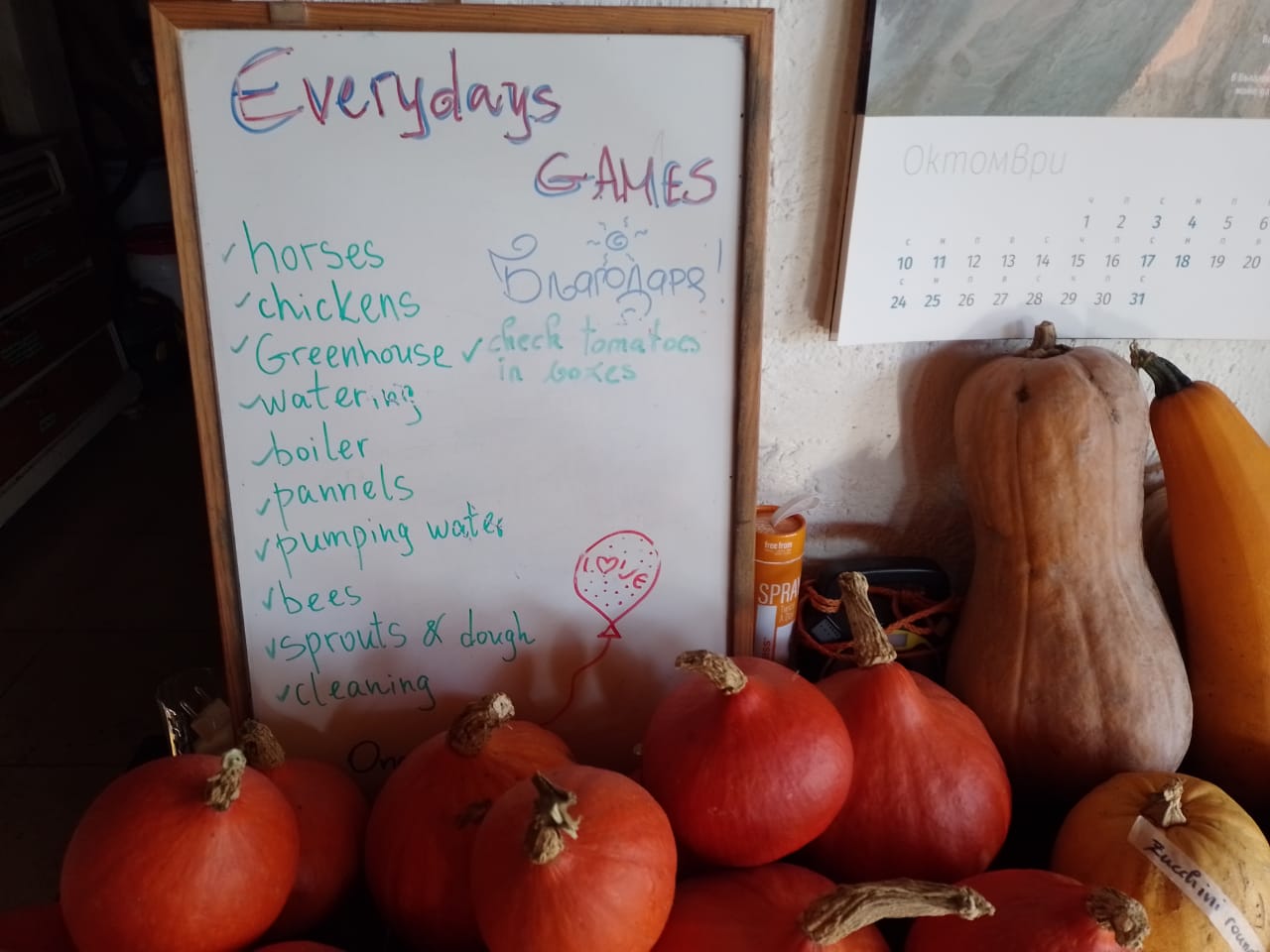 Daily activities (photo: Mali Boomkens)
Every morning at 9.00 and evening at 19.00 we had a check-in round. The morning circle was more practical, after Filip reading a little inspiring quote and singing a song together, we would go around each of us sharing how we feel, and how we would like to spend that day, in accordance to the daily needs and activities. The evening circle was a bit less practical, more with a focus on what's going on internally and emotionally. Anything on that regard, could be shared with everyone empathically listening.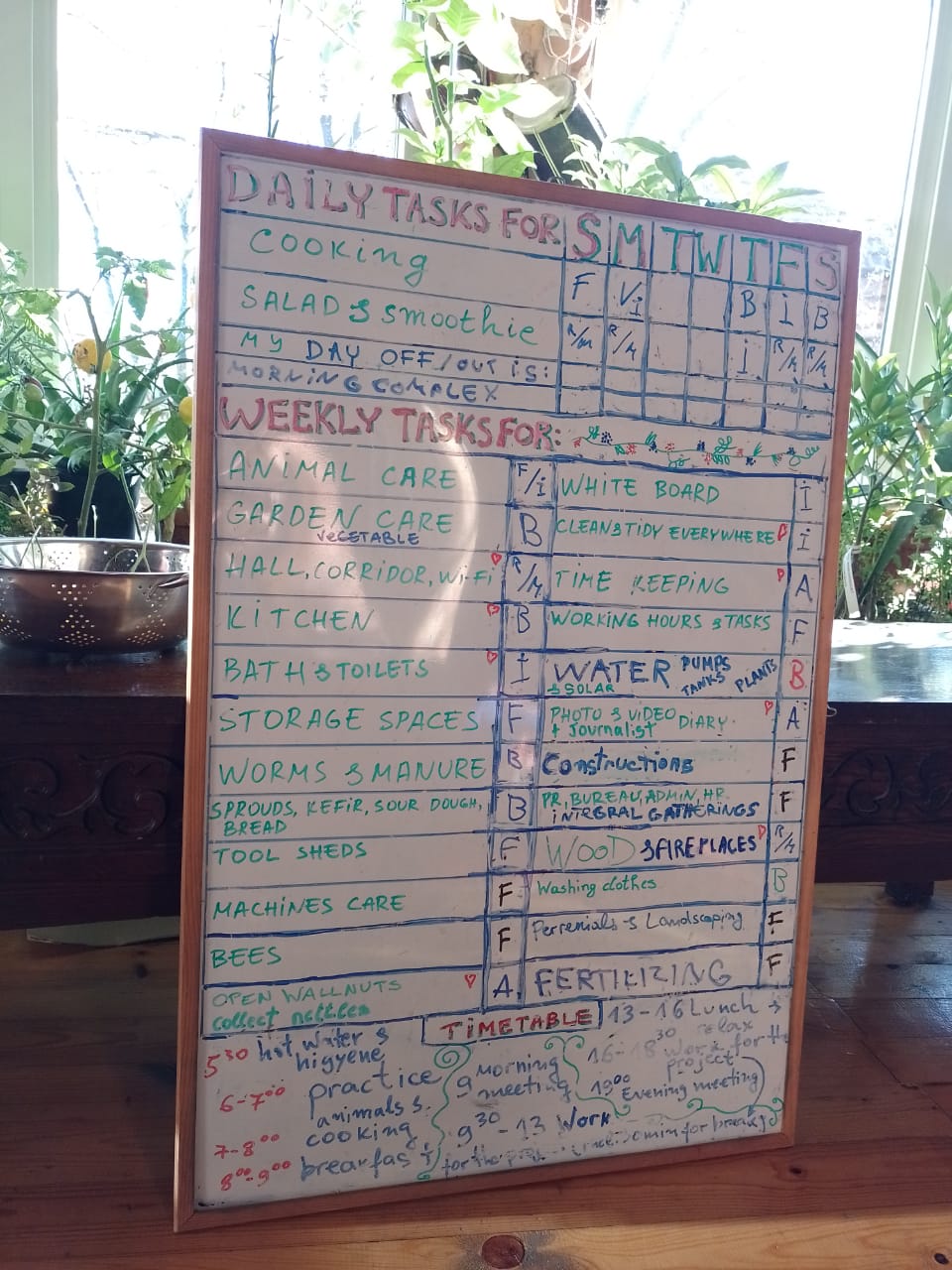 Daily task schedule (photo: Mali Boomkens)
It was something Renzo and I had long wished for, to get back into a healthy balance in terms of both nutrition and having a natural structure and flow in the day. Vegetarium is an ideal place to practice your discipline and continuity in taking good care of yourself and the world around you, as this is anchored at the core of Filip's and Barbara's own way of life and their common projects. These being the guesthouse where visitors are invited to try out and (literally) taste a bit of this wholesome lifestyle for a few nights, as well as immersive and almost year-long courses where you can dive even much deeper into this world of healthy living, inspired by the integral approach of Ken Wilber and other, more ancient wisdom traditions.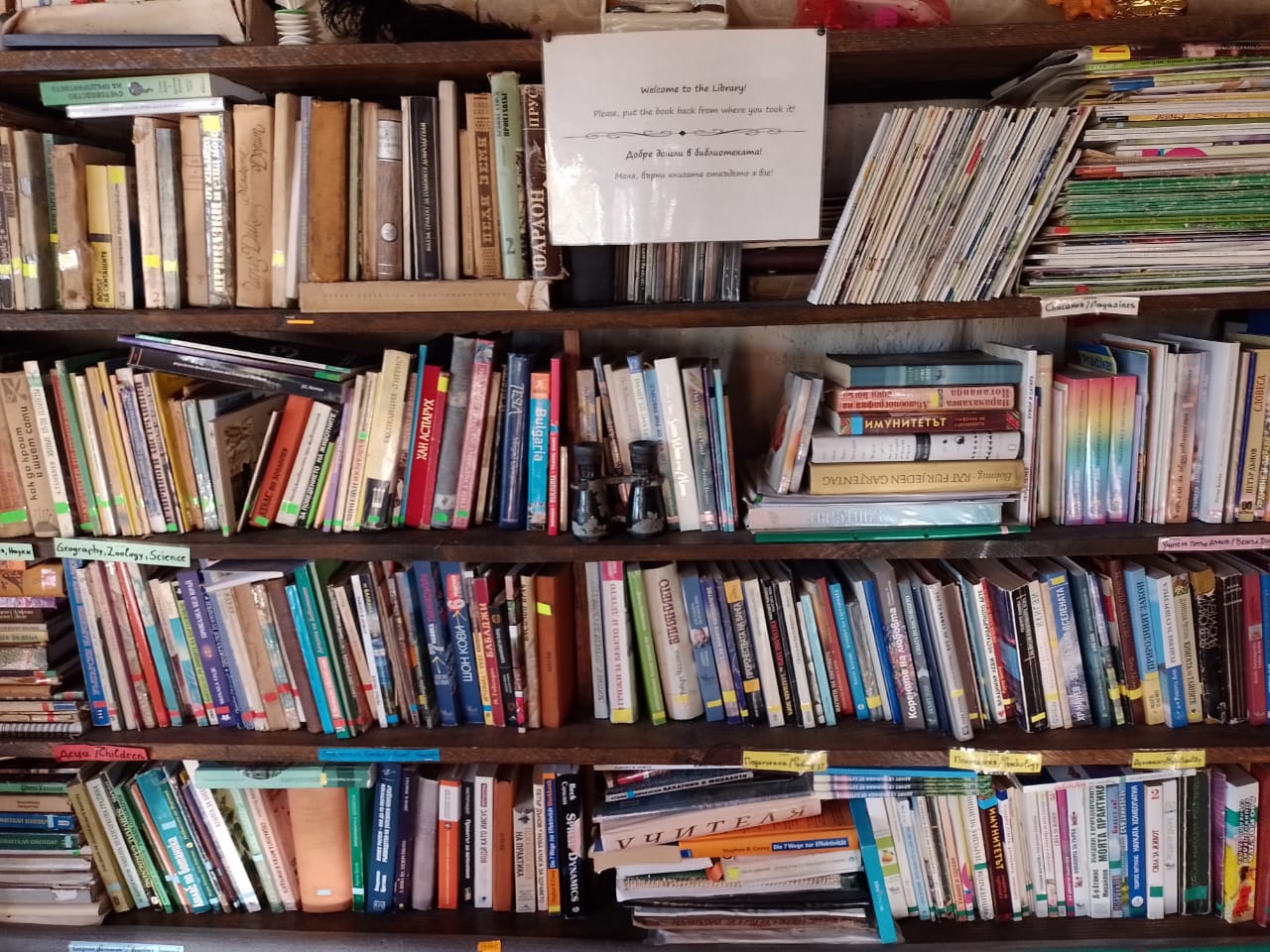 The amazingly huge communal library of super interesting works to read (photo: Mali Boomkens)
I left with the same feeling as when leaving Ura Gora – that this is a project so worthwhile to visit again and again over time, to see how their love for the land and inspiration from permaculture design is slowly turning this place into a little valhalla.
Peace & love,
Mali