Not sure that vlogging is my thing, but I decided to try it out 🙂 watch below my first attempt 👇
Hello!
You may be used to Vyara posting her weekly project preview, but this week we're going to split her week 5 into two different parts because, just like the title says, a new member joined the team this week. So, hello everyone! My name is Philippa, I'm 24 years old and I'm from a small town in the north of Portugal. I had the pleasure of being selected as one of the volunteers of this amazing project created by Green School Village for permaculture! Besides Vyara's vlog about her week, you can also find a video about my personal introduction, but for those of you who aren't interested in video format, I'll post it here anyway 🙂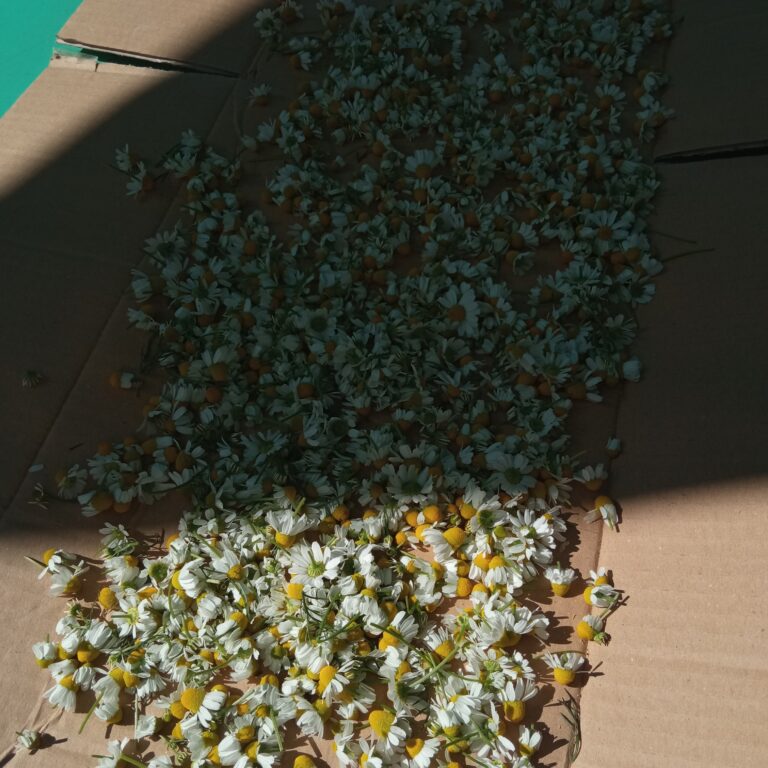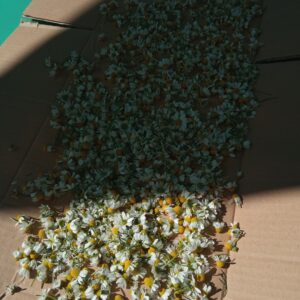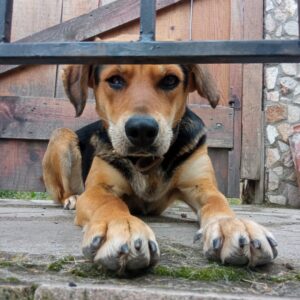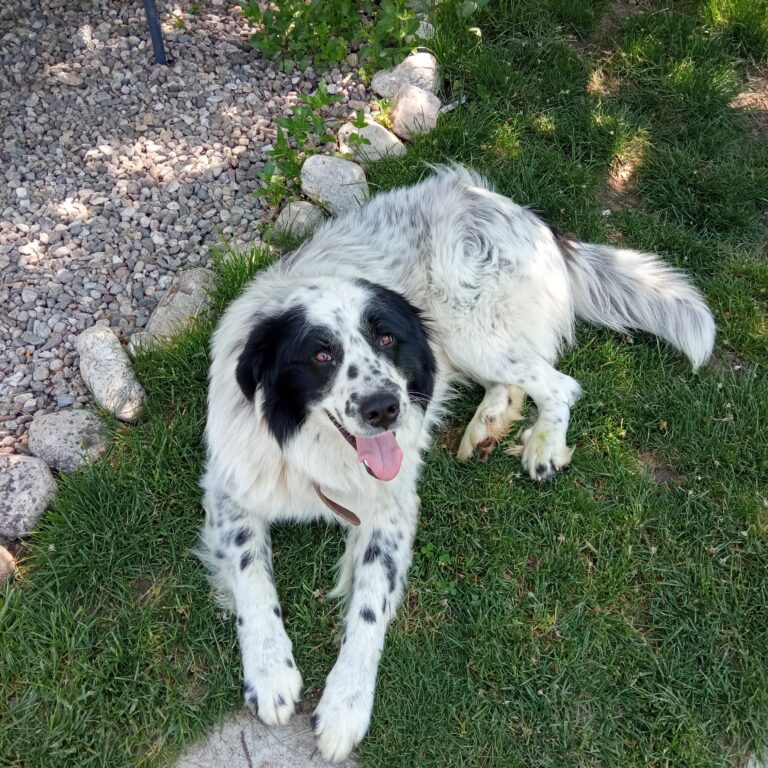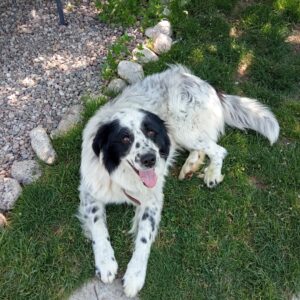 Drying the chamomile we picked and the dogs of Kromidovo camping site
I worked in Porto, where I completed my Master's degree in Environmental Management and Economics, while also working as a researcher at the university on the topic of urban climate change policies to understand which urban areas have the best track record in terms of implementing adaptation and mitigation measures to combat the effects of global warming. My life has revolved around sustainable development and climate justice as I have been part of Fridays for Future Porto and Portugal since its inception and have had the opportunity to organise several climate strikes, although in the last few weeks I have been really involved in supporting communities against lithium as they are really threatened by the new lithium research and exploration projects approved by the government. My thesis was on the crime of ecocide with a sideways look and interrelationship with the degradation of the economy and the anti-capitalist approach to our economic system. I even had the opportunity to be a delegate at COP26 in Glasgow as one of the representatives of FYEG (Federation of Young European Greens) and then it hit me. If I wanted to preserve biodiversity and fight for a better planet, I had to learn more about permaculture and even though I had the opportunity to participate in two youth exchanges on the topic, I really wanted to immerse myself in it and was ready to give up my life.
In Portugal, I was always learning about collecting wild plants, trying to grow everything I could on my little balcony and trying to lead a sustainable life off the grid, which is what I always wanted to achieve, but I can say that the things that really spark my interest and I consider part of my hobbies are the following: Mushroom harvesting and production (I had a small oyster mushroom production in my apartment), natural cosmetics (I make everything from soaps to shampoos and even some healing balms), analog photography, painting, watercolor and yoga.
And that's how my involvement in this project began: after contacting Green School Village and arranging everything I needed to start the project, I quit my job, gave up my apartment, froze my Masters for the next few years, and began responsibly and steadily purging all of my belongings until I had gathered everything I needed while trying to fit everything into two small bags.
I arrived in Bulgaria and had the pleasure of spending a few days with my Bulgarian friends that I met in other youth exchanges, while exploring the beautiful green spaces that Sofia has to offer. I only met up with Vyara, the other volunteer, on Tuesday as Monday was a day off, giving me more time to explore and reconnect with my friends. She was incredibly helpful in explaining the project and what she's been doing over the past few weeks, so I had a chance to go in depth about the ECC before meeting with the coordinators to do my training upon arrival. The place they chose, the village of Kromidovo, just near the Greek border, has some of the most beautiful scenery I've seen in my life – even on the drive here I was mesmerised by the peaceful and timeless nature around us.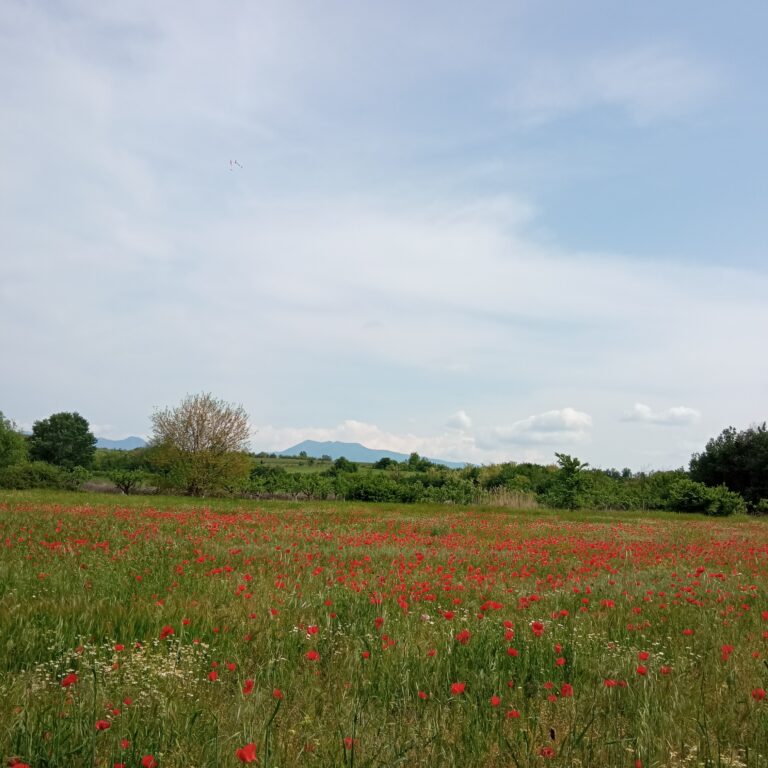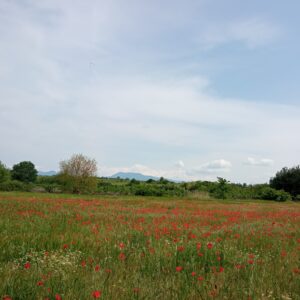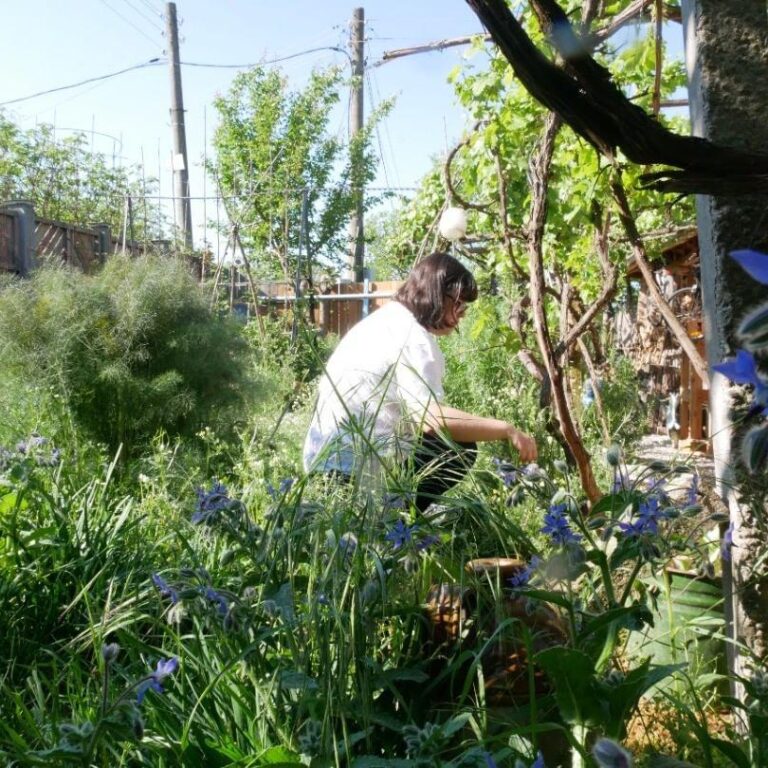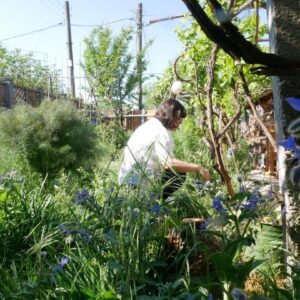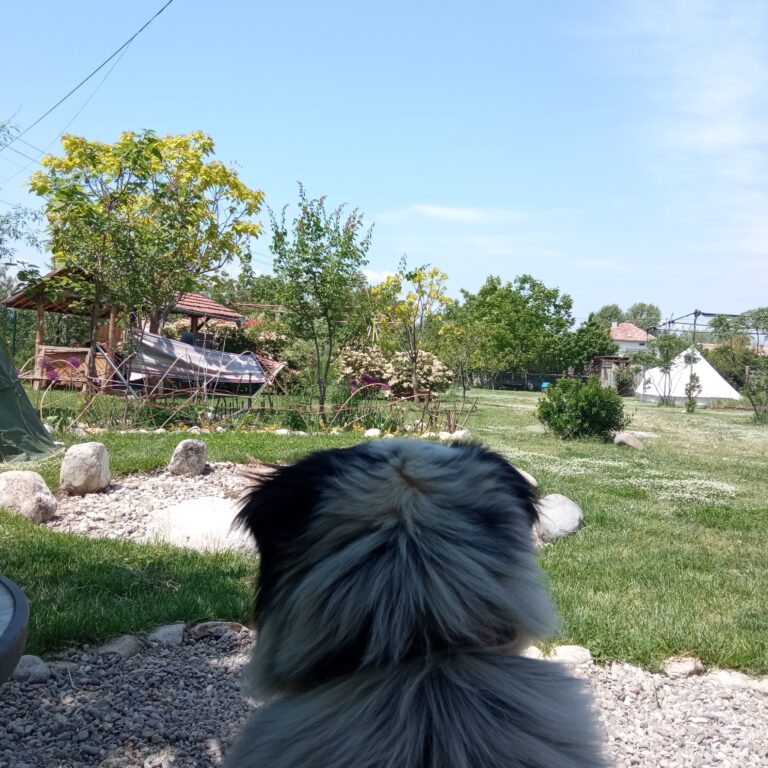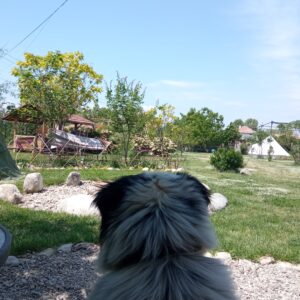 Field of poppies, picking up chamomile (credits to Vyara for the picture) and one of the dogs at the camping site
The hosts of the campsite, Sarah and John, are one of the nicest couples I've ever met and the fact that they are really aware of everything that surrounds them made my learning experience on arrival even more special as I was able to connect with the locals, learn a few Bulgarian phrases, help them pick some herbs and walk all their dogs. I really love animals and the fact that they have 7 dogs and 10 cats just made the whole experience more fulfilling for me. I spent a few hours with the coordinators trying to figure out how to work my Youthpass, what is expected of me as a volunteer, and even how to use this blog to document my trip in Bulgaria.
I've only been here for a few days but I've already learned so much from the local people, the hosts and the coordinators. I've had the opportunity to explore the area, not only in Kromidov, but also make a few trails in the mountains (that could use some maintenance) while picking up trash, learning how to make cashew cheese, and even how to identify some edible mushrooms.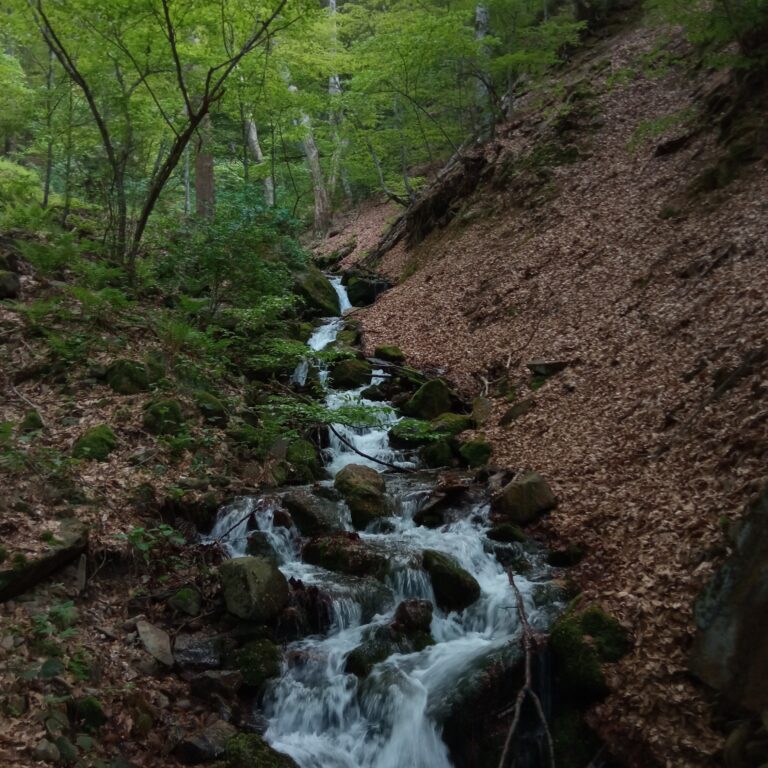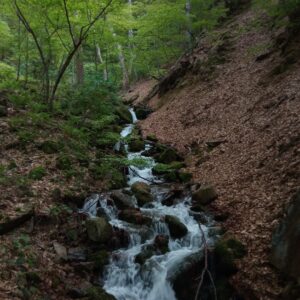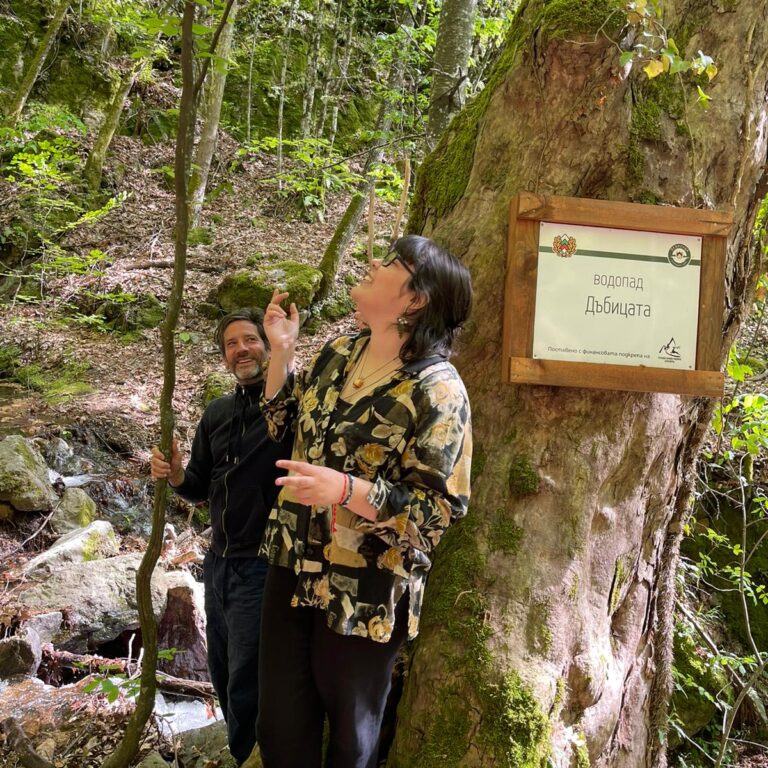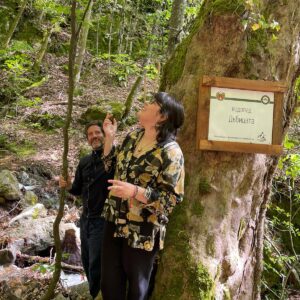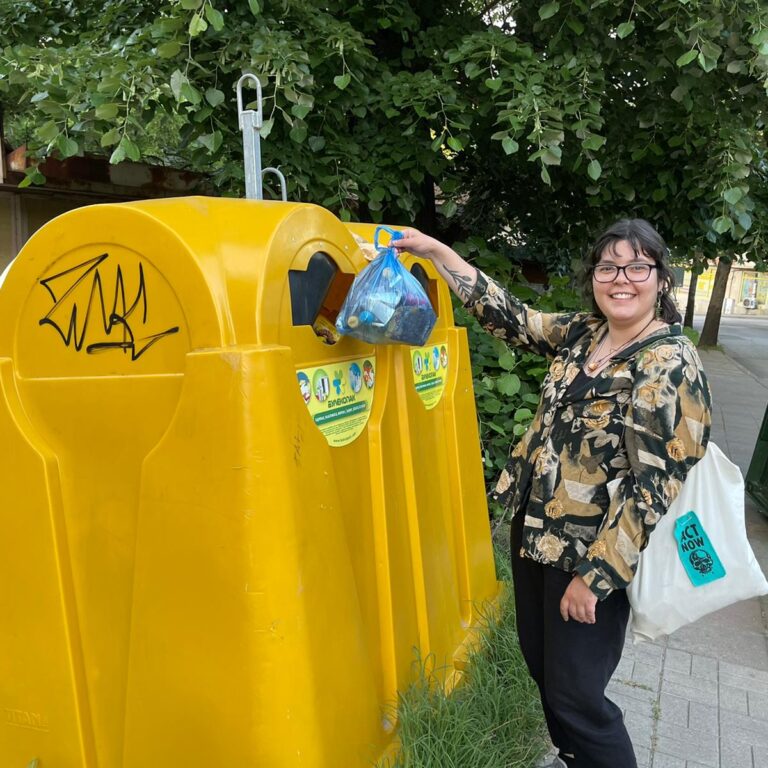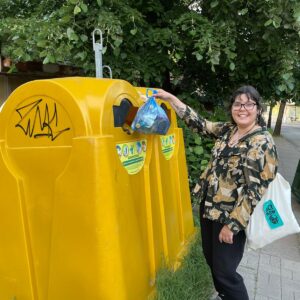 Hiking trails to the waterfalls, being immersed in nature (credits to Misha for the photo) and recycling the trash we picked up on our walks.
I am really excited to be part of this ESC and even more to finally be living accordingly to my ideals. So stick around to get to know more about our journey here 🙂 I also wanted to finish this weekly blog with one of my favourite quotes by Rob Greenfield.
"Living in a society built on exploitation, individualism and unhealthy practices is physically and mentally exhausting for so many of us. We are so in need of spaces where we can come together to help ourselves while reconnecting with the Earth. The Earth is ready to embrace us all and share her healing energy. We don't need a great expanse of land for this. When we walk with gratefulness we can find a connection to Earth, in each step, in each breath, even in the most toxic of places. The sky is always above us. The Earth is always just below, even with the concrete between Every breath we take, no matter where we are, has been created by our relatives on Earth who live on land and in the water. We can reclaim our relationship to the land and in doing so, break free from consumerism and the rat race that doesn't bring us our greatest joy. We can return to Earth."
If you want to know more about my project, or anybody who might be interested in joining me this year, please visit: https://europa.eu/youth/solidarity/placement/29760_en
Also, you can watch the video that I made, with the help of my favourite camerawoman, Vyara, here: