Hello, hello, this is week four!
…and I am at the end of my first month as an ESC volunteer 😊 What a great month it has been, I met so many lovely people, learnt a lot of new things, and went to many beautiful places. Everything I have experienced so far went beyond my expectations, huge thanks to everybody who is reading the blog, please do give feedback about it!
At the beginning of the week, I continued brainstorming and putting together ideas for the Erasmus + project that I started working on in week 3. On Tuesday, in my free time, I had one of the last online meetings for the project writing training course. I highly recommend this training, everyone on it is so knowledgeable in their field and always ready to help others with a different concept or a suggestion.
When you are surrounded by like-minded people, you are full of new ideas and feel inspired to continue doing what you are doing. I feel content knowing that there are people doing their best to bring knowledge, beauty, and peace to the North of Bulgaria (where I am from) and on Wednesday we found a few of them.
I mentioned last week that I met Hristo, (also known as Herbalisto) virtually last week, on the Easmus+ project writing course, but on Wednesday we met in person, in his hometown Sevlievo. Me, Hristo, Misha and Filip had a relaxing walk in the local park, while Hristo was telling us about Naturalistichno. Biologist and botanist, Hristo is the chairperson behind this NGO, the main aim of which is to organize initiatives, projects and programs for education in the field of biology, ecology, socio-economic activities, culture, unity, and personal development. Every department of the NGO has its own team dedicated to monitoring and working on their projects, it is a network of people willing to help each other build gardens and houses, collect and give away seeds, create educational materials for children and many more. So far, they have completed quite a few projects, to mention some: Project ''Bee Paradise'' (Проект "Пчелен Рай ''), project ''Home Arararita'' ("Дом Арарита''), project ''Positive'' ("Позитивен"), check their current and future projects here: http://www.naturalistichno.org/en/activities/
We were curious to hear about all of the activities mentioned above, but time was pressing us and we are mainly focused on permaculture and gardening related projects and even on really short notice, for a short period of time (not to mention the rain :D) Hristo managed to show us around a couple of gardens.
The first place Hristo brought us to was a field, the plan for which is to become a food forest, with a little camping ground, mandala gardens, and a shop, where the owners will sell the produce.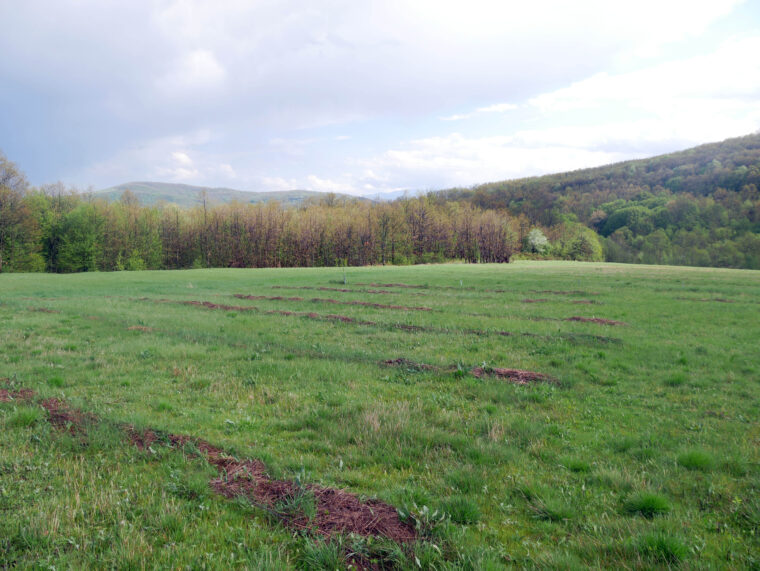 Picture 1. The future forest garden
Luckily, Hristo was showing us the way, otherwise, from the road, the field seemed like any other field. On closer look, we could see that a few fruit trees had been planted and the grass had been cut to create mulch, to decompose and fertilize.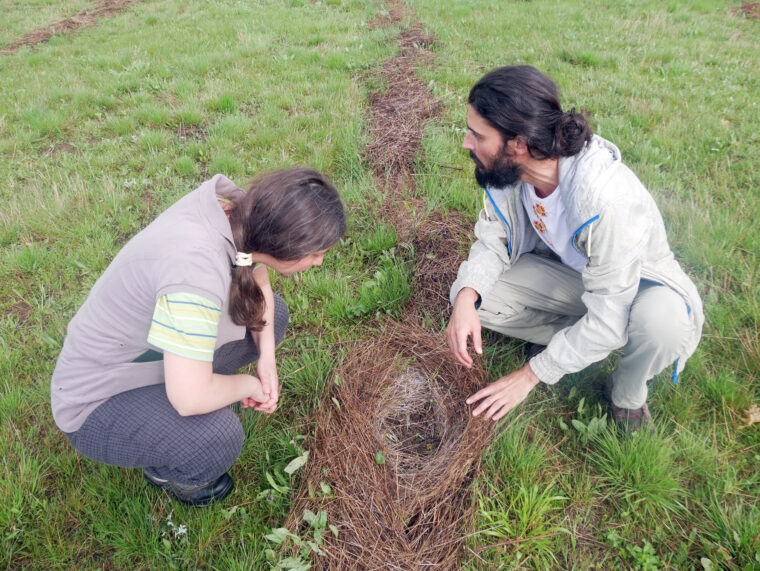 Picture 2. Misha and Hristo observing
Hristo also told us about a regional project for integrating an alternative currency called Bunar. At the moment you can exchange it for products and services. The exchange rate is 1Lev to 1 Bunar and you can generate Bunars if you attend work parties and help out people in the community. A few producers are using it at the moment and Hristo and the team are working with Hrancoop (Хранкооп) so that their producers can use it and exchange it. One hour of work is equal to 10 Bunars, or 10 Levs. Reforesting the field above was one of the work parties, where people could generate Bunars.
The second place Hristo showed us was ''Forest Fairy'' ("Горска фея ''), which is a family permaculture homestead in the village Bulgarene. Deliana and Georgi are the owners, she is the gardener and beekeeper and he is the builder. Their honey is certified organic. Unfortunately, Deliana was not there to show us around, but Hristo came to the rescue and explained to us a few things about the place. He told us that Deliana sows and sells plants from old Bulgarian varieties and likes experimenting with the land and combining trees with vegetables, which was evident because there are a lot of fruit trees spread around, under which veggies and herbs were growing.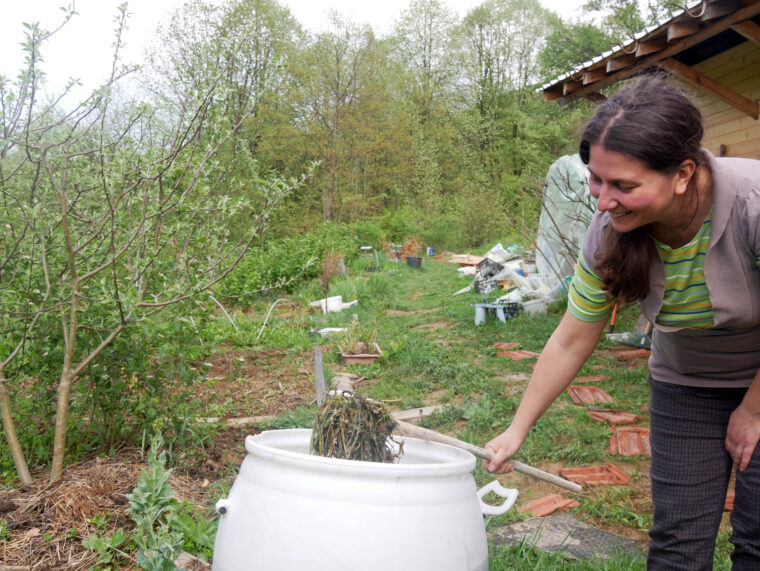 Picture 3. Nettle tea for fertilizing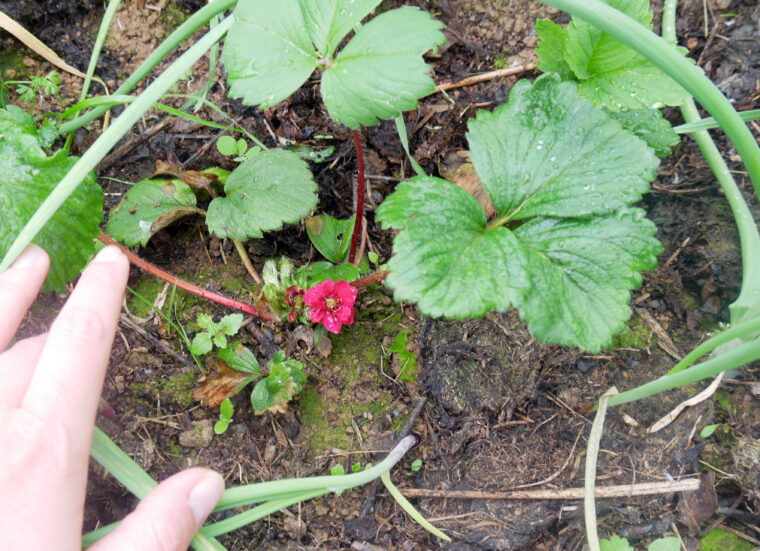 Picture 4. A variety of strawberry with red bloom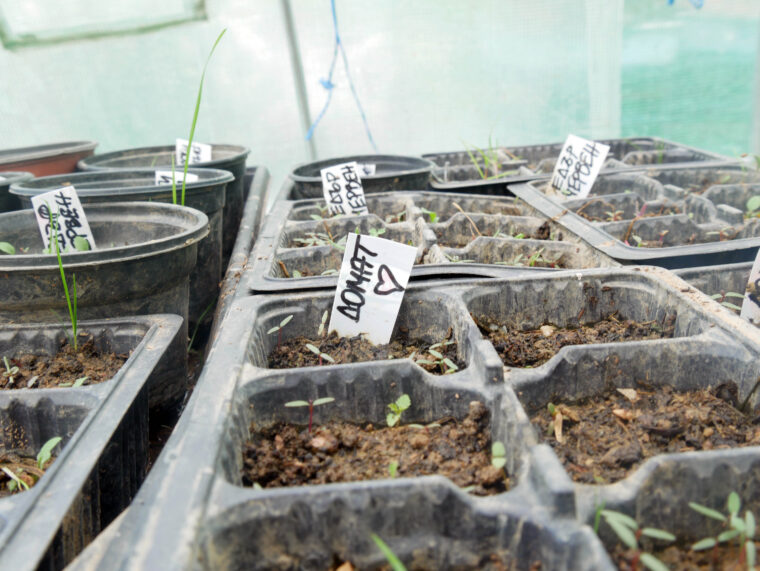 Picture 5. Tomato seedlings
We were discussing that this little homestead can become a potential LAND centre, as there are a lot of good examples of good practices to show to the public.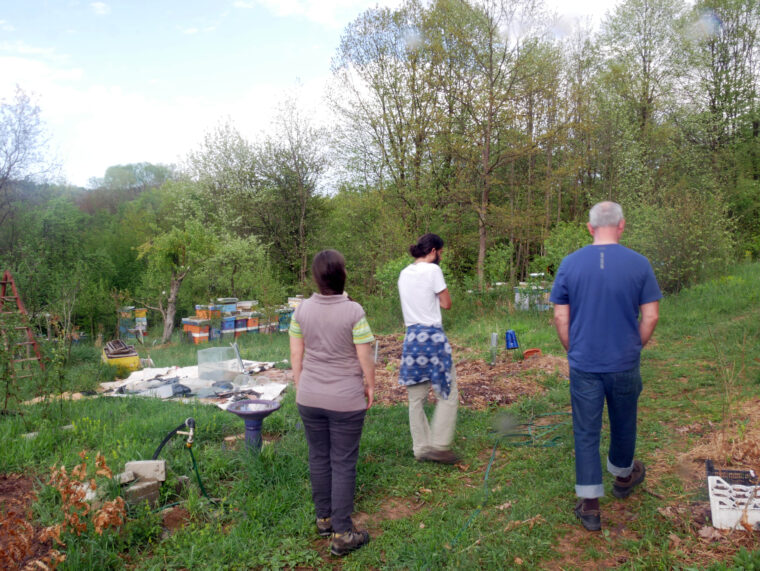 Picture 6. The group in the garden with the beehives in the background.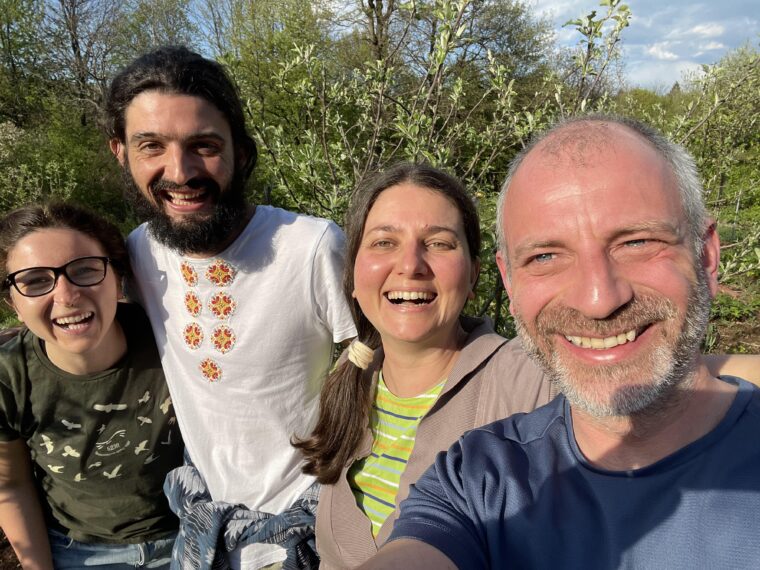 Picture 7. 57 was our lucky number when it comes to selfies 😀
The next and final stop for Wednesday was Todorovo (Тодорово)  village and our long-awaited meeting with Catherine Zanev, the creator and director of Venets Permaculture. We were discussing the ESC project plans for the upcoming months over a delicious veggie dinner from the Venets gardens, under the trees in the warm spring evening.
On Thursday we did a bit of travelling in the North of Bulgaria- from Todorovo village we headed to the village of Stefanovo (Стефаново) to visit this colorful and quirky little shop and café called Gizdilnitsa Kozara (Гиздилница Козара). I will make an attempt to translate the name for our English readers- gizdilnitsa, comes from the old word for gizdq (гиздя) which means to make oneself pretty, and gizdilnitsa is the place/shop where you go to make oneself pretty, it could be a jewellers or a clothes shop.  Kozara comes from koza, a goat and kozara is a word game, where from the word goat you can make a name- Kozara, because the lady has over sixty sheep and goats. Gizdilnitsa Kozara is located in a hundred-year-old house, which the owner, herself, is renovating. This is the place where you can find handmade items- jewellery, mugs and tote bags, just to name a few. A space where you can also enjoy a coffee with a cause, and tea made from freshly picked herbs, homemade syrups and treats to the sounds of a record player.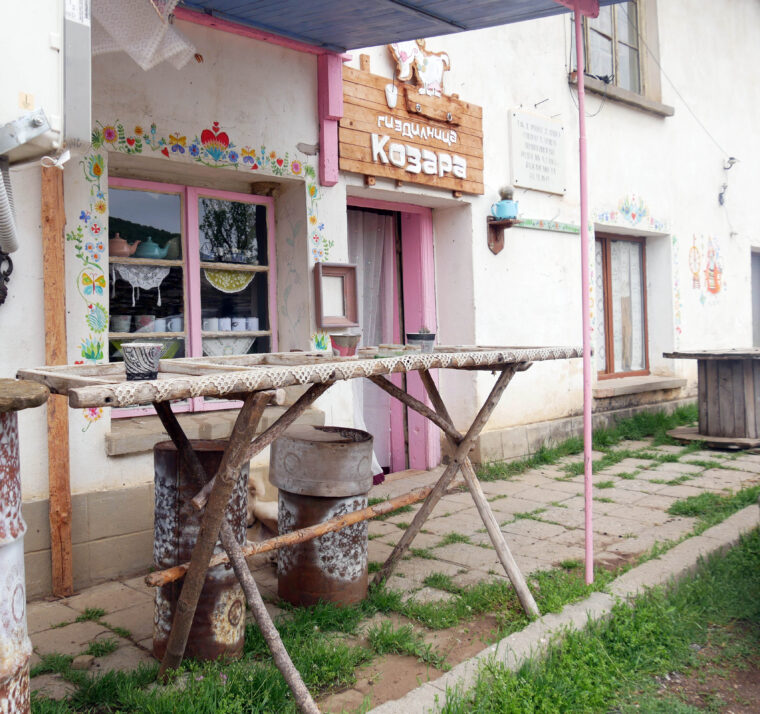 Picture 8. The outside of the shop, you can`t miss the goat with earrings drinking milkshake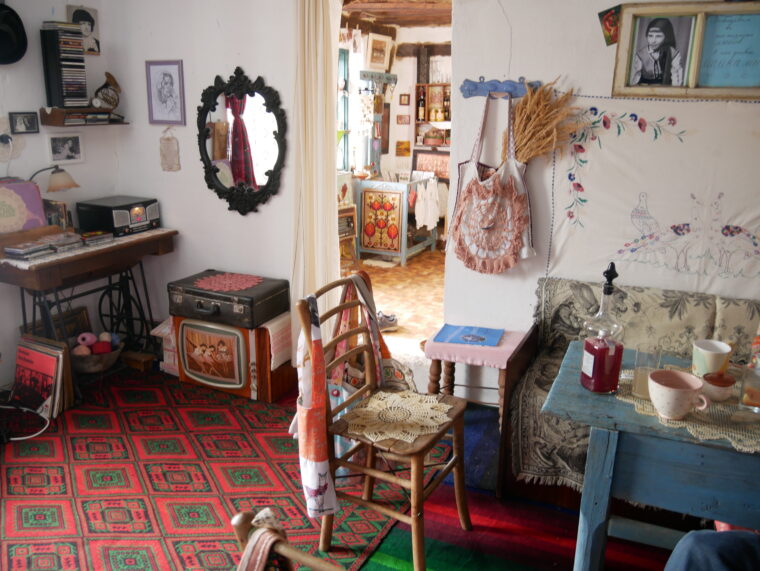 Picture 9. The café, which is part of the shop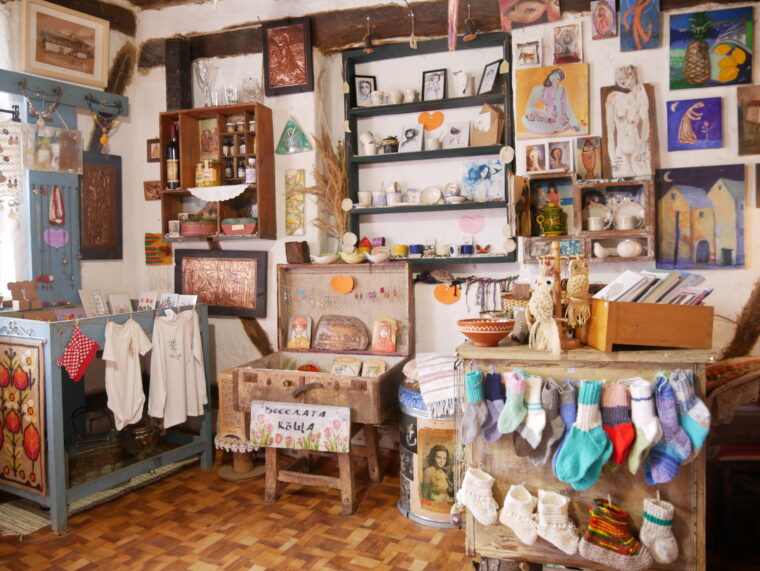 Picture 10. The shop itself
The owner is a lovely chatty lady, who started the business by herself. She is not an artist in the conventional sense, but definitely has an eye for decoration and beauty. When I asked her what her life used to be like before settling in Staro Stefanovo, she answered '' colorful'', with a big smile on her face. The items displayed in the shop she picks herself and she says that she stays loyal to artists and never duplicates the types of items. Everything there is made with so much love and care, you can feel it the moment you step inside.
Dari, the owner, expressed interest in knowing more about how her shop can become a LAND centre. Her place is suitable to become one, because she supports homemade goods and items and she also has herds of sheep and cattle, two key things for a LAND centre.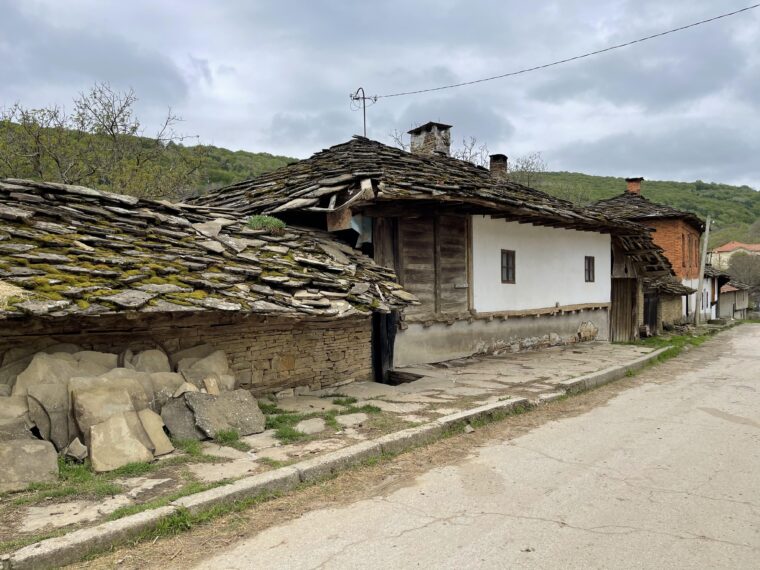 Picture 11. Staro Stefanovo is the old part of the village Stefanovo, now an architectural reserve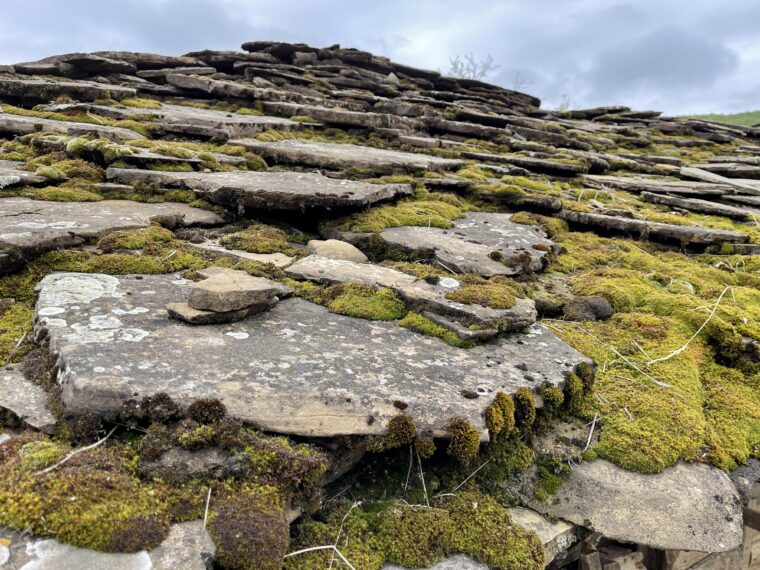 Picture 12. The old style of roofing with stone tiles
Unfortunately, we could not see the goats and sheep, but that`s just an excuse to stop by next time we are in Stefanovo 🙂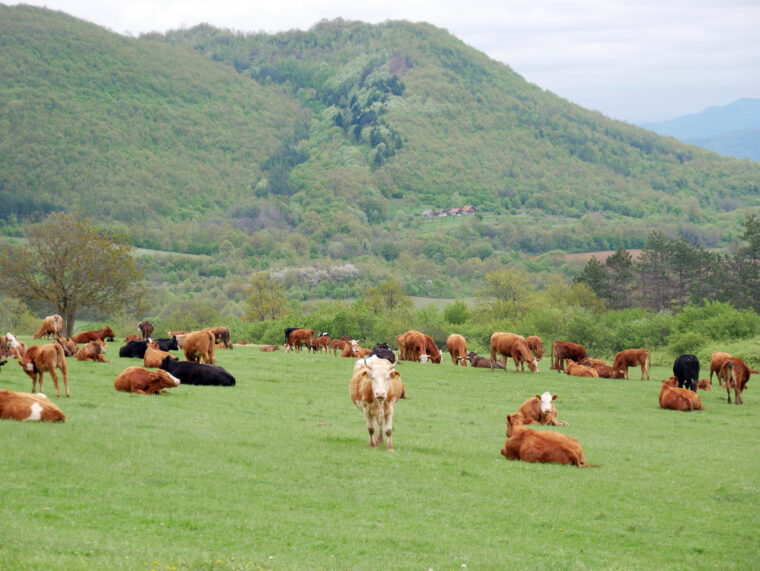 Picture 13. We were not the only ones enjoying the view
On the way back, as we were making our way to Todorovo we stopped by the side of the road to take pictures of the mountains and the herd of cattle grazing on the field. As we were parking the car the owner of the cows approached us, in a strange coincidence he was passing us and stopped to say hi and to ask us for a favour- he was trying to sell one of the bulls and asked us to take a picture and send it to the buyer. I used to work on cattle and sheep farms in Iceland, and I like chatting to farmers. Uncle Pencho (чичо Пенчо) was telling me that he is breeding cattle for the meat. The bull he is trying to sell is a breed called Limousin, which is a French breed, but most of his cows are mixed breed. Unlike the sheep, cows rarely have twins, he said that this year a cow had twins, first the female was born, and as he was approaching the cow to help her with the second calf she got scared and there was an accident with male calf and it could not make it. He said that ''nature'' knows the right way, the female will always be born first ('' винаги се ражда първо женското теле, виж как го е измислила природата'').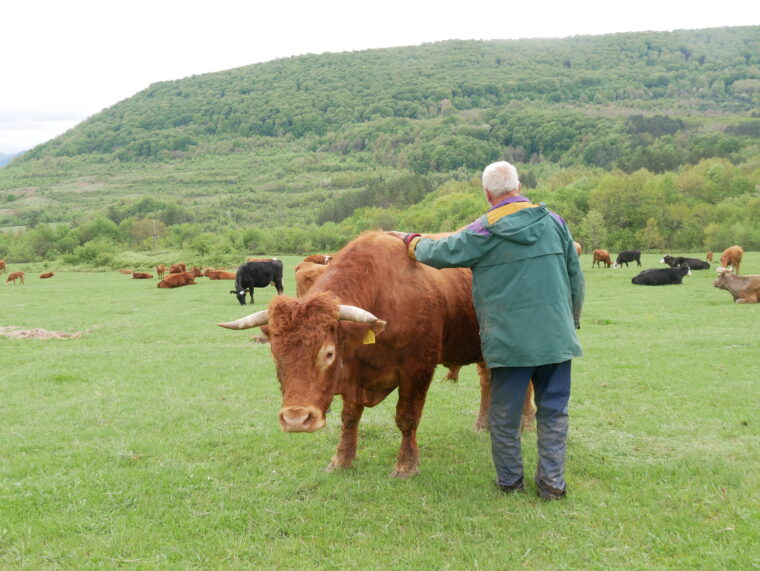 Picture 14. Uncle Pencho and Veliko, the bull
We saw an anthill and uncle Pencho was explaining that ants usually gather at the top when it is about to rain (and he was right, because soon after it started raining). We got an invitation to come and collect mushrooms with him in May, an invitation I will gladly accept!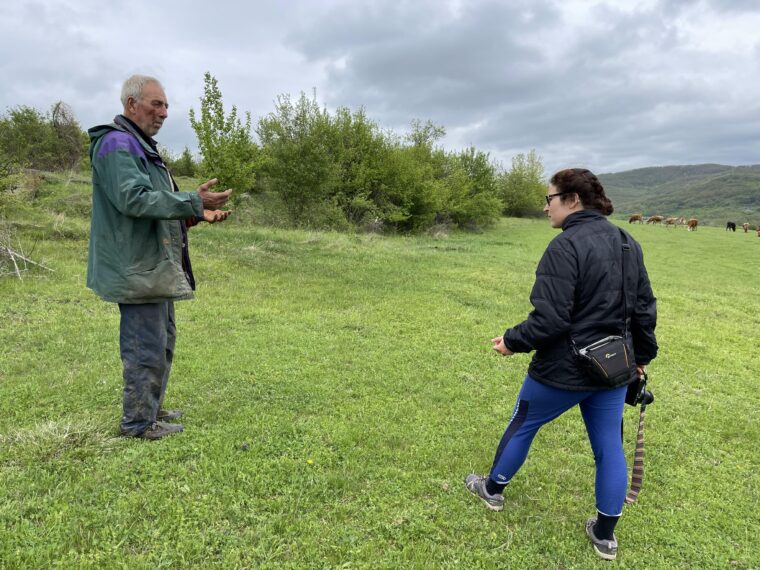 Picture 15. Fellow farmers 
In the evening, we had a quick tour of Venets Permaculture Gardens and Orchard in Todorovo. Hopefully, you will read more about Venets and Catherine in the next couple of months, but I wanted to mention a few things that made a big impression on me.
We stayed in a lovely house with a small garden, this is also a market garden where Catherine's workers were coming to work every morning.  Now, in springtime, they are mainly growing leafy greens and onions for the seasonal baskets they send to subscribers. Here and there you could see flowering brassicas providing food for the bees and colour for the eyes :))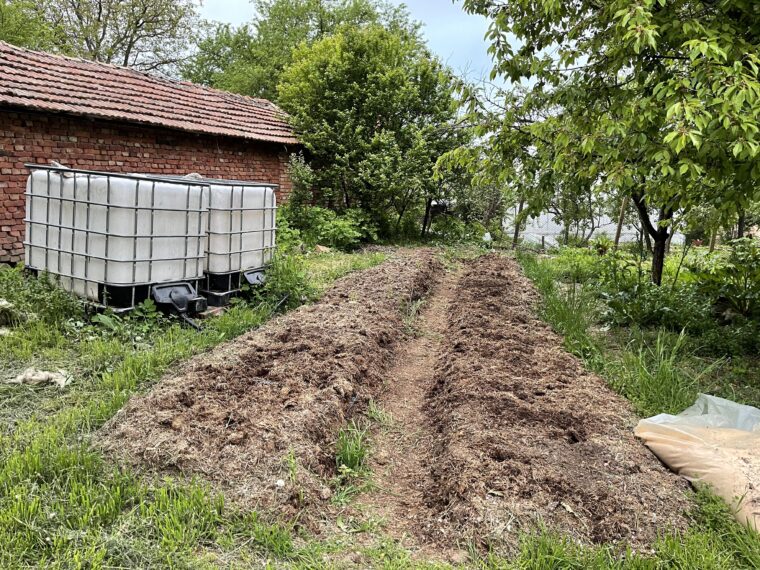 Picture 16. Decomposed compost was put to create beds.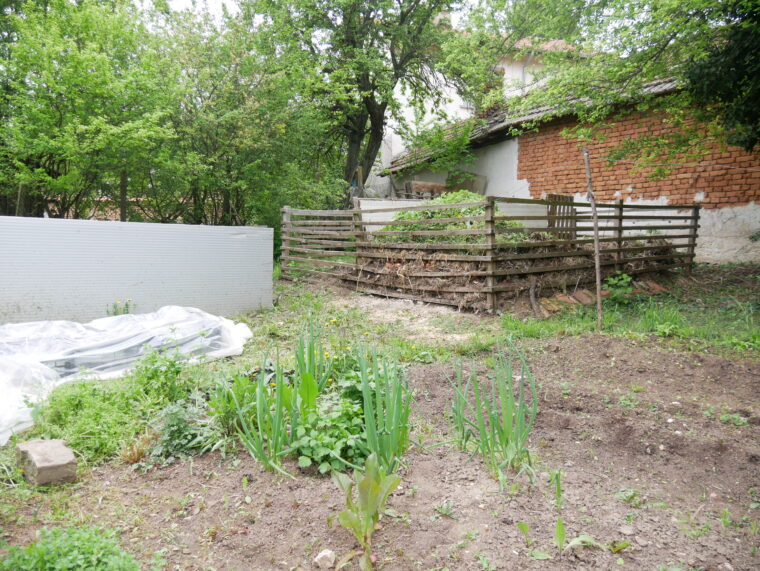 Picture 17. The huge composting space at the back of the garden.
Catherine`s team is also sowing their own tomato seedlings, at the moment they are growing strong in the greenhouse.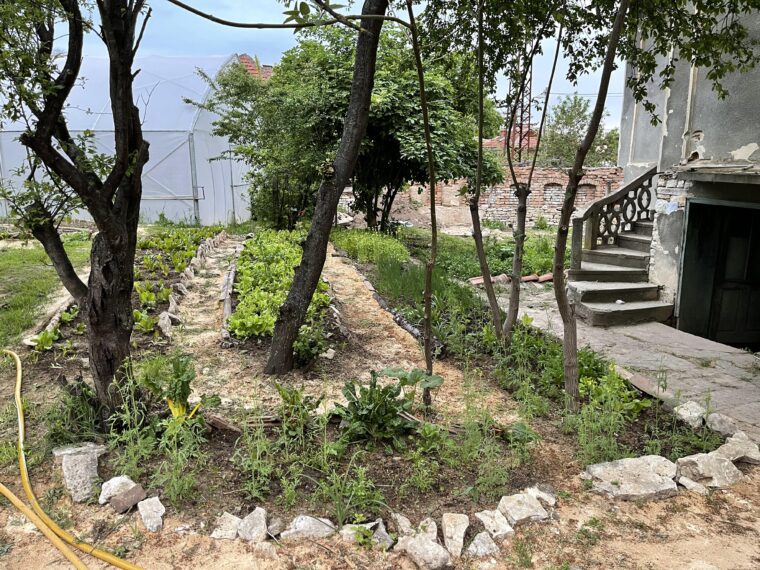 Picture 18. Lovely veggie beds going around the trees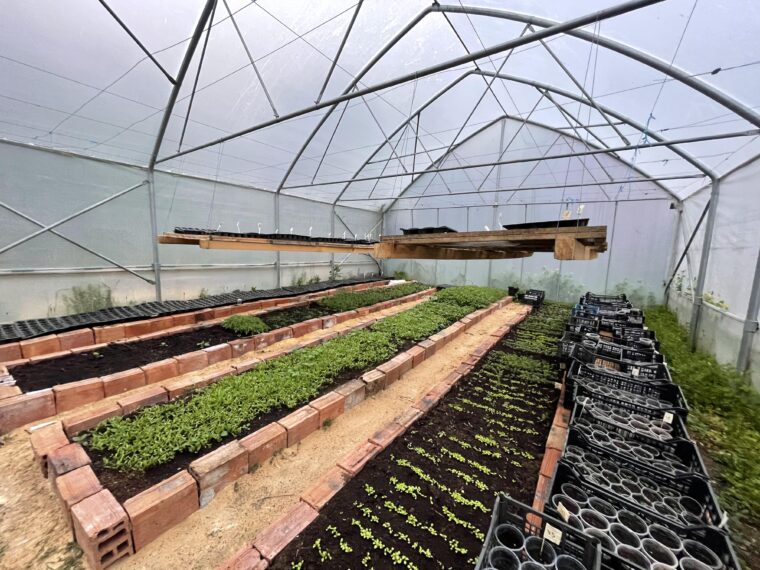 Picture 19. Inside the greenhouse
In the evening we headed to the Venets orchard, where Catherine showed us the sheep's wool they use for mulching. The wool is from sheep farmers from around Bulgaria. Usually, in Bulgaria people don`t use wool for mulching, in fact, they don`t use wool at all, it is a waste product from the sheep.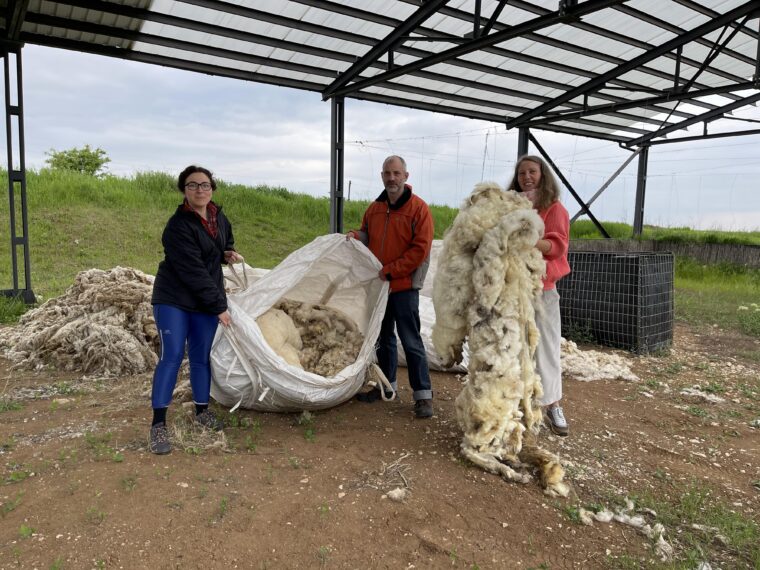 Picture 20. We not only took pictures with the wool, we actually had to move it 😀
In the orchard they have a little pond to gather water, which irrigates the trees and the plants around them. There are cherry, apple, plum, quince and other trees, hazelnuts, and currant bushes. Comfrey is planted next to the trees for fertilizing, chives, spring onions and sorrel also grow around them. There is a huge diversity of plants, which supports the biodiversity of the orchard.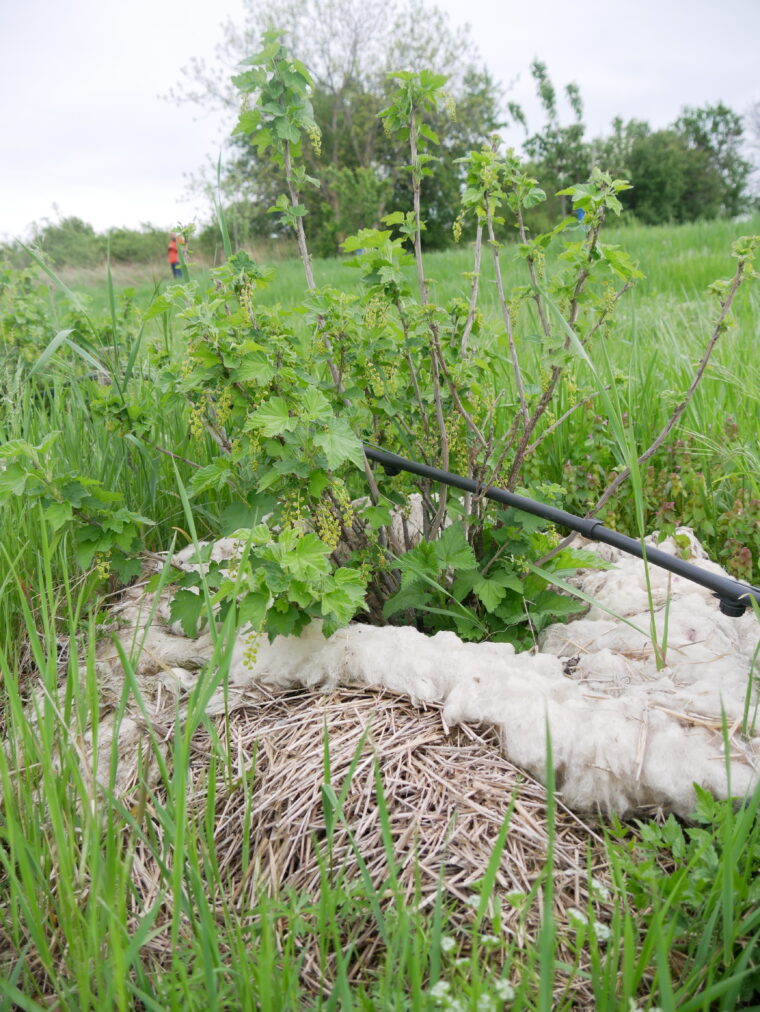 Picture 21. Red currents mulched with straw and wool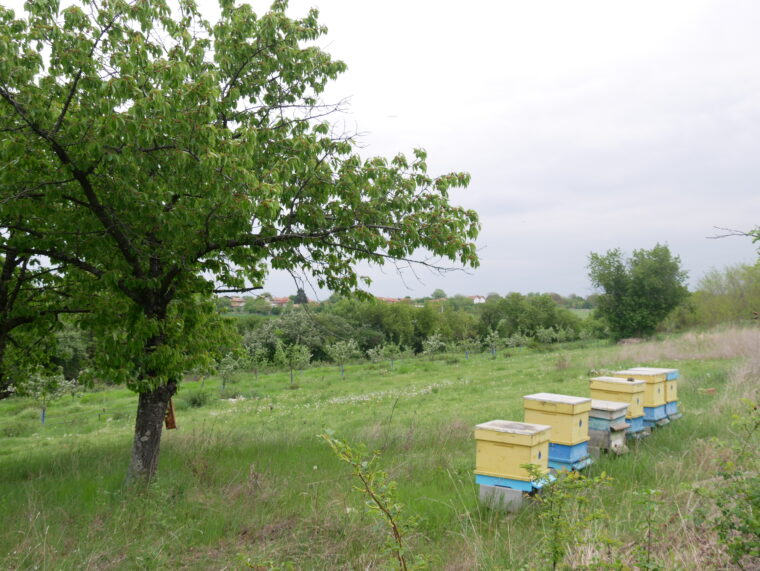 Picture 22. The beehives 
Venets produces honey as well, and Catherine says that it has a very delicate aroma and taste, perhaps also due to a plant called Isatis Tinctoria. It is a biennial plant, but the leaves of the one-year-old plant are used as a dye and as medicine.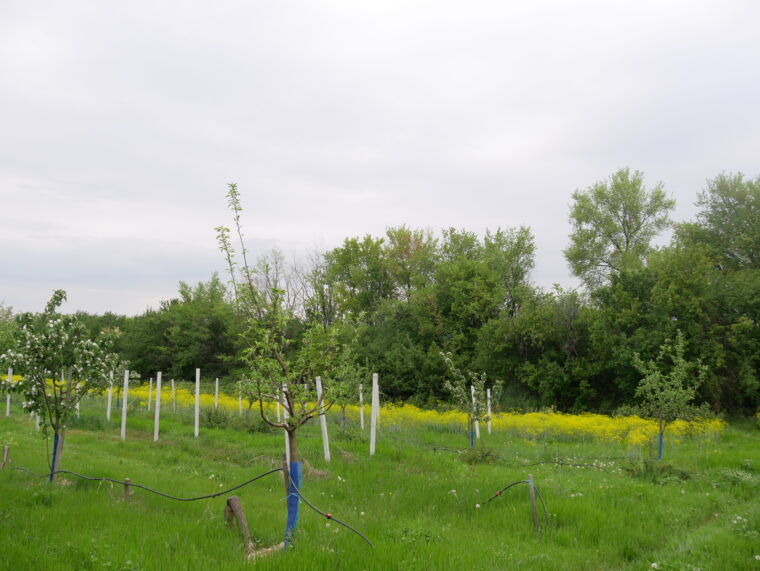 Picture 23. The belt of Isatis Tinctoria at the bottom of the field
The Venets Orchard felt so welcoming and buzzing with life, I can`t wait to be back in the following months!
On Friday I was working on the Youthpass and writing the blog, and we had plenty of time to have a chat with Catherine about her expectations about the project, the logistics around it and of course the needs of the volunteers. Later on in the day we had a meeting with the mayor of Todorovo, who was very happy to see that there are people willing to make a difference in the village and to help create green spaces.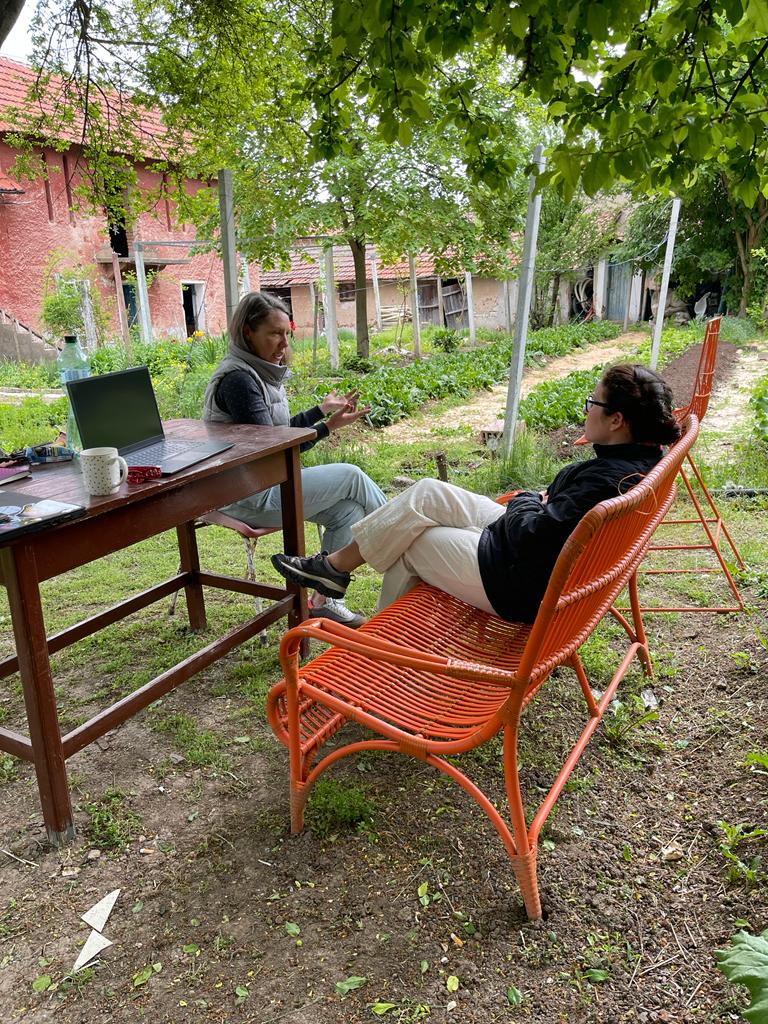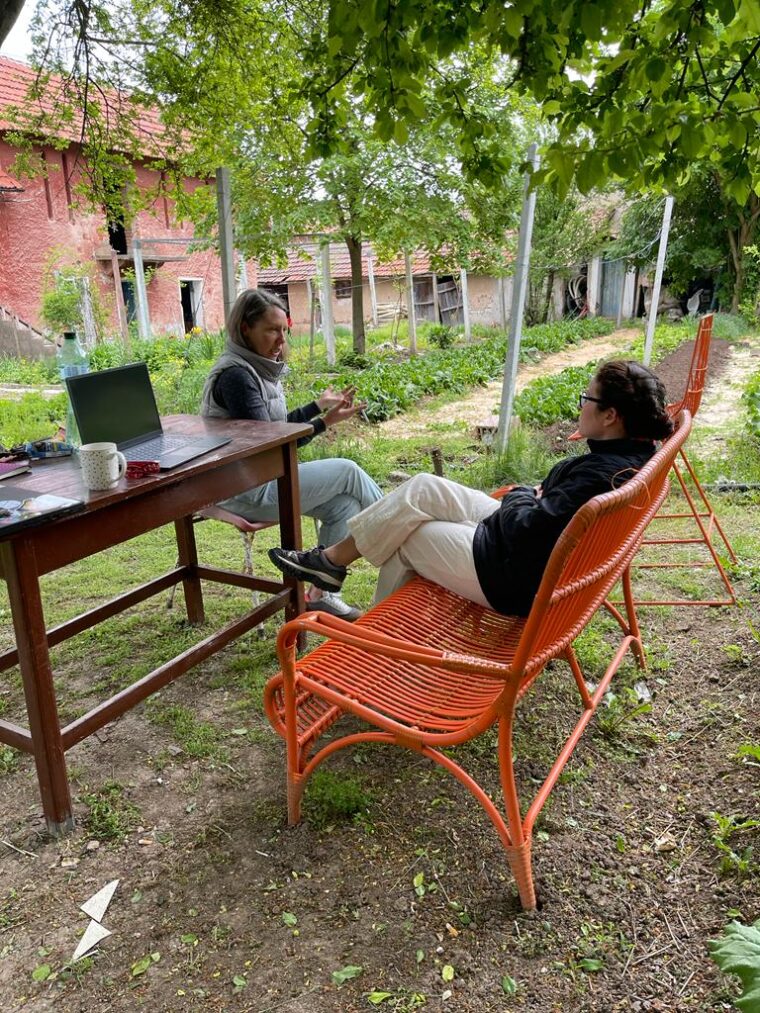 Picture 23. Work meetings in the garden, one of many 😊
We also met the leader of the community centre -Galya. With her, we were discussing the options for involving the local youth in the project. She was also telling us about the activities the younger kids are interested in, at the moment a lot of them are singing in the chorus and dancing traditional Bulgarian dances. We can`t wait to work with both of them!
Overall, it has been a hectic but very productive week. Stay tuned for more next week!