François:
Dear readers,
As its equinox took place on March 20 (or 21, depending on your location!), Spring has officially begun. At this occasion, I would like to wish to you all a very good Spring, and growing season in general! Of course, signs of the season to come were to be observed in the previous days: the blossoming trees, the flowering bulbs, the symphony of the birds, the weather mildening. Now, because our garden has changed so much in the course of those last days, I thought I would tell you more about it!
Since Venets' workers have dug a hole for burying topinambours, we had quite lot of soil at our disposal. We thus covered two of our Hügelbeds (cf week 41!) with it, before circling them with logs and bricks in order to make them framed raised beds. One of this bed is now welcoming transplanted Swiss chards and strawberries.
We also had to create more space in the greenhouse, extending even more the second floor for all our seedlings. Some of them (the very first tomatoes), are now planted in the soil, in the greenhouse! Speaking of which, because of the mid-season and the highly variable weather, we had to keep a close look on our seedlings, being sure that don't get too warm or too cold. Some nights still the temperature goes below 0°C, and we have to cover them with fleeces, whereas sometimes during the day we reach 20°C or more.
Finally, we had a meeting with Todorovo's municipality on Thursday to start thinking about our new project outside of Venets' gardens. Lately, we have been thinking about doing something out of an underused terrain behind the old factory of the village: except a little playground, the place is mostly empty and has a lot of potential. We thus drew a sketch of a "social garden", where people could hang around and enjoy a herb spiral as well as a bed with flowers and strawberries. We presented our project to the municipality, which seemed very interested! To be continued…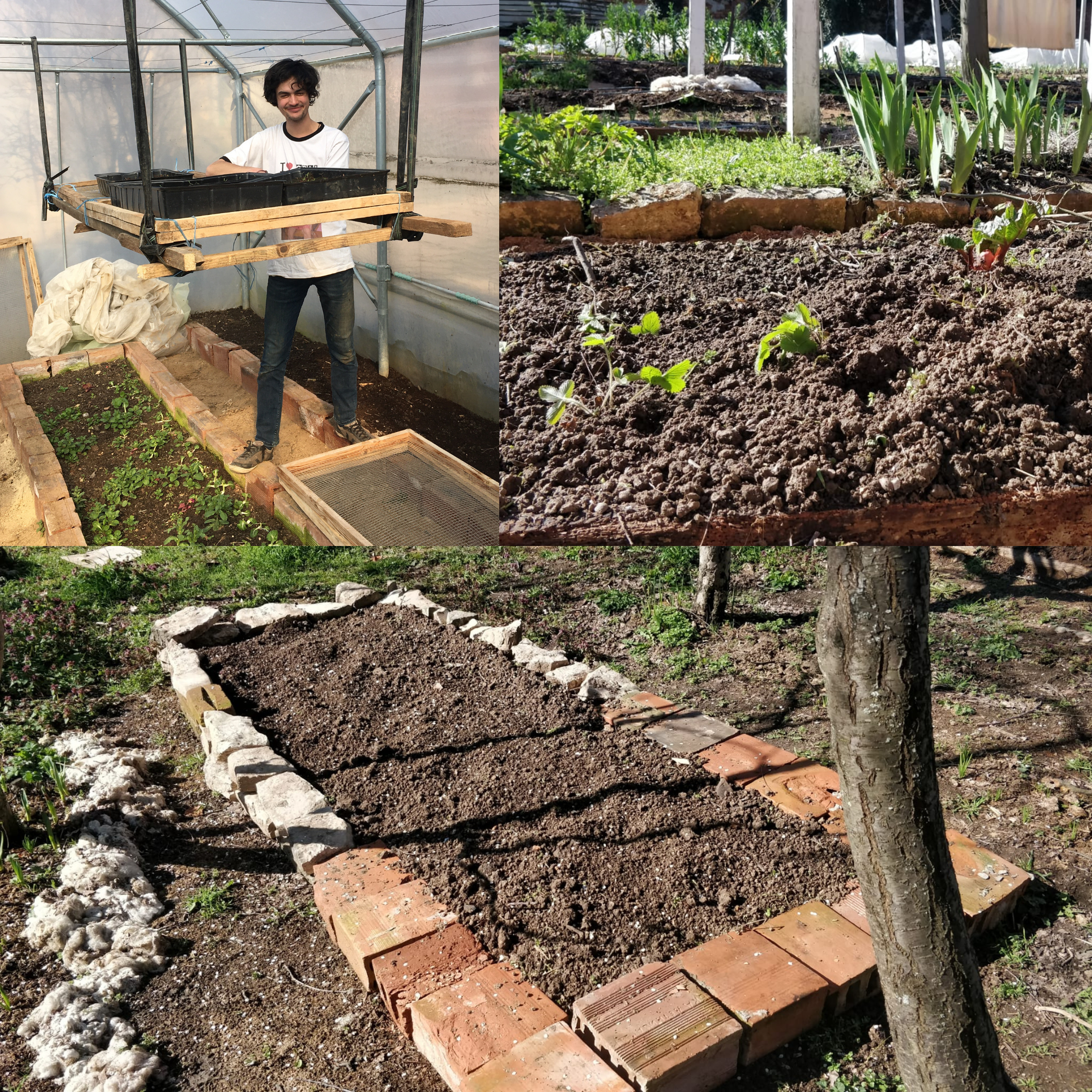 UP LEFT: Yours truly, installing new frames for the seedlings (photo credit: Anastasja Giacomuzzi)
UP RIGHT: One of the new bed, with the transplanted plants (photo credit: François Dupé)
DOWN: One of the other new beds (photo credit: id.)
See you soon!
Anastasja:
Hi y'all!
Long time no post! The last few weeks have been very busy for Peter and me. After our visit to Buzovgrad we only spent one night in Sofia and a few days in Todorovo, and then we were off again to the second part of our PDC in Staro Stefanovo (Peter will tell you more about this). 
While we were back in Todorovo, we had a long weekend, and decided to visit the Eco-path Chernelka together with Francois for a day. We had no idea what to expect, and were stunned when we arrived at the beginning of the path, and increasingly in awe as we walked along. 
Chernelka is a river in the Danube Plains which has, over the centuries, formed a 7km long canyon with a width of up to 200m and Karstic cliffs up to 30m high! The canyon is a natural reserve because of the wide variety of flora and fauna, with around 200 different bird species living there. 
Peter and I were especially excited because the place would be amazing for rock climbing, but it does not seem like any pro climbers have discovered it yet (so for any climbers out there, check out this gem and please set some routes for us 😉 ).
On our walk we collected some trash in a few spots, even though the path was relatively clean for the most part. Peter showed off his tree climbing skills, when collecting a plastic bottle from the river, and we had a really fun day overall. We really recommend you to visit this beautiful path. It is quite flat and easy, and can be done in 2-3 hours, even though there are some spots where you have to cross the river jumping from rock to rock, but in most places there are beautiful bridges which lead you along the canyon walls. 
Video of Peter, Francois, and Anastasja hiking through Chernelka Eco-Path (video credit: Anastasja Giacomuzzi)
Peter:
We really enjoyed the second part of our PDC in Staro Stefanovo. It was so nice to see all these people again and spend another (almost) week with them. The town of Staro Stefanovo itself is very rustical, as most of the houses still have a roof made of stone slabs. Because of the really well-preserved historic architecture, Staro Stefanovo was declared an Architectural reserve.
The course took place in Aleko's house (Green Association), where most of the people were staying. We were hosted by Valya and Liubomir in their organic farm in Novo Stefanovo, 3 km far from Aleko's house. They were very hospitable and made us feel at home. Valya cooked lunch and dinner for all of us during the PDC. She also had to follow the integral cooking and we were very impressed about how good it could be! 
Since the first part of the course was more theoretical, Elitsa (a teacher of the Bulgarian Permaculture Association) made this week more practical. Finally we were allowed to put our hands into the soil. On Liubomir's farm we learned how to make seedlings (sowing seeds). One of the most interesting visits was to Deliana's home (also called the Forest fairy, who makes wonderful honey), where she gave us a tour of her permaculture garden and showed us her many successful attempts of grafting fruit trees. We were also invited to visit Catherine's farm in Bostan Bair to see Venets' cherry orchard.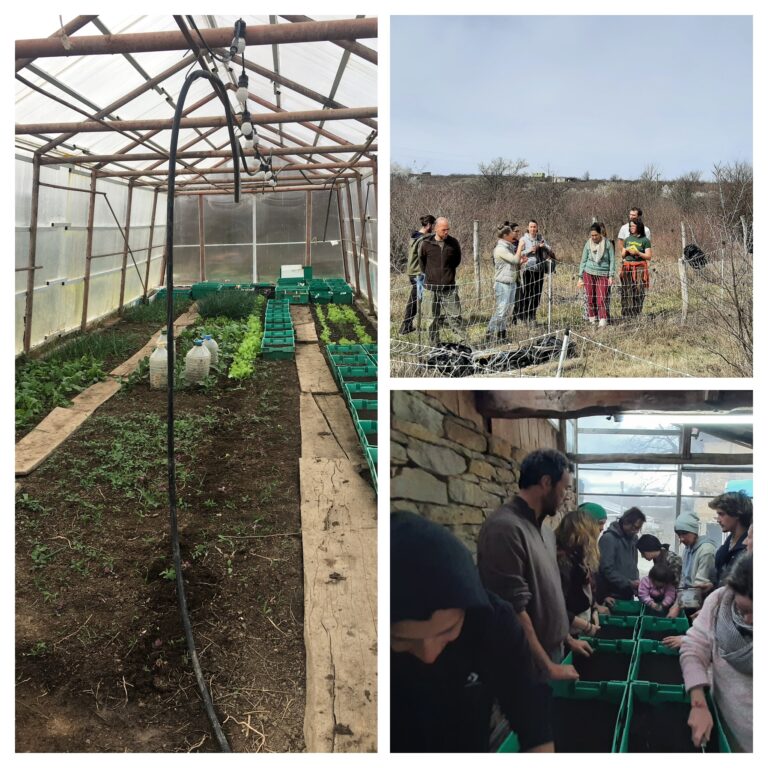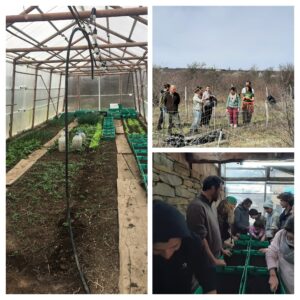 Making seedlings, visiting Liubomir's farm and Venets farm in Bostan Bair (photo credit: Anastasja Giacomuzzi)
Back in Staro Stefanovo Elitsa gave us an insight into Natural Building. She showed us also how she renovated her family house using clay and other natural building techniques. We talked about composting, forest gardens, and so much more… and finally we were ready to make our own design. We chose to design the Red House (where we are living in Todorovo) and its garden. After a lot of measuring and brainstorming we presented our final design, and we want to implement some of it in the coming months.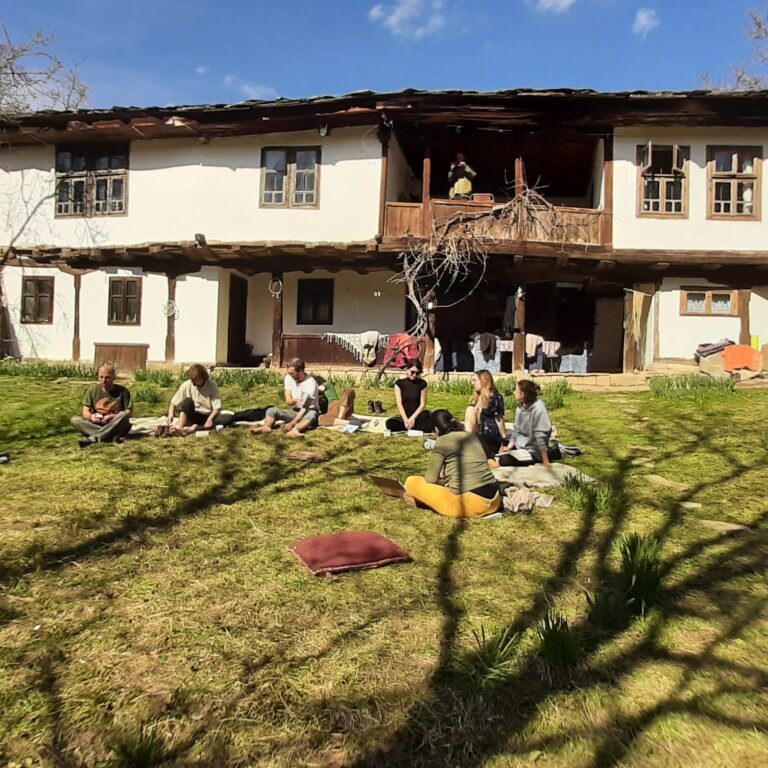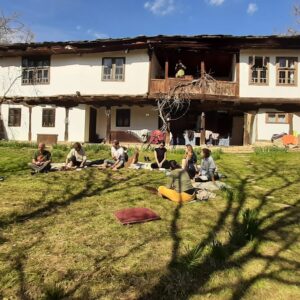 People enjoying the sun in Staro Stefanovo (photo credit: Marta)
Daniel and Lenny:
This week was all about permaculture learning materials and digital badges. Misha told us about the necessity of creating adequate teaching materials for all kinds of permaculture practices and information concerning the discipline of permaculture in general. These materials could be used in training future volunteers or organizing courses for children in Bulgaria and around the world and teaching them the super interesting principles that permaculture has to offer. For that Daniel found an amazing book that his friend and colleague from Germany supplied to him when he left Germany earlier this month. It is called "Grow Organic" and all visualizations are made in cartoon form. We found that to be super cool and educating as it is much more easily digestible information in comparison to simple text or audio. It really is a great book for teaching children on sustainable organic agriculture, but sadly contains only a couple of pages on the topic of agriculture. In the future we plan to make similarly visual materials, maybe in the form of PowerPoint presentations or drawing and comics. We have yet to decide. Bulgaria has been great to us, the people are amazingly kind and the food is incredibly tasty. Misha told us to dive a bit deeper into the topic of LAND. She told us there is a need for creating Digital Badges for the LAND program, where different project sites can see viable criteria, whose information will be saved in the Metadata of each badge. There will be five different badges and all of them contain important criteria for becoming part of the international LAND network. It is our goal to find suitable candidates in Bulgaria and add them to the network and to make Bulgaria great again ;). Just kidding… Next month there will be elections here again and we are expecting protests and festivities around christmas. Lenny will have a Pause from the project in April and Daniel will be on his own and spend Easter in Plovdiv and around different villages and interesting places in Bulgaria. He will keep every reader updated on the places he visits and take images and write stories about each place. The both of us started to draw badges and concepts, which will later on digitalize in free programs. Philipp supplied us with the necessary licenses for Adobe etc. 
Stay tuned for more….