Peter and Anastasja:
Здравейте приятели!
This week Francois left us for a vacation in Istanbul, and we were by ourselves with our supervisor Vyara. It got quite cold this week, but we still had lots of things to do. Among other things, we fixed a raised bed in the Sunny Yard. Then, we made seedlings for various flowers (marigolds, tagetes, snapdragons…) which are going to be planted in Venets' gardens as companions for the vegetables and trees, to attract pollinating insects.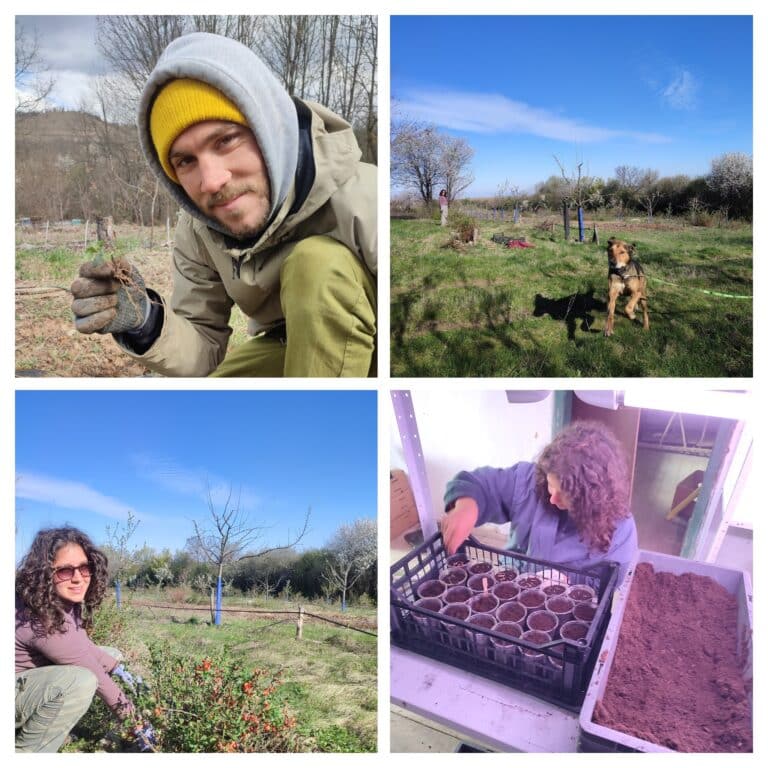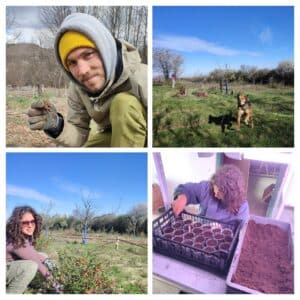 UP LEFT: Peter having fun with the strawberries (photo credit: Anastaja Giacomuzzi). UP RIGHT: Ray helping with pruning. DOWN LEFT: Anastasja pruning Japanese quince. DOWN RIGHT: Anastasja sowing flowers (photo credit: Peter Spornberger)
On Wednesday we went on a trip to Balgarene with Vyara to visit Deliana, the "forest fairy". You might remember that we already visited Deliana during our PDC, to check out her beautiful permaculture garden and talk about beekeeping. This time, we went there to get strawberry and sorrel plants for Venets' gardens. Deliana has strawberries all over her property; wild ones, as well as Pineberries (white strawberries with a light pineapple flavor) and the very delicious Senga Sengana strawberry. We learned from Deliana that to transplant strawberry plants it is important to catch the roots together with the strawberry's "heart" (the leaves are not so important). So we got our shovels ready, and a few boxes with some water in them to keep the plants hydrated. We carefully removed hundreds of plants from the ground. Like this, we gave space to the other strawberry plants in the bed, so the beds don't get overcrowded, which would decrease strawberry production because the single plants get less nutrients. Moreover, like this we avoid fungal diseases which can develop in overcrowded beds with decreased airflow.
Then, Deliana showed us the forest around her property which she will slowly turn into a food forest by propagating the plants in her garden. She wants to show that a food forest can be made without spending much money, but of course with a lot of constant labor and care. We had a lovely day despite the cold and cutting wind, and баба Деляна (grandma Deliana) graced us with many gifts when we left; homemade Lutenitsa (лютеница), soured cabbage (кисело зеле), and fig sirup. We promised to come back soon.
Back in Todorovo, we used Deliana's delicious soured cabbage to make cabbage Sarmi with rice (Зелеви сарми с ориз). This is actually the first Bulgarian dish we ate when we arrived here, which our project coordinator Misha and her partner Filip cooked for us, and we couldn't wait to try it ourselves. 
Here's a video of us stuffing the cabbage for the Sarmi (video credit: Peter Spornberger)
On Thursday it was super sunny again, and we went to Suhi Dol, Venets' polyculture orchard. The orchard was designed by Paul Alfrey from the Balkan Ecology Project, and combines different varieties of fruit trees, soft fruits, shrubs, herbs, and perennial vegetables, which benefit from each other. We went there to prune the Japanese quinces. The fruits of this shrub, also called mountain lemons (планински лимон) in Bulgarian, are considered a superfood. They are rich in vitamin C, antioxidants, and minerals. They have antibacterial and anti-inflammatory properties, and can even be used to relieve skin irritations and burns. We learned that to prune this quince, first you remove the old, dry branches, as well as the branches that are growing out horizontally on the bottom of the plant, and then you shorten the other branches to stimulate growth. We took along Rey, our boss Catherine's dog, so he could also enjoy the sunny fields.
Talk to you soon,
Anastasja and Peter