Peter and Anastasja:
Hello y'all!
It's Easter in Bulgaria, and we are on a train to Plovdiv to spend our long weekend in one of the oldest cities of Europe. Next to us on the train a group of youngsters is listening to loud music, while an older lady is pointing out local attractions as we pass the many villages on the way. Not an ideal situation for reflecting on the past 10 days, but the yummy Banitsa Peter made for the trip will give us the energy we need.
When the weather finally got better last week we got busy outdoors again: we went to Suhi Dol and finished pruning the Japanese quince. We got to work in the Sunny Yard, making paths and new beds, finally planting Deliana's strawberries and making signs for them out of old jar lids. Then we installed a drip irrigation for the strawberry beds which will save us lots of work and water. On the colder days we made what feels like thousands of seedlings in the Grey House. We planted some heritage seeds which were gifted to Venets for beautiful varieties, even pink tomatoes were among them. The daffodils are in full bloom right now, so we decided to weed around them and seed some other flowers like borage, which will replace the daffodils once they've wilted.
But let me tell you about this week's highlight: last weekend we left Todorovo and went to visit Filip Kirilov, our PDC teacher, and his partner Barbara, to see their home and permaculture community project Vegetarium, and to participate in a grafting workshop in Zhelen. Here's a little video with pictures from our stay:
With the Vegetarium project Filip and Barbara created a space where they themselves and others can live a healthy, sustainable, and balanced lifestyle. This includes the daily routine which we also followed during our PDC (see Week 45); following the circadian rhythm, healthy nutrition, movement, and connection to nature, as well as some spiritual and philosophical principles about self-care, social unity, and harmony with nature. Besides this, Vegetarium has a permaculture design and is a potential candidate for the LAND permaculture demonstration network and will soon be evaluated as such by the Permaculture Association of Bulgaria. Barbara and Filip have a beautiful mountain home, immersed in nature, and it was wonderful to be hosted by them. (You can read more about Vegetarium in the previous volunteers' Mali and Renzo's blog posts: Week 30 & Week 31)
We arrived at Vegetarium on Saturday, after a steep hike up the mountain, and Filip showed us around the garden: we enjoyed the thoughtfulness with which each element was placed, and the attention to detail with which this place was developed. Special mention to the awesome compost toilet with the view over the valley! One of our favorite features is the main house. The house actually used to be two separate houses which were oriented at a southfacing angle to each other. Filip and Barbara decided to make use of the heat-trap this angulation created, and connected the two houses with a roof, a big south-facing window, and a long overhanging roof. Like this, in winter when the sun is low, the house gets naturally warmed, while in summer, when the sun is higher, the roof blocks it from heating the living room too much.
After our tour we helped Filip pull out some saplings of wild pears and cherry plum which ended up in the garden beds through the horse manure… The next day we took these saplings all the way to Zhelen after a one-hour walk through the muddy but beautiful woods. While trying to find the workshop location we were stopped by a group of Bulgarians asking where we were going. In a broken Bulgarian, Anastasja tried to explain that we were going to grafting workshop with the famous Hristo Ivanov, also called Ашламинатора (the Grafter). However, not recalling his nickname, we called him Hristo Botev, and everyone broke out laughing. Hristo Botev is actually an important historical figure in Bulgaria. It turns out that one of the people who stopped us was Hristo the Grafter himself. What a nice introduction.
Later we found out that Hristo actually filmed part of our first encounter and posted the video on his Youtube channel. Here you can watch it for your own entertainment (the title says: "Today, Tsvetnitsa (flower-day) in Zhelen, part of my students do not know Bulgarian. But they will be able to graft!"):
We went for a walk with Hristo and he showed us how we could recognize different wild fruit trees. During our walk we also visited some members of Zhelen's community; Raidas' Ashram, the architect Kamen's COB house… funny how many interesting people can end up in one place. Afterwards Hristo proceeded to show us some grafting techniques and explained what can be grafted on what. For example, one principle is that stone-fruit should be grafted on stone-fruit (apricots on plums), and seed-fruit on seed-fruit (apples on pears). He grafted on some diseased plants after he cut the damaged wood, and showed us that even sick plants can be revived and grafted on like this. In the end, we tried grafting ourselves on the branches we brought from Vegetarium. We have to say, it's not as easy as it looks when Hristo does it, but you get better with each try. Hopefully, our experiments will succeed and soon grow in Filip and Barbara's garden.
Happy orthodox Easter everyone,
Peter and Anastasja
François:
Добър ден!
As I've already told you (cf. Week 50), we are working on a herbal spiral for the social garden, here in Todorovo. Well, it turns out that it went a lot faster than expected, and we are now almost done!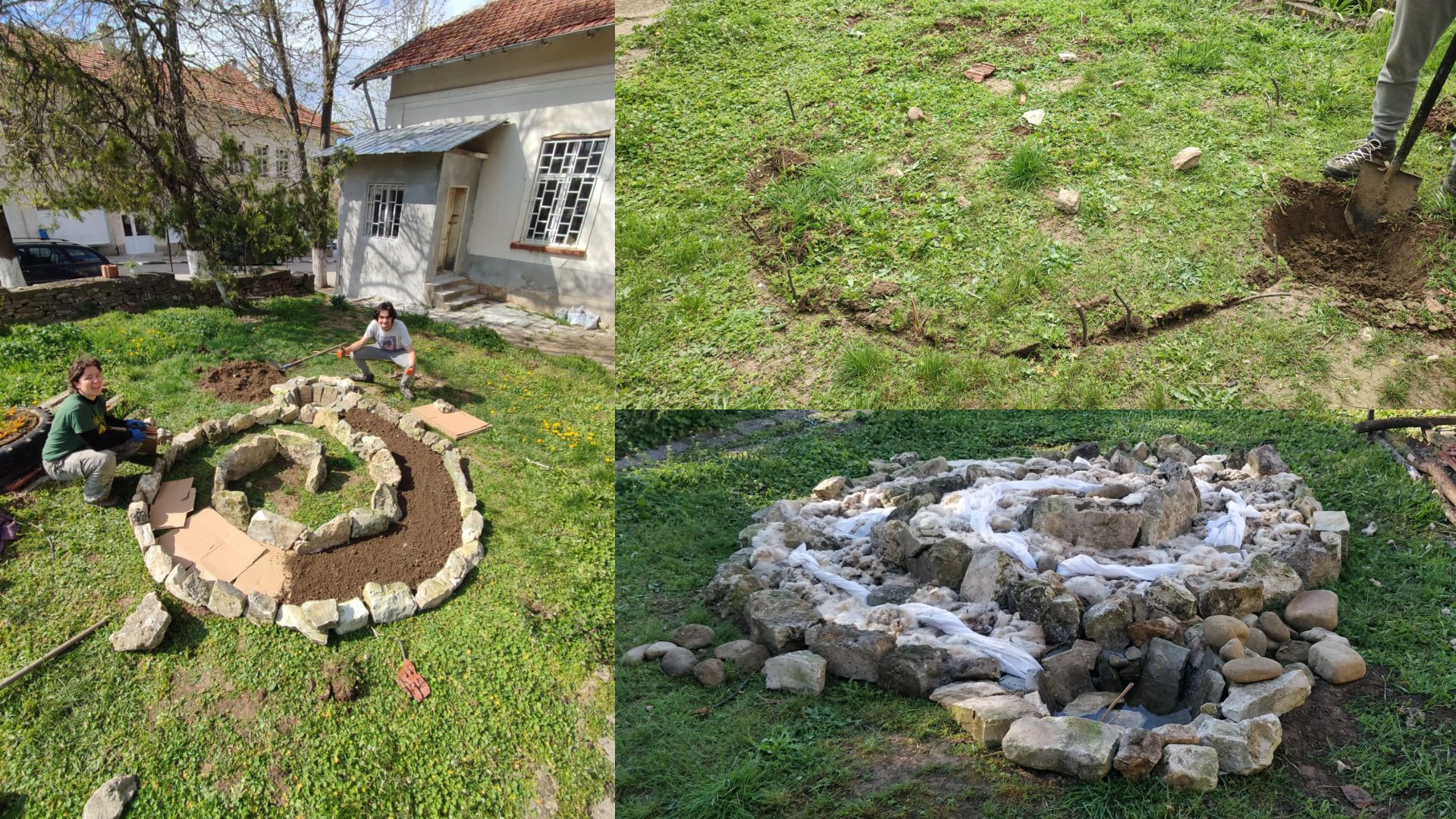 LEFT: Anastasja and François happy with the progress (photo credit: Peter Spornberger)
UP RIGHT: Drawing the shape and digging the pond (photo credit: Peter Spornberger)
DOWN RIGHT: The current state of the spiral (photo credit: François Dupé)
The first step was to draw the shape of the spiral on the ground and to dig a hole for the pond. Then, we covered the hole with old plastic sheets to retain the water, before covering it with nice rocks. At the same time, we made the structure of the spiral with rocks, their height increasing when approaching the center of the spiral. We also displayed cardboard at the very bottom before covering it with dirt from the hole. The cardboard is here for preventing any weed to grow from below it. Next we poured some gravel to shape the slope! And thus the structure was completed.
We then worked on the water management. To keep the moisture from rainfalls, we covered the gravel with wool. We found a used bed linen in a dump, cut it and tied the pieces together to form a kind of rope. Starting from the pond to the center of the edifice, it will supposedly work as passive irrigation, as well as moisture retainer. Now we are just waiting for the soil to be delivered, and of course the herbs 🙂
The people in the village were very curious about what we were doing, and asked some questions that we addressed as much as we could. But overall they seemed to approve it and were very happy of seeing young people doing things in the village! Which was of course very pleasing to see.
I will keep you updated,
May your flowers ever be pollinated,
François