Anastasja:
Dear readers,
After our trip to Elin Pelin, our project coordinator Mihaela visited us in Todorovo for Peter and my midterm evaluation, and for Francois' final evaluation. We did this with different exercises. First we drew a beautiful timeline of our activities in the past months, which we stitched together with the timeline Francois, Paula, and Chloe had made before. Now it tells a beautiful story of the fun and instructive months we've had. Later we did another exercise in which we discussed the rotten, ripe, and ripening fruits of our experience – meaning, what we would like to leave behind (and turn into compost 😉 ), what is good and we want to keep, and what we still want to develop and improve, respectively. Luckily it was a sunny day and we could do all of this outdoors with objects we found around the yard.
The rest of the week we made ourselves busy with sorting the seeds we got from Elin Pelin and researching about them. We transplanted some rosemary which the other volunteers had started to propagate from a branch and which has grown plenty of roots. It was very sunny at first, so we also had to water all the thirsty seedlings in the greenhouse and the polytunnels. We also transplanted and mulched some rhubarb, and Peter started some compost tea from nettles. Overall, a very short but productive week.
Thursday and Friday afternoon we decided to take some time off because sadly this week our dear Francois is leaving us, and we wanted to have some fun time playing games, singing, and dancing before saying our goodbyes.
Thank you Francois, for being such a lovely housemate, co-worker, and friend. до скоро!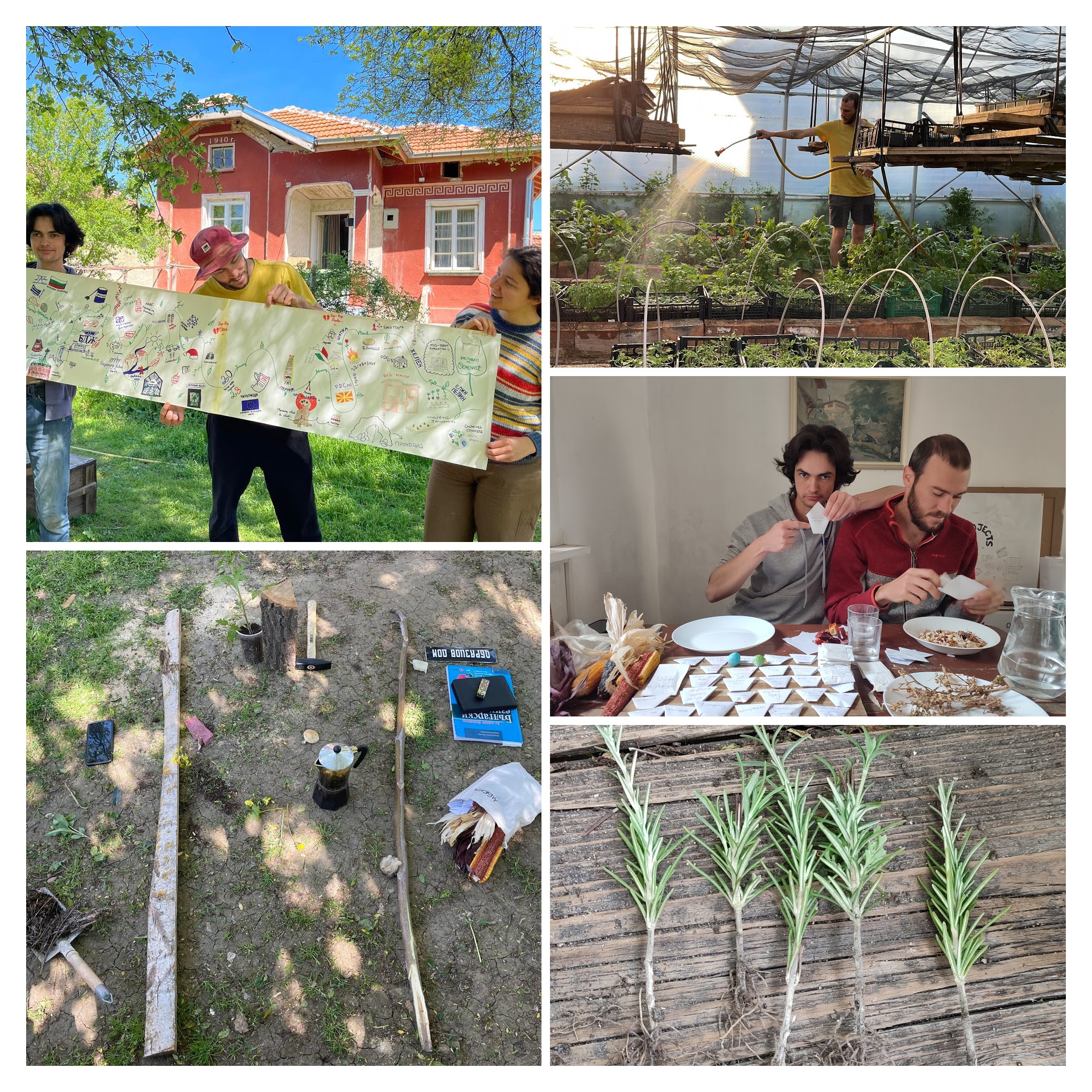 UP LEFT: Francois, Peter and Anastasja with the project timeline. DOWN LEFT: Our midterm evalutation exercise with various objects. UP RIGHT: Peter watering in the greenhouse (photo credit: Mihaela Tsarchinska). MIDDLE RIGHT: Francois and Peter sorting seeds (photo credit: Anastasja Giacomuzzi). DOWN RIGHT: Rooting rosemary (photo credit: Peter Spornberger).
Since Venets this week announced their collaboration with Liubomir's farm in Novo Stefanovo, I thought I could take the chance and this space to tell you more about their family farm. You might remember we stayed with Valya and her father Liubomir during the second part of our PDC in Staro Stefanovo. During our stay, Liubo told us about their farm's interesting history: A long time ago, during the Ottoman occupation in Bulgaria, the land their farm was the garden of the sultan. It was known that the soil of this land was extremely fertile and had an abundance of water sources closeby, so the sultan chose it for himself.
After the Ottoman occupation, Liubo's great-granparents purchased the land and cultivated it. However, during communism, these lands were expropriated and became state property. When the communist regime fell, Liubo himself had been working long and successfully in construction. Still, he decided to change his life around and to get back what used to belong to his family. And so, bit by bit, little plot by little plot, he bought back the land, until he reached the amount he has today which roughly corresponds to the family's original property.
Wisely, he realized that with the great abundance nature had given him it would be a pity to use pestizides and synthetic fertilizers. Therefore, since the beginning, Liubo has practiced organic farming, very successfully. We're excited to soon see the rich array of vegetables he is growing (we've only seen pictures of his luscious peppers and tomatoes).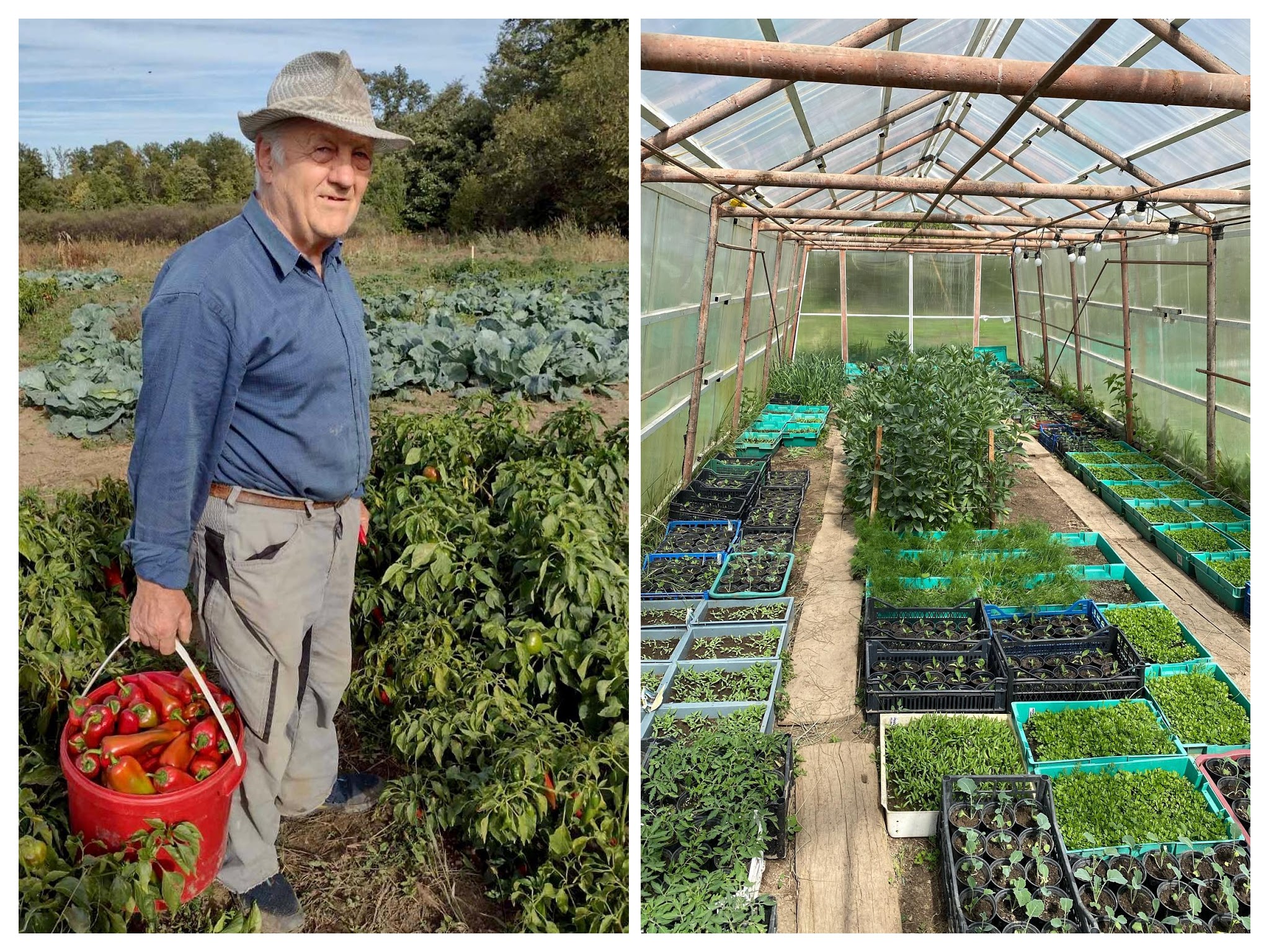 LEFT: Liubomir with peppers in his garden. RIGHT: Liubomir's greenhouse.
One little trick we learned from Liubo: for his seedlings, he usually does not buy commercial substrate. Instead, he uses the soil that moles have dug up and mixes it with vermicompost which someone in his area produces. The mole soil is apparently very nutrient-rich because it has come from deeper layers of soil. Add the vermicompost to this and you have a fantastic mixture!
Ciao ciao,
Anastasja