Anastasja:
Hello dear readers,
Trying to catch up with all the blog posts we've missed due to festival preparations and shenanigans, let me give you just a quick update on the gardening progress we've made a few weeks ago (I'm writing this after everything has happened).
In week 59 we had lots of things to do. We re-potted some of the heritage tomatoes which were given to Venets (remember the pink tomatoes I mentioned a while ago?). To be sure that these varieties would grow well and avoid any damage in the unpredictable weather lately, we decided to transfer these tomatoes to bigger pots. Like this, we could keep a closer eye on them and keep them cozy in the greenhouse. Then we made some structures for the tomatoes we would plant in the Red House garden, by connecting two concrete poles (re-used from old structures) with an iron wire, and making anchors for them with wooden poles. Like this, once the tomato plants get heavier, the anchors will keep the concrete poles from caving in. In the process, Peter also showed me how to ram the earth around the poles when you dig them in, so it becomes very compacted and more stable.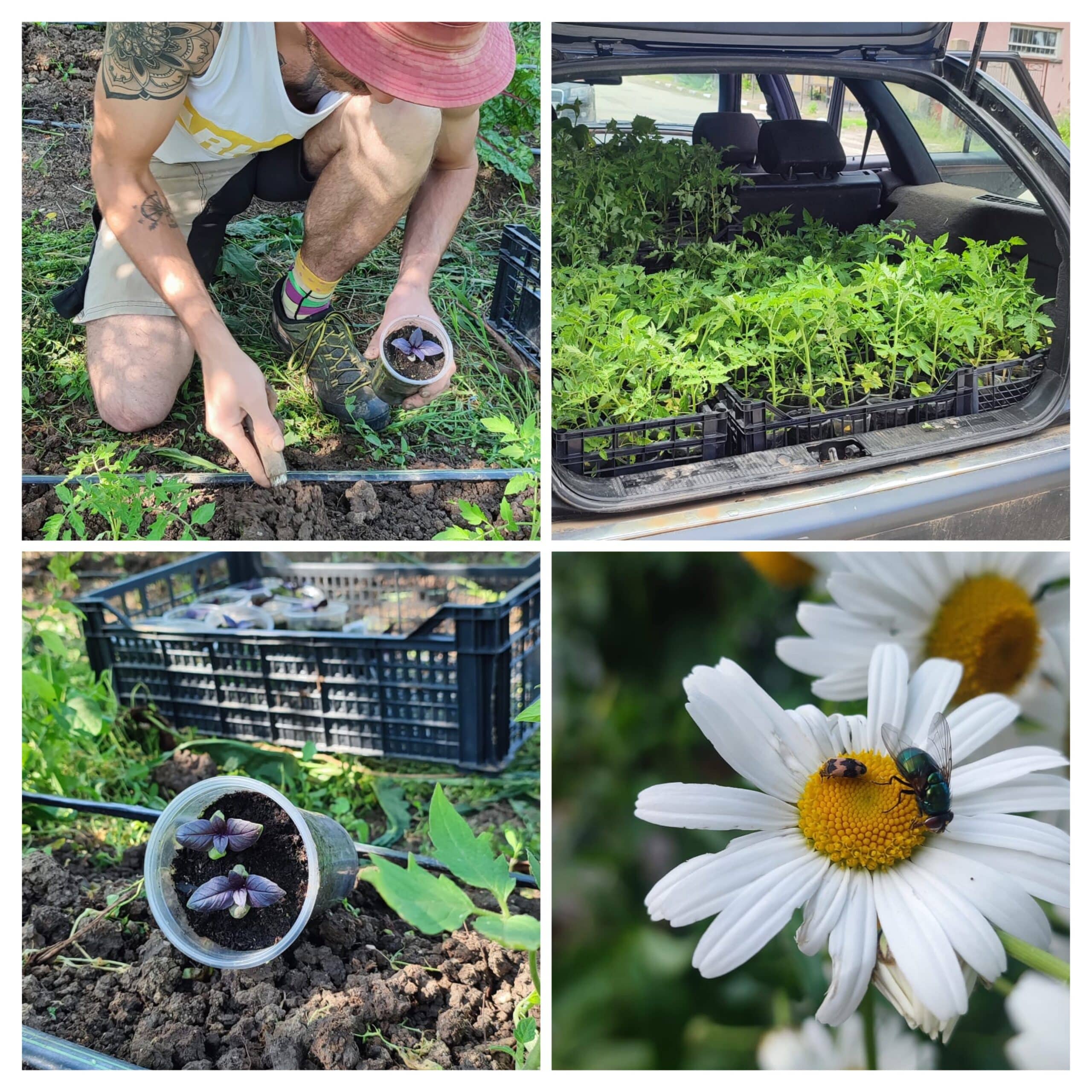 UP LEFT: Peter planting basil. UP RIGHT: Many tomatoes on the way to the Sunny Yard. DOWN LEFT: Purple basil seedlings. DOWN RIGHT: Insects enjoying the flowers. (photo credit: Vyara Marinova)
In the Sunny Yard, we planted loads of tomatoes, beans and basil together. Tomatoes and basil are known to be good companions in the kitchen as well as the garden. The tomatoes shade the basil, so it can keep a moist surrounding, while the basil protects the tomatoes from pests. Beans, in addition to that, fix nitrogen in the soil which is great for nutrient-sucking plants like tomatoes.
We also had loads of squash, and decided to plant it on some well-rotten horse manure which had recently been delivered by a villager. I haven't mentioned it yet, but it is very common for people in Bulgarian villages to have horses. Many of our co-workers hold horses in their backyards, and it is not so rare to see people transport goods on their horse carts. We salute this practice for its low ecological impact and cultural value, with the wonderful benefit of having horse manure easily at our disposal as fertilizer for the gardens. We knew from our experience at home of growing squash on sheep and cow manure, that squash loves to grow on manure because it likes warm soil and with the abundance of nitrogen it will grow very well. 
Moreover, we planted some climbing plants like loofa in front of the red house, so they can grow on top of the poles in front of the house and give us shade. So far, there is a grape vine there which is doing an excellent job at keeping us from scorching in the sun, but some added shading plant will be great in the hot Bulgarian summer. 
The rest of the week we spent a lot of time preparing and packing for the Meadows in the Mountain Festival, so stay tuned for our next post about that!
Greetings from sunny Bulgaria,
Anastasja