Hello dear ones, it's Marija
This week, people in Bulgaria were celebrating the Assumption of Mary. I don't have  information about every part of Bulgaria, but in Kyustendil area it is celebrated by a ritual called "lifting the bread". I was invited by friends from Kyustendil to come for the celebration, and it was truly inspiring, so again I decided to make a video with information for the event. Furthermore, I found out that celebration and this ritual was also happening during the weekend in Zemen and after the one in Kyustendil it continues to Nevestino. So if someone is a fan of this holiday, they can enjoy themselves for almost a week.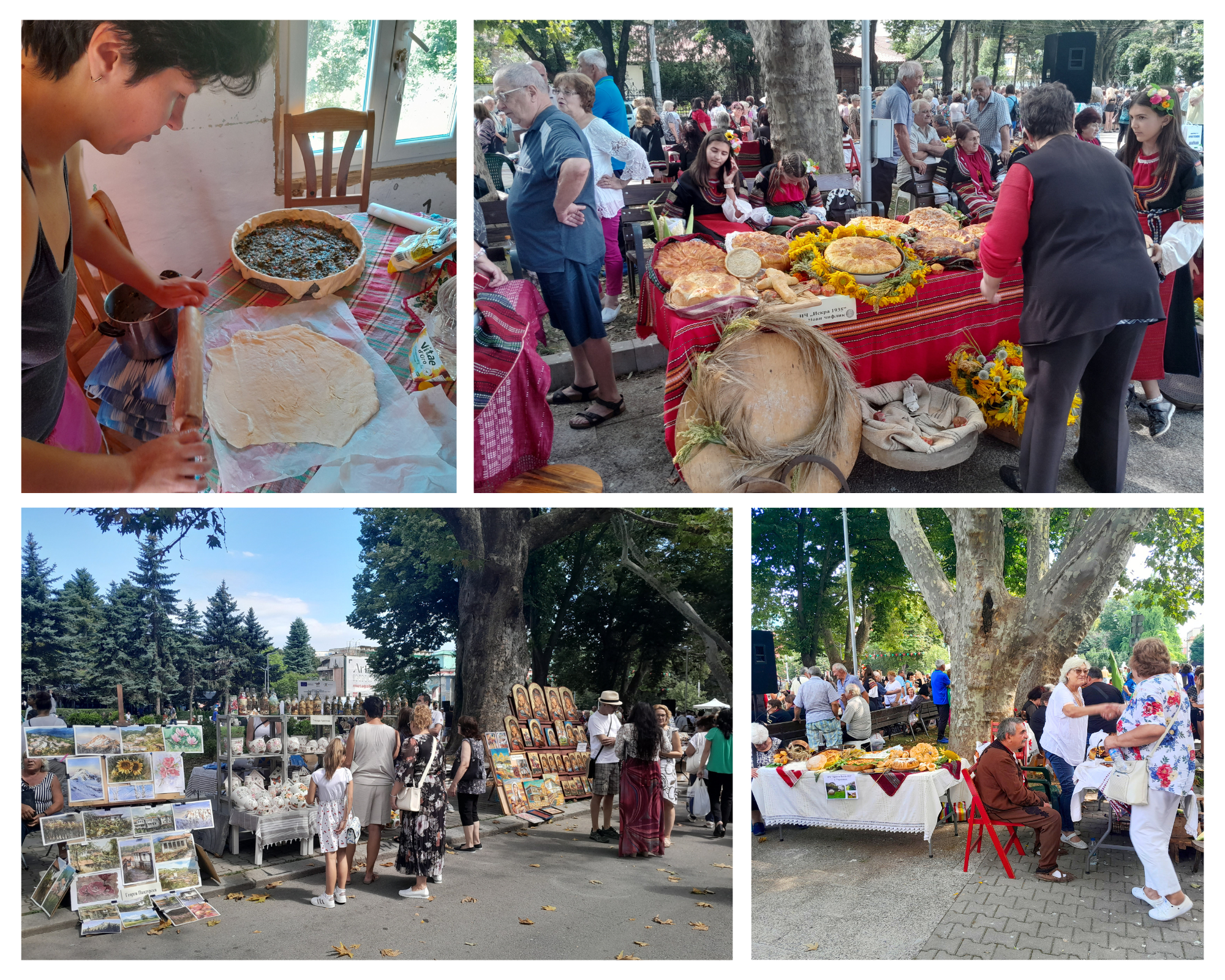 Up left: Marija making zelnik
Down left: Bazaar
Up right: Representatives of community center "Iskra 1935"
Down right: Representatives of community center "Hristo Botev 1925" from village Goranovtzi
The celebration was two days in Kyustendil, both 14th and 15th of August, which is the official day of the holiday by the Orthodox Christian religion. It was interesting to see both younger and older generations gather for this kind of cause. Many community centers had tables where they represented tasty traditional meals mainly made from dough. By the end of the celebration few community centers were awarded by the municipality with financial support. All the food was sold out within the first half an hour, so not coming right from the start was not the best idea. I got inspired so on the next day I made zelnik myself. This celebration had many elements in it: the religious/spiritual, cultural, social and entertaining.
In the video, I give more information. I hope you enjoy it.
https://www.youtube.com/watch?v=3Di8xsL6RGk
Andrii:
This week we dedicated our time to work on study materials in the office. The office has variety of books about permaculture and natural lifestyle and the necessary technique to create study materials. Our fellow volunteer Vyara made study cards earlier this year about the twelve permaculture design principles by David Holmgren:
Observe and interact
Catch and store energy
Obtain a yield
Apply self-regulation and feedback
Use and value renewables
Produce no waste
Design from patterns to details
Integrate don't segregate
Use small, slow solutions
Use and value diversity
Use edges and value the marginal
Creatively use and respond to change
The principles can be found in his book "Principles & Pathways Beyond Sustainability" and they have much deeper and wider meaning. They are universal rules and can be applied to many areas of our life personal, economic, social and political organisation. They go hand in hand with the well-known permaculture flower or the seven domains of permaculture in action. There is a website dedicated on this subject and what was super interesting for me was to discover that there is also a musical album about this subject, and every principle has its own song. It is an inspiring example how we can take a holistic approach for presentation of our ideas and beliefs. The cards that Vyara made are very catchy and interesting and I believe they can be used by all generations. We had the chance to print and laminate them.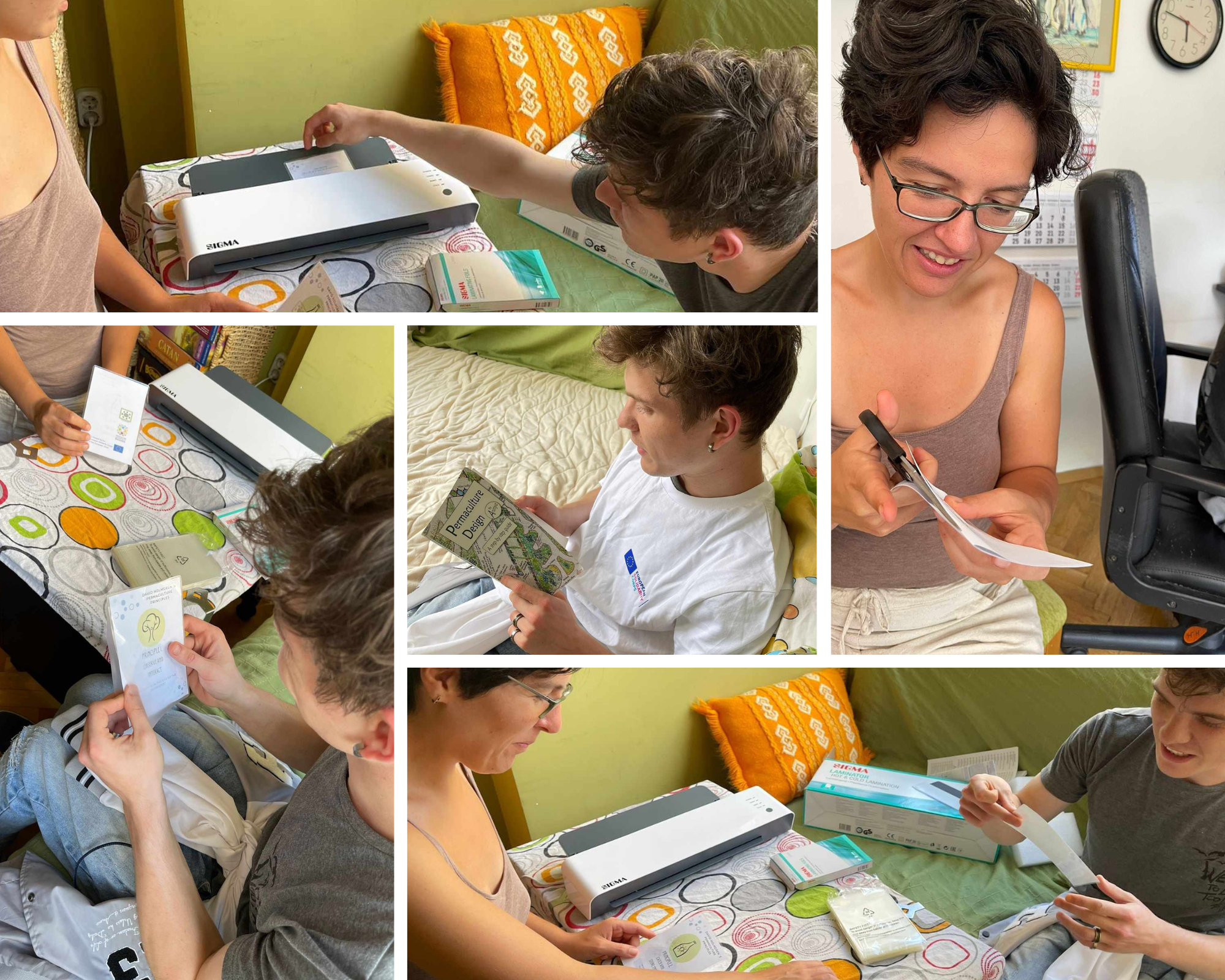 Up left: Andrii putting the card in the machine
Down left: Andrii putting the card in the plastic
Middle: Andrii reading permaculture design by Aranya
Up right: Marija cutting the card
Down right: Marija and Andrii laminating
🥑🥦🥬🥒🫑🌶️🥑🥦🥬🥒🫑🌶️🥑🥦🥬🥒🫑
Hello to all from Vlad and Nikolina.
A little about the history of the permaculture. Franklin Chiram King for the first time used the term "permanent agriculture" in his 1911-year-old book farmers of forty-centuries. In the context of the book under this term, a agriculture with inexhaustible resources is understood. In 1929, Joseph Russell Smith used the term in the subtitle of the book "Forestry: A Permanent Agriculture" (Tree Crops: A Permanent Agriculture) in which he outlined his long Experience with growing fruits and nuts. In 1950, a revised and augmented edition. Smith noticed: "" Forest – Field – Plow – Desert "- such is the cycle of hills under the influence of deep plowing … When we develop the agriculture with a suitable way, we get almost eternal fruiting earth." Smith looked at the world as universal interaction, assumed the relationship of trees with growing plants under them.